The Top 10 Arteza Art Supplies
Posted by
ARTEZA Collaborator
All of us have the power to create, and we want to provide the tools and art supplies to fuel your self-expression.
Table of Contents:
Learn Which Art Supplies Our Customers Consider the Best
Ever wonder what the most popular art supplies are at Arteza? We do. So, we went through all our customer reviews and questions and put together a list so you can see some of the most popular and highest-rated art supplies we have available.

At Arteza, we get numerous and different questions all the time. Questions like, "What are the best art supplies for drawing? What art supplies should I get? What do professional artists use to draw? What should a beginner artist buy?," fuel our passion and diligence to develop and offer a variety of art supplies of the highest quality and at the best value. Thanks to those who have shared their experiences and inspiring artwork, we continue to add more creative products to our inventory. We love hearing from you!

Now, without further ado, here are what our customers consider the best art supplies you can find at Arteza.
Arteza's Top-Rated Art Supplies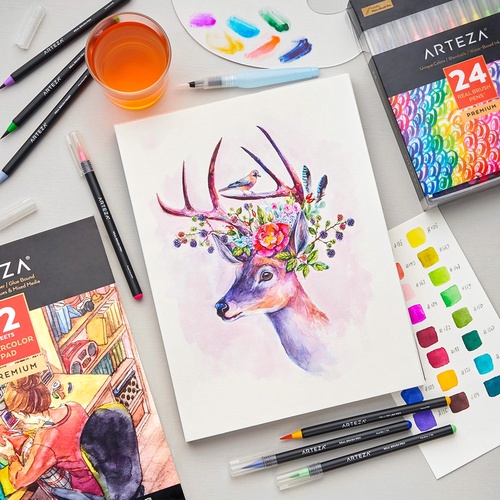 1. Real Brush Pens
Everyone can't get enough of our super versatile Real Brush Pens. You could say they're the king of our supplies. These incredibly unique pens are like a hybrid of a paintbrush and a marker. Their vibrant colors and ability to be transformed into translucent watercolor washes make them some of the most popular markers at Arteza.
There you have it. Now you don't have to wonder what the top picks are anymore. And, you have a ready-made list of products as a reference when you're ready to try something new or you need to replenish your stock. When our customers tell us what they think, we always listen. Their input is invaluable as we grow our offerings and develop new products. We'd love to hear what you have to say about the Arteza products you use, so please leave us a comment in the section below.
Get Tutorials Delivered Right to Your Inbox
Want More Content Like This?
Subscribe & have it sent right to your inbox.
Shop Set for your creation