Table of Contents:
Wondering Which Art Museums to Visit?
Visiting museums is an excellent way to get inspired to create art. Seeing amazing accomplishments from the world's greatest artists can boost your imagination, entice you to try a medium for the first time, or encourage you to change your style altogether. Museums allow you to get "up close and personal" with artists who are long gone, but who have left a legacy of artwork for us to appreciate, learn from, or be inspired by.
Wherever you travel, you'll find museums. And, there's no better way to spend some time on your next vacation than by visiting one. We've compiled 15 of the best in the world that we consider beneficial for aspiring artists to visit. It's far from a complete list, but we think it's a good place to get started on your journey. We've arranged them alphabetically (not in order of importance), so grab your map and let's go!
A Short List of Top Museums
Art Institute of Chicago
(Chicago, USA)
The Art Institute of Chicago is the result of what happened when a group of artists got together in 1879 and started an institution dedicated to the arts. Today, this highly regarded establishment welcomes 1.5 million people annually. They come to see such famous pieces as American Gothic by Grant Woods, Nighthawks by Edward Hopper, and The Old Guitarist by Pablo Picasso.
Must-Sees: Other works you don't want to leave without seeing include A Sunday on La Grande Jatte by Georges Seurat, Water Lilies by Claude Monet, At the Moulin Rouge by Henri de Toulouse-Lautrec, and Self Portrait by Vincent Van Gough.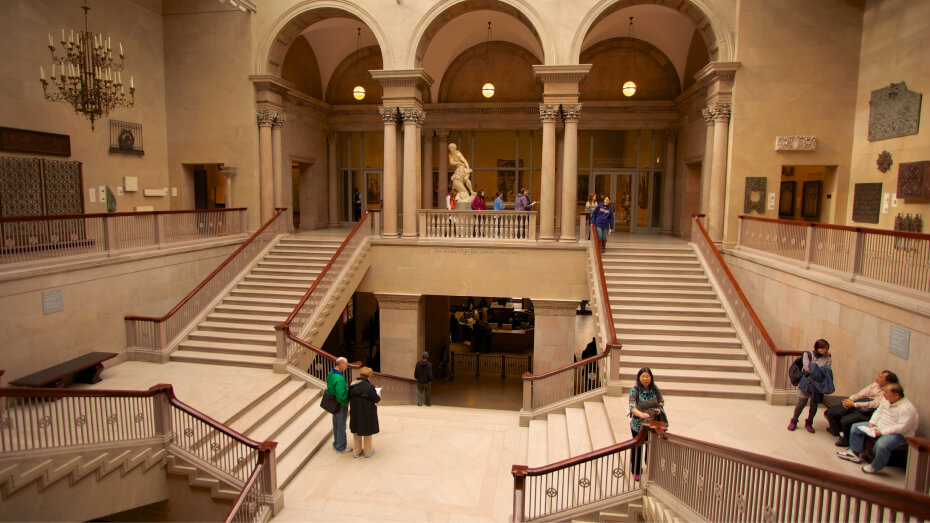 British Museum
(London, England)
266 years ago, the first institution dedicated to the arts welcomed the public and it has been collecting, educating, and exhibiting items that document every aspect of human existence, our cultures, and art ever since. Whether you love art, history, or both, you won't leave uninspired after looking at the more than 8 million items in The British Museum.
Must-Sees: Art lovers and historians will be amazed at the works of da Vinci, Botticelli, Raphael, Rubens, Titian, Rembrandt, Gainsborough, and Van Gogh as well as the famous Rosetta Stone.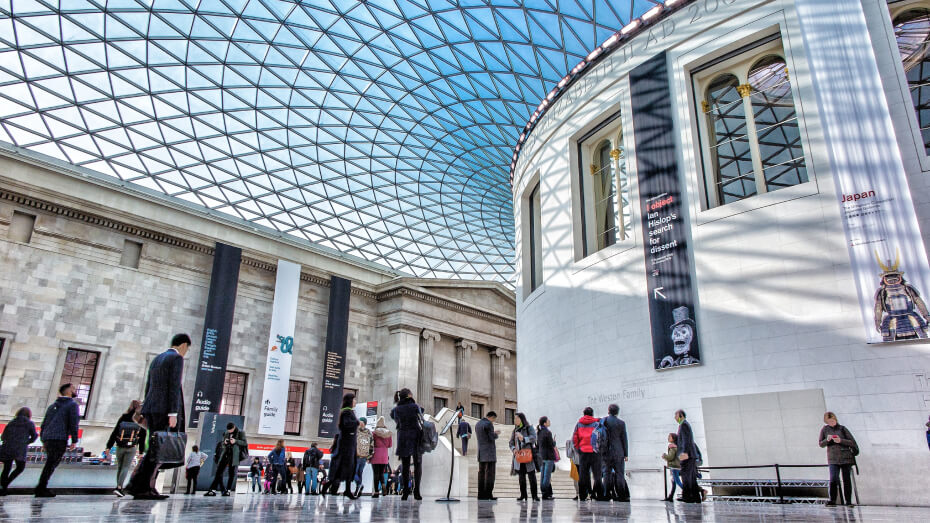 Galleria dell'Accademia
(Florence, Italy)
Millions of tourists come annually to the Galleria dell'Accademia to take selfies with the iconic statue of David, one of Michelangelo's most famous works of art. But, this white marble man isn't the only thing the Galleria dell'Accademia has to offer. It showcases several famous masterpieces that have influenced artists for centuries. It is thought to be among the finest museums in the world.
Must-Sees: Without a doubt, the most Instagrammed piece is David by Michelangelo. Don't stop with that though; you'll be glad you viewed famous paintings such as Michelangelo's Slaves, the Rape of the Sabines by Giambologna, the Cassone Adimari panel (ca 1450), and the Coronation of the Virgin panel by Jacopo di Cione.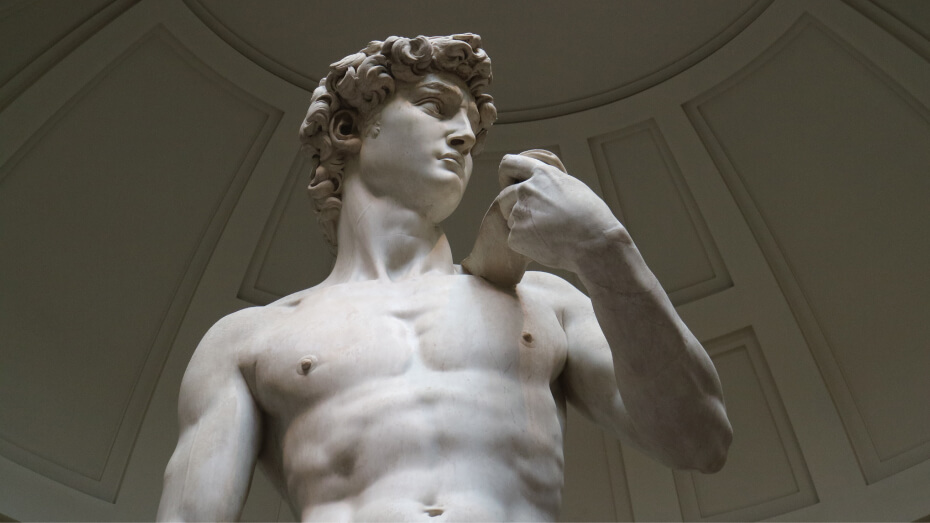 Le Louvre Museum
(Paris, France)
Just say its name and everyone knows its importance. After all, it's where the Mona Lisa lives! But, it's also home to the Venus de Milo, Nike of Samothrace (Winged Victory), and a host of other antiquities from all eras and every imaginable geographical location. As art repositories go, it doesn't get any bigger. Every important period and artist can be seen within its halls so you're sure to find more than enough inspiring pieces to get your creative juices flowing!
Must-Sees: Of course, no one leaves here without seeing first-hand Leonardo da Vinci's Mona Lisa, but there are also several of da Vinci's other works including St. John the Baptist and Virgin and Child with St. Anne that you really don't want to pass up.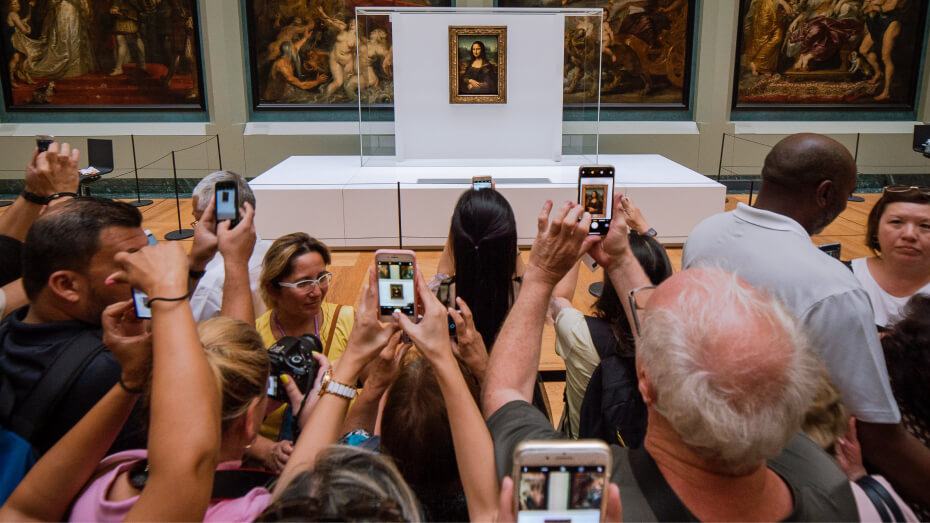 Musée d'Orsay
(Paris, France)
If you love the work of the Impressionists, you are going to definitely find your happy place here. That's because the Musée d'Orsay has more masterpieces by Monet, Renoir, Manet, Morisot, Degas, Seurat, Cézanne, Van Gogh, and other important painters than you'll ever see in one place.
Must-Sees: The Musée d'Orsay holds a few of Auguste Rodin's more renowned sculptures. The Thinker and The Gates of Hell, both very influential works, can be found here.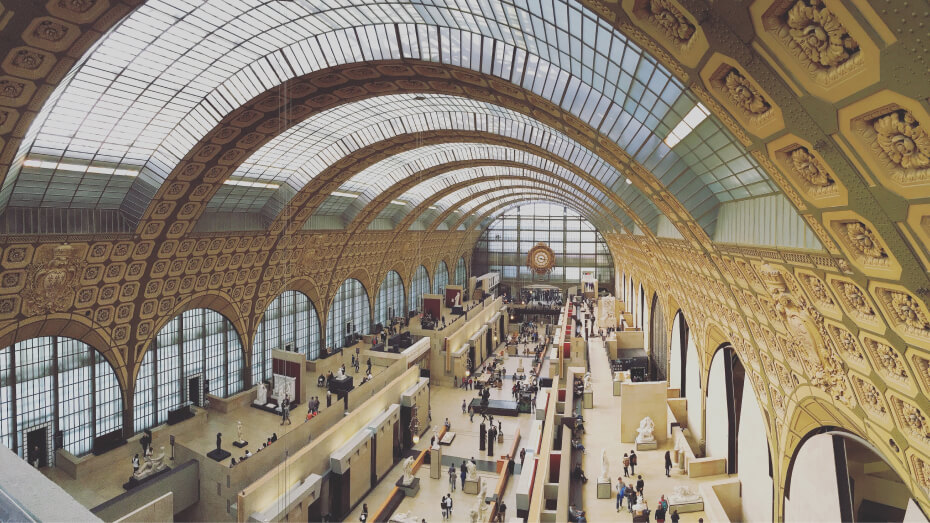 Musée National d'Art Moderne
(Paris, France)
The art world was turned on its head when the Fauvist movement began in 1905. Art suddenly became surreal and would never be the same again, with the likes of Henri Matisse, Wassily Kandinski, Salvador Dali, and Pablo Picasso leading the way. With over 100,000 works, the Musée National d' Art Moderne has 6,400 artists from 90 countries.
Must-Sees: There are a number of important Surrealist artworks. Hallucination Partielle, a strange and otherworldly painting by Salvador Dali, is sure to catch your eye.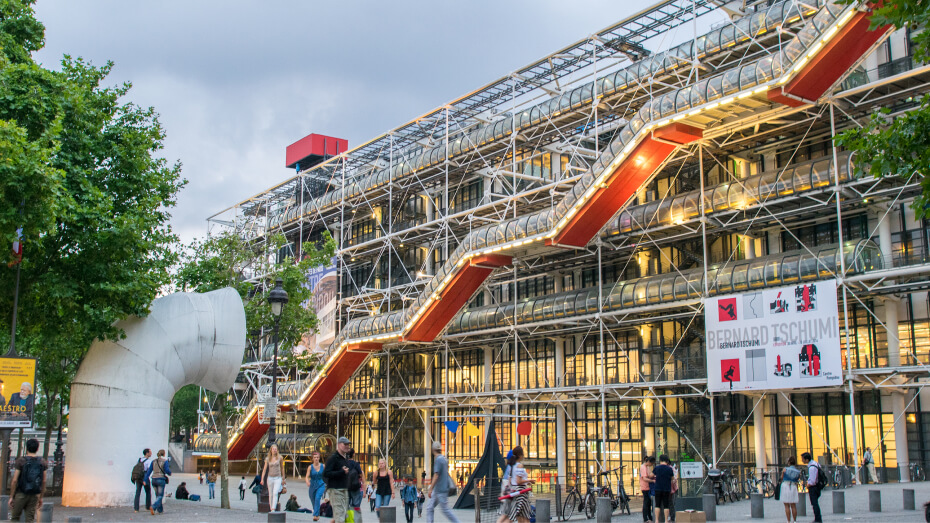 Museo Nacional Del Prado
(Madrid, Spain)
If you want to study the techniques of the old masters, the Museo Nacional del Prado is the place to go. It is widely recognized as having the finest selection of European art anywhere. You can spend hours gazing back in time at the approximately 8,200 drawings, 7,600 paintings, 1,000 sculptures, and 4,800 prints. Although Francisco Goya dominates, there are also works by Hieronymus Bosch, Peter Paul Reubens, El Greco, Diego Velázquez, and Titian.
Must-See: Velázquez' painting Las Meninas is probably the best-known piece in The Prado Museum. Its bizarre and innovative composition will have you staring at it for hours.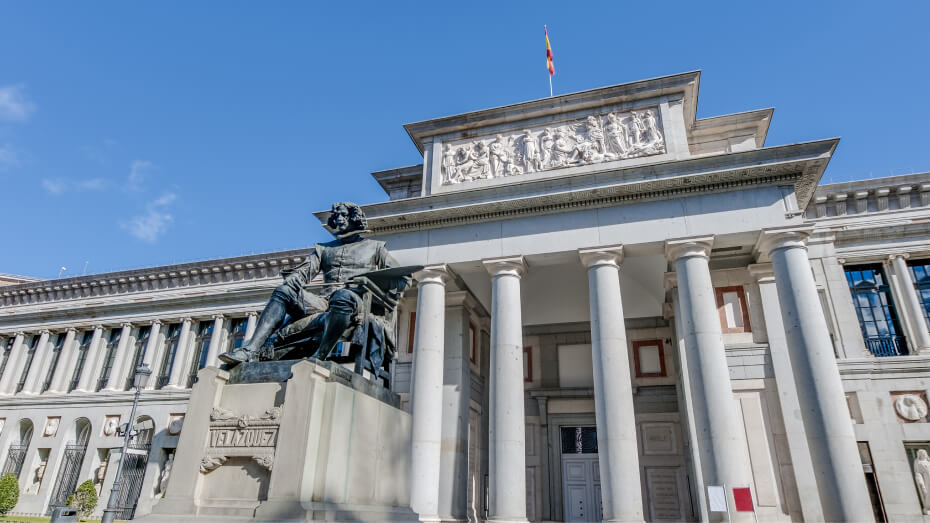 Museum of Modern Art
(New York, USA)
Since 1929, the Museum of Modern Art (MOMA) has remained a driving force for the representation and development of modern art. You can trace the evolution of modern art through their vast assemblage that includes everything from drawings and paintings, photography and sculpture, as well as film and electronic media.
Must-Sees: Find all your favorites—Cézanne, Dali, Frida Kahlo, Roy Lichtenstein, Jackson Pollock, Andy Warhol, and more—including the famous Starry Night by Vincent van Gogh, and a range of works by Pablo Picasso.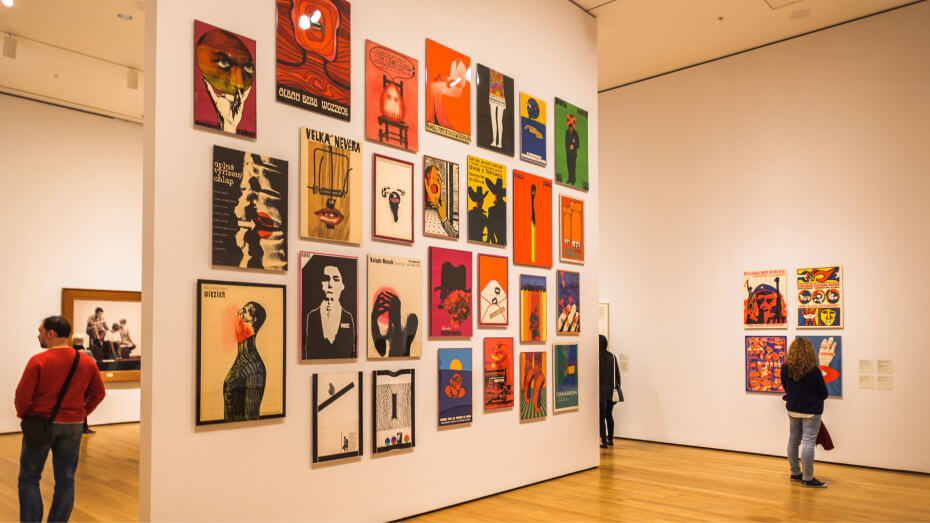 National Art Center of Tokyo
(Tokyo, Japan)
Tokyo's National Art Center is actually considered an "empty museum" because it doesn't have a permanent collection. Instead, it holds an average of 70 rotating exhibitions per year. Despite having no works on permanent display, it is a popular tourist destination in Japan.
Must-See: You can always count on seeing something fresh and exciting at the Center. In the past few years, for example, they have held retrospectives for Yayoi Kusama and Makoto Shinkai.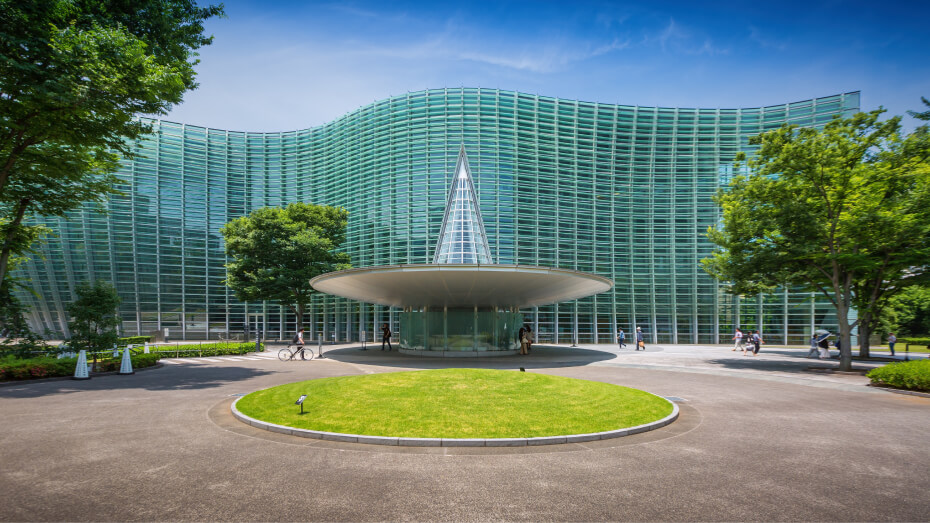 Rijksmuseum
(Amsterdam, The Netherlands)
For all you Rembrandt fans, the Rijksmuseum is your go-to museum. Not only will you see many of his best-known paintings, you'll also see some equally stunning, but lesser-known, works. He's not the only famous artist on display. Enjoy viewing Vermeer and Frans Hals, along with 8,000 other pieces that rotate regularly out of 1 million pieces in their total holdings that span 800 years.
Must-See: Rembrandt's best-known masterpiece, The Night Watch.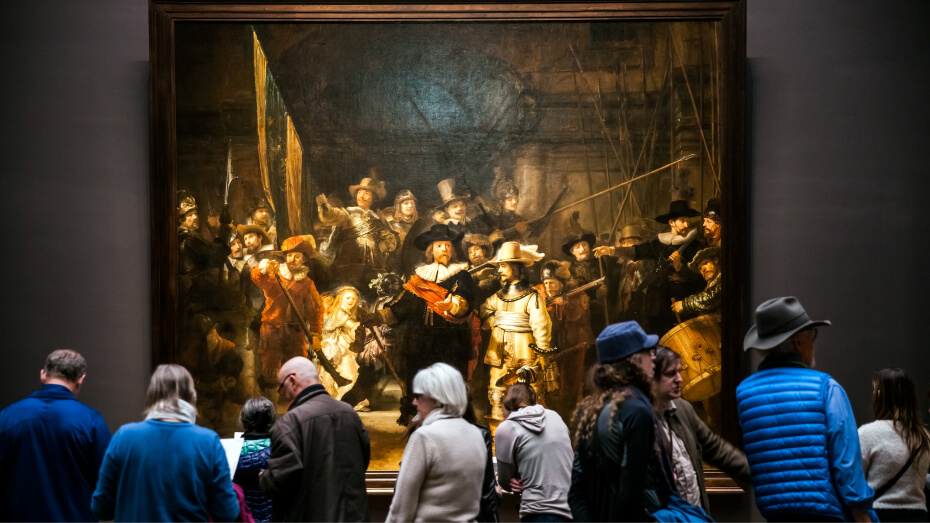 State Hermitage Museum & Winter Palace
(St. Petersburg, Russia)
The palatial, 6-building compound that is the State Hermitage Museum consists of over 3 million objects and is said to have more paintings in one place than any other on the planet. Created in 1764 by the Empress Catherine the Great, the grounds include the majestic Winter Palace, which was home to Russia's emperors. The artwork spans time periods from ancient Egypt to the 20th-century.
Must-Sees: The architecture is considered masterful, making the building alone well worth your trip. Other highlights of your visit are works by famous painters Leonardo da Vinci, Titian, Caravaggio, El Greco, Diego Velázquez, and Anthony van Dyck.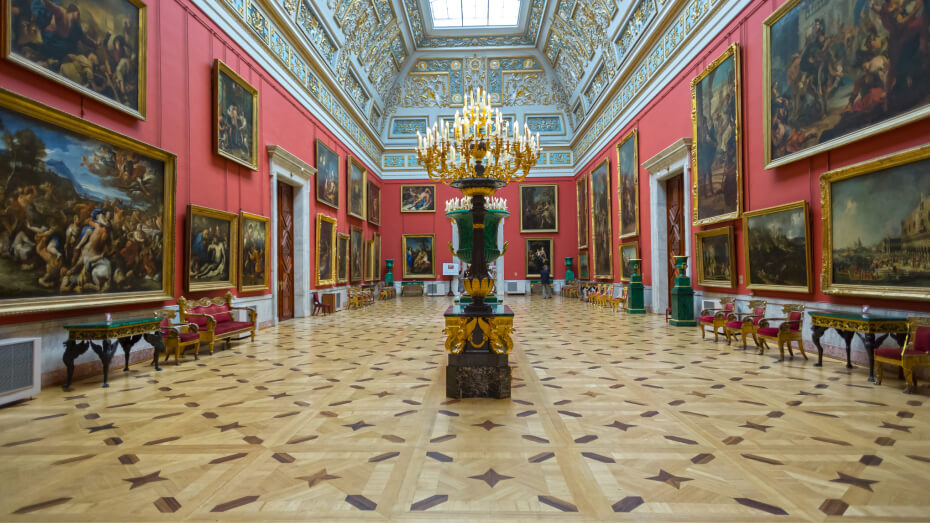 Tate Modern
(London, England)
Today, the Tate Modern is regarded as synonymous with great modern and contemporary art. The art world watches as this establishment expands its collection of works dating from 1900 to the present. If you appreciate or create abstract art, this is where you'll find all your favorites, including Picasso, Georges Braque, Robert Delaunay, Paul Klee, and Ernst Ludwig Kirchner.
Must-Sees: The Tate houses some modern gems, such as an amazing bronze sculpture by Louise Bourgeois called Spider, and the Marilyn Diptych by Andy Warhol.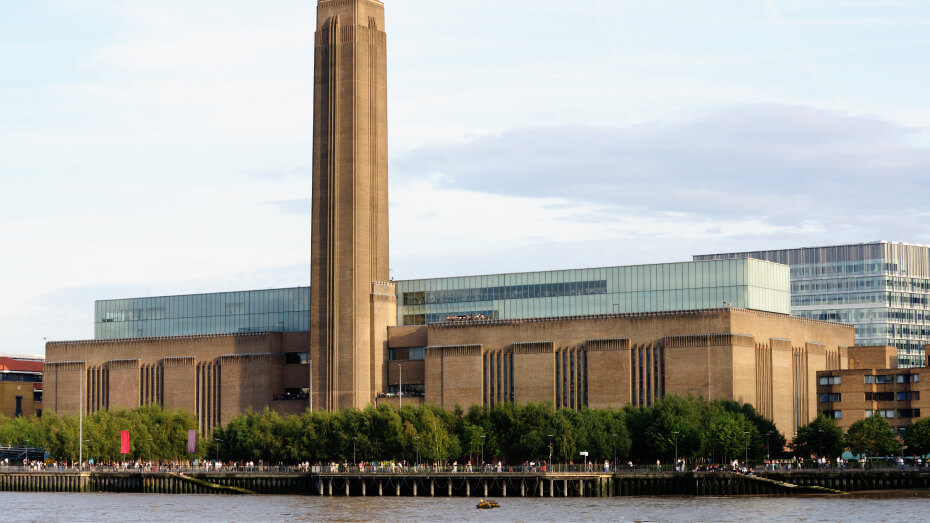 The Getty Center
(Los Angeles, USA)
J. Paul Getty, an American oil tycoon, established The Getty Center as a way to share his love of the arts with the public. The vast array of artwork in this outstanding $1.3 billion center includes his private collection as well as drawings, European paintings, illuminated manuscripts, decorative arts, sculpture, and photography dating as far back as the 1830s through present-day.
Must-Sees: Aside from the breath-taking view of Los Angeles you get from this property, you'll want to make sure you see Irises by Vincent van Gogh and The Royal End by Paul Gauguin.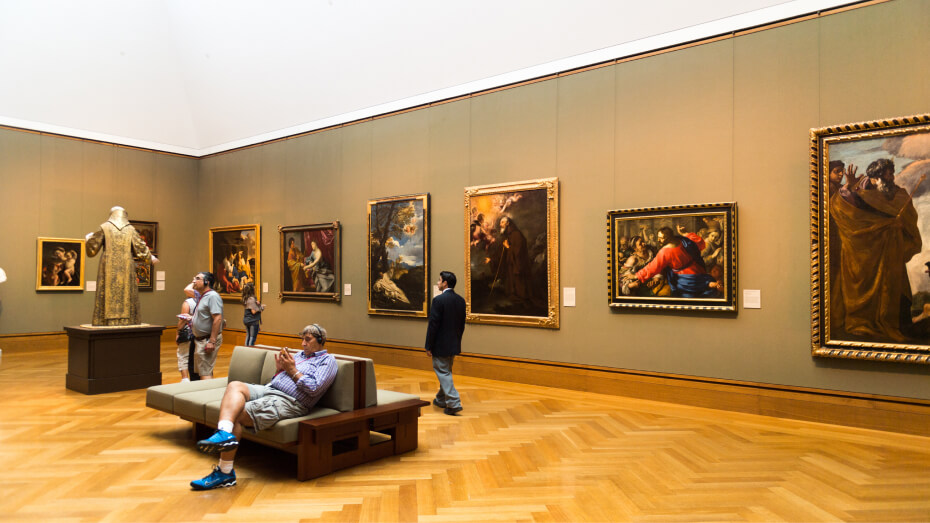 The National Gallery
(London, England)
The National Gallery makes our must-see list because it has some of the most important examples of major developments in Western painting from mid-13th century to 1900. Some highlights include The Arnolfini Portrait by Jan van Eyk, The Virgin of the Rocks by Leonardo da Vinci, and Sunflowers by Van Gogh.
Must-Sees: Besides the works already mentioned, The National Gallery holds paintings by Johannes Vermeer, who produced just a few more than 30 paintings in his entire life. Look for his painting, A Young Woman Standing at a Virginal, while you're there.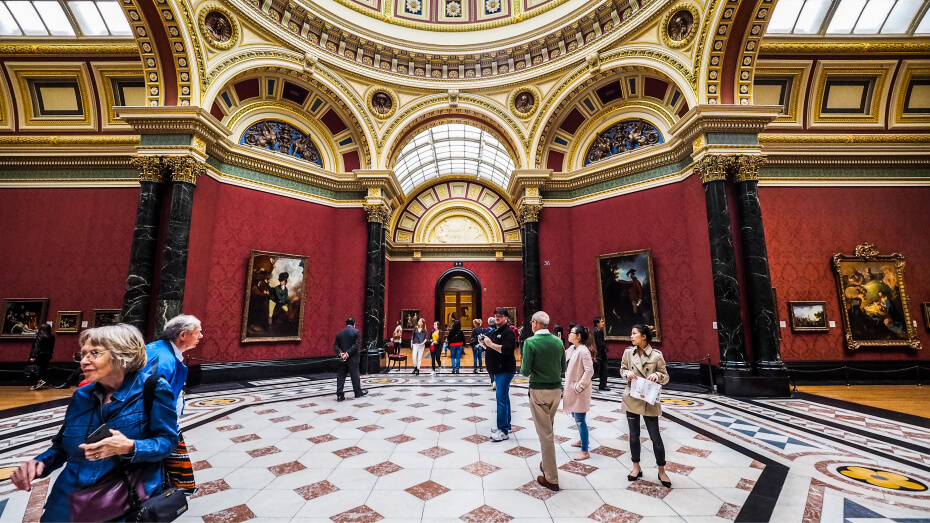 The Metropolitan Museum of Art
(New York, USA)
No trip to New York City is complete without a visit to The Metropolitan Museum of Art. From its vantage point on 5th Avenue in New York's Upper East Side, you see just one-fourth of the entire institution. Inside are holdings encompassing 2 million items, which span over 5,000 years and encompass the entire globe. Here you can see the inside of an Egyptian tomb, a full set of Japanese armor, and a room of Renaissance paintings, all in one day.
Must-Sees: Impressionist paintings that include Claude Monet's Camille, and Auguste Renoir's Lise (Woman with Umbrella).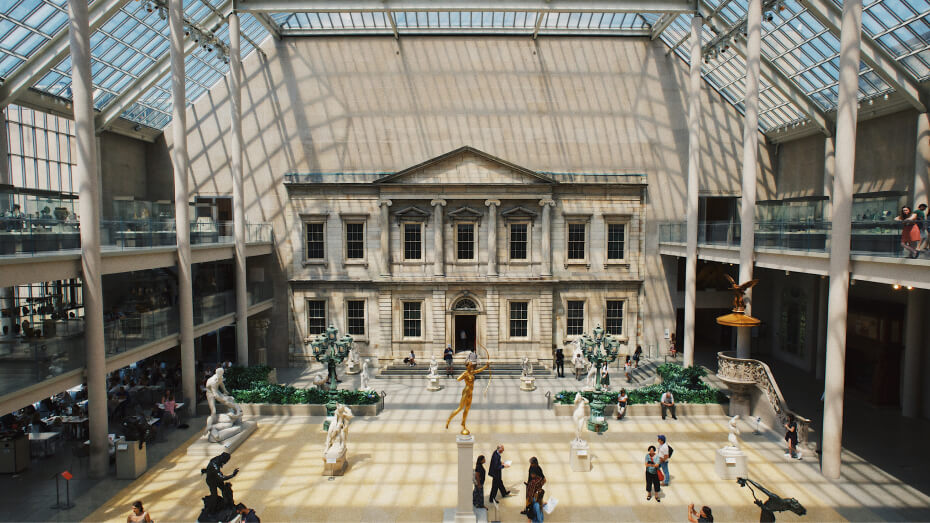 There you have it. A short, but influential, list of museums throughout the world that should be on every artist's bucket list. We hope this inspires you to go to a museum near you. Even local ones house great works that will inspire you to rush home and and start ordering canvases, paint, sketchbooks, pencils, markers and more to create your masterpiece!
Other posts you may enjoy: