Love is in the air, or at least in paintings at museums and top-notch galleries around the country this month. For those who want to be in the company of famous paintings depicting passionate love, this month provides lots of options. Whether you're spicing up date night with your sweetheart, looking to woo a new crush, or just want to give yourself some self-love, these five artistic works will make your heart pound. (Important Note: Please follow the COVID-19 precautions in your city when it comes to visiting museums. Practice social distancing and always wear a mask whether you're in the museum or waiting in line, six feet apart from each person).
Peter Paul Rubens, "Honeysuckle Bower." Speaking of romantic paintings, a classic one is by Flemish Baroque-era painter artist Peter Paul Rubens, called "Honeysuckle Bower." It's somewhat of a self-portrait for Rubens, who is known as someone who created emotional paintings and had scholarly ideas. In 1609, Rubens depicts himself with his wife, Isabella Brant, whom he had just married. The symbolism of love and marriage reign in this oil on canvas. Honeysuckle and gardens are both symbols of love. In addition, the couple holds their right hands together, which represents union in marriage. Rubens resting his hand on his sword represents his aristocratic status in society. Both are noble figures in the painting, as they were in society.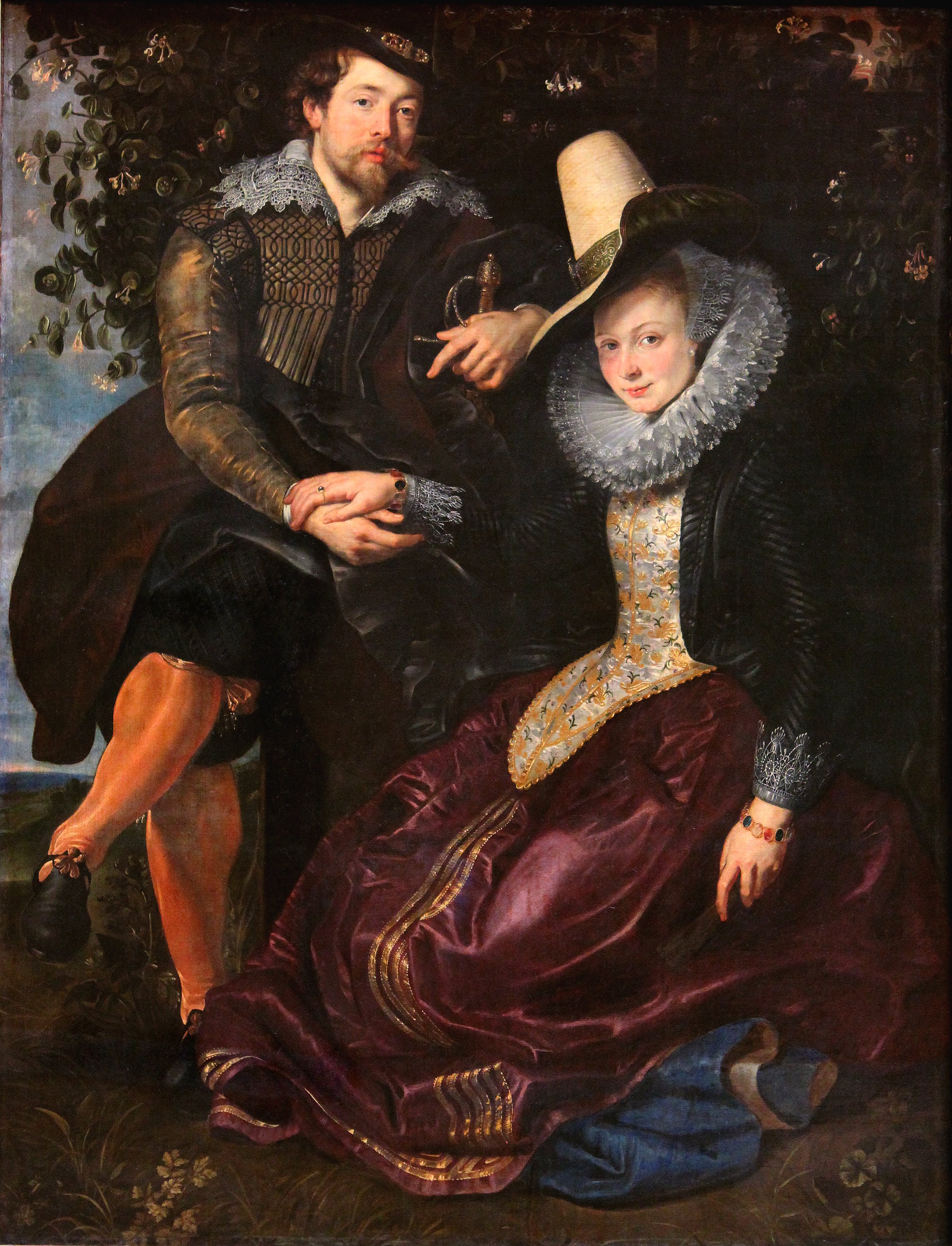 Peter Paul Rubens, "Honeysuckle Bower," Wikimedia Commons
"ArtDependence Magazine" studied "Honeysuckle Bower" and had this critique:
"As with most of his paintings, this work contains deep symbolism. Honeysuckle is a traditional symbol of love and lightness of being. Thanks to its light [coloring] and sweet aroma, it has come to be associated with beauty, gentility and blossoming feelings. The honeysuckle flower tends to cling to its habitat strongly, summoning images of loyalty and devotion. Ancient superstitions even alleged that honeysuckle flowers were lucky and could protect your garden from evil.
In Ruben's renowned painting, he is depicted as a noble, chivalrous gentleman, sitting slightly raised above his wife and protectively leaning over her. His wife wears a traditional Flemish hat, which reminds us of their cultural devotion. The honeysuckle surrounds the couple, enclosing their embrace and suggesting true love and devotion. To further [emphasize] this union, the couple are holding hands.
In true Rubens style, there are several richly symbolic elements to this image. The painter himself is holding on to a sword firmly in his left hand, suggesting that he is also a protector and a strong guard figure in the relationship, whilst Isabella clutches a delicate fan, suggesting her gentility and delicacy.
The painting is constructed in a neat, orderly and straight-forward fashion, suggesting hope and order in their future union."
Marc Chagall, "The Birthday." Russian-French early modernist Marc Chagall created "The Birthday" in 1915, and was known for saying love was the primary color in his paintings. In this particular work, the artist depicts a happy 28th birthday visit from his fiancée at the time, Bella Rosenfeld, in his home. It shows the love he shares with his soon-to-be wife, whom he married a few weeks after he finished this painting. The work is done in both cubist and expressionist styles, showing the power of romantic love in an otherwise everyday setting.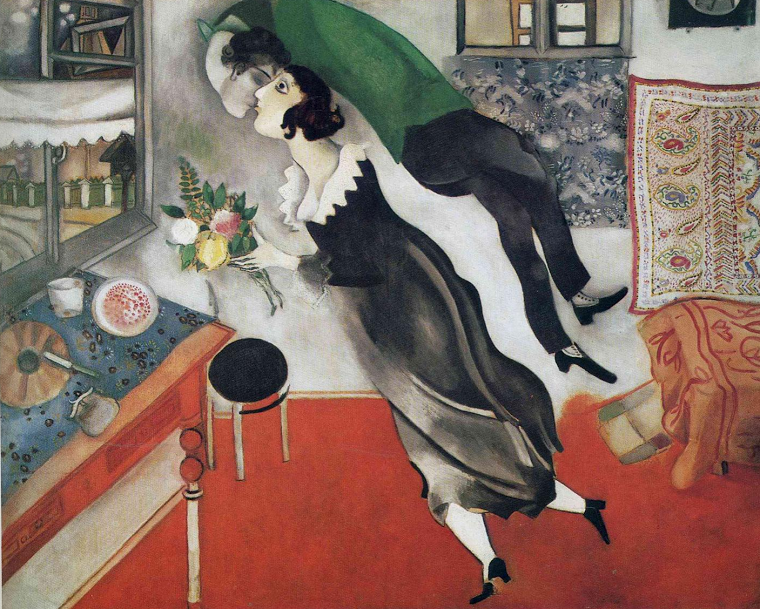 Marc Chagall, "The Birthday," Wikimedia Commons
Chagall's love for Bella has been the subject of commentary, including in "The Guardian":
"Bella swiftly became Marc's muse and continued to visit his canvases for the rest of his life. Famously, he often depicted himself and Bella flying together, as if their shared joy had such physical force it countermanded the law of gravity itself. In "[The] Birthday," they appear surprised by their flight, rising towards the ceiling like two astonished bubbles of ecstasy. In "Over the Town," they drift high over Vitebsk, Belarus, as one only flies in dreams, uniquely privileged to share the same floating reverie. There can be few more vivid evocations in art of how it feels to be in love.
The Chagalls' story is also remarkable because they experienced so much 20th-century history first-hand. In 1911, leaving Bella in Russia, Marc made it to Paris, then the [center] of the modernist movement happening in western art. He soon added something revolutionary. 'Under his influence, metaphor made its triumphal entry into modern painting,' André Breton, who credited Chagall as the father of surrealism, later said."
René Magritte, "The Lovers." In 1928, this Belgian artist depicted two figures, kissing each other through veils. The painting is currently being exhibited in the Museum of Modern Art's online exhibition, accompanied by the museum's own commentary on the piece: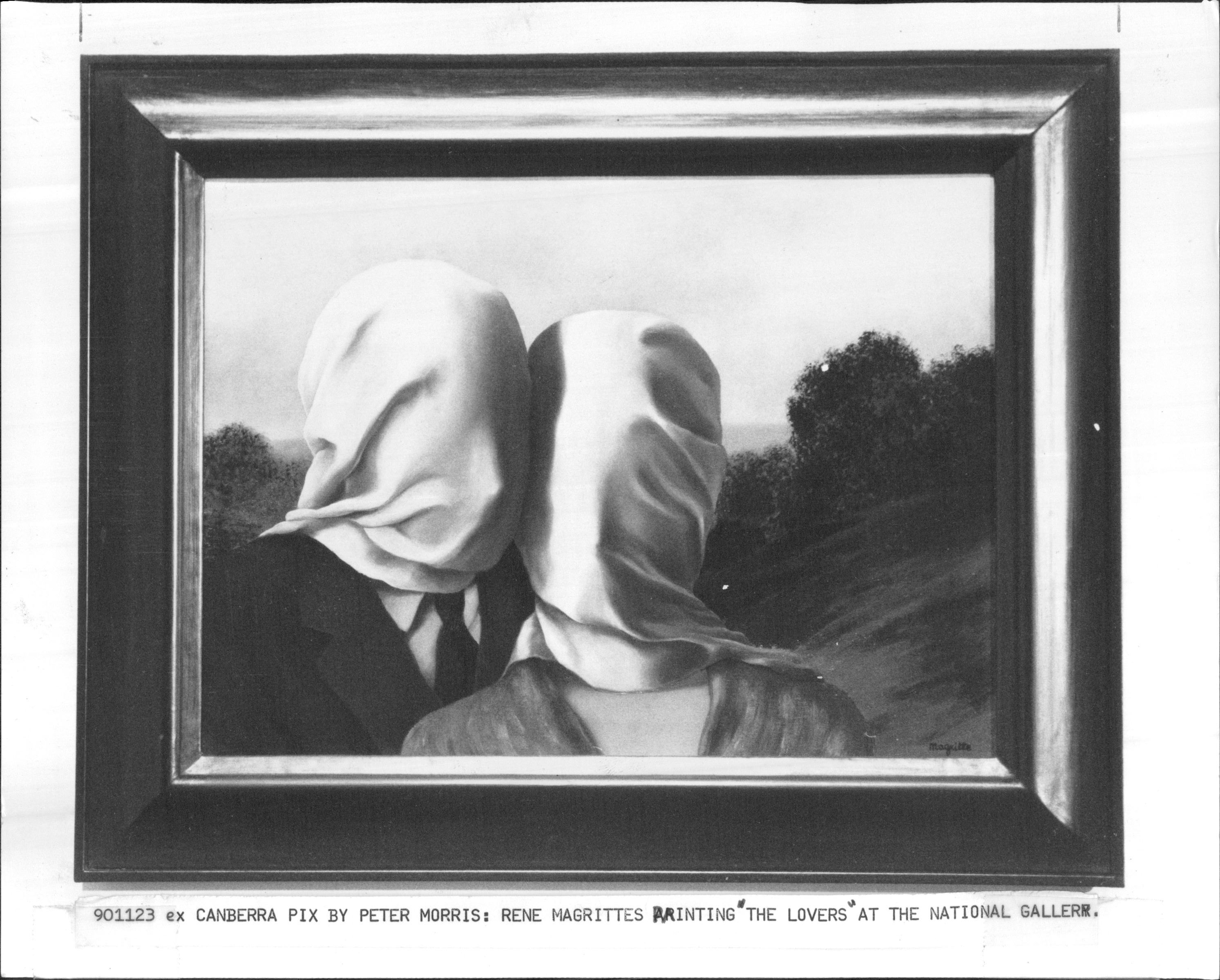 René Magritte, "The Lovers," Getty Images
"Frustrated desires are a common theme in René Magritte's work. Here, a barrier of fabric prevents the intimate embrace between two lovers, transforming an act of passion into one of isolation and frustration. Some have interpreted this work as a depiction of the inability to fully unveil the true nature of even our most intimate companions.
Enshrouded faces were a common motif in Magritte's art. The artist was 14 when his mother committed suicide by drowning. He witnessed her body being fished from the water, her wet nightgown wrapped around her face. Some have speculated that this trauma inspired a series of works in which Magritte obscured his subjects' faces. Magritte disagreed with such interpretations, denying any relation between his paintings and his mother's death. 'My painting is visible images which conceal nothing,' he wrote, 'they evoke mystery and, indeed, when one sees one of my pictures, one asks oneself this simple question, 'What does it mean?' It does not mean anything, because mystery means nothing either, it is unknowable."
Gustav Klimt, "The Kiss." You've probably seen replicas of this gorgeous, gold portrait many times before, even in unexpected places like coffee shops. But there's much more to learn about this piece that is not common knowledge. In fact, post-Victorian society in the 1900s thought "The Kiss" was too obscene, even though both figures are clothed. Although there was public outcry about the painting, it sold before it was even completed to the Belvedere Museum in Vienna, Austria. The website celebrating Gustav Klimt had these other little-known facts to reveal: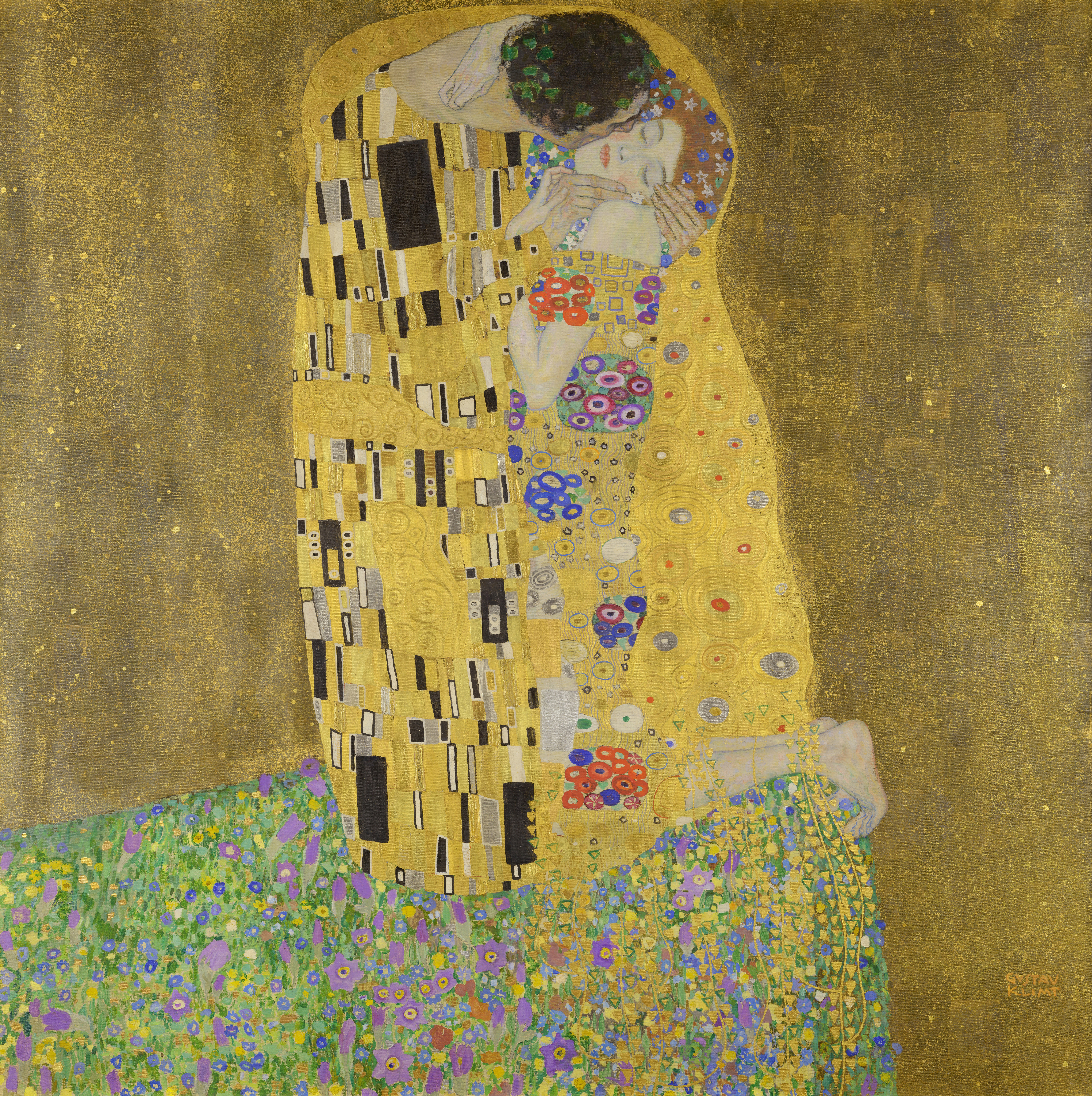 Gustav Klimt, "The Kiss," Wikimedia Commons
"'The Kiss' is the final painting of Klimt's Gold Period, during which he incorporated gold leaf into his works. This practice reflects the strong influence of the gold-detailed religious art of the Middle Ages as well as the sacred works created by artists of the Byzantine Empire. As a result, some considered such paintings as 'The Kiss' to be sacrilegious. The artist created "The Kiss," his most iconic painting, in the aftermath of dismal failure. During the first decade of the 20th century, Klimt completed a series known as the Vienna Ceiling Paintings at the University of Vienna's great hall. Due in large part to the nude figures in this series, the established art community derided them as pornographic. Klimt ultimately called upon the help of a wealthy patron to repay his commission of 30,000 crowns to Vienna's Ministry of Education and took his paintings elsewhere."
Gabriele Castagnola, "Love or Duty." In addition to passionate love, who doesn't love a little forbidden love? Italian artist Gabriele Castagnola depicts this moment in "Love or Duty" through the symbolism of what this man could offer the nun should she break her vows. On his canvas as he kneels before her, we see imagery of a mother and her children, so one could interpret this painting as a vying for love with the promise of family. The chromolithograph was published by Hangard-Mangué.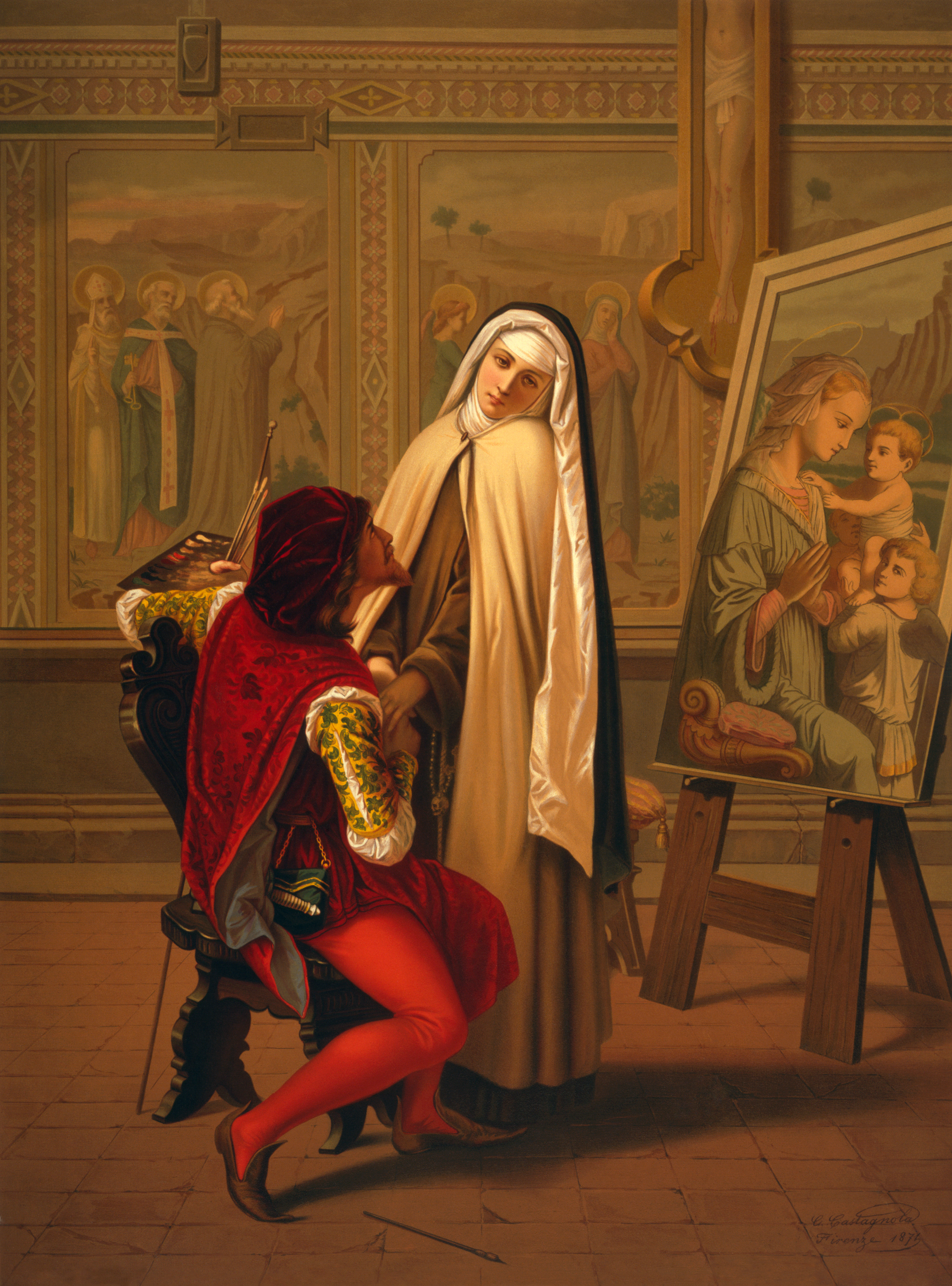 Gabriele Castagnola, "Love or Duty," Wikimedia Commons
Taking in these classic, deeply romantic pieces from the safety of your own home is the perfect activity during the month of love. In the end, only love matters, and these featured painters show us why and how in their deeply evocative works. As one of the artists here, Marc Chagall, once said, "Only love interests me, and I am only in contact with things that revolve around love."