Many have found that keeping a journal is great for maintaining mental health, keeping up with your personal goals and helping you stay inspired. Journals are books that are typically filled with blank, lined, or dotted paper. You can even find journals that have prompts in them to help you get started with your journaling process. Since these books are mostly blank, you can adapt a journal to whatever you might need. You can also enjoy picking out journals with covers that reflect your style, or even curate the covers to your liking by decorating them. Journals allow you to express your thoughts and set your intentions. Plus, it's a great reason to use fun stationery like stickers and washi tape.
Personalizing a journal can be useful and fun. Whether you're adding color inspiration to every page or leaving an area to remind yourself how great you are with self-affirmations, you'll find yourself reaching for your journal quite often. It can be helpful to look back on previous thoughts and inspirations to assist you with future projects. You can even look back and see how far you've come if your journal is aimed at helping you keep a goal. It is completely up to you in regards to how much, or how little you want to put in your journal, because it's meant to be a tool for you.
You can create practically any bullet journal layout you want, here are some inspiring ideas to help you get started.  

Mood Tracker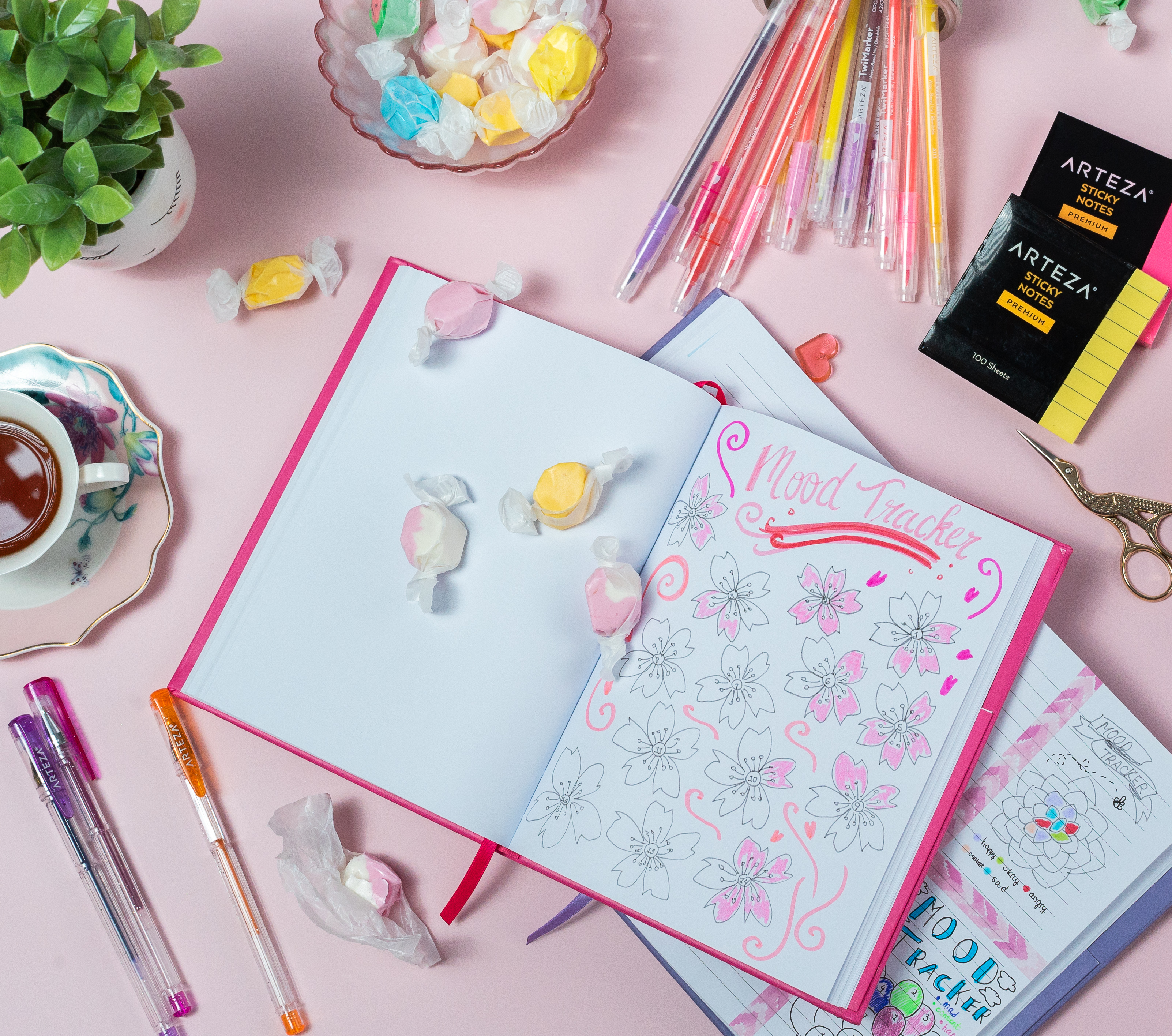 A mood tracker is a great way to check in with yourself, see how you're doing, and what you're feeling. You can add this on to your existing layout or use it as the anchor for the rest of the page. 

Suggested supplies: 
Sketch TwiMarkers, Dual Tipped - Set of 100
Glitter and Metallic Gel Pens Bundle

Sleep Tracker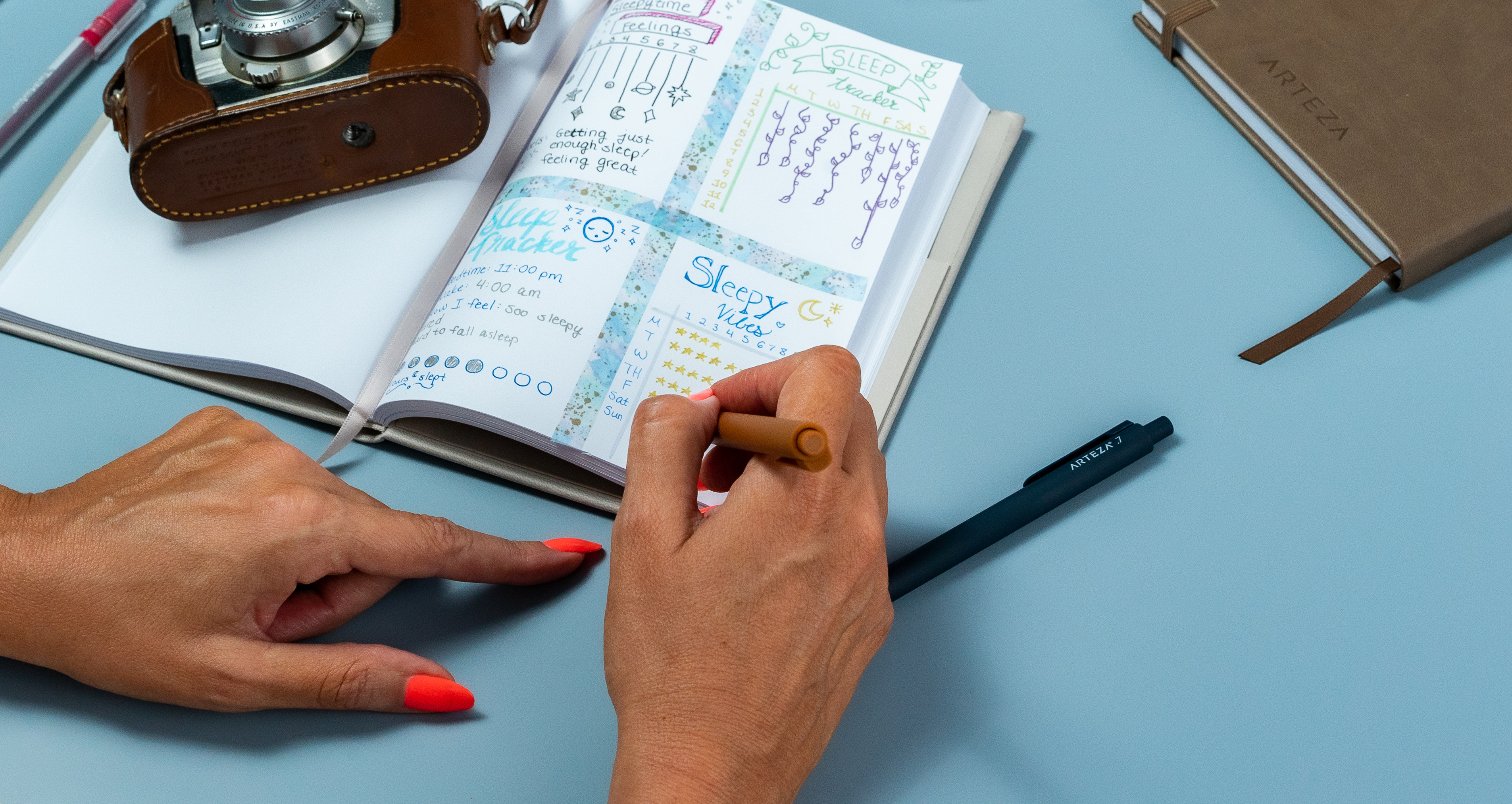 Getting a good night's rest can impact so much in our daily lives. Creating a little sleep tracker in your journal can allow you to see which nights you're getting good sleep and which nights you could've used a couple more minutes.

Suggested supplies: 
Retractable Gel Ink Pens - 20 Pack
Planner or Agenda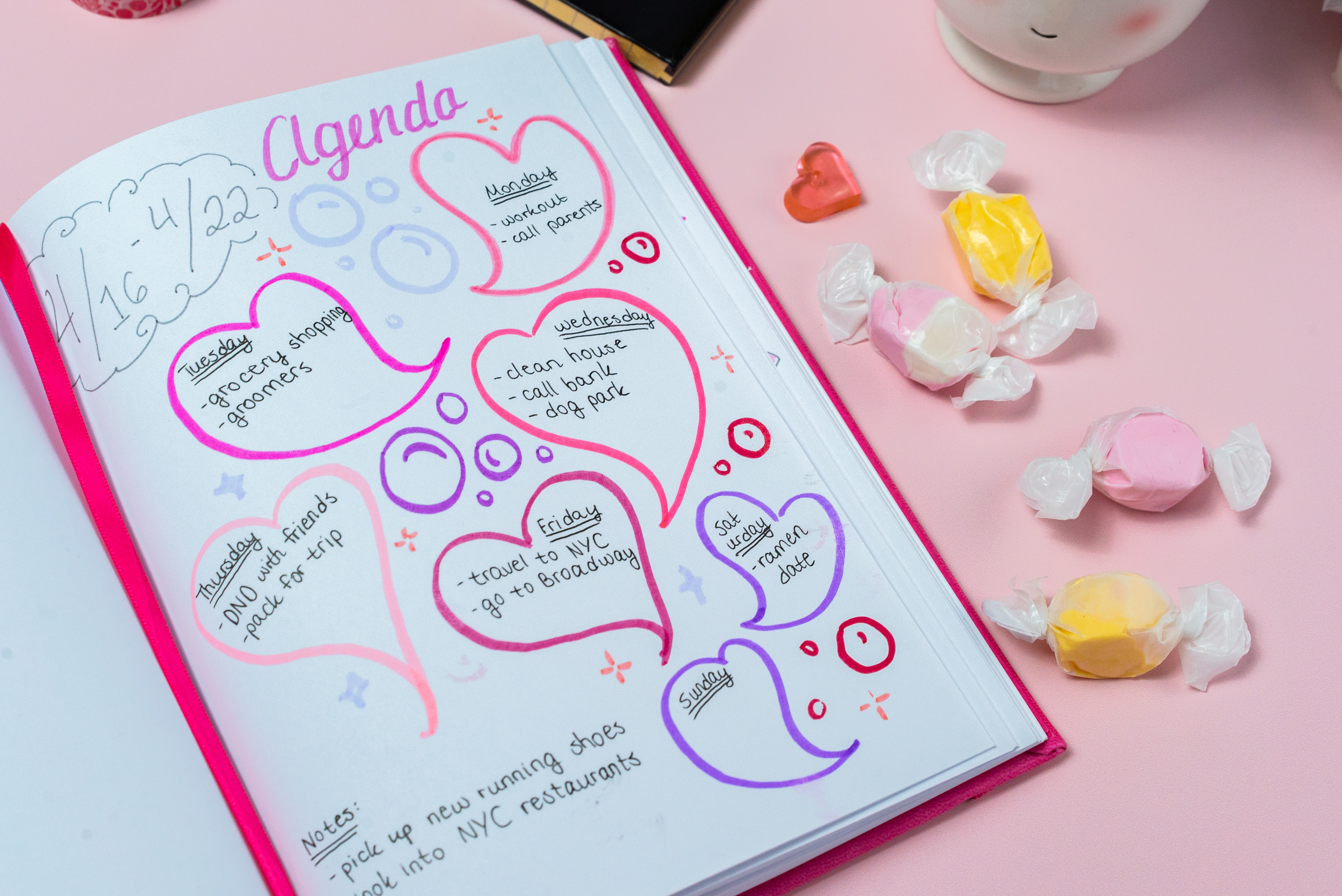 By using a ruler, some washi tape, and your favorite pens, you can create the perfect agenda layout. Make the boxes as big or small as you like, you can even experiment with different shapes.

Suggested supplies:
EverBlend Ultra Art Markers, Tropical Tones - Set of 36
Sketch TwiMarkers, Dual Tipped - Set of 48

Meal Prep Tracker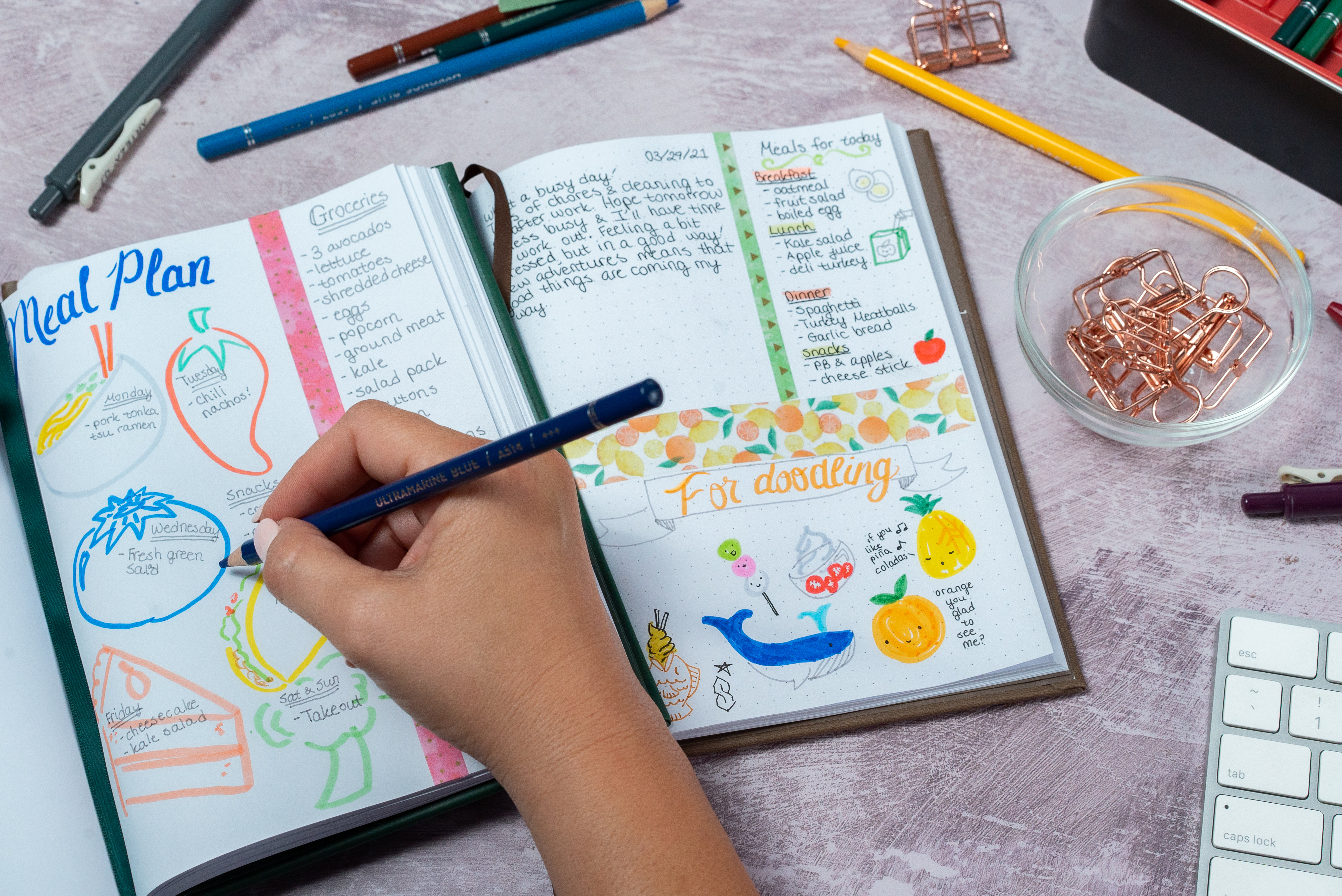 Whether you're on a special diet or just want to have an idea of what groceries you'll need for the week, a meal planner can be super helpful. Don't forget to leave room for treats!

Suggested supplies:
Professional Colored Pencils - Set of 120
Retractable Gel Ink Pens, Vintage Colors - Set of 10

Doodle Area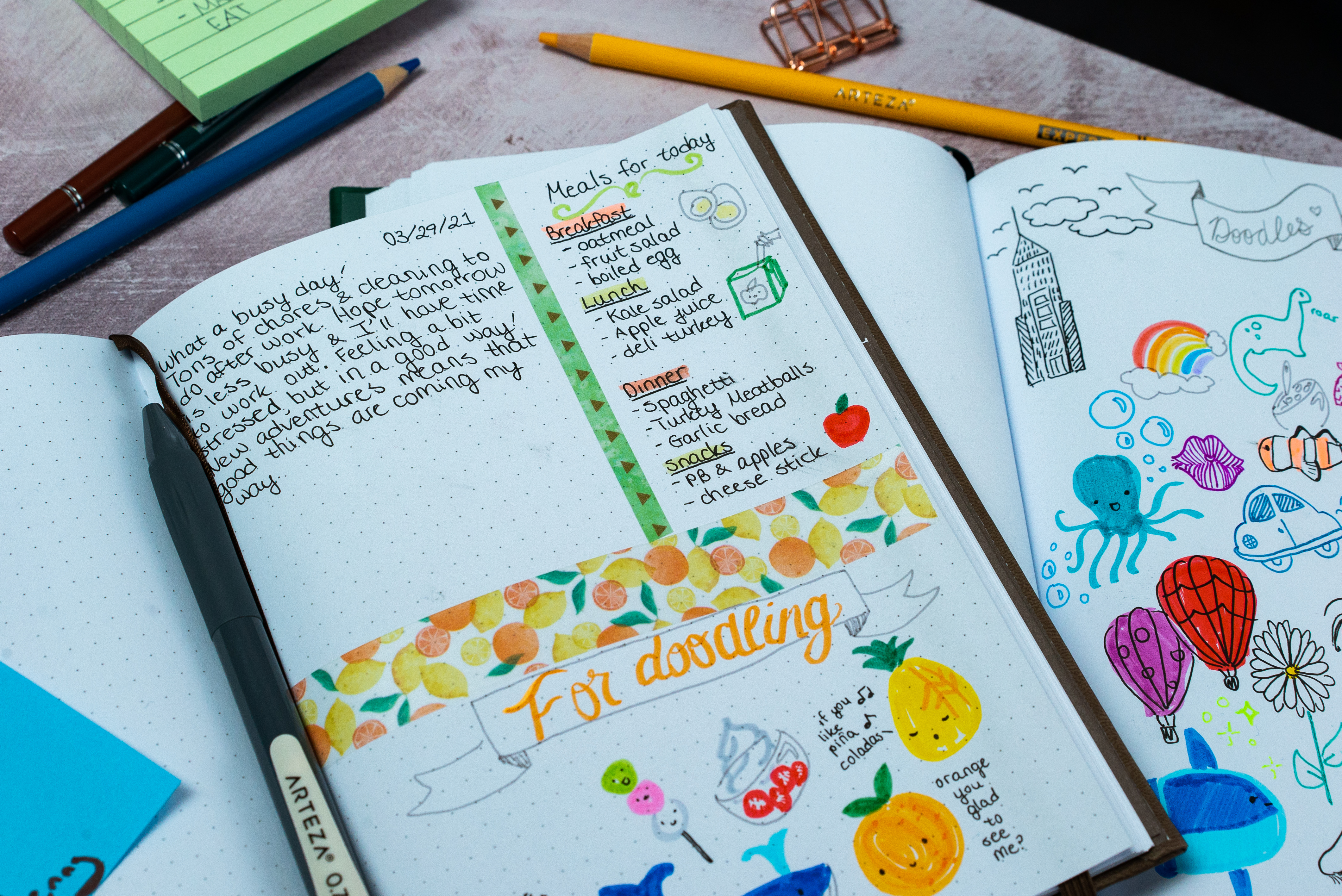 Leaving yourself a little doodle area in your journal layout can be a good place to put down ideas for full compositions or you can turn your whole page into an art masterpiece from that little area. 

Suggested supplies: 
Retractable Gel Ink Pens, Vintage Colors - Set of 10
Professional Colored Pencils - Set of 72
Setting aside time each day to reflect on what happened can be therapeutic. Your journal won't judge whether you're having a good or bad day and you can safely record how you feel. If you happen to be working towards a goal, tracking your progress through a journal can make you feel fulfilled even on the days you feel like you aren't making progress. Many artists find that they're just filled with endless ideas and find inspiration everywhere and having a journal nearby allows you to capture those ideas before you forget them.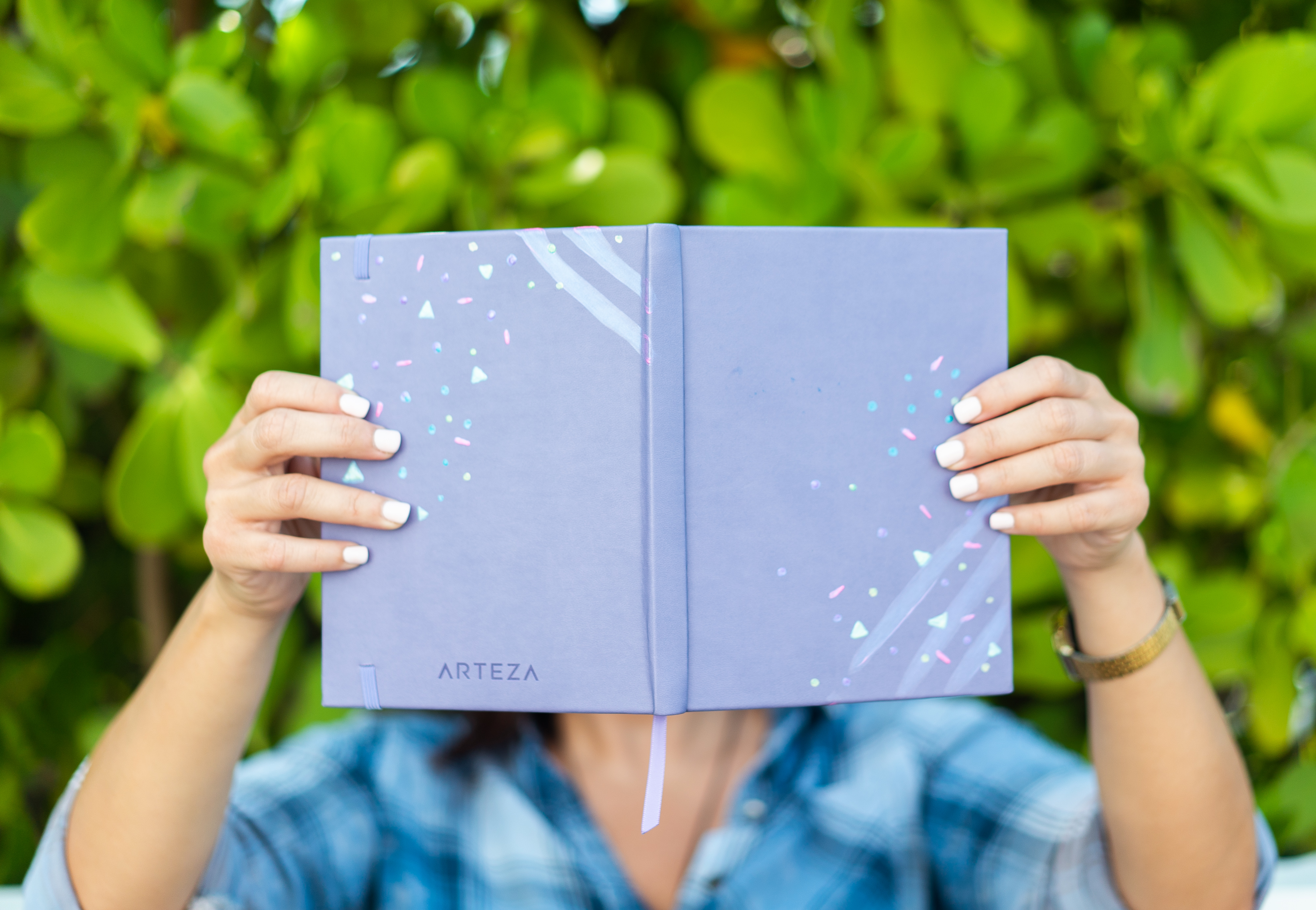 Your journal can become a great tool that helps you plan, track and reflect on all the things happening in your life at any given moment. If you feel like you don't know where to start, just start small and remember that you aren't obligated to fill every page or write a whole lot. Do what works best for you and find a journal layout you enjoy. Don't forget to have fun with it and leave plenty of room for spontaneity.