Synchronicity happens—and leads to bedazzling things. As in when Alexander Perez, a Miami street artist known as Coinslot, introduced two of his friends to one another. The pals, musician Pharrell Williams and hospitality entrepreneur David Grutman, founder of LIV nightclub, hit it off immediately—as Alexander knew they would.
The creative duo launched their friendship in Miami, along with the opening of a restaurant, Swan and Bar Bevy, which went so well, they moved on to try their hands as hoteliers. To wit, in April 2021, they established The Goodtime Hotel, one of the nation's most exciting new hotels.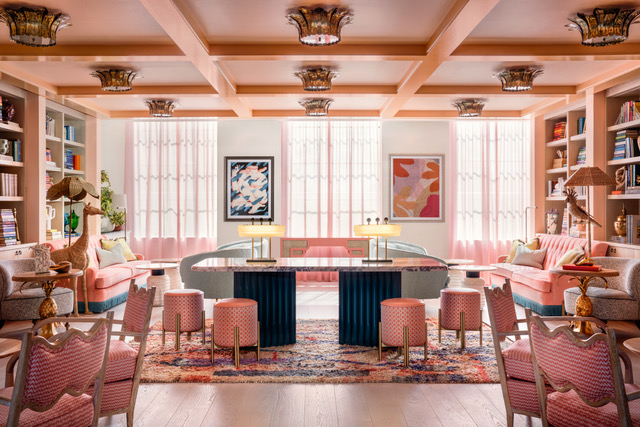 Whimsical Goodtime proves that quixotic and fanciful elements may be the real definition of luxury living. The hotel sends the message "be happy" (and is aptly named, it is Pharrell, after all), despite our grim times, and its mission is to be a place where you can leave your cares behind, and immerse yourself in beauty and fun. "I am spellbound by the impossible," says Pharrell. 
His goal for Goodtime, a sanctum of opulently artsy interiors by Ken Fulk and art curated by Tappan Collective, was to beguile guests with a sense of enchantment and inspire them to feel bliss at every turn. Taking a forgotten building in South Beach on Washington Avenue, between 6th and 7th streets, two blocks from the beach, the team engaged architect Morris Adjmi to re-vivify the abandoned space, which spans an entire block. The seductive end result is a modern interpretation of art deco—with storybook appeal.
Goodtime rises seven stories, with a snow-white exterior, which sports leafy, geometric lines and stem-like, flouted columns. Outside, an ornamental forest of flora by landscape architect Raymond Jungles accents the structure. Step inside, and things get even dreamier as Ken Fulk takes art deco's classic cotton candy pink and mint palette to another dimension in a symphony of textures. Rattan furniture, tufted pink-velvet couches, sexy animal prints and a jaw dropping, hand-painted, tropical, hot house mural (reminiscent of William Morris) sets the mood. Lavish and indulgent, it's all meant to be very Wes Anderson's Margot Tenenbaum, especially in the library, according to Pharrell. Capping the hotel, a moan-worthy, pink-striped, rooftop pool, fringed by pink, scallop-edged cabanas and perfectly positioned palm fronds, invites repose. Here, restaurant and club Strawberry Moon, infinitely savvy à la Grutman, promises to be the hottest place in town. On the floors in between, 266 spunky guest rooms and suites gratifyingly evoke a tongue in cheek nostalgia, notable in features such as pink rotary dial phones and amenities like leopard bathrobes.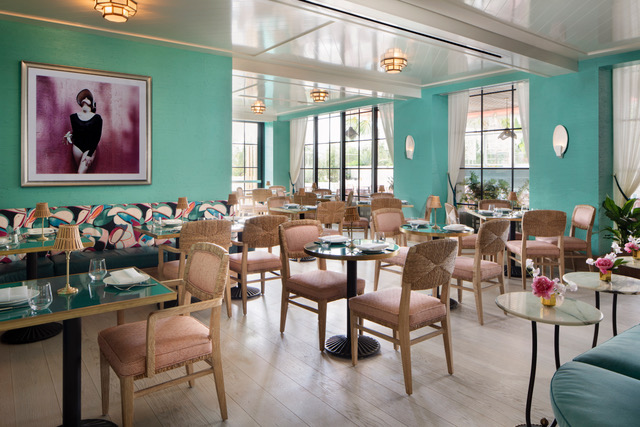 Choosing art for such a creative, fashion forward and sassy hotel might have been daunting for some. But Tappan Collective rose to the occasion with its wide range of up-and-coming global artists, each selected for their adventurous, bold pieces. "Whether original works or stunning photography, the idea was to create something unexpected and captivating. These artists herald from across the globe and their work can be seen all over the world, from the De Young Museum to Apple, from Vogue to The Four Seasons," said a spokesperson from Tappan Collective.
Arteza Art Break:
Yes, it's that time! Let's play some "Happy" by Pharrell, find a chill spot and take a mini art break. Shall we paint The Goodtime Hotel and the fabulous art you'll find there? Cozy up to a tropical drink and let's get started. We suggest the products below.
The artwork collection, uniquely positioned throughout the hotel, hung with assorted frame styles, invites participation from guests. Found in the lobby, restaurant, corridors, guestrooms, elevator landings and library, each piece both harmonizes with Goodtime's overall inventive atmosphere, while standing alone, popping with as much personality as any Wes Anderson film character. Particularly edgy and engaging, works in the library enhance its already sultry, sybaritic ambiance. Curators drew inspiration for the hotel's chosen artwork from Miami's lively scene, as well as the city's bright colors, heyday history and ever vibrant, artistic voice. Diverse and provocative, the pieces run the gamut of textures, hues and mediums. 

Artists, chosen for their bravado, messages and uniqueness, include Marleigh Culver, Ethan Caflisch, Gabrielle Teschner, Michael DeSutter, and Annelie Vandendael, among others. Rooms, each like a gallery so profound guests might linger for hours, come to life with a bevy of complementary works. For example, one hallway displays an original painting by Brooklyn based painter Georgia Elrod, who philosophically looks inward at the body through abstract physical forms. Through an arch, a colorful diptych, "Partisans," by Bryce Wymer, who borrows dadaist collage techniques and references punk and hardcore music in his work, can be seen hanging on an adjacent wall. Together, the two artists, though extremely different in style, awaken the area in a pleasing fusion. In the bedrooms, expect a mix of artists, with smaller pieces being presented together in assemblage to complete the transportive dream-laden ambiance that Fulk has conjured with a post-modern hand. A typical suite might have paintings, sculpture, prints or photography by the likes of Marleigh Culver, Carly Berlin, Gabrielle Teschner, Ethan Caflisch, and Michael DeSutter. Check out the Annelie Vandendael's glossy photograph "Sois Belle 2.23," centered above a couch, its fashionista elephant motif the perfect companion to leopard-sheathed pillows and tropical-baroque-y accessories.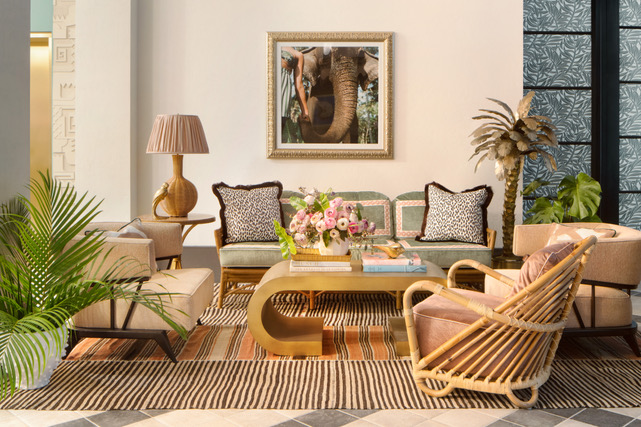 Whether in the hallways, the lobby, the library or the suites, Tappan Collective's prodigious, au courant artwork continues the hotel's overall otherworldly effect. As with the design and the re-envisioned structure itself, the artwork delivers pastiche, irony, humor, parody and historical reference aplenty. Richly conceived, the collection plays a substantial role in bringing Pharrell's wished for good times to the Goodtime. Laissez les bons temps rouler.
How did you enjoy the read? Are you inspired to create even more art? Make sure to check out the suggested set below for your next creation.