If you're a fan of Andy Warhol's work, you may already know about one of his very famous subjects: Edie Sedgwick. This multi-talented actress and fashion model became known as the "Girl of the Year" in 1965 after starring in several of Warhol's movies at the height of the pop art movement. But Sedgwick's life wasn't all glitz and cellophane, and in fact was marked with tragedy and turbulence, especially when her relationship with Warhol imploded.
Sedgwick was born on April 20, 1943 in Santa Barbara, California. The seventh of eight children, she was named after her father's aunt, Edith Minturn Stokes who famously painted with her husband. Sedgwick, as did her other brothers and sisters, had a tempestuous relationship with their father. He was often narcissistic, abusive, and emotionally unavailable. They grew up on a 3,000-acre ranch in California with their wealthy, controlling parents, homeschooled and often cared for by nannies. By the time Sedgwick was 13, she began suffering from anorexia and bulimia under the pressures of her domineering father and subservient mother.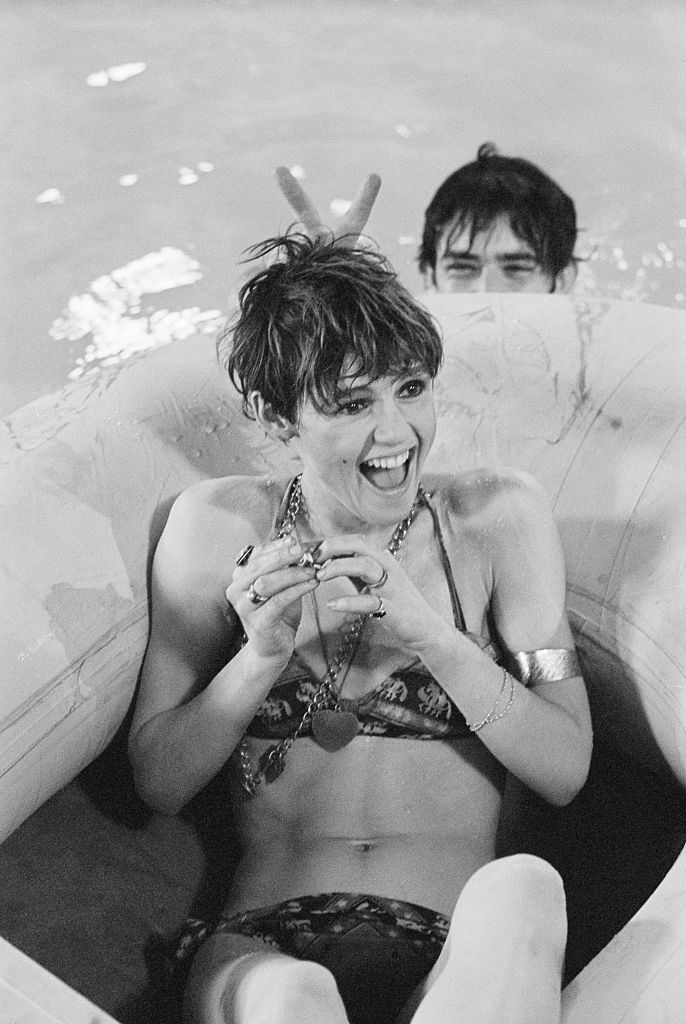 Edie Sedgwick Lounging, "Ciao! Manhattan" movie, Getty Images
In 1964, Sedgwick moved to New York City after receiving an $80,000 trust from her maternal grandmother. She lived with this grandmother when she moved to the city and aspired to become a model. She began taking dance lessons, going out to modeling auditions and attended high society gatherings. By that fall, she had the means to move into her own apartment on E. 64th Street. Every night, she partied with her Harvard friends.
In the spring of 1965, Sedgwick met Andy Warhol at his salon called The Factory during a birthday party for author Tennessee Williams. It was the beginning of a famous and fruitful relationship. An article in "Vanity Fair" about the two detailed their first encounter:
"The encounter was arranged rather than by chance, a setup by the host, movie producer Lester Persky. Persky knew Andy was on the prowl. "Baby Jane" Holzer had been 1964's Girl of the Year, but the year had changed, which meant so should the girl. Persky knew, too, just Andy's type. When Andy saw Edie, leg in a cast (months before, she'd run a red and totaled her father's Porsche, 'How did two people step out of this car alive?' gasped the caption running under the newspaper photo of the wreck), hair in a beehive, he was like a cartoon character who'd had a safe dropped on him, little stars and tweeting birds dancing around his head. Persky told writer Jean Stein, co-author with George Plimpton of Edie: American Girl, "[Andy] sucked in his breath and . . . said, 'Oh, she's so bee-you-ti-ful,' making every single letter sound like a whole syllable.' Edie was just as knocked out."
She began working with Andy as a performance artist and became Warhol's film muse. Together, Warhol and Sedgwick began a brief yet exciting collaboration. They made approximately 18 movies together, although the true number isn't known since Warhol didn't keep accurate records of his films. He often didn't even have a script to go with the movies, as was the case for "Poor Little Rich Girl." About the film, he said, "To play the poor little rich girl...Edie didn't need a script--if she'd needed a script, she wouldn't have been right for the part." Indeed, he was more focused on the star of the film than its structure.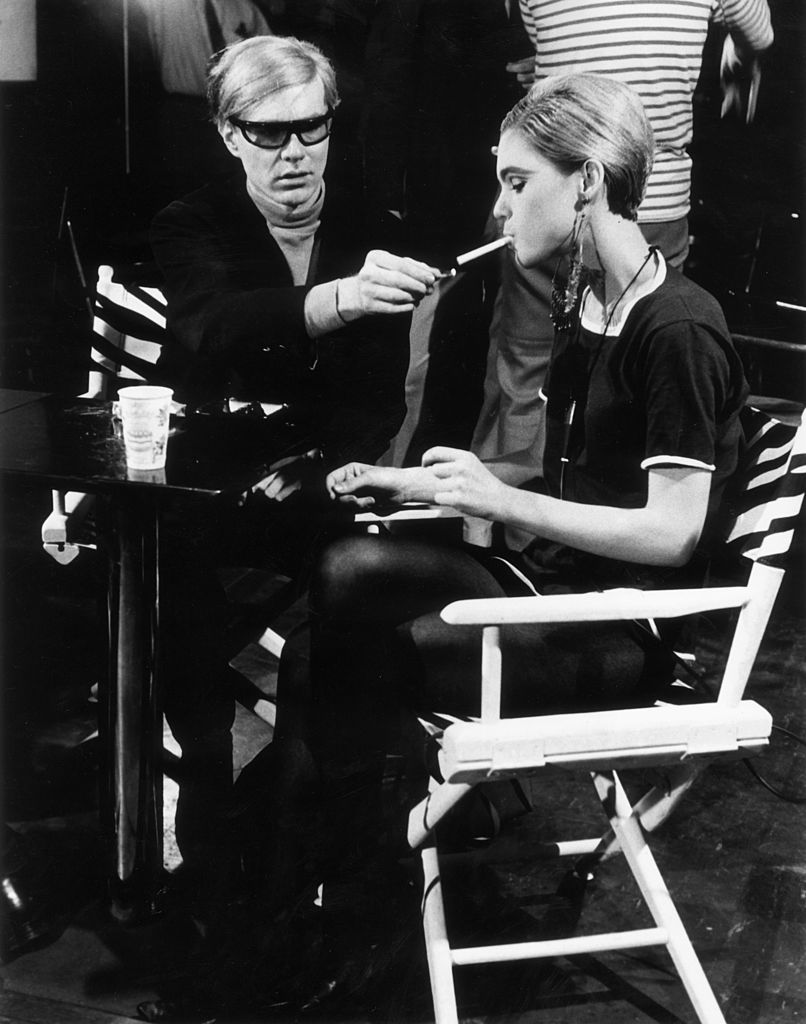 American Pop artist Andy Warhol (1928 - 1987) sits next to actor Edie Sedgwick (1943 - 1971) and lights her cigarette, on the set of one of his films. Photo by Walter Daran/Hulton Archive/Getty Images
Unfortunately, their mutual creativity didn't last forever. By the end of 1965, Sedgwick was no longer on board with Warhol's vision, and she had found another person. Sedgwick and Bob Dylan began to spend time together creatively. The night was chronicled by this same "Vanity Fair" piece, ending with a heartbroken Warhol:
"That night, Andy asked [playwright Robert] Heide to meet him at Kettle of Fish, a Greenwich Village bar. Recalls Heide: "When I got there, I saw Edie. She had tears in her eyes. I asked her what was wrong. 'I try to get close to him, but I can't,' she whispered, and I knew she was talking about Andy. That's when he arrived. Usually he wore dirty dungarees and a striped shirt, but he was dressed in a blue suede suit from the Leather Man on Christopher Street. He didn't say a word. We were all just sitting there when a limo pulled up to the front door. Bob Dylan walked in. Edie perked up, began talking in her little-girl Marilyn Monroe voice. Nobody else spoke. It was very tense. And then Dylan grabbed Edie's arm and snarled, 'Let's split,' and they did. Andy didn't say anything, but I could tell he was upset. And then he said, 'Show me the building Freddy jumped out of.' [Freddy Herko, a dancer and Factory member who, high on speed and LSD, had danced right out the window of a five-story walk-up the year before.] As we stared up at the window, Andy murmured, 'Do you think Edie will let us film her when she commits suicide?' Andy's question to Heide would have been heartless if it wasn't actually heartbroken. He was the odd man out in a love triangle, a bad situation for a normal person, hell for one so terrified of feeling."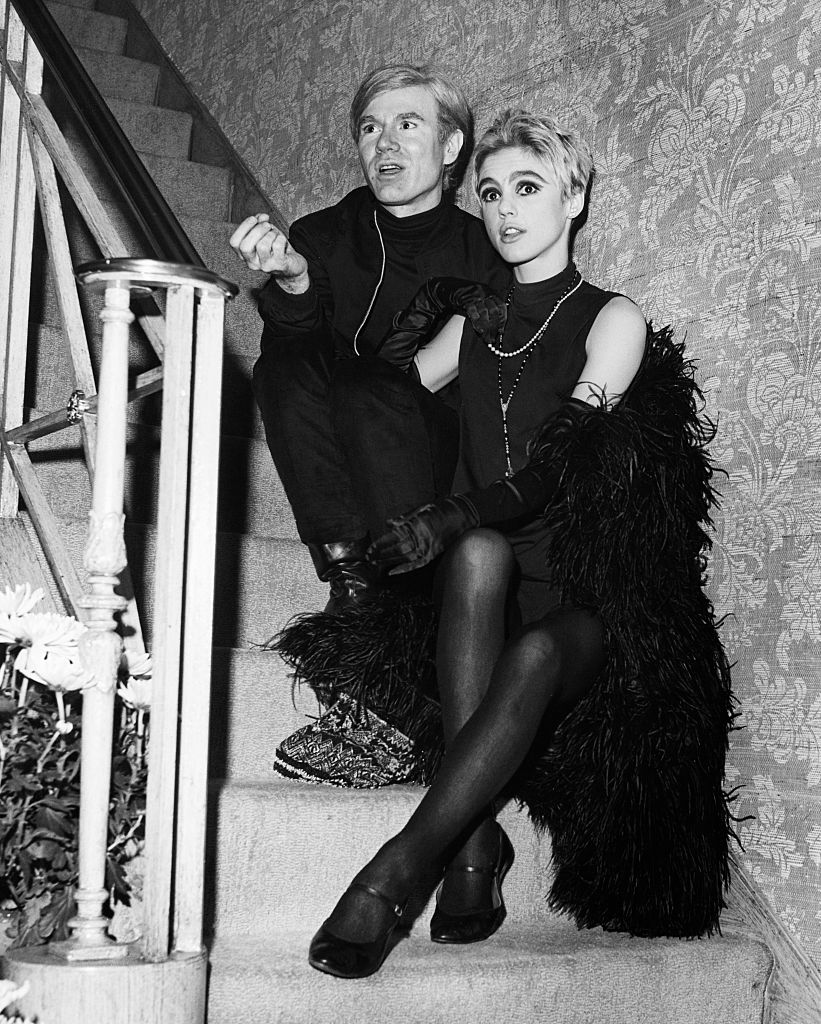 Andy Warhol and Actress Edie Sedgwick Seated on Stairs. Undated photo. Photo by John Springer Collection/CORBIS/Corbis via Getty Images
Without Warhol, though, Sedgwick was set adrift. She got into drugs and never seemed to recover:
"In 1966, the actress Sally Kirkland was asked by Chuck Wein to replace Edie as the lead in Ciao! Manhattan, Edie's only non-Andy movie, because Edie had suffered a nervous breakdown. Says Kirkland, "When I got the call, I said, 'Chuck, I can't. I've just had a nervous breakdown.' I'd tried to kill myself with Nembutal. They declared me legally dead. I was under psychiatric supervision and my doctors didn't want me to act for a while." Edie would end where she began: Santa Barbara, California. On November 16, 1971, she'd overdose on barbiturates. She was 28."
Although her life was brief, Sedgwick left her mark on the art world. We can find inspiration in her contributions as an art muse to the pop art scene in her films and photos.
Has reading about this art muse inspired you? Shop set below for your next creation