María Félix was a strong, beautiful woman who is considered one of the most successful actors of the Golden Age of Mexican cinema. Her film career spans 47 films made in Spain, France, Italy, Argentina and of course her home, Mexico. Her roles included a brothel keeper, teacher, soldier, cabaret singer and a belly dancer. She was considered a beacon of style and sophistication, as well as a diva. She had an indomitable spirt, and was viewed as a feminist before the term was even coined. María's career started in the 1940s and sizzled for three decades.
"My enemies are many and bad; my friends are few and good."-María Félix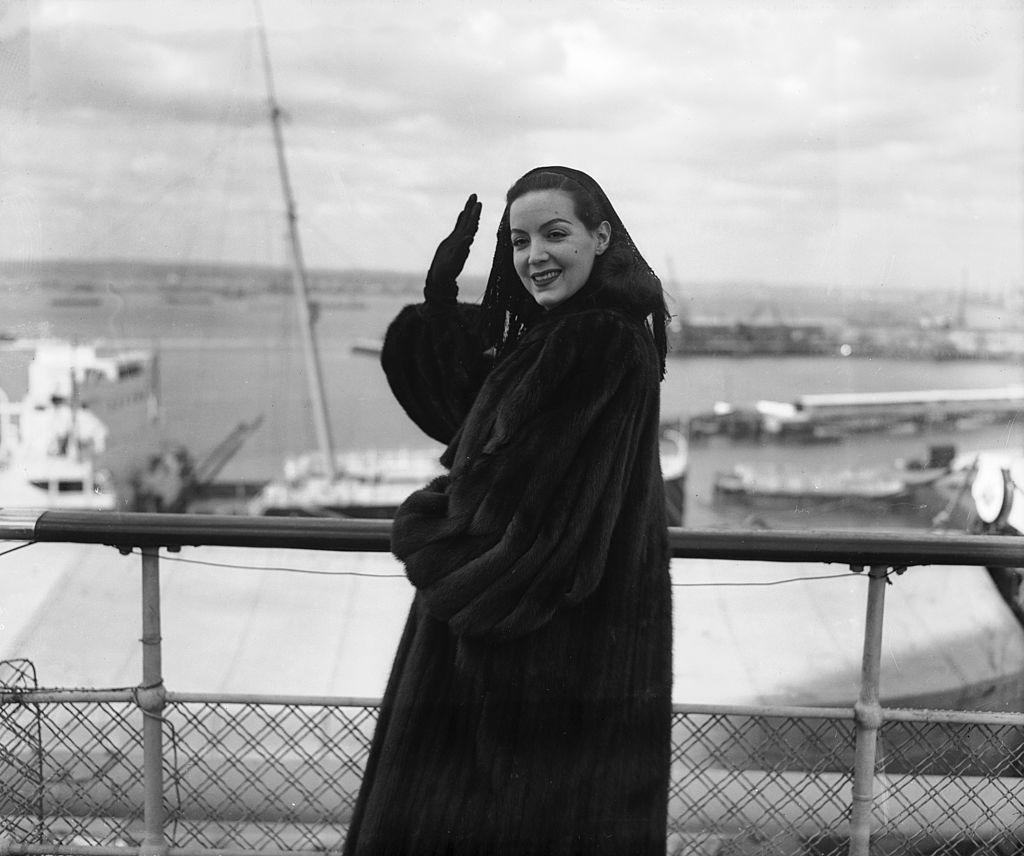 18th March 1949: Mexican actress María Félix leaves Southampton for the United States on board the SS Queen Elizabeth. Photo by Keystone/Getty Images
In the Beginning:
The beautiful, outspoken actress was born María de los Ángeles Félix Güereña on April 8, 1914, in Alamos, Sonora. She was one of eleven siblings: Josefina, María de la Paz, Pablo, Bernardo, Miguel, María Mercedes, Fernando, Victoria Eugenia, Ricardo, Benjamín and María del Sacramento, and she was very close in particular to her brother. In the United States, Maria was educated at a convent. Although she grew up in a strict environment, she was still able to participate in activities that were considered "unladylike," including horseback riding. In 1931, María left the strictness put in place by her father and married Enrique Alvarez. Enrique was a salesman for Max Factor beauty products, and the couple relied on his income.

The marriage was an unhappy one. Her husband was unfaithful, and María found herself left at home alone a lot. When they did go out, to avoid men looking at her, she and her husband would go to the movies right after the film started and left right before it ended. Her husband had fits of jealousy the eventually destroyed their union. The couple had one child, Enrique Alvarez Felix, but within 7 years they had divorced. By 1939, María had moved back to her hometown, there, she felt the social stigma of being a divorced woman. After a year, she found it unbearable to remain living in Sonora and moved with her son to Mexico City.

Mexico City Calls:
Mexico City is where her career in cinema began, and where she met Fernando Palacios, who encouraged her to become an actress. Her first film was in 1943, she starred alongside Jorge Negrete in "El Peñón de las Ánimas (The Rock of Souls)." That year she also filmed "Maria Eugenia" and "Doña Barbara". The latter was the film that gave her the moniker "La Doña". An adaptation from the novel by Venezuelan writer Rómulo Gallegos. In that role she was representing the liberated woman, as it were, breaking the former stereotype of submissive maidens in previous Mexican films.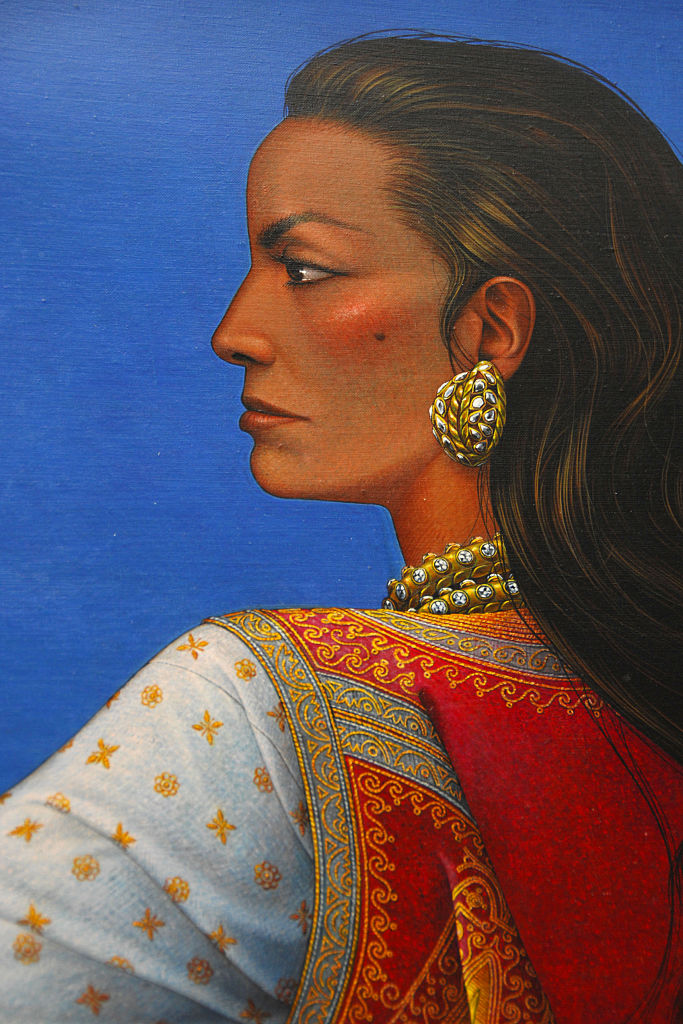 Painting of Maria Felix by Antoine Tzapoff, atmosphere at CHRISTIE'S Celebration of MARIA FELIX : La Doña at Christie's on July 16, 2007 in New York City. Photo by BILLY FARRELL/Patrick McMullan via Getty Images.
María's career continued to soar, and she soon developed the image of a man-eater and femme-fatale. At the premiere of "Doña Barbara," María met and fell in love with musician Agustín Lara. She soon moved into his home where he lavished her with furs, songs and jewelry. Like actress Elizabeth Taylor, she amassed an incredible collection of jewels. In fact, in 2015, The Denver Art Museum featured the exhibition, "Brilliant: Cartier in the 20th Century", which included her pieces. The description of the exhibition was as follows as written by Clara Ricciardi, Senior Spanish Language and Community Engagement Liaison at Denver Art Museum:

"Personally, the exhibition has an added element that makes it dear and special to me: the inclusion of María Félix's fabulous necklaces in the shape of crocodiles, and the one in the shape of a snake. Her presence in "Brilliant"—if only through her jewels—allows those visitors familiar with the Mexican diva, to reminisce and reflect on her importance to the golden era of Mexican cinema (1936-1960s). For those visitors not yet familiar with Félix's legacy, her jewels are a perfect entry point to learn and imagine about the personality and history of the woman who commissioned such beautiful and extravagant pieces—and the fabulous occasions in which she wore them!"

María's film career continued to rise, and she became a cult movie star, revered more for her personality rather than performance. She was making more money than many other Mexican actors and actresses as The Estate of María Felix details:

"In the film 'La Mujer de todos (Everyone's Woman)', she performs with Ernesto Alonso, who has a short role as her suicidal lover. Dressed in an iconic dress, the actress develops a sequence that would be recorded in the history of Mexican cinema by portraying the coldness and despotism of the main character.

ERNESTO:      My father knows everything and I am lost. I do not know what to do!
MARÍA:       Go home and ask for forgiveness.
ERNESTO:       I don't know how to ask for forgiveness.
MARÍA:       Then learn how.
ERNESTO:       What about our love? María, I can barely believe you are coming to this dinner party.
MARÍA:       You must learn how to forget, too.
ERNESTO:       Is that all you have to tell me?
MARÍA:       What else could I tell you?
ERNESTO:      A word that helps me live.
MARÍA:        Forget me."
María received accolades and praise for her acting work. She won the Ariel for Best Actress for the films "Enamorada" and "Río Escondido". In addition, she was considered the muse to artists such as Diego Rivera, Leonora Carrington and Jean Cocteau. She was painted by José Clemente Orozco, he along with Rivera and David Alfaro Siqueiros, established the Mexican Mural Renaissance. Félix developed a friendship with Diego, and his equally famous artist wife, Frida Kahlo. Frida believed her husband and María were having an affair but nothing has ever been proven, and La Doña always denied it. María's beauty was recognized around the world. It is even rumored that the Egyptian King Faruk promised her that if she agreed to one night of passion with him, he would gift her Nefertiti's crown.

"Since the beginning of time, men have taken the best part of the cake."-Maria Félix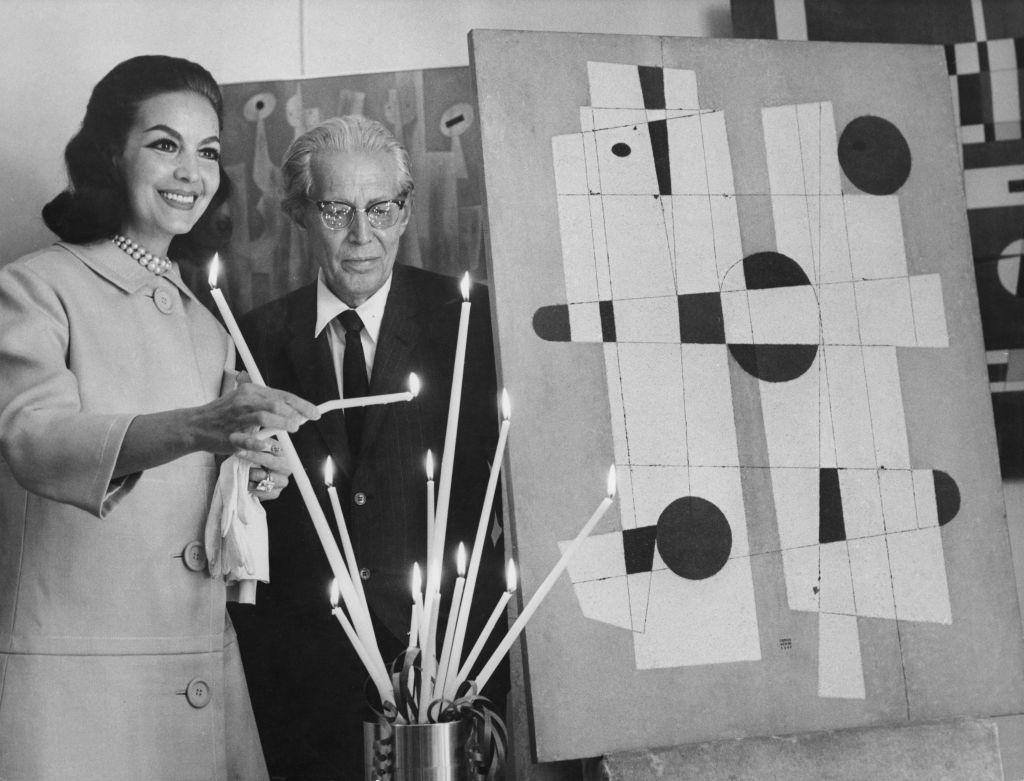 Mexican actress Maria Felix lights candles at a private view of work by Guatemalan artist Carlos Merida at the Reichenbach Gallery, Paris, 19th June 1962. Photo by Pictorial Parade/Archive Photos/Getty Images.
I'll Pass on Hollywood:
María never became a star in Hollywood even though she received job offers. In fact, María herself said, "They only give me huehuenche (Indian) roles." La Doña did make a career for herself in Europe, working with the most important directors. She debuted in European cinema in 1948 with the Italian-Spanish drama "Mare Nostrum". That film led her to "Una mujer cualquiera" and "La noche del sábado." She then debuted in Italy with "Incantesimo Tragico" in 1951. In Argentina, she filmed "La pasión desnuda" in 1952 with Argentine filmmaker Luis César Amadori. Her strong will and personality ensured that each project reflected her demands.

She continued to be known as a muse in the art world, and an iconic star of the silver screen. While in Mexico, on April 8, 2002, her 88th birthday, María passed away in her sleep. She will always be known as a strong, beautiful woman, who was a muse to many, and lived her life on her terms.

Are you feeling inspired to create after reading about Maria Félix? Make sure to shop set below for your next creation.