Table of Contents:
A Drawing Challenge All About You! #ArtezaBeYourself
We want to know all about you—your passions, your dreams, your home, your family, how you look, your favorite song, your beautiful imperfections and more. That's why we created this special challenge that's all about you! We challenge you to create artwork using the daily art prompts below to help us get to know you better. 
You are the subject of this challenge, so use any medium you want and post your art using #ArtezaBeYourself and tag us. We'll share your posts with our followers on Instagram and Facebook. At the end of each 10 days, we'll choose a winner,  who'll receive a $100 or £80 Arteza e-Gift Card!
The #ArtezaBeYourself Challenge starts on September 1, 2020, and runs through the entire month. Winners will be announced on September 10th, 20th, 30th!   
Just Be Yourself to Win! 
Here's how it works:
Create artwork based on the day's prompt.
Post your piece on Instagram or your other social media using #ArtezaBeYourself and tagging @artezaofficial or @arteza.co.uk on Instagram or @artezacolors or @arteza.co.uk on Facebook.
Your posts will be shared on Arteza's Instagram/Facebook stories daily.
On September 10th, 20th, 30th we'll choose a winner at 3 PM EST. All entries must be submitted before 1 PM EST.
The winner will get a $100.00 (USD) or £80.00 (GBP) Arteza e-Gift Card for use on Arteza.com or Arteza.co.uk
Only those from the US, UK or EU countries are eligible to win, but we hope everyone from around the globe will participate for the fun of it!
No purchase necessary.
Click on the banner to sign up for email updates from Arteza.
Daily Art Prompts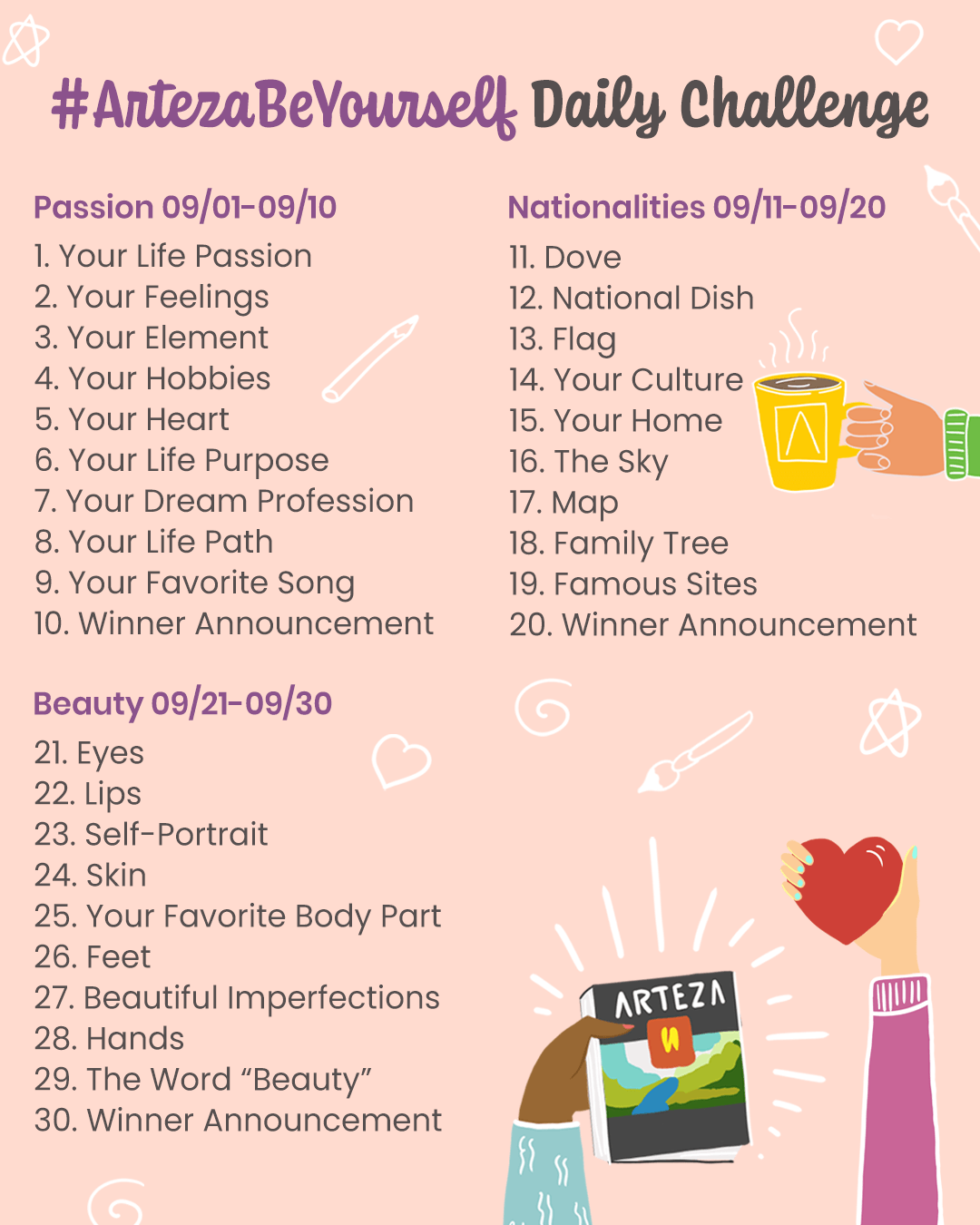 Passion 9/1-9/10
Use the prompts these 10 days to show us your true passions! What makes your heart beat faster and sparks your soul? 
1. Your Life Passion
2. Your Feelings
3. Your Element 
4. Your Hobbies
5. Your Heart
6. Your Life Purpose
7. Your Dream Profession 
8. Your Life Path  
9. Your Favorite Song
10. Winner Announcement
Nationalities 9/11-9/20
Take us inside your world. What makes it special? Lead us on a journey through your country, its culture and what it means to you. 
11. Dove
12. National Dish 
13. Flag 
14. Your Culture
15. Your Home 
16. The Sky
17. Map  
18. Family Tree 
19. Famous Sites
20. Winner Announcement
Beauty 09/21-09/30
Now that we've seen your art, we want to see you! Compose a self-portrait to express your personality, draw your most treasured memories and celebrate your perfect imperfections with us.
21. Eyes 
22. Lips 
23. Self-Portrait  
24. Skin  
25. Your Favorite Body Part
26. Feet 
27. Beautiful Imperfections 
28. Hands 
29. The Word "Beauty"
30. Winner Announcement
We can't wait to see "you" in your artwork! 
Terms & Conditions
Before entering this art challenge, please make sure to read the rules below:
Official Contest Rules
1. There will be three winners. Each will receive a $100 (USD) or £80.00 (GBP) Arteza e-Gift Card for use on Arteza.com or on Arteza.co.uk.
2. Start date 9/1/2020–end date 9/30/2020.
3. To take part in the art challenge, you must be 18 years or older.
4. The Winner will be chosen on September 10th, 20th, 30th at 3:00 pm EST. All entries must be submitted before 1 PM EST.
5. The Winner's name will be posted and tagged in our stories. 
6. Winners should contact us using one of the following methods:
https://arteza.com/contact-us or DM Arteza on Instagram
7. There are no medium restrictions.
8. You can create artwork based on the prompts in any order, so long as the artwork is submitted before the winner announcement.
9. Check the prompt number and its challenge category to know the due date for submitting your artwork.
10. As we only ship to certain locations at the moment, the challenge will be open to a limited number of countries.
*Anyone who currently lives in the countries presented below is eligible to enter the art challenge:
USA, UK, Austria, Belgium, Bulgaria, Cyprus, Czech Republic, Denmark, Estonia, Finland, France, Germany, Greece, Hungary, Italy, Ireland, Latvia, Lithuania, Luxembourg, Malta, the Netherlands, Poland, Portugal, Romania, Slovakia, Slovenia, Spain, and Sweden.
*Please note that shipping to Hawaii, Mallorca, Puerto Rico, U.S. Virgin Islands, and Alaska, as well as Las Palmas (Spain), is not possible at the moment.
11. Instagram Community Guidelines:
No purchase or personal data collection necessary.

This art challenge is not endorsed or sponsored by Instagram.

Void where prohibited by law.