Table of Contents:
What You Need to Know About These Vibrant Art Markers
Art markers are a staple in the art supply collections of hobby artists, illustrators, urban sketchers, and graphic designers. These exceptional drawing tools are especially vibrant and come in almost every color imaginable! At Arteza, we believe we've developed the ultimate art marker with our newest evolution of the EverBlend brand—the Everblend Ultra! If you've never tried creating art with alcohol markers and want to learn more about them, we'll help answer some of your most burning questions in this post.
TIP: Before you proceed, download the printable EverBlend Art Markers Color Wheels: (colored version, non-colored version)
The Facts About EverBlend Ultra Art Markers

What is an Art Marker?
Art markers are pens that have a barrel filled with water-, solvent-, or alcohol-based ink. Their barrel is much larger than a normal pen and the ink is applied through a felt or nylon tip. Our EverBlend Ultra markers are considered alcohol-based art markers.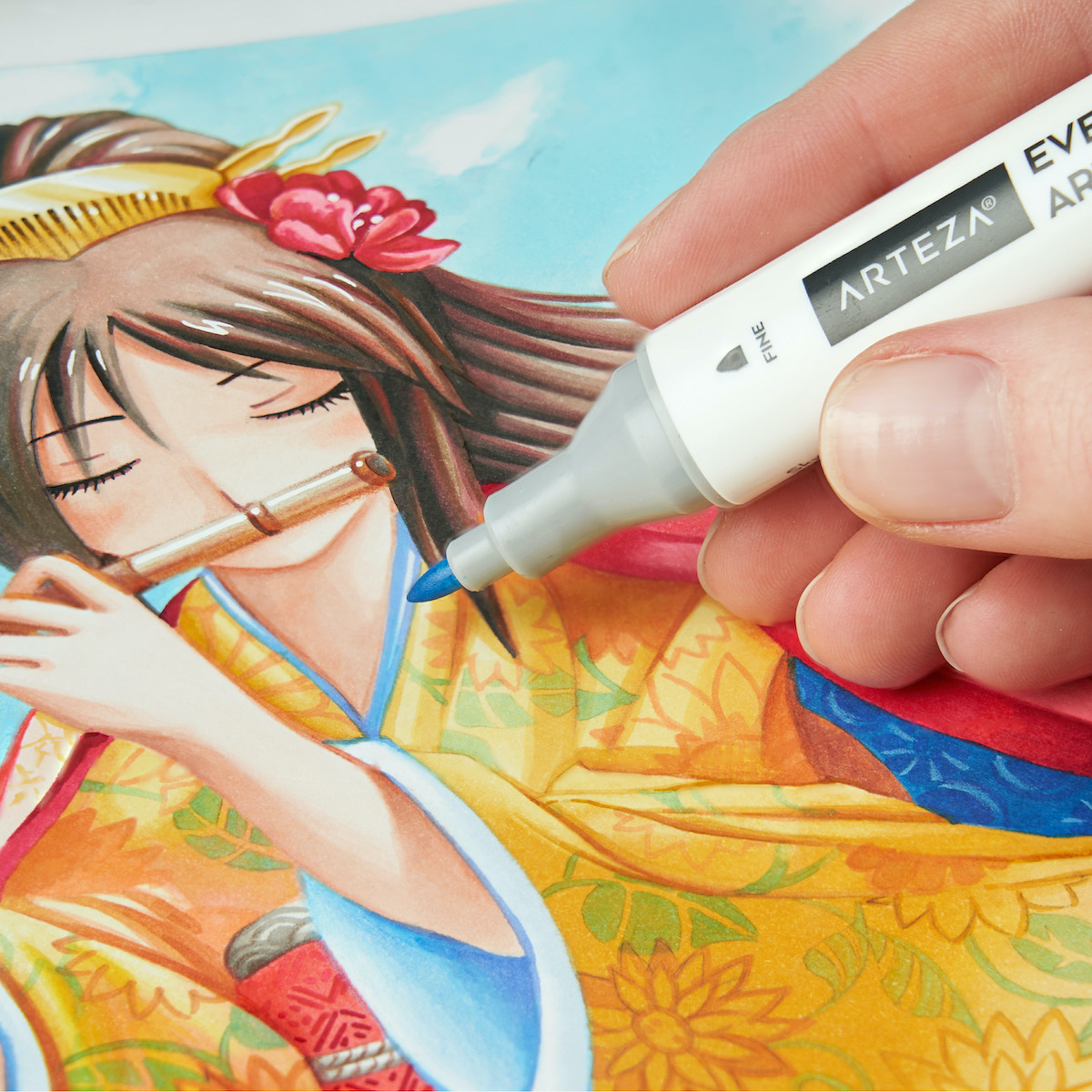 Why Are Alcohol Markers Preferred by Artists?
Alcohol-based ink is permanent, unlike water-based ink. Water-based markers tend to leave streaks or variations in color when they are blended, while EverBlend Ultra alcohol-based markers give you a smoother finish. It's never been easier to create smooth gradients and subtle shading in your art pieces with these markers. 

Do EverBlends Have an Odor?
Most alcohol-based markers have a slight odor. EverBlend's odor is minimal, unlike their solvent-based counterparts. 

What Kind of Tips Do EverBlends Have?
Arteza EverBlends are dual-tip markers so you'll have the choice between a fine bullet nib or a wide chisel tip. You can use the 3 mm fine tip for detailing and sketching, or flip the marker over and use the 6 mm chisel tip to fill in large areas. 

Are the Tips Replaceable?
Yes! Whenever you feel like your marker is ready for a fresh nib, simply use a pair of marker tweezers to carefully remove the nib and replace it with a new one. This allows you to keep creating even if your markers are needing a quick refresh. Both replaceable nibs and marker tweezers are available to purchase separately on our site. 


How Many Colors Do They Come In?
You'll be amazed at how many hues you can get in one of our EverBlend marker sets! You can choose from our set of 144, set of 72, special sets of 36 filled with themed tones, or purchase our sets of 12 to start experimenting. Whether you're building your marker collection or just looking to add a few tones, we've got you covered! 

Is There a Blender Marker?
Yes! There's a blender marker that contains no pigment but is perfect when you want to make subtle gradients of one or more colors, mix two colors together, or soften a hue. 

What's the Best Way to Store EverBlends?
We recommend storing EverBlend markers with their caps tightly in place and in the innovative packaging they come in. The box is designed with a removable insert and a foldable lid so you can either store your markers upright or at an angle. This will allow you to easily see which markers you need as you create and will ensure they're fresh and ready-to-go when you are.

Can the Markers be Used with the Arteza Carrying Case?
Absolutely! Not only is keeping your markers in a case a good way to keep them organized and protected, but it's also a great way to take them with you when you go on location for sketching and drawing.

Why Would Someone Need a Set of Markers in Only Gray Tones?
The most successful and realistic drawings contain a wide range of light and dark areas called values. Adding these subtle values to your drawings, such as in the form of shadows, will give your subject dimension and volume. A set with a variety of gray tones will help you practice making these important contrasts and give you a value scale to use as a reference in your artwork.

What's the Advantage of Having a Set of Skin Tones?
It can be difficult to mix the right shade of someone's skin, so we've made it easier by doing the mixing for you! Our skin tone set includes 36 shades to take out the guesswork and help you get the most realistic skin tones you can.

What's the Best Art Paper to Use with Arteza EverBlend Markers?
Markers work best on a heavyweight paper that's slightly glossy. We recommend using them on our marker paper. This allows you to use multiple layers of color or add pressure without the fear of the color bleeding through. The glossy surface also slows down the absorption of ink which gives you more time to blend shades. It's also important to use acid-free paper to ensure colors stay vibrant and not yellow or fade with time.

What Other Surfaces Can You Use?
There are so many surfaces that are ideal for art markers! You can use these on any porous surface including paper, wood, cardboard, or canvas.

What Kind of Art Can Someone Create with These Markers?
Pretty much anything you can imagine! Their most popular uses include drawing Manga and graphic novel characters, illustrations of all kinds, highly detailed and colorful portraits, landscapes and still lifes, hand-lettering and calligraphy, as well as using with adult coloring pages and to create personal mandalas. 


How Lightfast are These?
Although we never tested the lightfastness of our EverBlend markers, there is a way you can test them for yourself. You can apply each color to a small piece of paper to create a swatch, then leave it under direct light and record how long it takes to lighten.

What's the Difference Between the EverBlends and the EverBlend Ultras?
Our new EverBlend Ultras feature a new ink formulation and a completely new numbering and identification system based off of the color wheel. The EverBlend Ultras still have the beloved triangular shape of the barrel but now also have a gently sloped gray cone that holds the nib. This allows you to easily and comfortably grip the marker tip as you draw.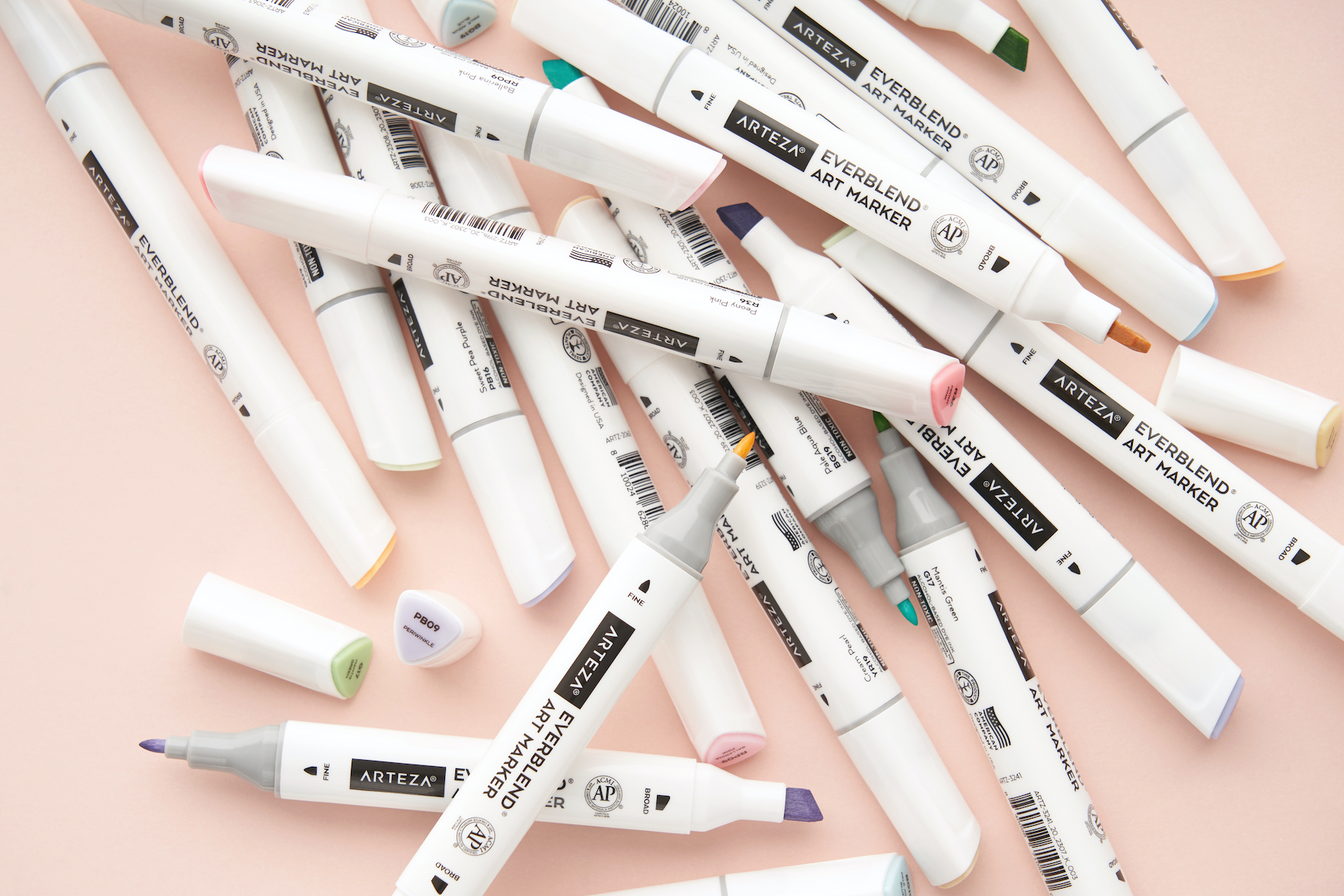 Are EverBlend Ultra Markers Safe & Nontoxic For Children?
EverBlend markers are perfectly safe for artists of all ages. In fact, they are AP certified nontoxic, so everyone in the family can use them.

Where Can Someone Find Tutorials on EverBlend Ultra Art Markers?
We offer blogs, how-tos and videos on our website about how to use these amazing markers! 

Learn How to Use Alcohol-Based Markers
This guide will explain how to use them, if you're just getting started or want to expand your knowledge. 🌠
Marker Drawing Techniques to Improve Your Art
Whatever type of art you make, this tutorial will help you take it to the next level with these techniques for adding art markers to the mix.  🖍
How to Draw a Car in 9 Easy Steps
Here you will find a simple guide by Arteza for a car drawing.🚙
How to Draw a Dazzling Diamond Step-by-Step
And here is our realistic diamond drawing in Alcohol Art Markers. 💎
Now that you've got more info on what exactly EverBlend Ultra Markers are, how to use them, and why they're an art tool you'll want in your art supply kit. It's time to give them a try! Still have questions? Please don't hesitate to ask us in the comments section below. We're always ready to help you make the most of your desire to create.
To find out about upcoming events, videos, new products, special discounts, and more, subscribe to our newsletter.