Show Your #ArtezaLove This June
In June, we have so many reasons to celebrate all kinds of love: love for people around you, for your family, for the summer, the list goes on and on! We're spreading our love for our community of artists and art with an Art Challenge! This is a great way to stretch your imagination, flex your creative muscles and create something new. Grab your supplies and get your sketchbooks ready because each week you have the opportunity to win awesome prizes. At the end of the challenge, everyone will be a winner because we have some exclusive goodies to share! Keep reading for all the details. 
How it Works
1. Sign up with your email to stay up to date with the challenge.
2. Create artwork based on the prompt for the week.
3. Post your piece on Instagram and your other social media using #ArtezaLove and tagging @artezaofficial
4. Get the chance to have your creations shared on Arteza's Instagram stories daily.
5. Every Sunday at 3 PM EST we'll choose the winning artwork from those posted on Instagram the previous week. You'll help us choose 4 winners to get a grand prize!
6. The winner of each week will get a $100.00 (USD) Arteza e-Gift Card for use on Arteza.com
7. Participants subscribed to our newsletters will receive 300 loyalty points from our Arteza Rewards Program.
8. Only participants from the US, UK or EU countries are eligible to win, but we hope everyone from around the globe will participate for the fun of it!  No purchase necessary.
Weekly Drawing Prompts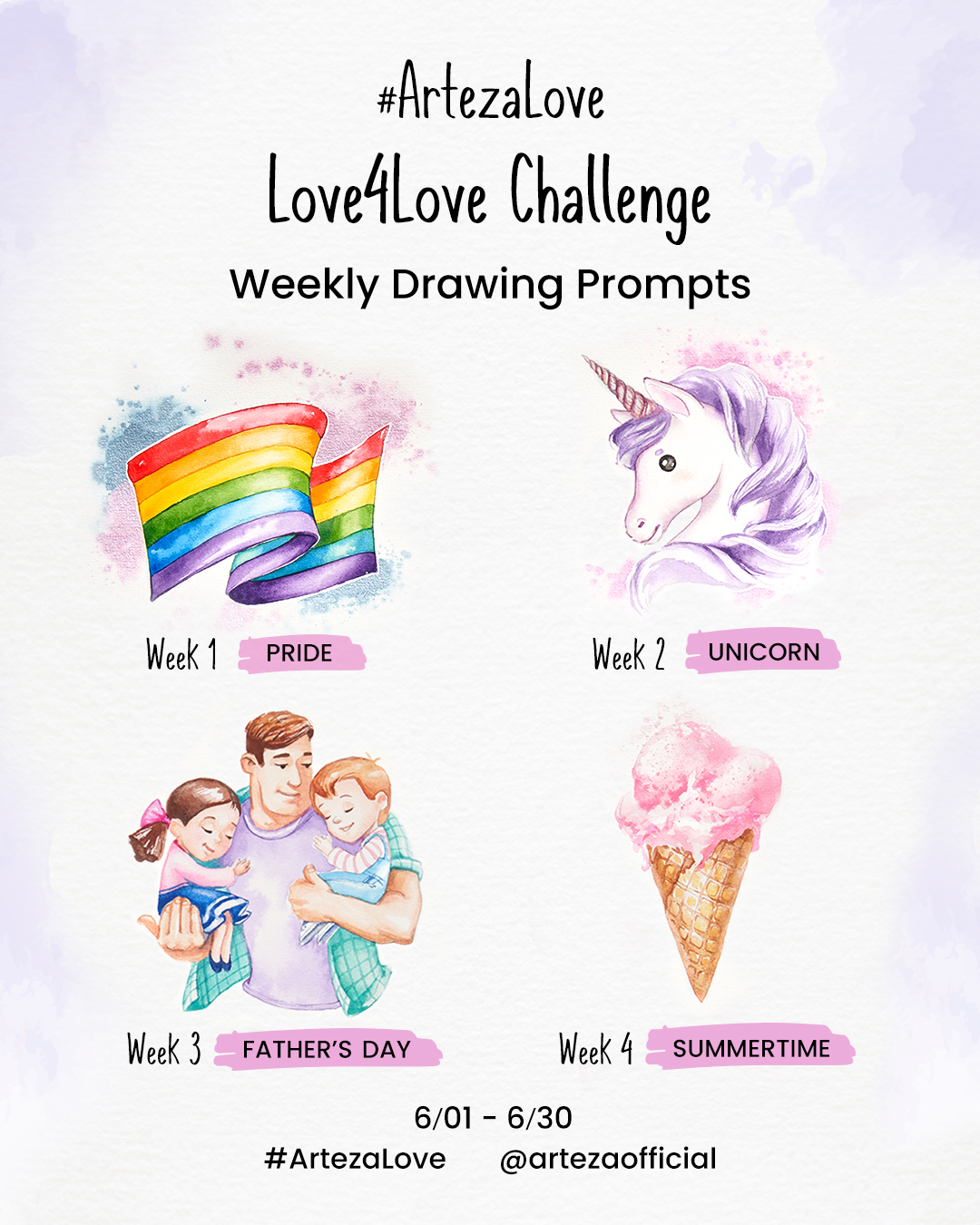 06.01-06.07 - Pride  
Be proud of who you are! Here at Arteza, we love celebrating the diversity and uniqueness of every member of our Arteza family. We encourage you to express your authentic-self through kindness and incredible art.
06.08-06.14 - Unicorn 
Everyone needs a little magic in their life! This week is all about unicorns and their mystical world filled with magic. What will your unicorn look like? What color will it be? What magic powers will it have and what kinds of adventures will you two have? Show us by creating a majestic piece of artwork!
06.15-06.21 - Father's Day 
This week is dedicated to all the amazing dads out there. You can draw a portrait of him or recreate an old photo of you and your dad together. Create something that brings back good childhood memories, or make something that reminds you of your dad. You can even share it with him as a Father's Day gift! 
06.22-06.30 - Summertime 
Summer is here! Let's celebrate this loveable, bright season with lots of vivid colors in your artwork! Show us what your favorite part of summer is by creating a beautiful piece inspired by this season of sunshine and warmth.
Create, Post, Tag
#ArtezaLove @artezaofficial
Terms & Conditions
How to Enter:
Create artwork based on the weeks' prompt.

Post your piece on Instagram using #ArtezaLove and tagging @artezaofficial
Make sure you're following @artezaofficial on Instagram so you'll be notified when winners are announced.
Any posts or entries used to enter the challenge may also have their artwork shared in our emails.
Every Sunday we'll choose the winning artwork from the Instagram posts from the previous week. We'll announce the winner on Sunday, June 7, June 14, June 21, and June 30.
The winner will receive a $100.00 (USD) Arteza e-Gift Card for use on Arteza.com.
Before entering this art challenge, please make sure to read the rules below!
Official Contest Rules
1. Each winner will receive a $100 (USD) Arteza e-Gift Card for use on Arteza.com or on Arteza.co.uk.
2. Start date 06/01/2020 - end date 06/30/2020.
3. You must be 18 years or older in order to be eligible to win the art challenge.
4. The Winner will be chosen with your help in Instagram stories
5. The Winner's name will be posted and tagged in our stories 
6. Winners should contact us using one of the following methods:
https://arteza.com/contact-us or DM Arteza on Instagram
7. As we only ship to certain locations at the moment, the challenge will be open to a limited number of countries.
*Anyone who currently lives in the countries presented below is eligible to enter the art challenge:
USA, UK, Austria, Belgium, Bulgaria, Cyprus, Czech Republic, Denmark, Estonia, Finland, France, Germany, Greece, Hungary, Italy, Ireland, Latvia, Lithuania, Luxembourg, Malta, the Netherlands, Poland, Portugal, Romania, Slovakia, Slovenia, Spain, and Sweden.
*Please note that shipping to Hawaii, Mallorca, Puerto Rico, U.S. Virgin Islands, and Alaska, as well as Las Palmas (Spain), is not possible at the moment.
8. Instagram Community Guidelines:
No purchase or personal data collection necessary.

This art challenge is not endorsed or sponsored by Instagram.

Void where prohibited by law.
Sharpen those pencils and get your swatch sheets ready, now is your chance to create amazing artwork and win awesome prizes too! We can't wait to be blown away by your work and we'll be keeping a close eye on all the amazing entries. Join the June Art Challenge today and enter for your chance to win!