Table of Contents:
Free to Join—Get Exclusive Discounts
At Arteza, you're number one! Your loyalty means everything to us and helping you do what you love is our mission! So, we've created a special loyalty rewards program just for you! It's free to join and you'll get exclusive access to more discounts, sales, and rewards designed with you in mind. You'll earn points on every purchase you make. Join now and you'll receive double the points on purchases, shares, likes, and reviews of our products during the entire month of June!
Enjoy More Savings & Freebies with Reward Points
The Arteza Club is a points-based rewards program. The more points you earn, the more rewards you get. It's totally free to join, simply sign up with your email and you're ready to start earning points on every dollar you spend. Once you're a member, you'll be notified about members-only discounts, shop exclusive sales, and grab special offers. You'll also receive a special birthday gift, free educational materials, free returns, and free shipping. 
Here's How It Works
We've designed three membership levels. As you earn more points, you get to go to a higher level, with even more rewards!
Hobbyist 
All new members start out as a Hobbyist with 200 points. Hobbyists collect 5 points for every dollar spent. 
Crafter
After you've earned 1,000 points, you move up to Crafter. Crafters receive $5 off their next purchase and start to collect 6 points for every dollar spent. 
Artezan
Achieving Artezan status is a feat worthy of celebration! As an Artezan, you've earned 2,500 points. We'll celebrate this occasion by giving you $10 off your next purchase. Plus, you'll start collecting 7 points for every dollar you spend.
Find all the information about each level in this table.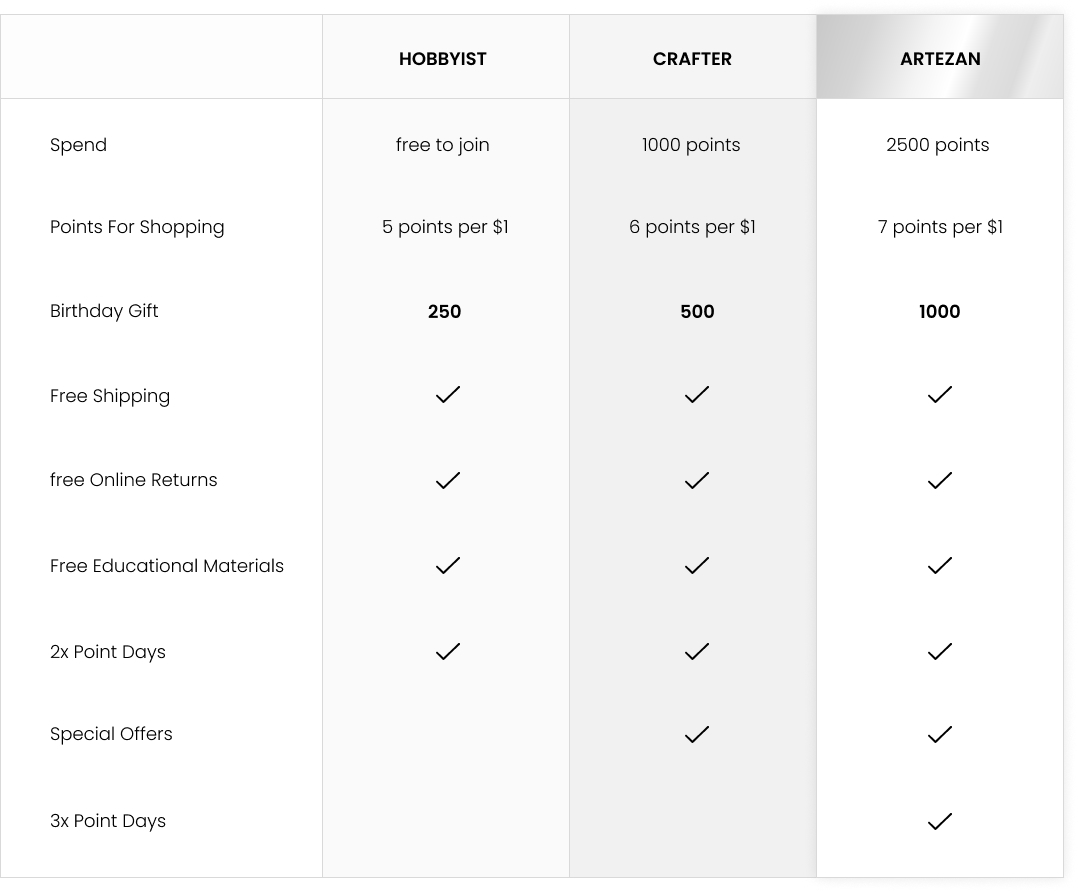 Get 2X the Points in June
We're offering double points for the entire month of June!  That means you get 2 times the points for each purchase, share, like, and review you make—Hobbyists receive 10 points, Crafters 12 points, and Artizans 14 points!
Ways to Earn Points
Buy Your Favorite Art Supplies
There are lots of ways to earn! The easiest is by buying your favorite art supplies. The number of points you earn may vary, depending on which club level you are, but everyone earns points for every purchase made!
Follow & Share
Another way to earn points is by following us on Facebook and Instagram. You can also earn additional points every month by sharing our content on your favorite social media pages. You can even earn extra points each week by simply reviewing your favorite Arteza products. 
Join the club & get a sign-up bonus (200 points)
Get points with every purchase
Like our page on Facebook
Follow us on Instagram
Share our posts with your friends
Write a review of our products
As an Arteza Club member, we'll let you know of more ways to earn in the future!
Where to Find Your Rewards Page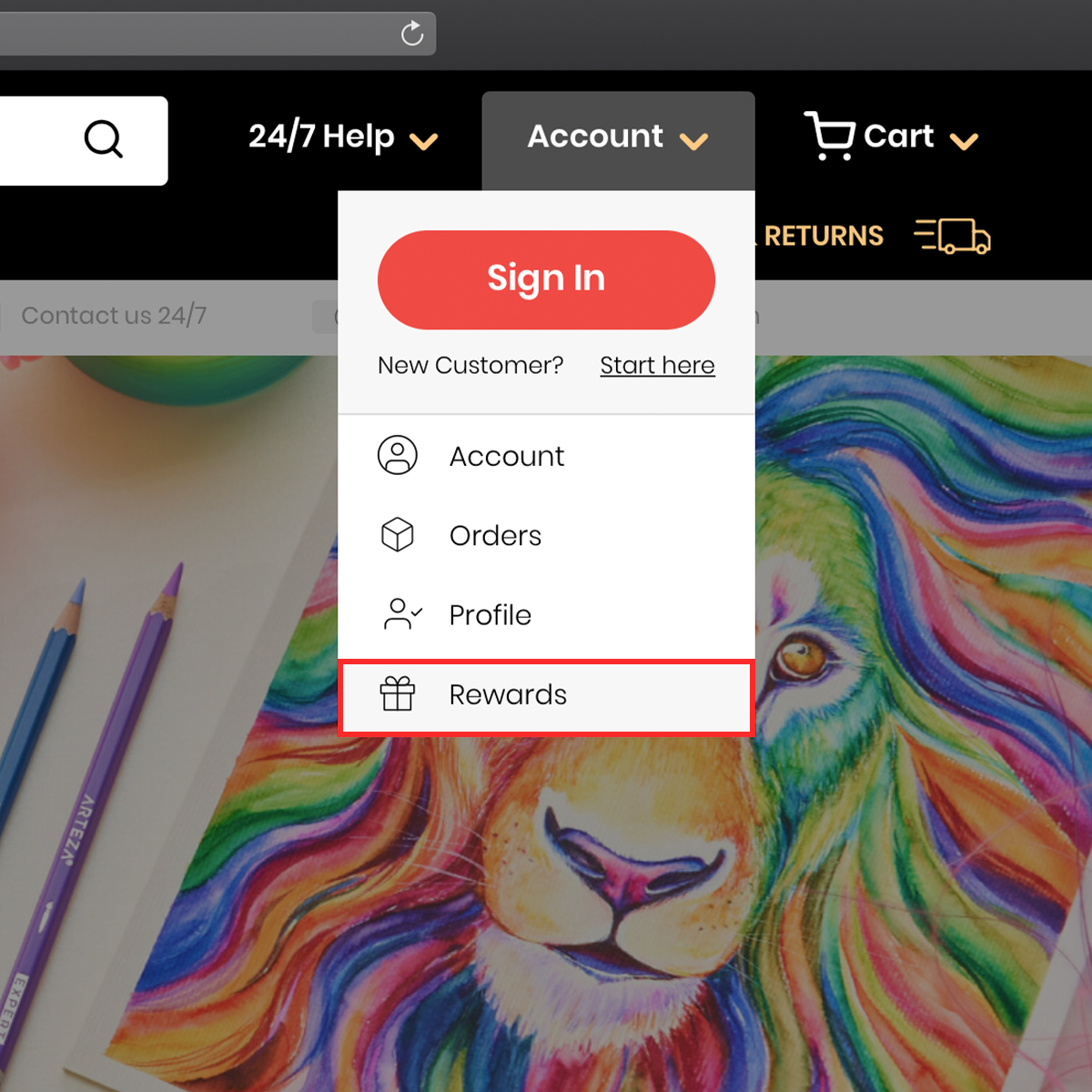 Step 1
You can join on the Rewards page or by clicking on Account at the top of the Arteza home page. In the drop-down menu, click Rewards.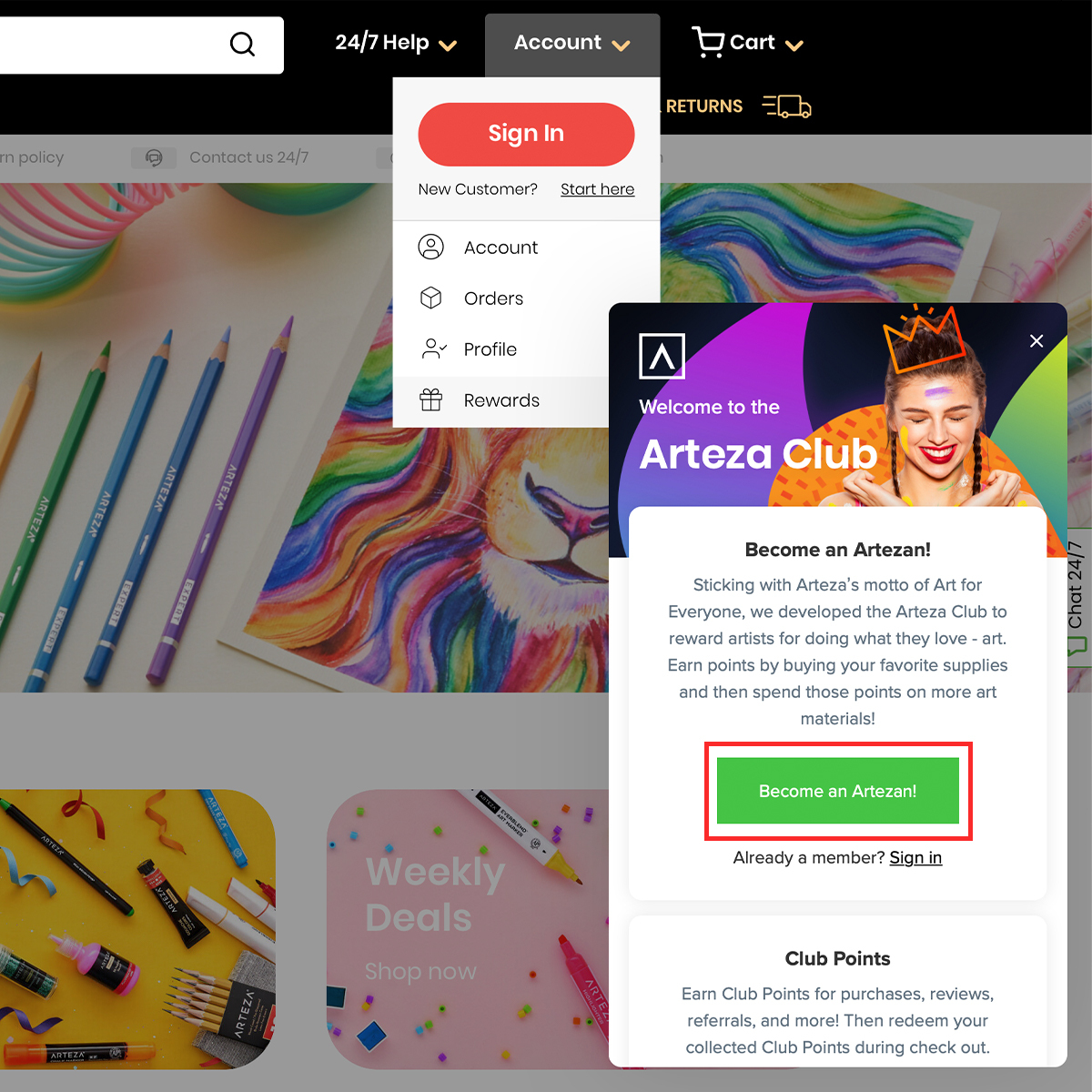 Step 2
On the drop-down menu Rewards page, click on Become an Artezan.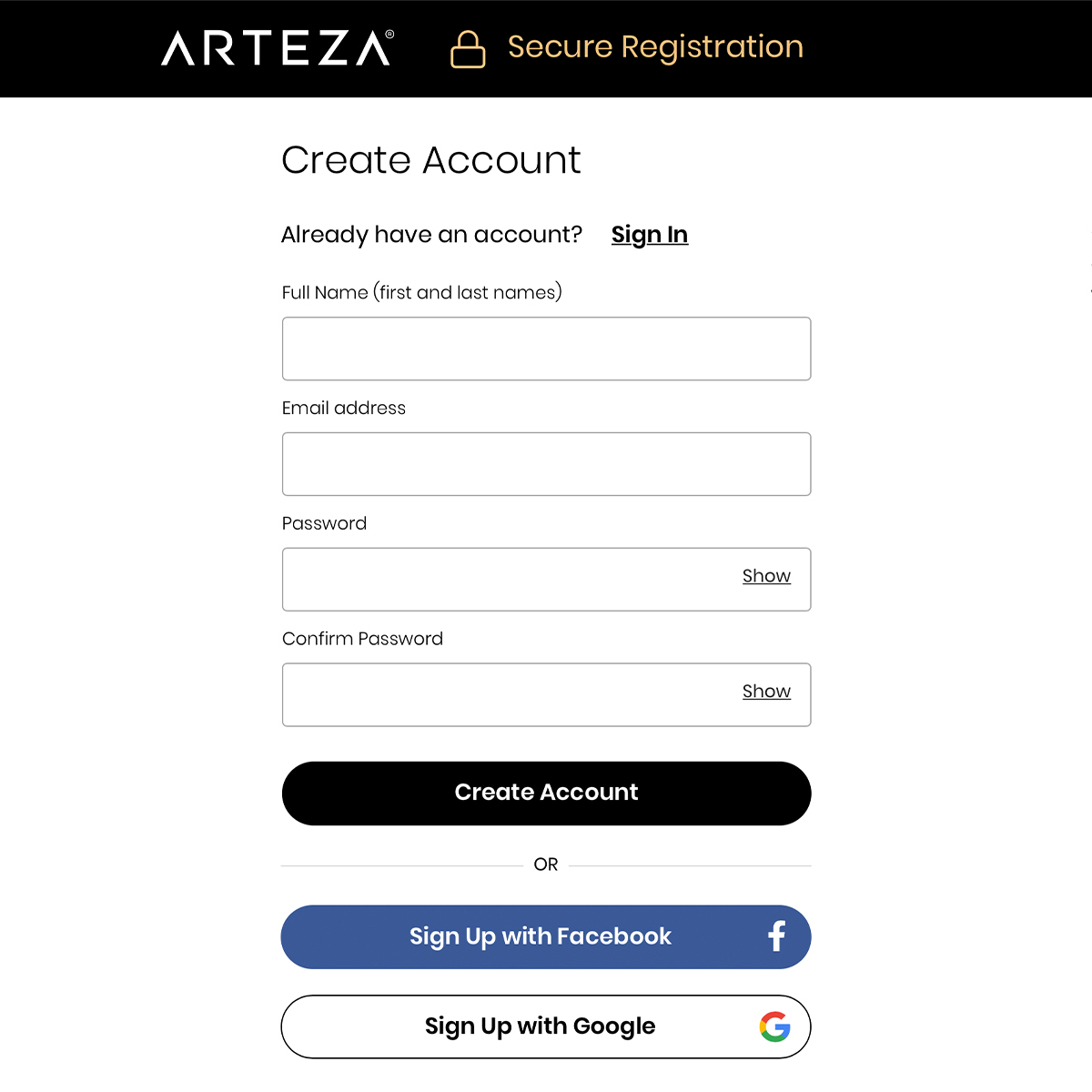 Step 3
Create an account in seconds. You can even sign up using your Facebook or Google account.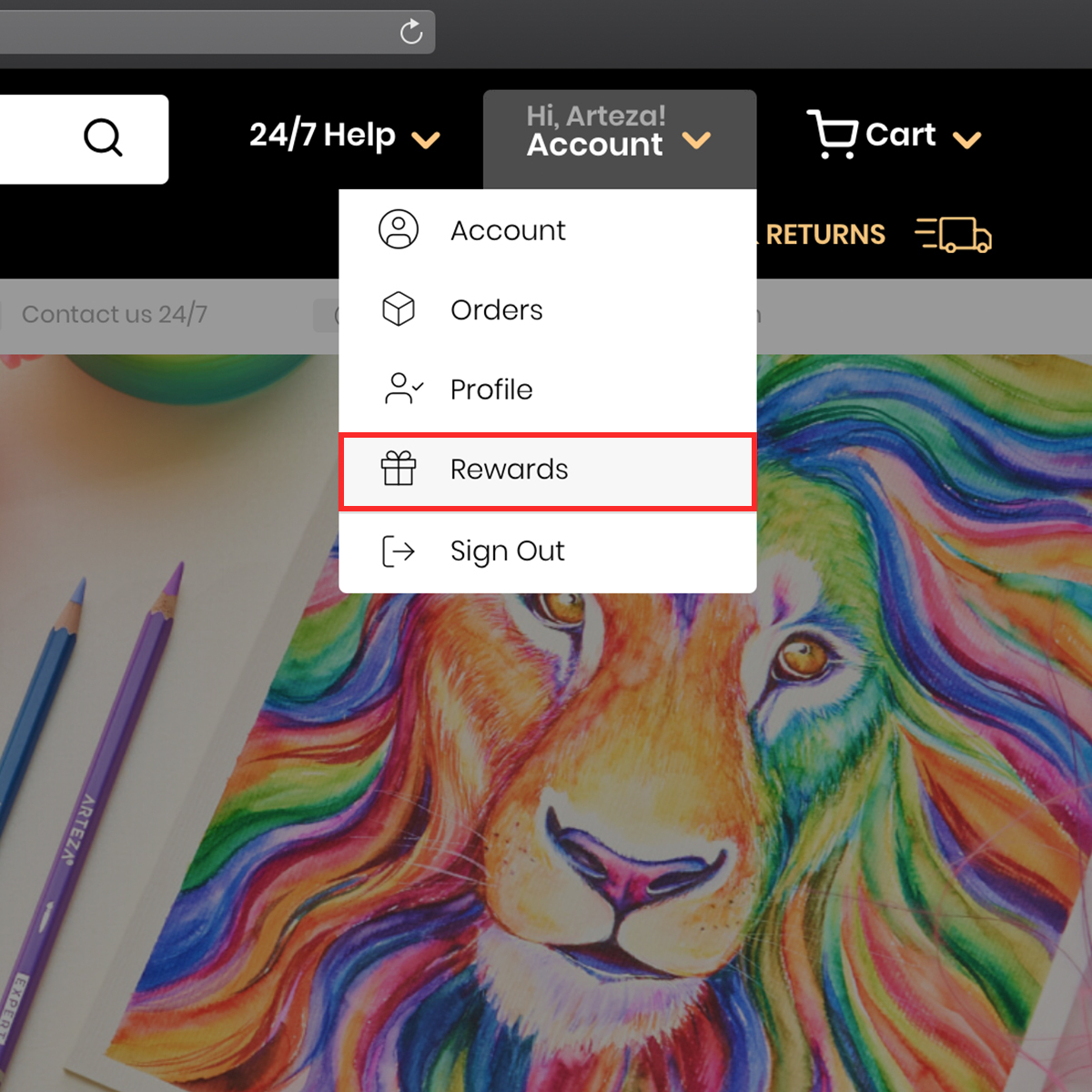 Step 4
Once you're signed up, go back and click on the Rewards page again.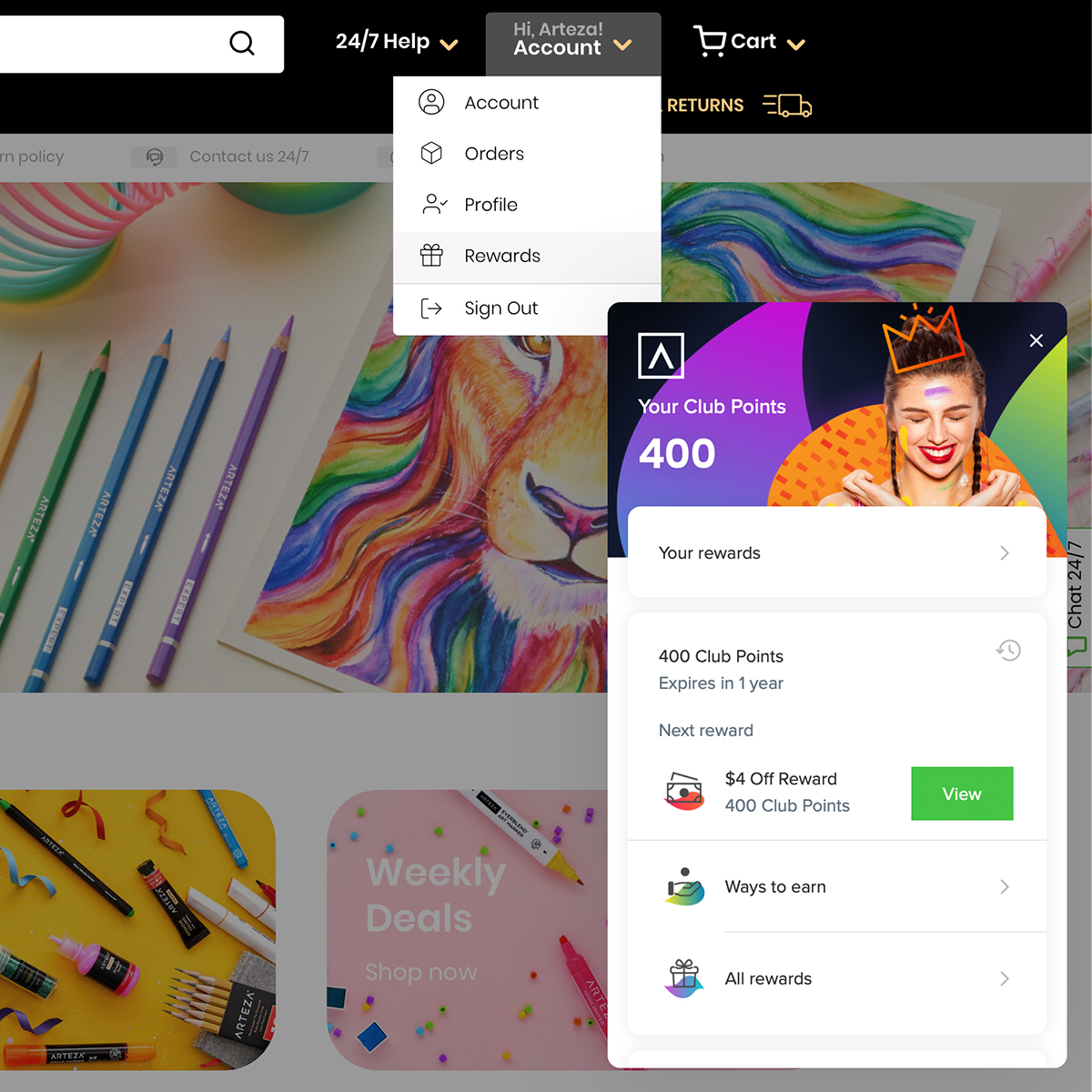 Step 5
You'll see all your details including how many points you have, new rewards, your orders, and more!
How to Spend Your Points (the fun part!)
As you purchase your favorite art supplies, you'll be earning points and unlocking rewards you can use on your orders. Whenever you click on the Rewards tab of your account, you'll be able to see and redeem your points. 
The maximum discount you can receive on an order from the points you've earned is 20%. Reward points can only be used on products that are $6 or more.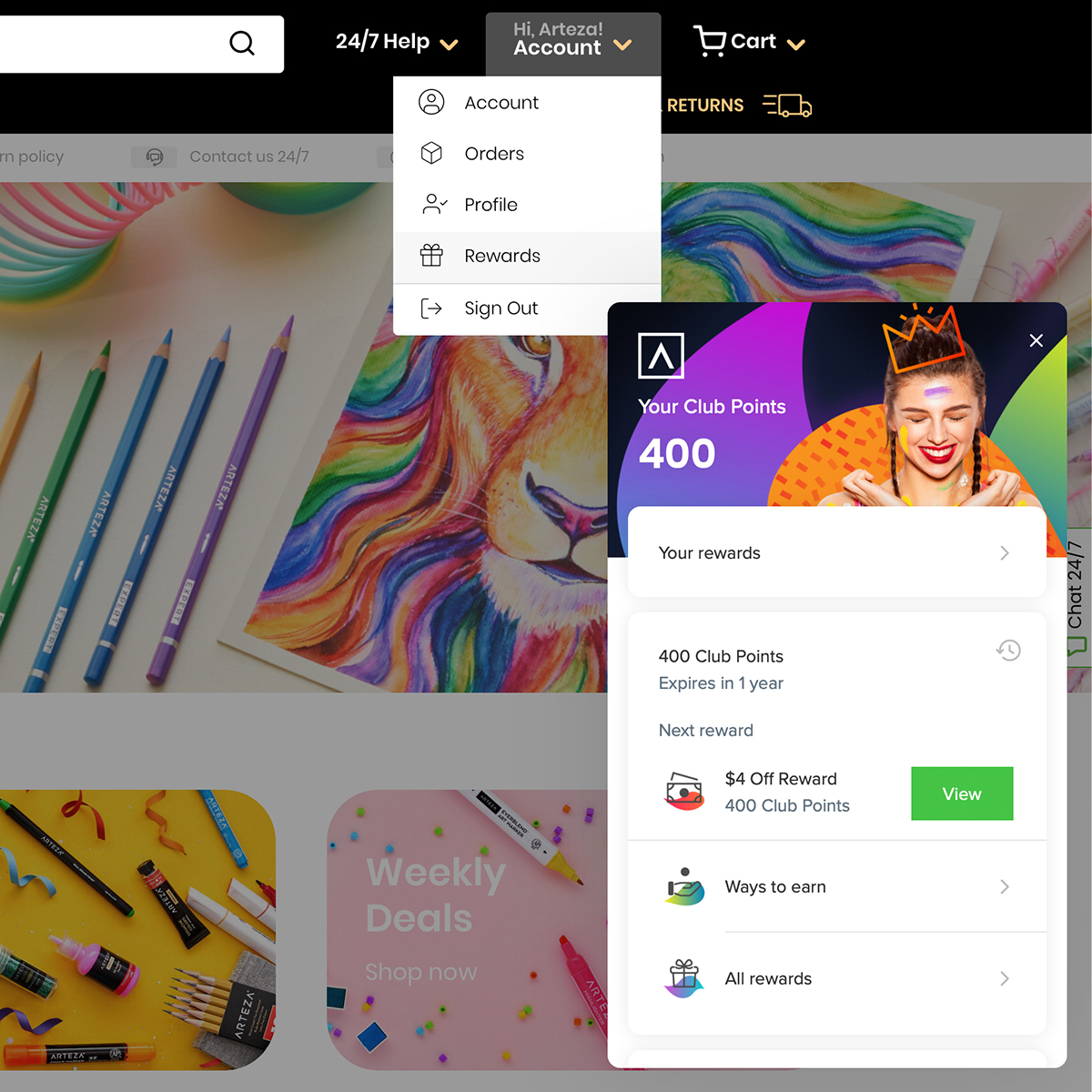 Step 1
Open your rewards page.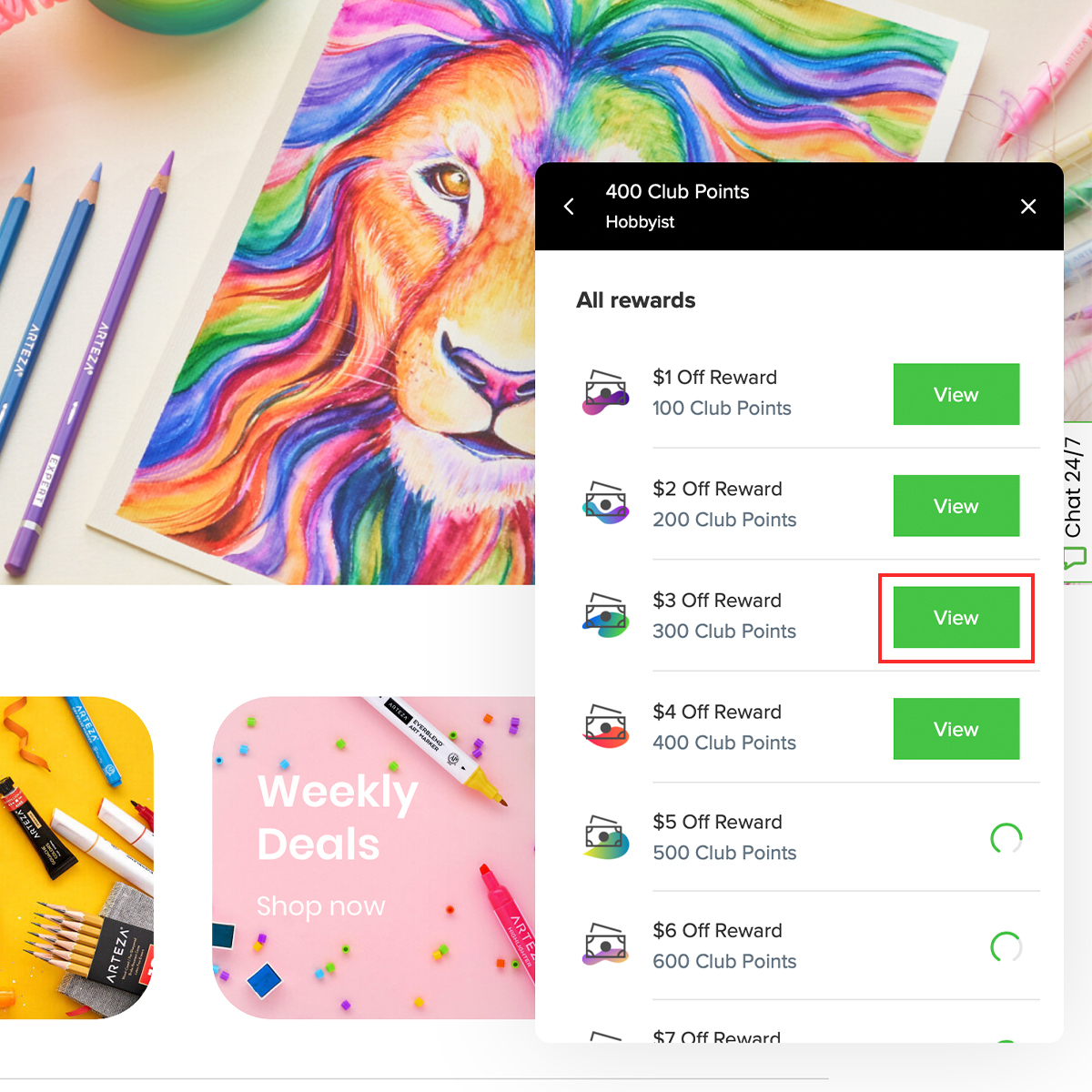 Step 2
You will see the rewards you are eligible for. Click the View button on the one you would like to redeem.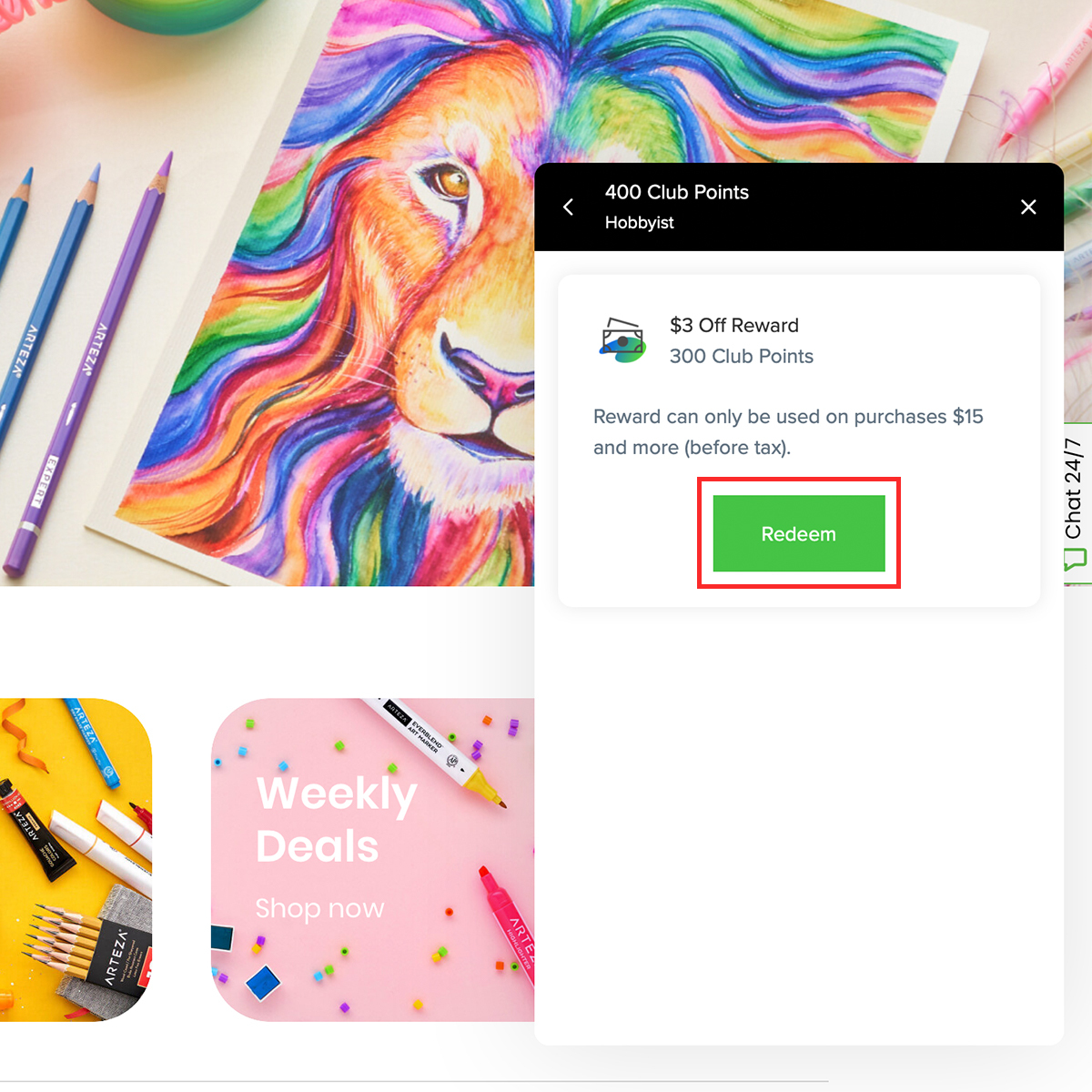 Step 3
Click on the Redeem button.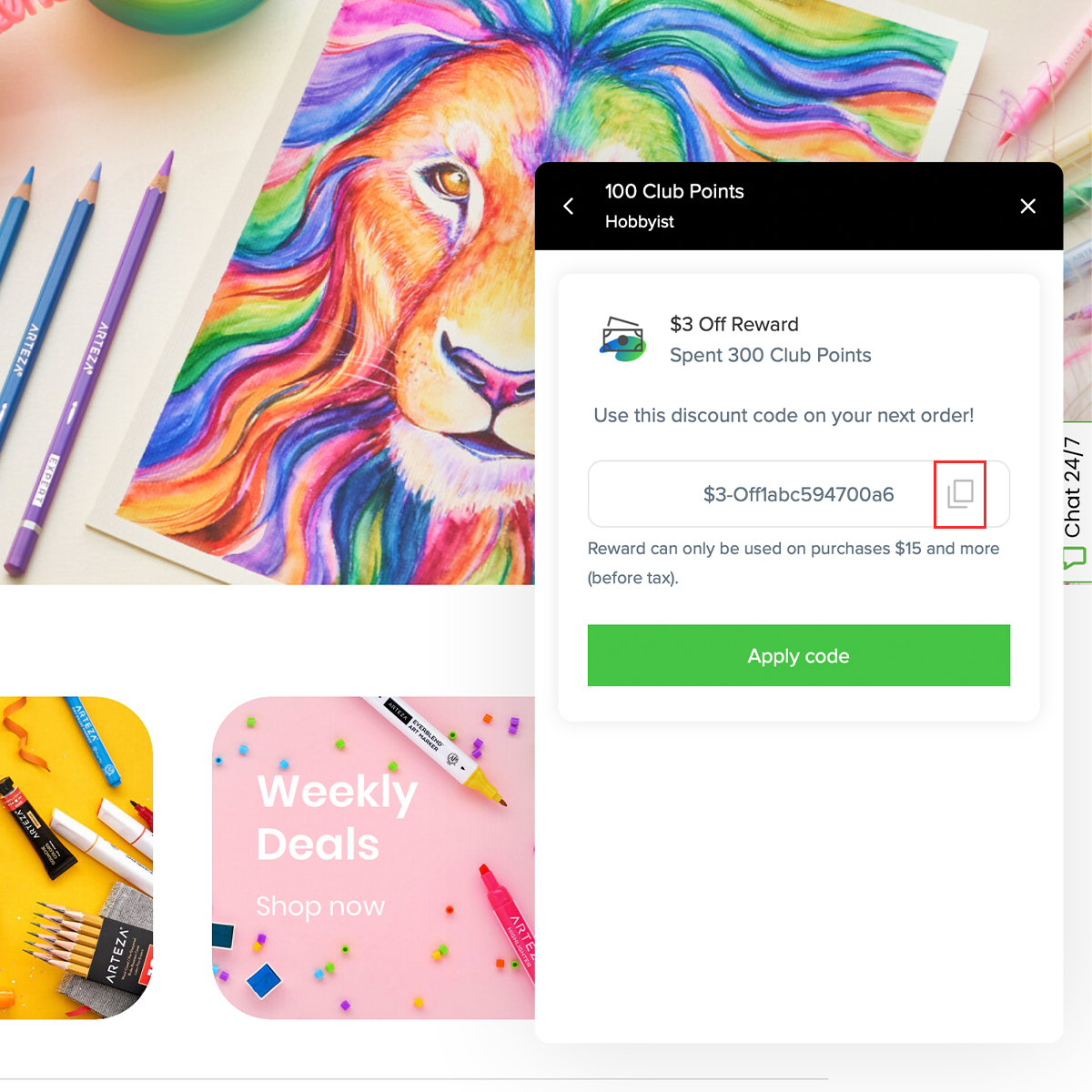 Step 4
Click "copy" in the discount code section.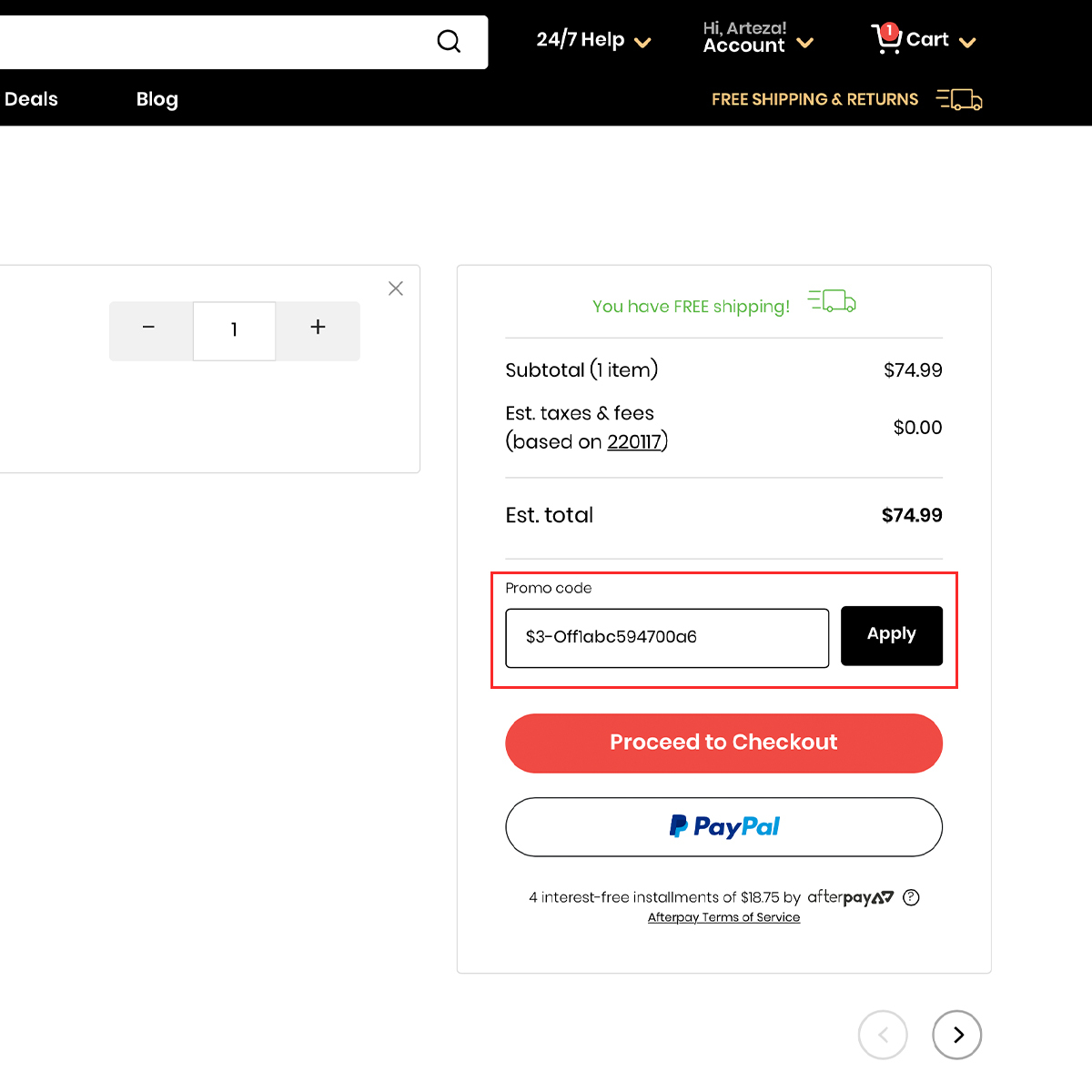 Step 5
When you're ready to check out, go to your shopping cart and paste your code into the Promo Code box.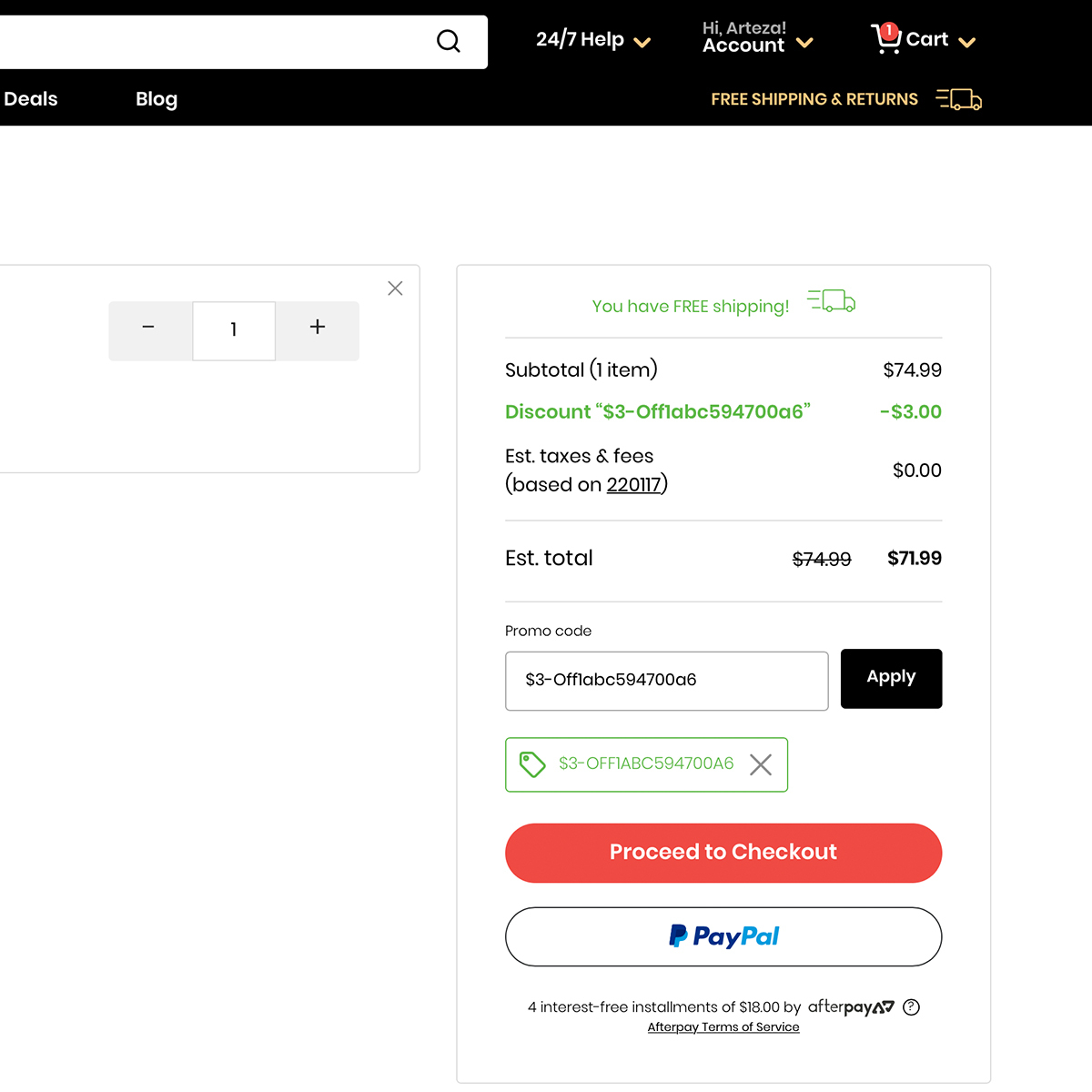 Step 6
Click on the Apply button. Once you click on the Proceed to Checkout button, your discount will be applied. 
Done! Get points from the purchase you've just made!
How Your Points Turn Into Savings
This chart helps explain what you can expect in savings when you use your points. 

Start saving on all your favorite art supplies today by getting 2X the points on all purchases, shares, likes, and reviews in June!