Arteza Product Roundup
Let's Go "Home" to Ask Our Staffers About Their Favorite "OMG, I Can't Live Without" Arteza Products
"Home" has been such a prevalent word in the past year. As COVID-19 continues to spread, and we retreat, once more, to the safety of our abode—everything appears to revolve around the meaning of the word "home." One positive thing the pandemic has done, is bring forth a new appreciation for home, as well as, for family. Taking that into consideration, for this blog post, I'm "going home"—home to our Arteza family to ask some of our staffers to share their personal favorite Arteza products. Because, well, you know, as the old adage proclaims: Home is where the heart is.
"My favorite Arteza product would have to be the acrylic markers. I love the idea that I can achieve the same effect as painting with acrylics, but in a marker format. The lines you can create are much smoother and cleaner. The colors are pigmented and rich and they provide you with this opaque vibrancy. The Metallic are also really rad. Specifically the bronze marker. I've also really been wanting to dabble with our watercolor sets. Watercolor is a medium I haven't truly explored since high school. I currently own the Real Brush Pens and they are a great reintroduction to that realm of media. However, I'm really excited to fully dive into the watercolor world."
Irene Shemony, Social Media Manager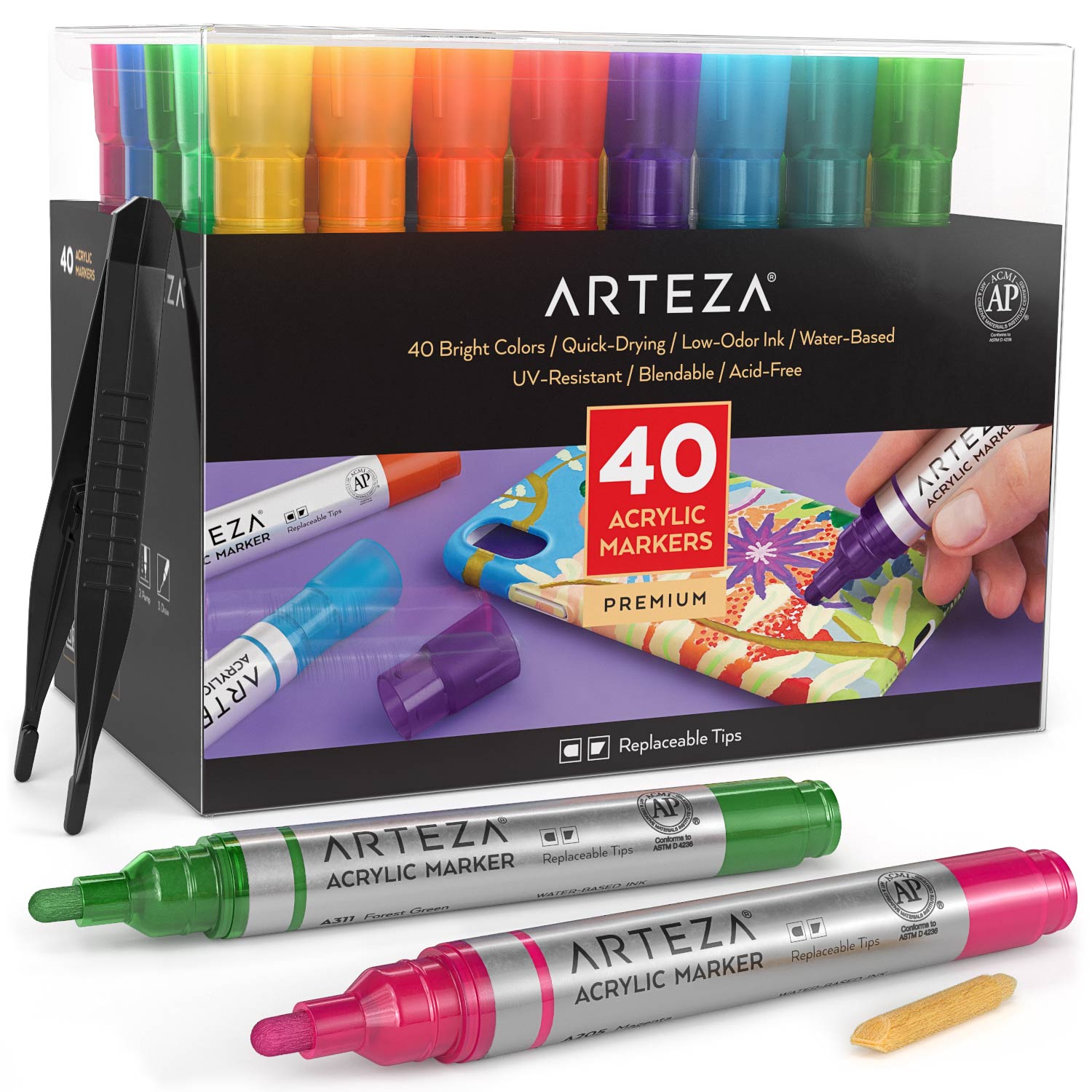 Acrylic Markers - Paint Pens for Wood, Paper, Metal, Glass - Set of 40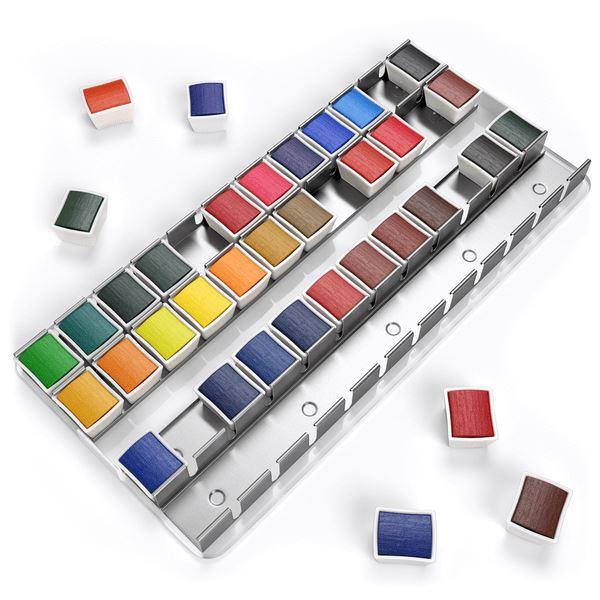 Watercolor Premium Artist Paint, Half Pans - Set of 36
"The Arteza product I love the most is the Inkonic Fineliner Pen. I have personally used them for coloring and my day-to-day note taking. I love the variety of colors that come in the packs—it allows your imagination to run wild and offers infinite combinations of colors. These pens are perfect for fine detailing, I have seen some amazing art pieces made from this product and the level of fine detailing that can be done is awesome. The fine point allows you to have precise control of where you want to add detail or texture to your work. My favorite thing about the product is that it dries fast, so you do not have to worry about smudging your artwork, notes, or your hands. Additionally, the ink does not easily seep through the paper, so you can add additional strokes or colors on top of each other and the ink will not wet the paper to the point of ripping."
Jessica Suarez, Marketing Project Manager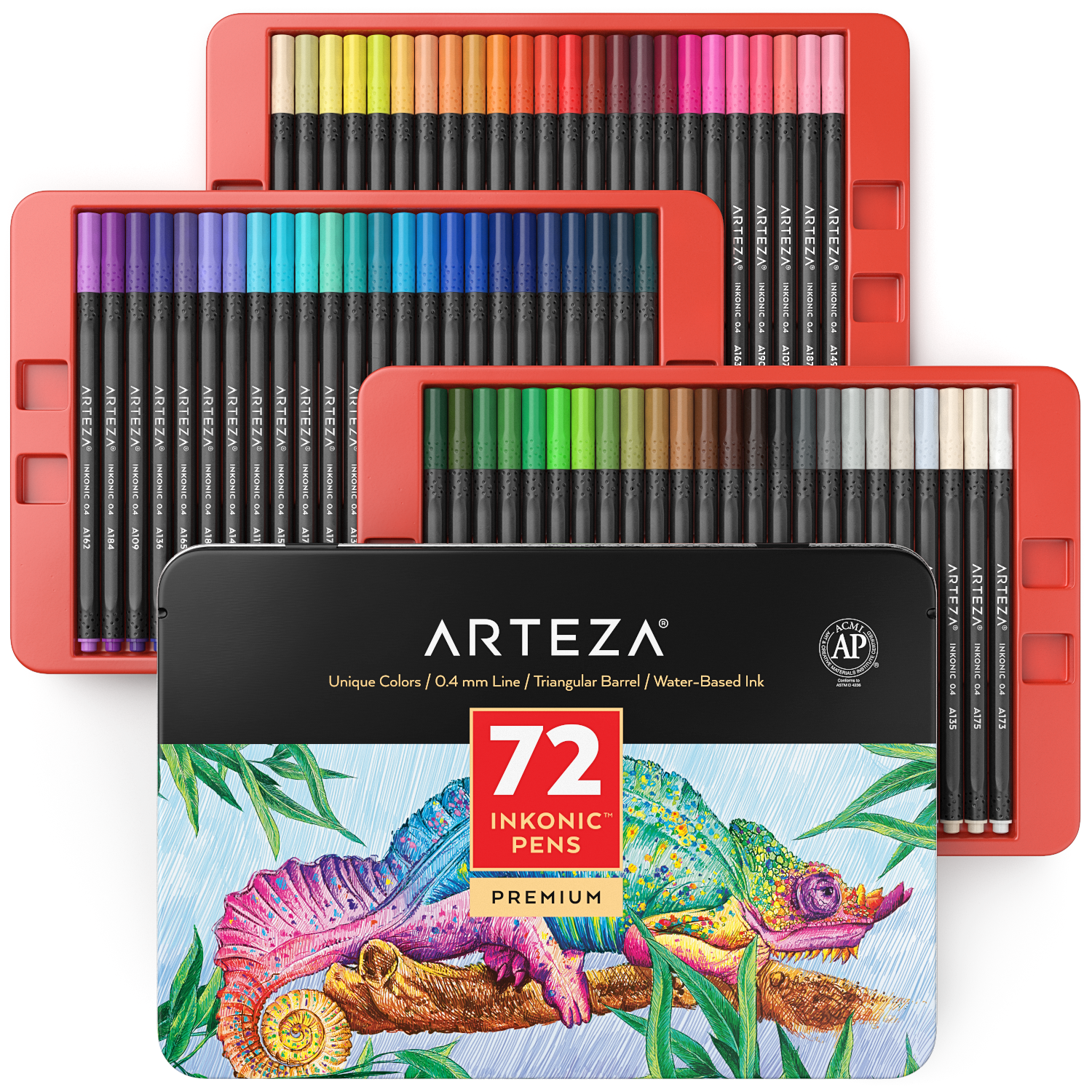 Inkonic Fineliner Pens - Set of 72
"Metallic Acrylic Artist Paint is fantastic. I love the squeeze bottle design, as I can save paint and not be wasteful. Secondly, adding the opening at the top of the bottle is a great idea, now I am able to hang it, and not store it in a box.
The product itself is smooth, thick and the color is vibrant. It is easy to blend and each color holds its integrity as I work around the canvas. The metallic ingredient of the product is reflective, so when I used it on a metal surface in my backyard, I was surprised how the sun amplifies the color. I took up painting during the pandemic, and I tried it on many surfaces: metal, canvas and in my wood panels fence and I have been pleased with every application. Most of all, this is a great product for beginners—I fall into that category as I am an accountant by profession."
Ana Roque, Director of Accounting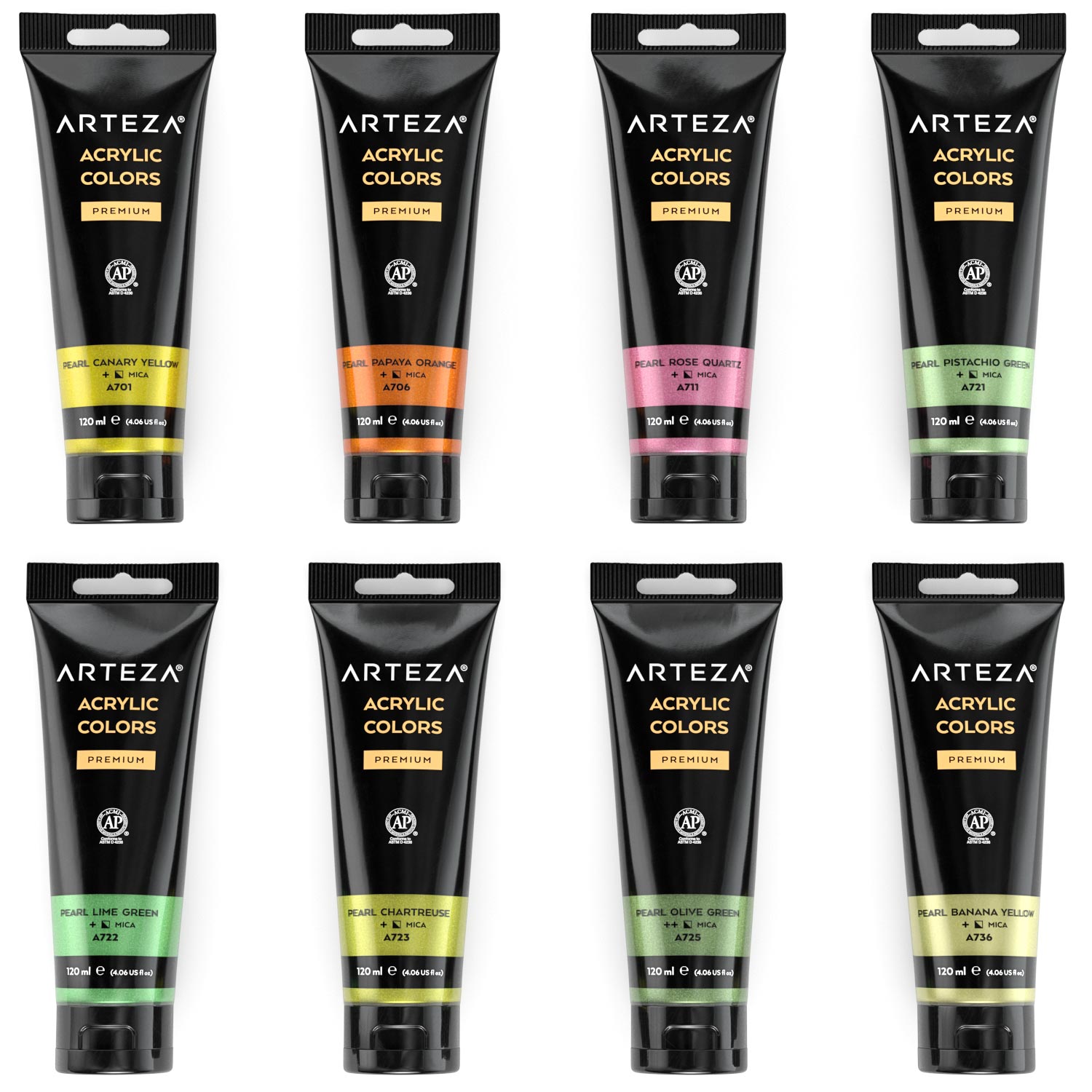 Metallic Acrylic Artist Paint, Floral Brilliance, 120ml Tubes - Set of 8
"I love to paint with watercolors, but don't always have time to indulge my creative side. TwiMarkers can easily sit on my desk and be used one minute for taking notes with the fine tip and the next minute flipped over to the brush tip for doodling or coloring. Even during a busy day, I can take a quick mental break and tap into that creativity. There's something soothing about painting a few familiar brushstrokes of my favorite colors on my notepad. With the set of 100, it feels indulgent to have such a variety of colors to choose from."
Faith Gerber, Director of Email Marketing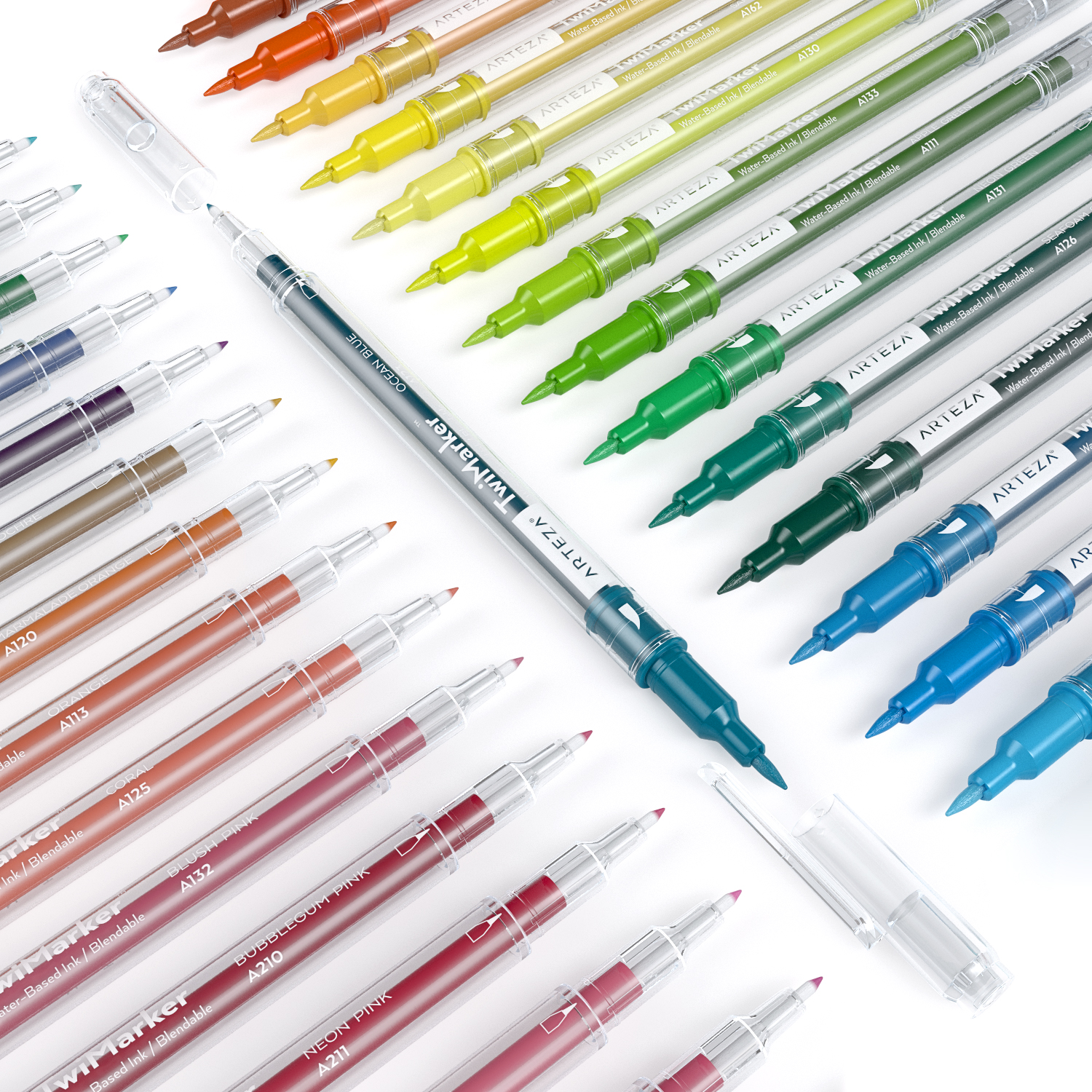 Sketch TwiMarkers, Dual Tipped - Set of 100
"My favorite Arteza product is without a doubt a combo! I love the Inkonic Fineliner pens and the adult coloring books. As artist skills do not come naturally to me, I find simple ways to use my creativity. For me that is using the extra fine tip to color in the smallest of areas. The coloring books allow me to play with colors in an abstract way, but it provides enough guidance that I do not feel pressured to draw something on my own. I love getting away from the screen and focusing on the fine little details of coloring. Coloring also feels so nostalgic and brings joy every time I sit down to clear my head and focus on nothing but what's right in front of me."
Allison Ford, Business Development Manager, Assortment Planning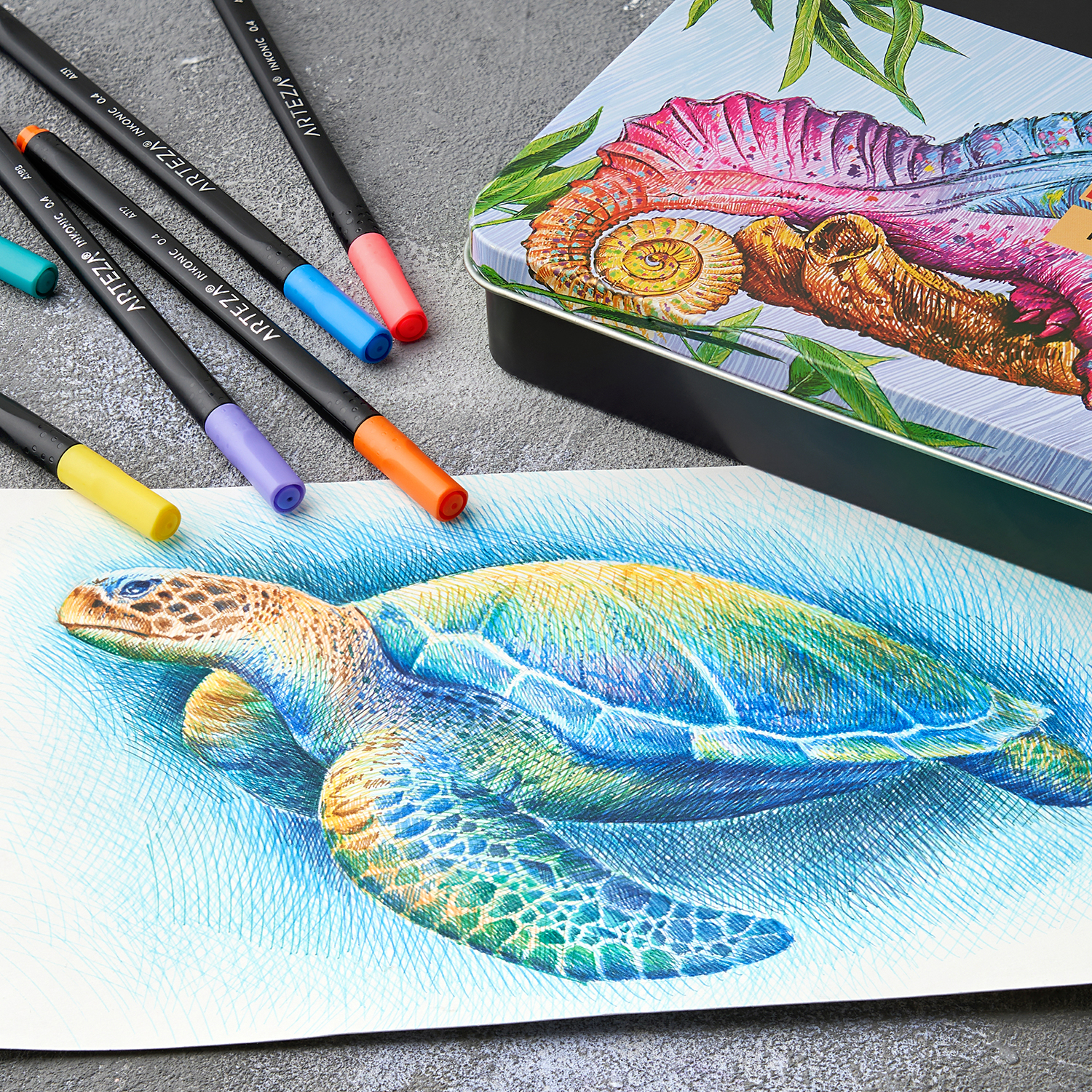 Inkonic Fineliner Pens - Set of 72
"My choice is the EverBlend Art Marker. I have been using them for five months, since I joined the Arteza studios, and it was love at first sight. They are so easy to use, and great for doodle art. For small objects I use the 0.11 fine tip, and all details look stunning with them. If I need to fill the area around my characters, I flip my marker over and use the 0.24 chisel tip. Personally, I prefer these markers because they have remarkable blending properties, especially with the right kind of paper. I prefer smooth paper (I love the Arteza watercolor book). I like that the EverBlends are number-coded. There's a variety of colors, I'm sure everyone will find something that fits their artistic needs; moreover, I can blend the colors to create a unique color. Yes, it's like magic. There is also less smearing and if you are using it on paper, the paper will not pill. I deal with a lot of allergies and I'm reactionary to chemicals, so the last feature I really appreciate is that this product is not toxic."
Elizabeth Nilova, Motion Designer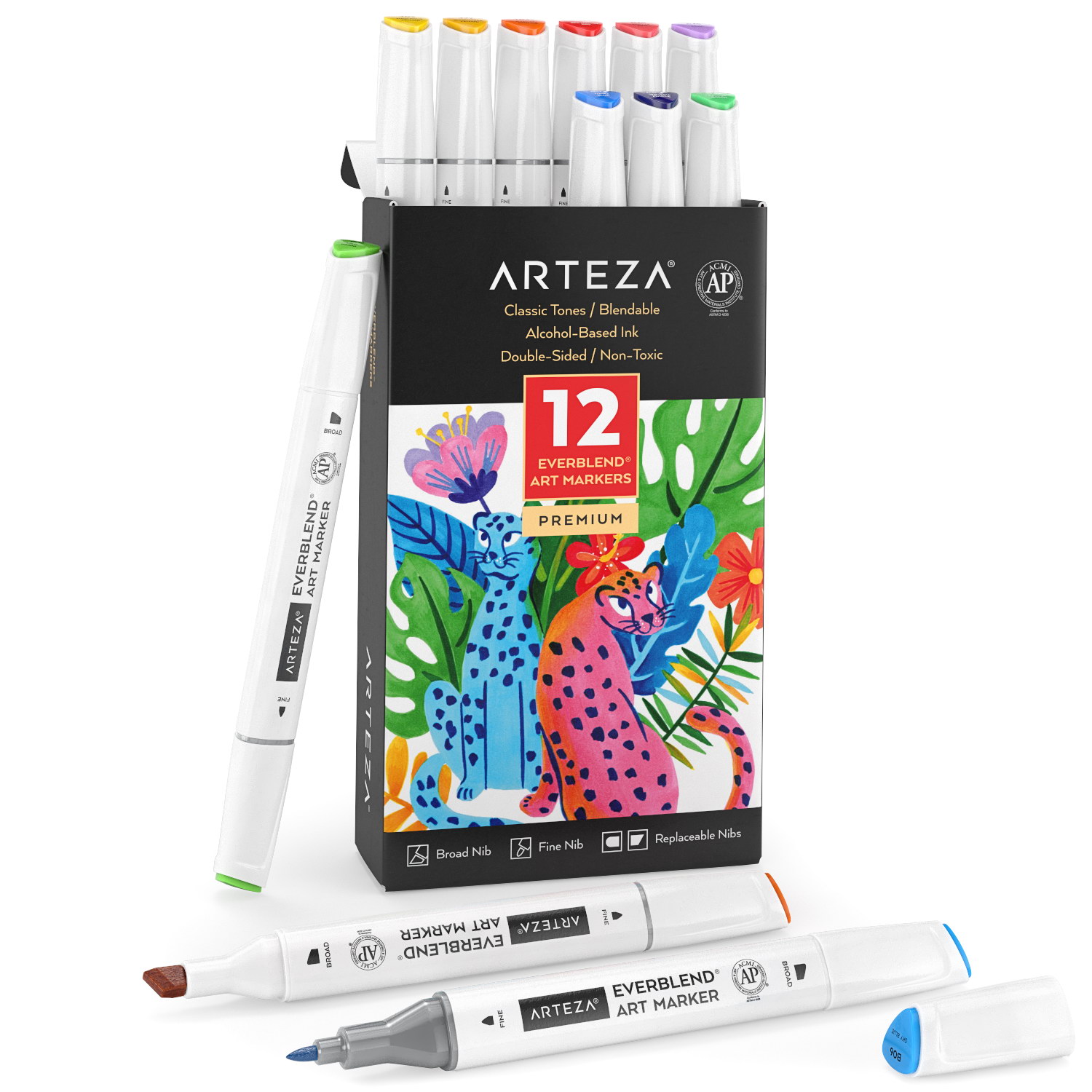 EverBlend Ultra Art Markers, Tropical Tones - 36 Colors
"I think one of the most important things an artist should have on hand is a sketchbook they love and trust. These sketchbooks are like my best friends, I absolutely adore them and always try to keep one within arm's reach. I think that inspiration can come from everywhere, so keeping something that allows you to put your thoughts down quickly is so important to me! I like that I have two so I can always have one on hand and one at home. The pages have a really nice texture to them and if I don't want to use textured paper, I can use the back of the page. The paper can handle mixed media techniques because it's a heavyweight paper. It's also a great place for me to test out media and experiment with different ways I might want to create a finished piece. Plus, I love the fabric cover! I can put cute patches on it and paint it, which is just so fun to me."
Desiree Ji, Merchandising Analyst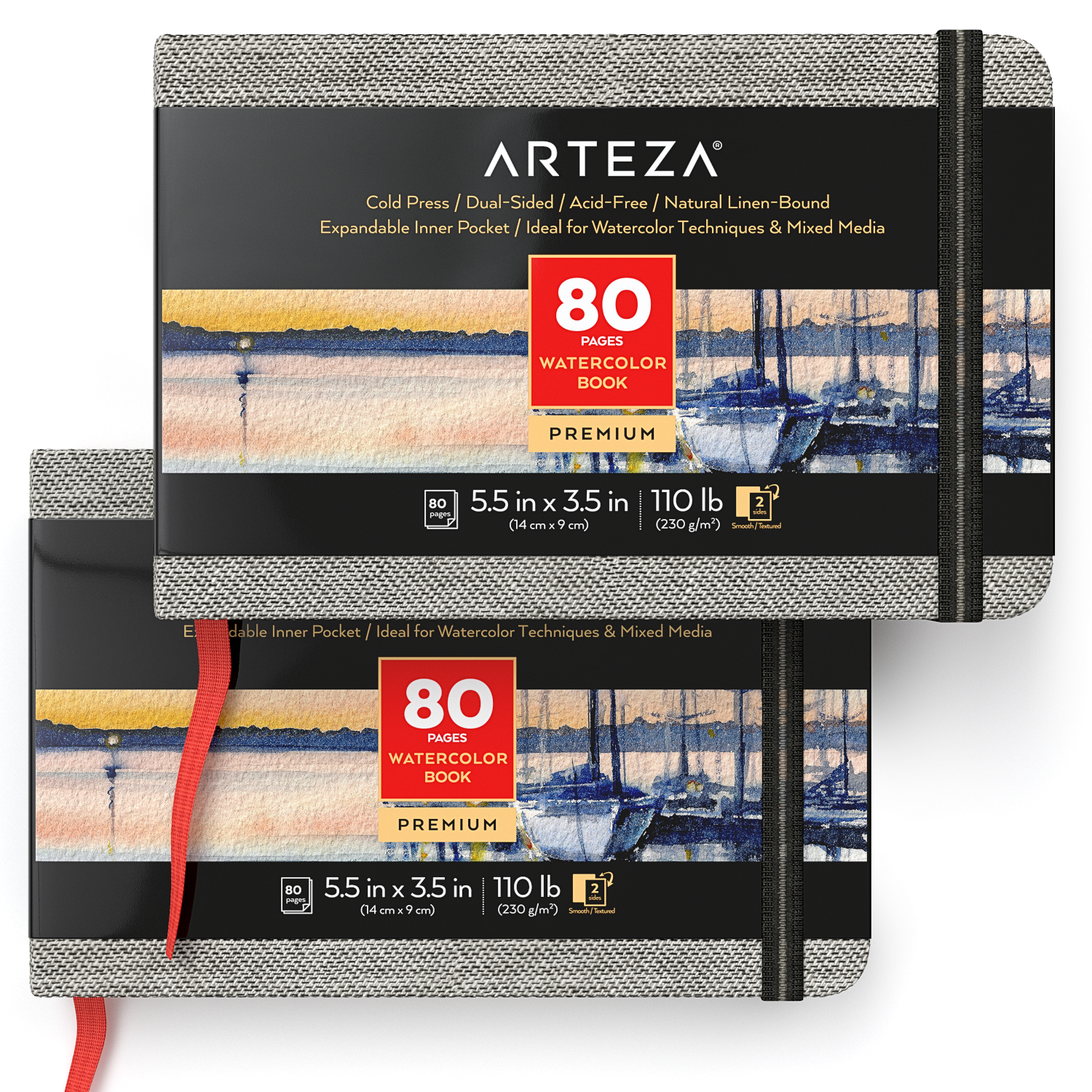 Hardcover Watercolor Book, 3.5" x 5.5", 80 Pages - Pack of 2
"I've been using the Real Brush Pens (Premium, set of 48) to get back into making art. One reason that I haven't for years is because when inspiration strikes, I don't have the patience to get out paints, brushes, palette, supplies, etc. With these Real Brush Pens I'm ready to start making art at a moment's notice and there's no cleanup after. Perfect for hobbyists who don't have a dedicated space in which to create."
John Lavin, Video Producer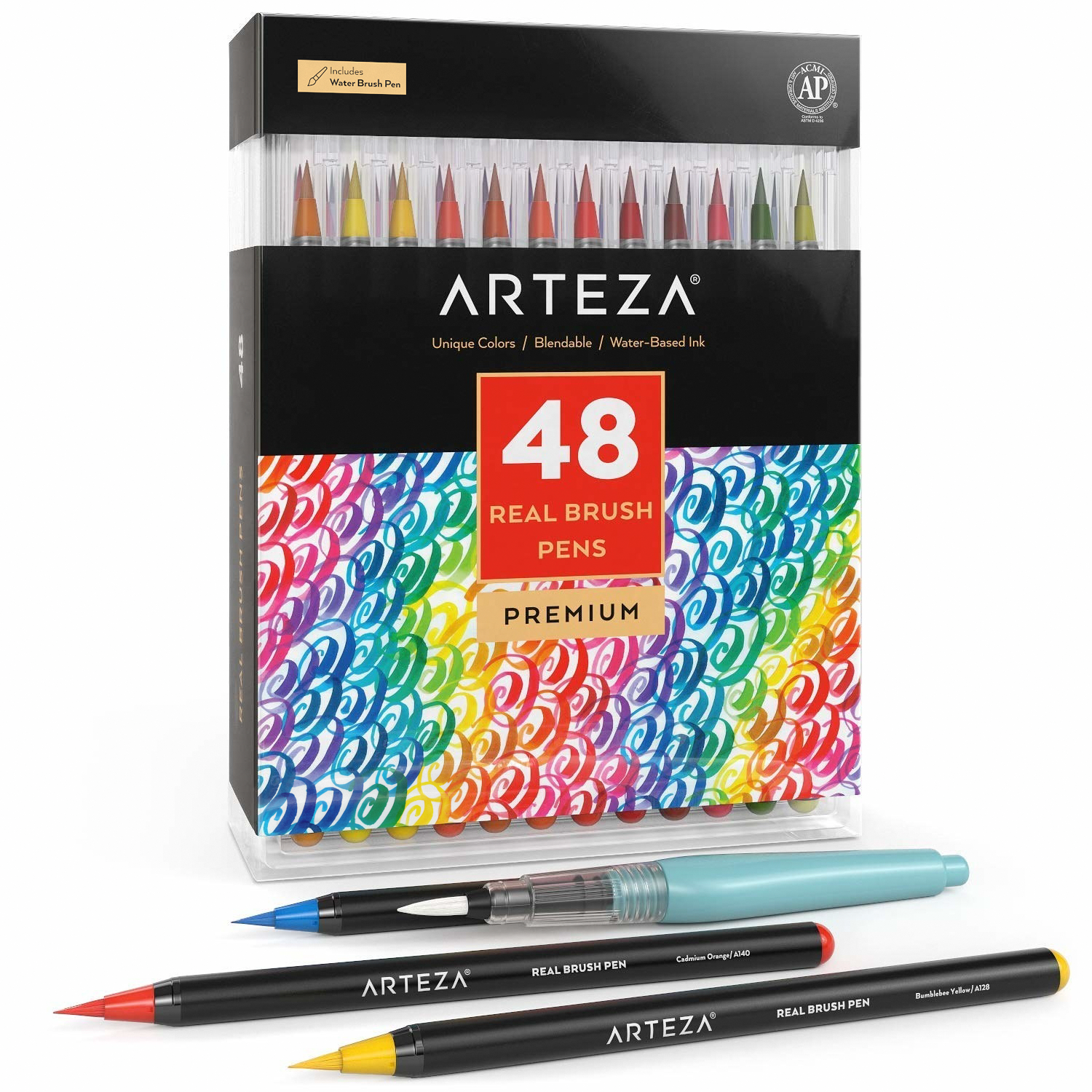 "One of my favorite products within the Arteza line has to be the acrylic paint brushes. The thickness is perfect for details and can also be used to fill in large surfaces. The color variety in the pack is great and provides so many possibilities for your art, and compared to other pens I have purchased where some in the pack mysteriously dry out, this was never an issue with these pens. The various color options enable you to create multiple levels of shading, and the quality of the ink and its pigmentation provides more coverage. Not only are they a great value, but a wonderful product for those who are starting and want to express with their art."
Isvel Rodriguez-Nerey, Global Brand Creative Director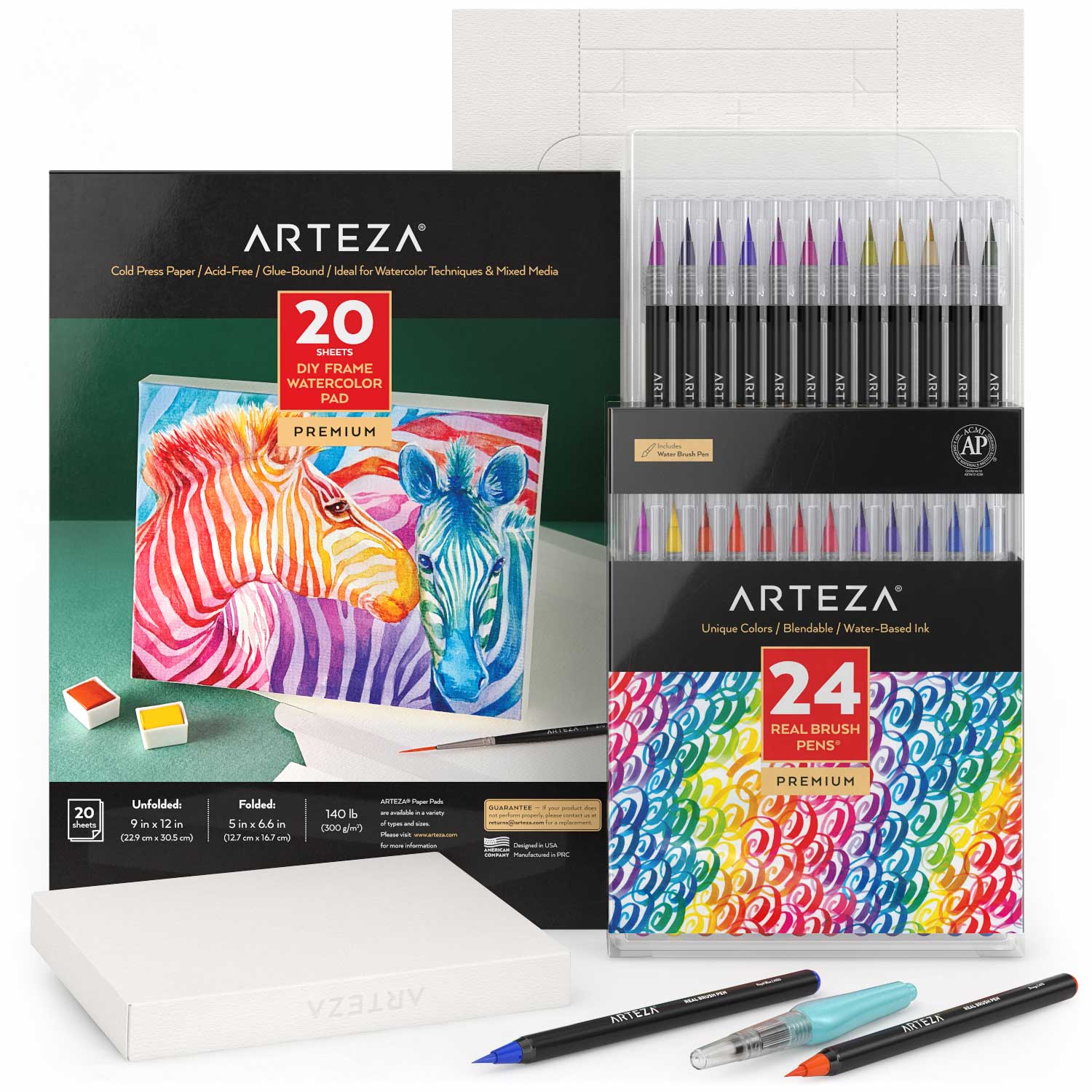 "The Arteza products that I love most are the new EverBlend Ultra Markers. I enjoy the vibrancy of the new colors (over 400 colors to choose from) that have been created for this set. They've always had a chisel tip and a bullet tip, which I find very useful as I am working on my mixed media projects. They're replaceable, which is convenient, and earth-friendly. This is important to me, as I want to leave as little of a carbon footprint as possible. The new Ultra Markers have been redesigned to be more ergonomic. The packaging for the markers has been improved to double as reusable and sustainable, organizational and stackable racks or trays. My artwork involves lost/old materials and ink. Although I am specifically shouting-out to the Ultra EverBlend Markers, I have been able to incorporate many of Arteza's products into my art practice; such as Arteza's Premium Stretched Canvas. I use the canvas to create my assemblages."
Benny Salz, Creative Producer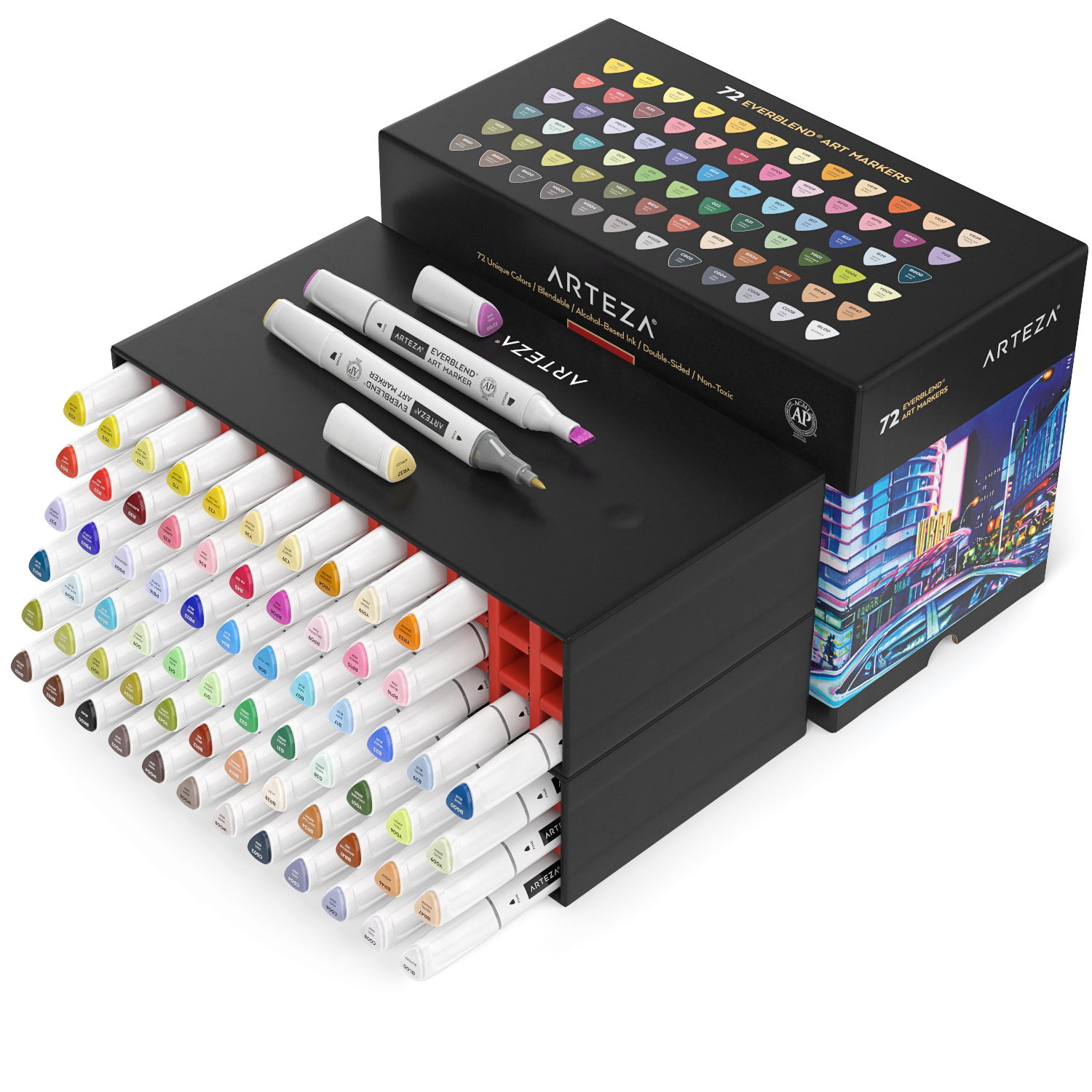 EverBlend Ultra Art Markers- Set of 72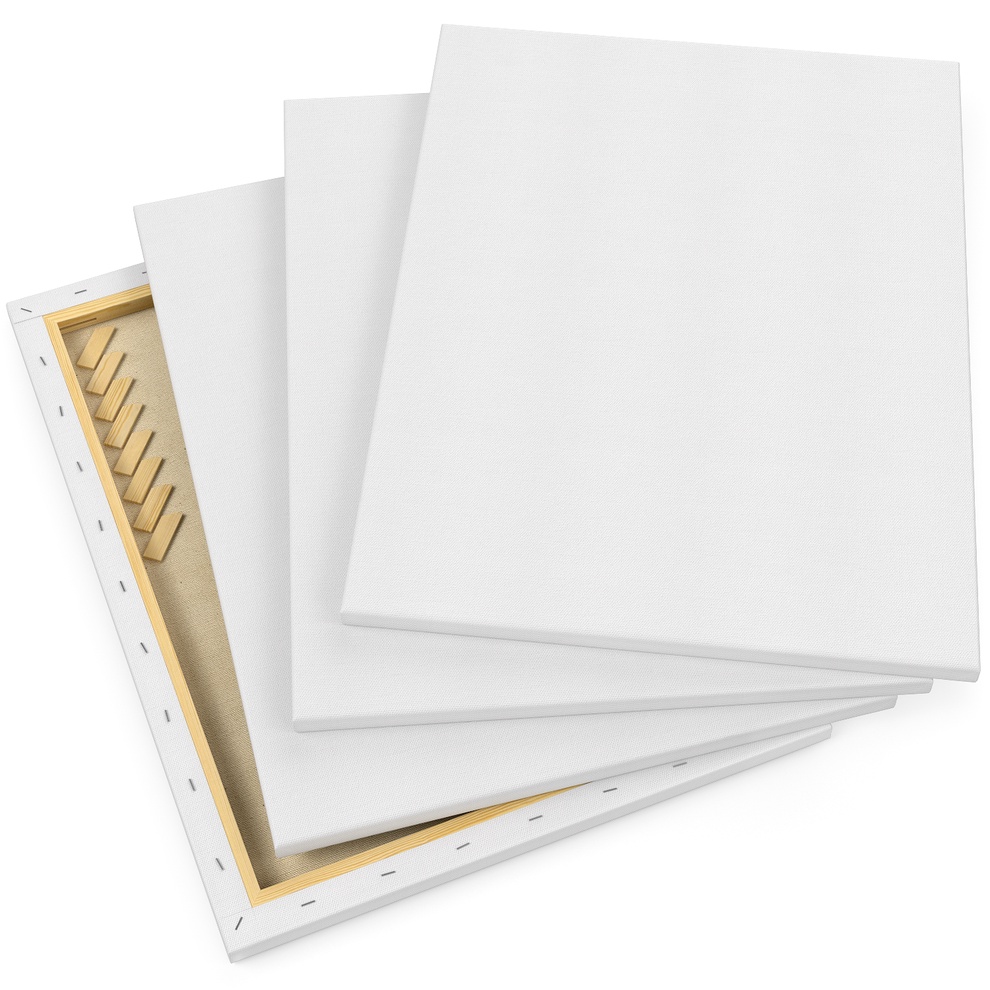 Want More Content Like This?
Subscribe & have it sent right to your inbox.