Spring is here and it's time to refresh your world with more color. The world outside is coming alive and you can bring that invigorating feeling into your workspace and your artwork by adding springtime colors to your office and art supplies. Nothing lifts the spirit like color and with just a few new supplies, we think you'll get the boost you need. That's why we've put together this list of some of our most colorful and essential products. Goodbye winter blues, hello spring shades!

Awaken the Artist Within

Whether you want to try a new medium or just need a pop of color on your desk, we've got just what you need. These products are sure to get those creative juices flowing while brightening your day and your art practice.
If you've never used polymer clay, get ready for some fun. This set of 42 soft and pliable clay bars come in vibrant colors for molding or sculpting. You can blend colors to create unique swirls and shades for making unique sculptures, jewelry, home decor items, and holiday ornaments. This clay won't stain your hands and bakes solid in your home oven in minutes. The set also includes 5 sculpting tools and assorted jewelry findings to help you create custom accessories.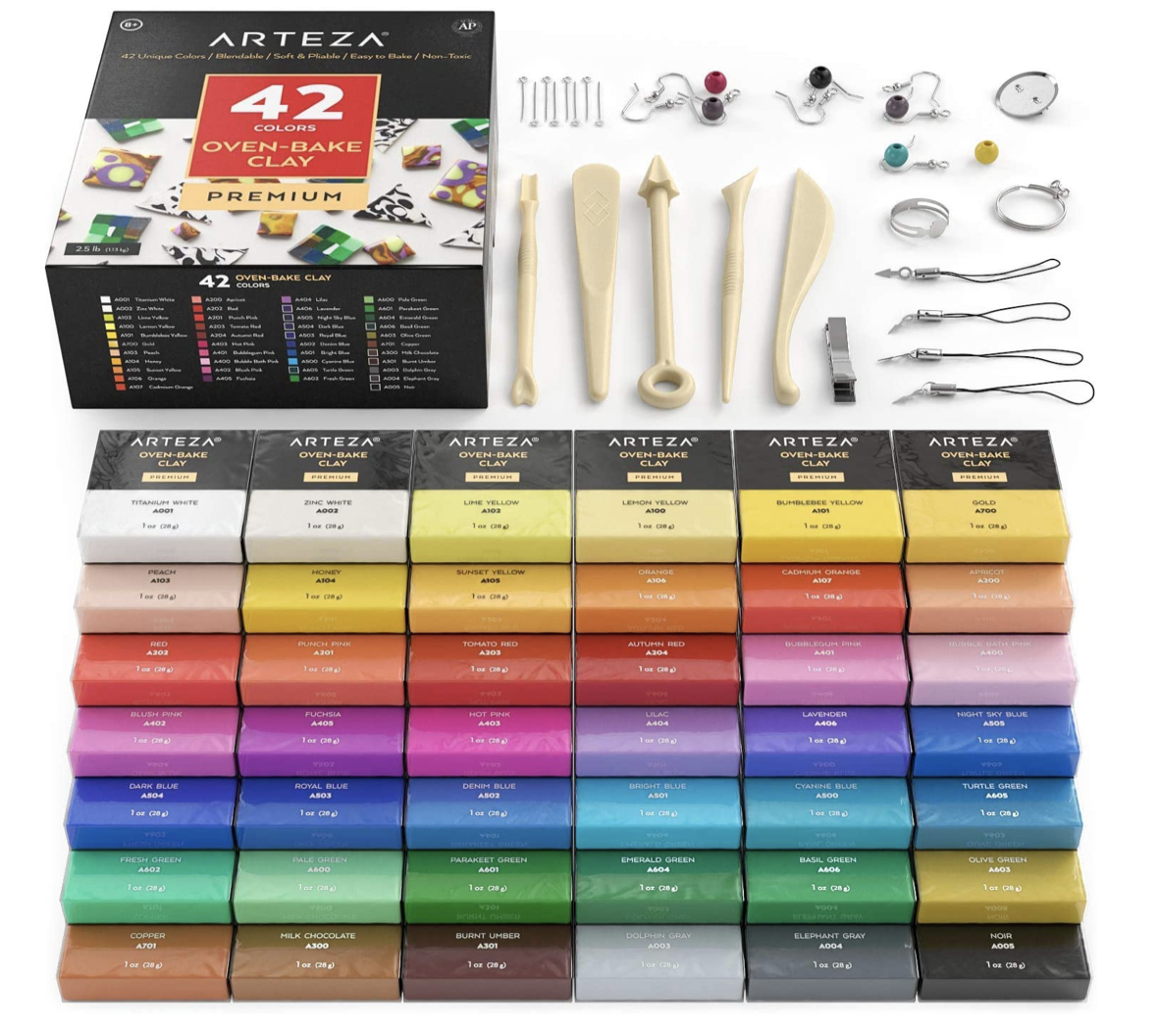 Making notes or creating mini-artworks just got more creative with these scratch paper notes. Every time you jot down a phone number or a reminder, it appears in either rainbow shades or shining holographic colors. Even your doodles will look artsier on one of the 202 rainbow and holographic patterned premium black scratch paper sheets. These outstanding art scratch notes included in this set measure 3.5"x 3.5", making them ideal for traveling or commuting. Our scratch art paper notes are super easy to use, simply scratch the sheets with the wooden scratchers included and let your imagination take over. The set also comes with 2 sharpeners.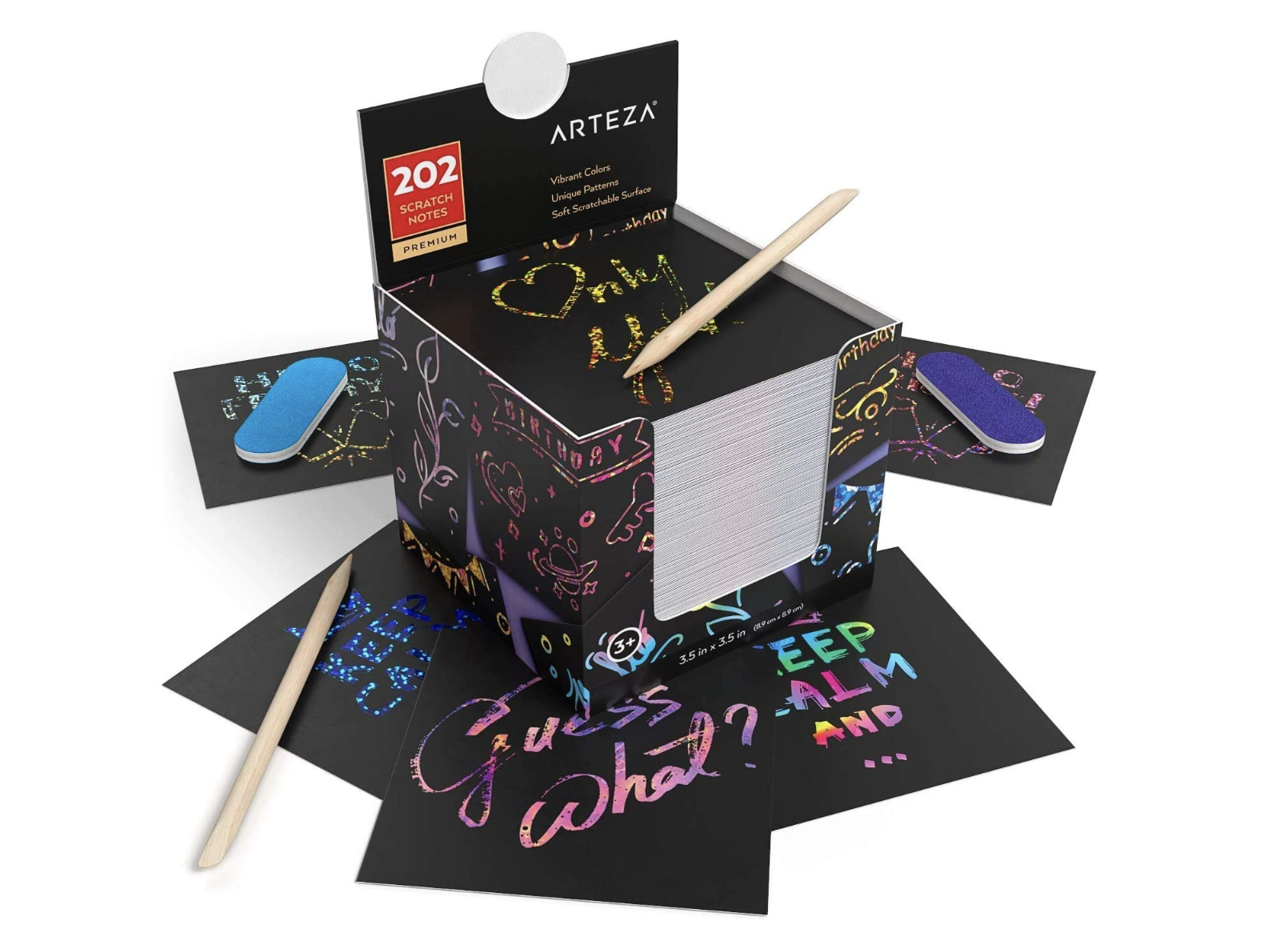 Design your own printed fabrics or add your art to your favorite t-shirts, jeans, tote bags, or scarves with this set of 30 assorted brightly-colored fabric markers. Create a unique spring collection with these dual-tip markers. As long as you wash your creations in cold water, the colors will not fade or weaken over time. Our professional-grade fabric markers are permanent, to assure your work withstands the tests of time. Whether this is your first or hundredth time working with fabric markers, you will find ours glide effortlessly and are comfortable to use. From calligraphy to pop art, you can give everything from clothing to home decor items your own special custom artwork.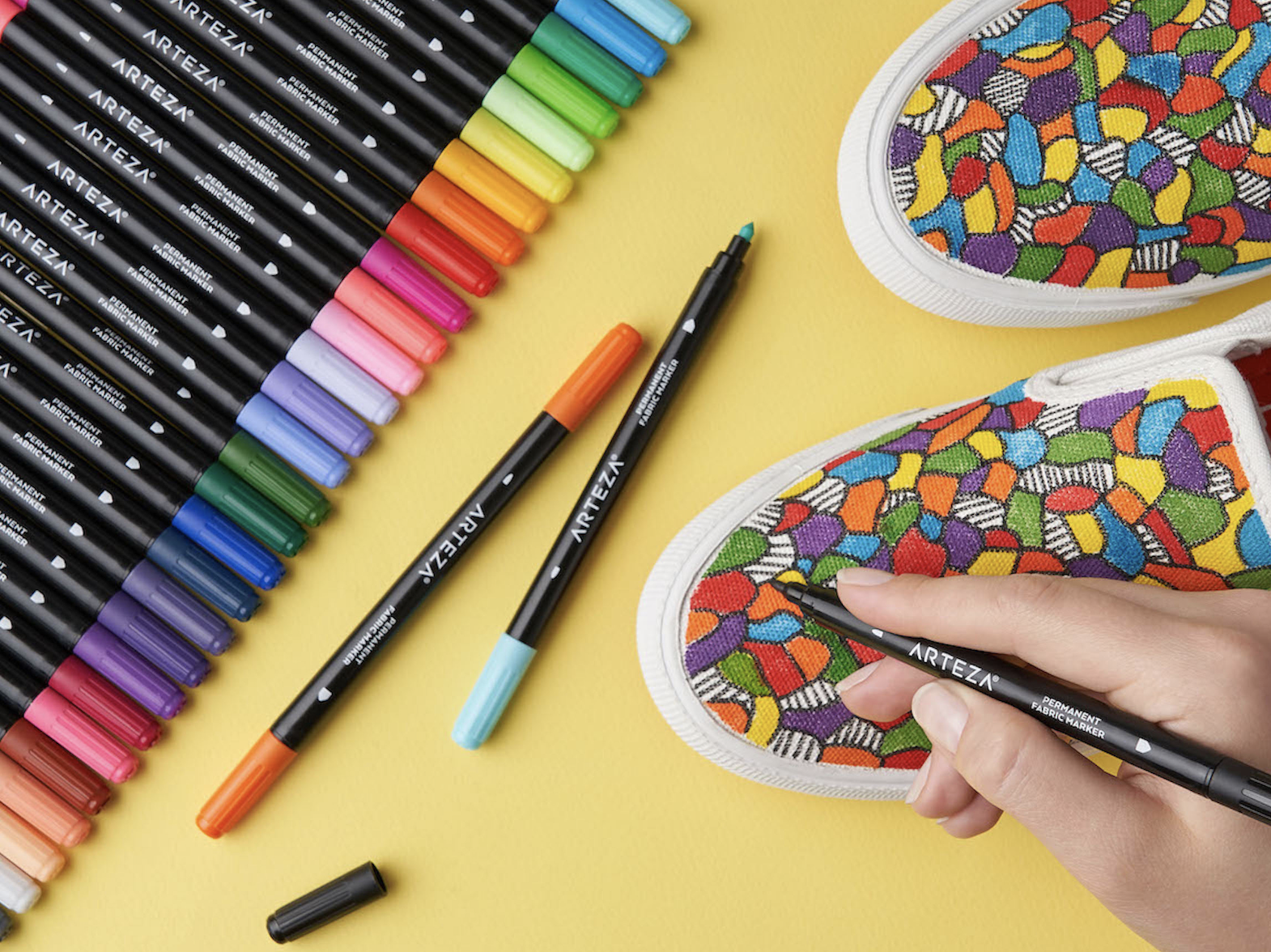 Add a touch of vibrant, shimmering color with this set of 8 metallic acrylic paints. You'll get brilliant shades like Pearl Amethyst Purple and Pearl Rose. Add shimmering highlights to your paintings, or that extra dazzle to your landscapes. You can even mix them with a pouring medium to create spectacular fluid art projects. These rich, high viscosity paints allow you to build texture with a palette knife or use a detail brush to add the finishing touches to a piece. The squeezable tubes make it simple to set up your palette without dispensing more paint than you need. Once you're finished, simply flip the cap closed to ensure your paints are sealed while not in use. These metallic acrylics are water-based, so you can easily clean your workspace with a bit of soap and warm water.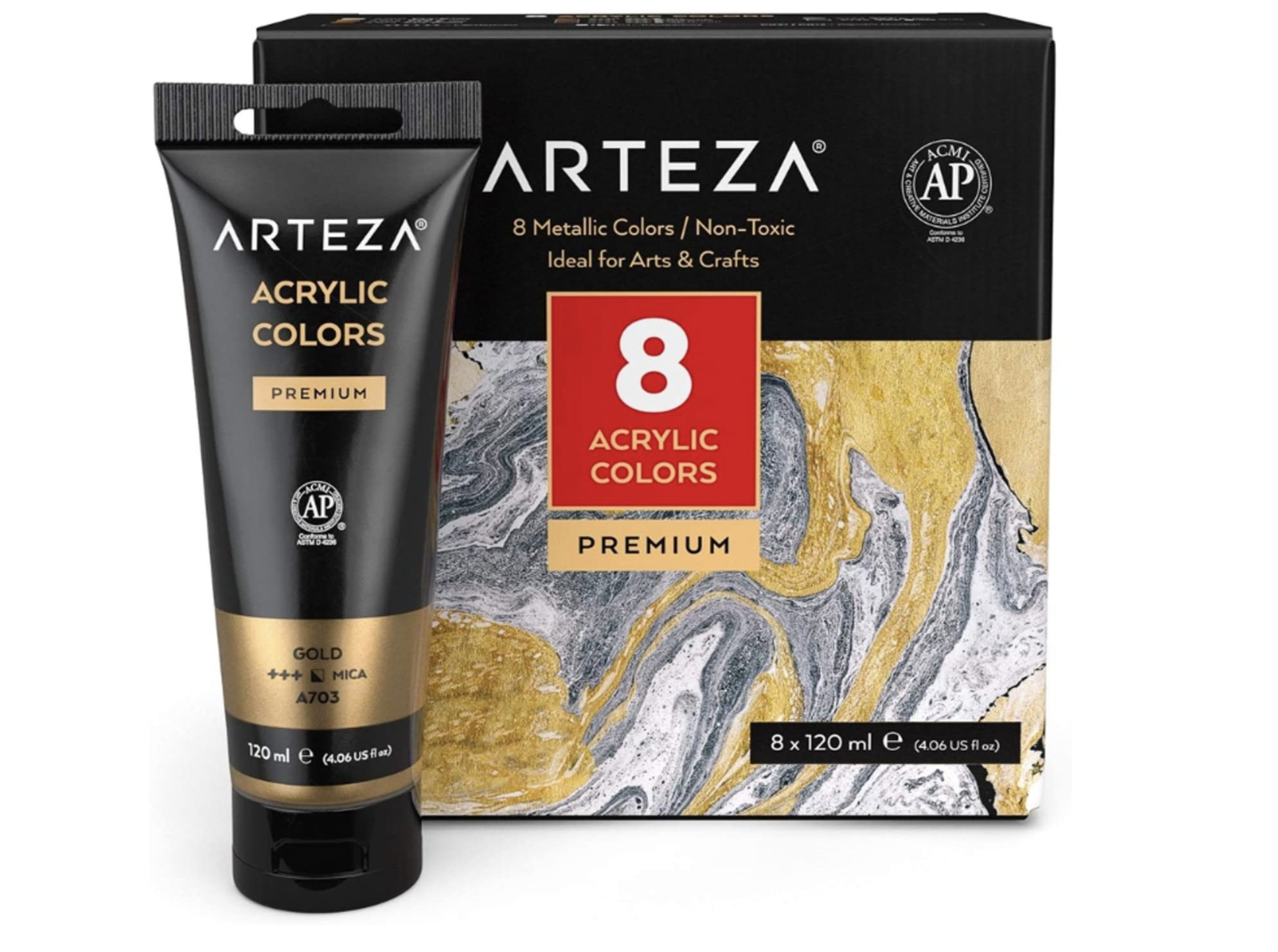 Perfect for oil painting, encaustic art, acrylic pouring, wood burning, watercolor designs, and mixed media. Whether you're a fine artist or a crafter, you'll love the strong, smooth surface that   these wood panels provide. Each 8"x10" Wood Panel has a ¾" profile and is uniform in size so you can create pieces that look cohesive when hung together. The natural birchwood surface has   sanded edges and is cradled in pine for a firm and sturdy board that can withstand thick layers of paint. They're light and easy to transport so you can work outside, at school, in the studio, or   wherever you like.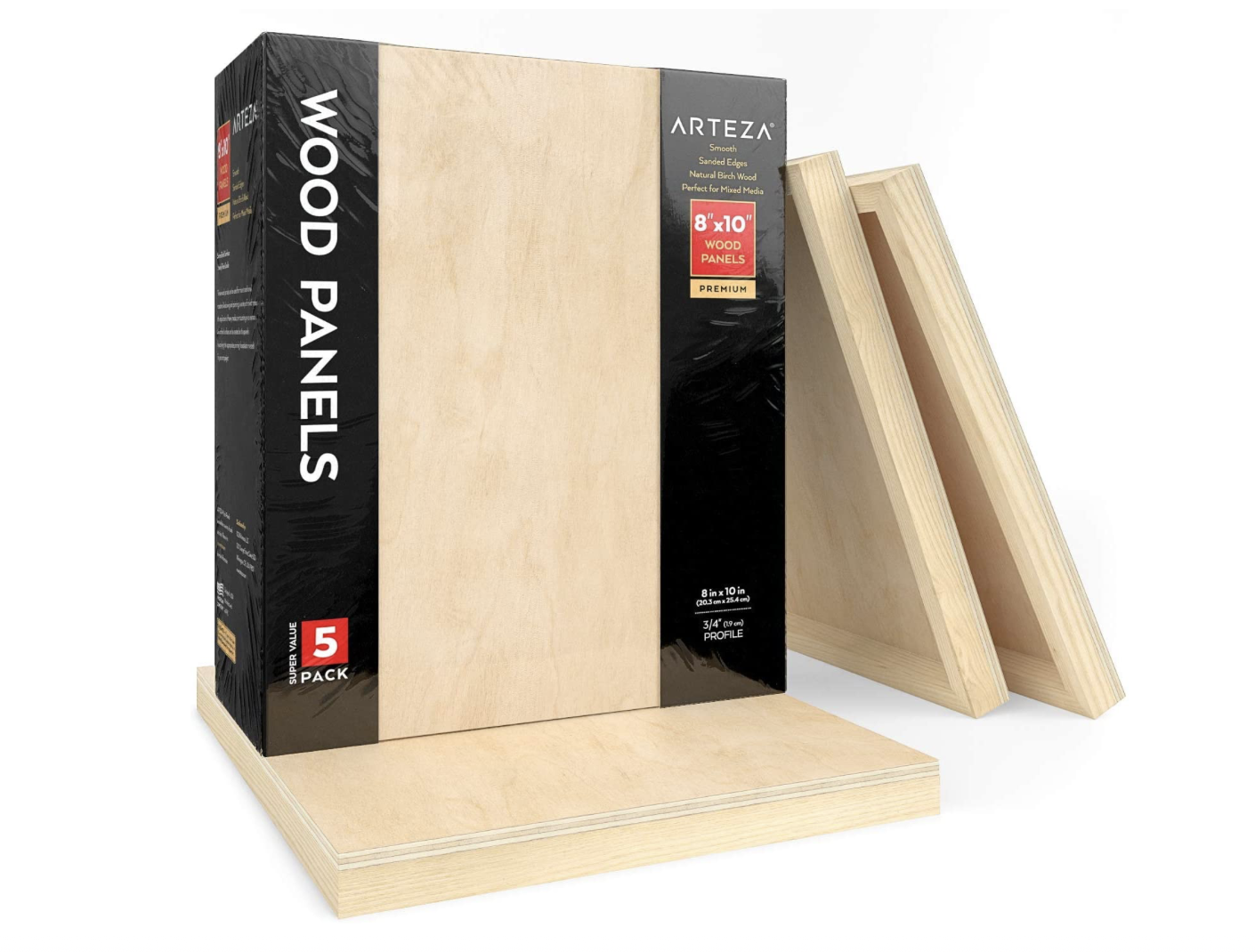 Spring has sprung and with these five products, you're ready for your imagination to grow and flourish. It's a perfect time to go outside and gather inspiration from nature. From flowers to birds to the white puffy clouds in a beautiful blue sky, you're surrounded by all you need for your inner artist to come out of winter hibernation and come alive!

Let us know how you like these products by leaving a comment in the section below.