Beach days, warm nights, sunshine and clear skies—whatever summer brings you, it's the season of inspiration that awakens the artist in everyone. We all know how fleeting summer bliss is, so take advantage of that creativity while you can. Don't limit your creations to the studio, take Arteza art supplies with you on your next outdoor adventure and let summer be your muse! Whether your greatest ideas come from a retreat to an island oasis or spending your days with friends exploring the great outdoors, here are five hot products that are sure to bring your colorful creativity.

Pocket Notebooks, 40 Sheets, 5 x 8"- Set of 5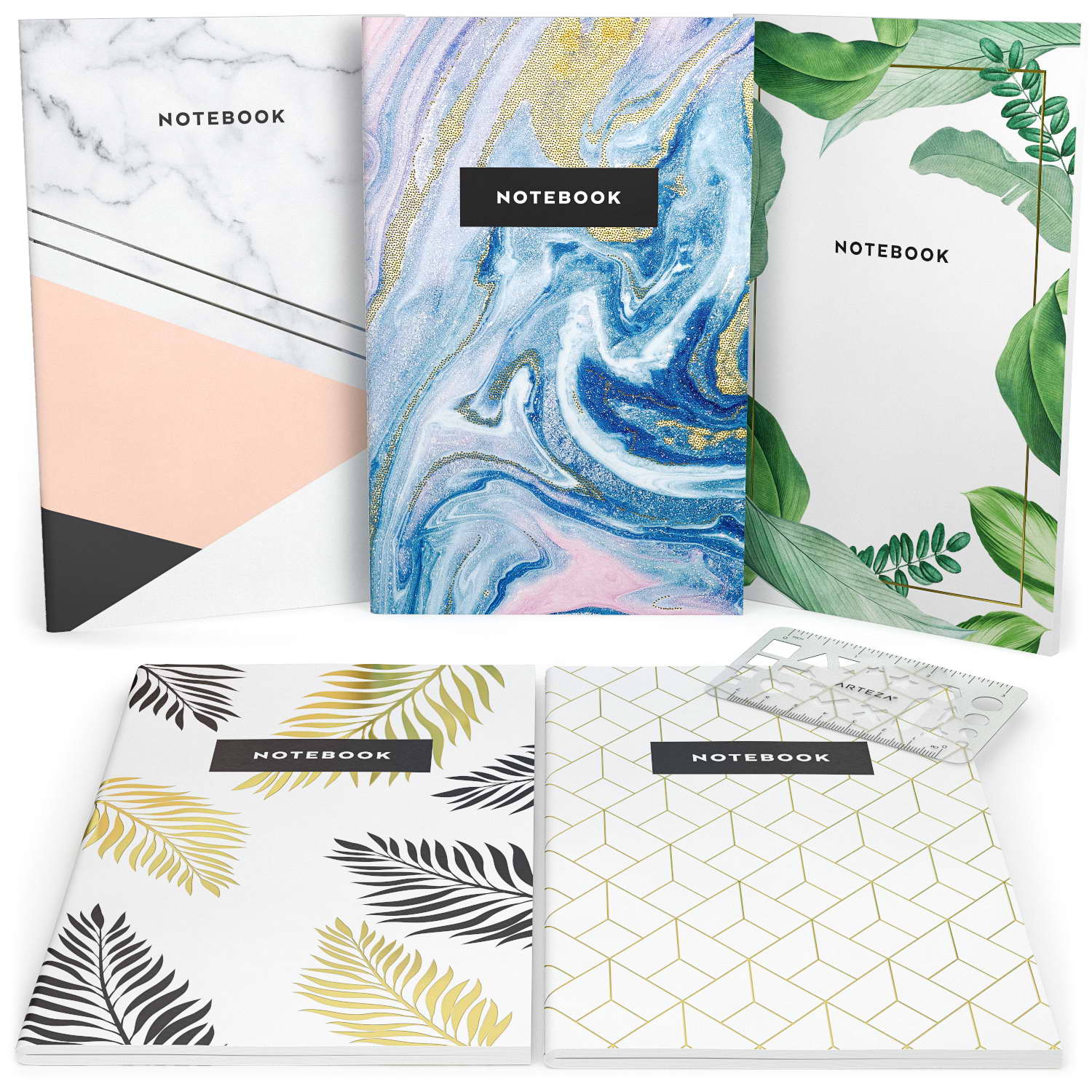 From the expert artist to the hardworking student, everyone needs a place to organize their thoughts. With these pocket notebooks, you can write, sketch, and visualize your greatest ideas, and look good while doing it. This stylish set of 5 includes two ruler-lined books for neat notetaking or journaling, two dotted-lined books for hand lettering or structured scheduling, and one blank book for endless possibilities of creation. You can dedicate each notebook for its own purpose, or spread the love and give a fellow artist a gift they didn't know they needed. This set even comes with ruler-lined stencils and a sticker sheet, so you'll never have to worry about crooked lines, drab notes, or lopsided letters. Portable and convenient, these 40-page dual-sided notebooks measure at 5x8 inches, so you can throw them in your bag (and yes, even your pocket) and take them with you wherever you go.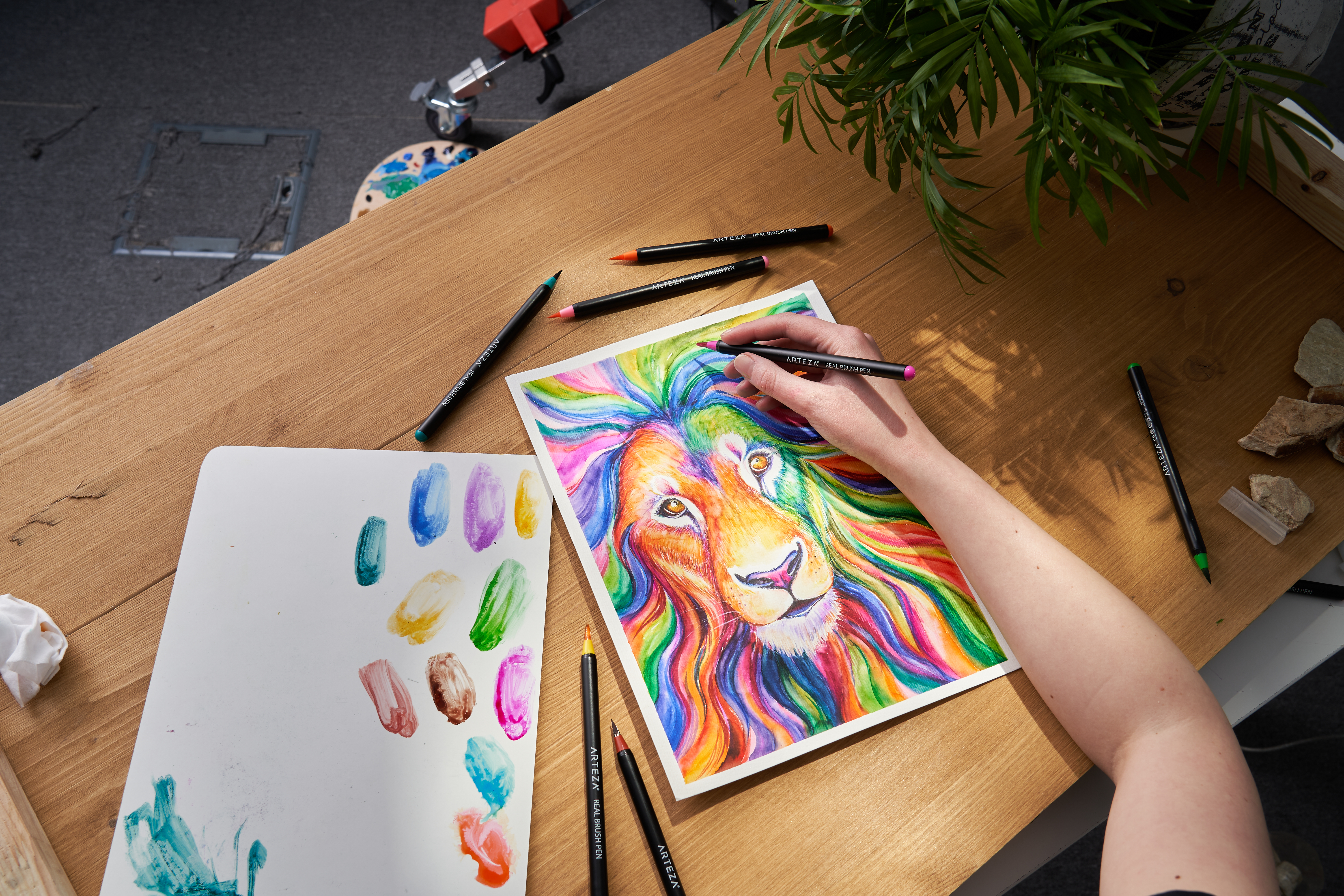 Combine paint and tool into one with these real brush pens. Available in a wide range of vibrant colors, this set of 48 offers every shade you need and more. Whether your preferred art form is drawing and sketching, calligraphy and letter art, or coloring and painting, our real brush pens are the perfect multi-use tool for every artist, hobbyist and professional. Designed with a flexible nylon tip for ultimate control, you can go from precision lines to bold swatches of color just by adding light pressure. These brush pens are also water-based, so you can transform saturated swatches into a light wash just by adding water. Safe and simple to use, real brush pens aren't limited to any age or skill level. 

EverBlend Ultra Art Markers, tropical colors, set of 36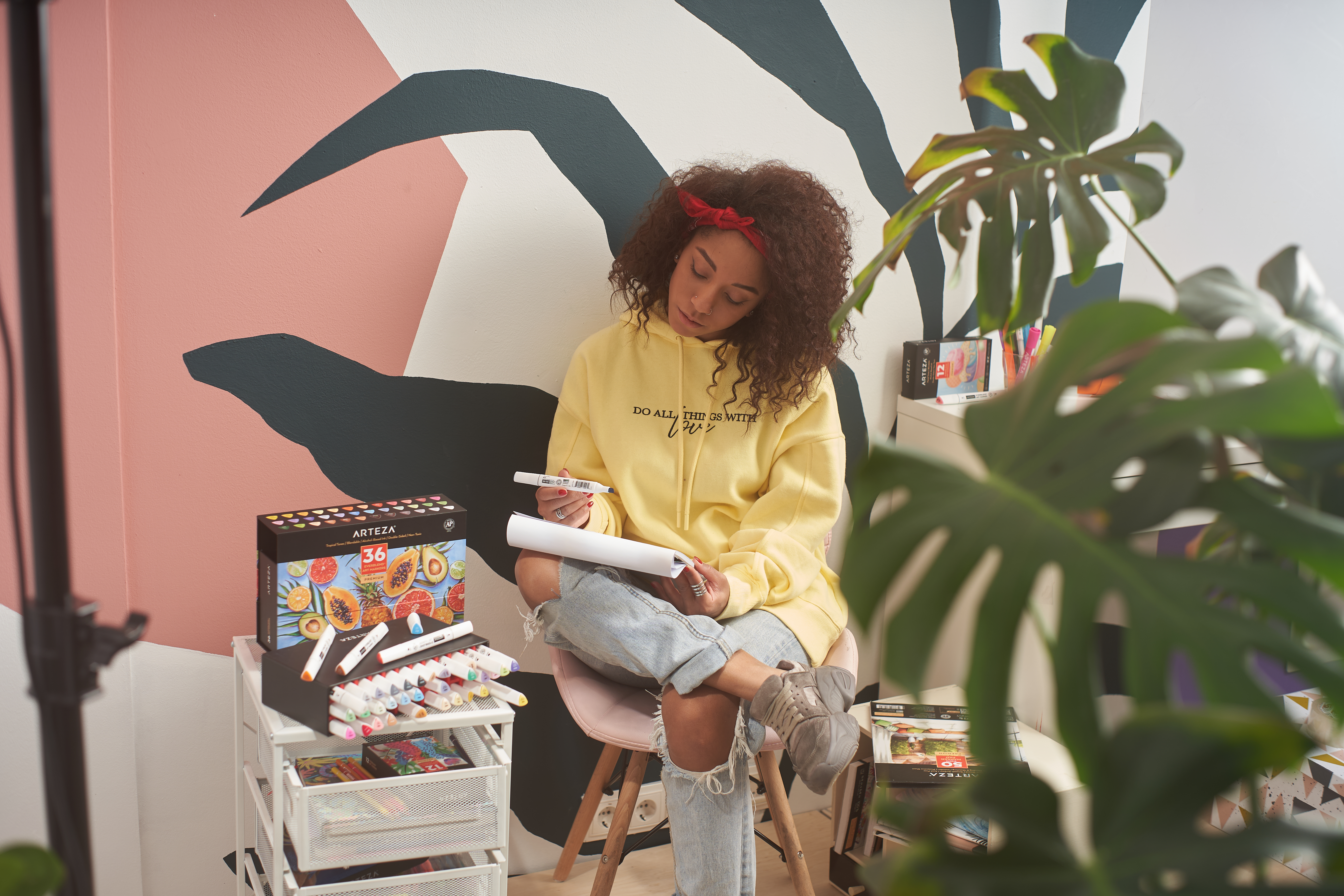 Can't make it to the beach? Lackluster weather got you down? No problem. Get the same serene, summer feel from the comfort of your desk or easel with our set of tropical toned EverBlend markers. This set includes 36 dual-sided markers, designed with a fine point nib for precision on one side, a chiseled end for thicker lines on the other, and an easy-to-grip triangular barrel for your comfort while you create. Create a variety of vibrant color palettes with 36 summer shades, but you don't have to stop there. These premium markers are alcohol-based, giving you the freedom to mix, blend, and layer colors with ease as much as you please. The set also includes fresh nibs to replace whenever you need, so your creation doesn't end once your markers dull with time and use. 

Retractable gel ink pens, set of 14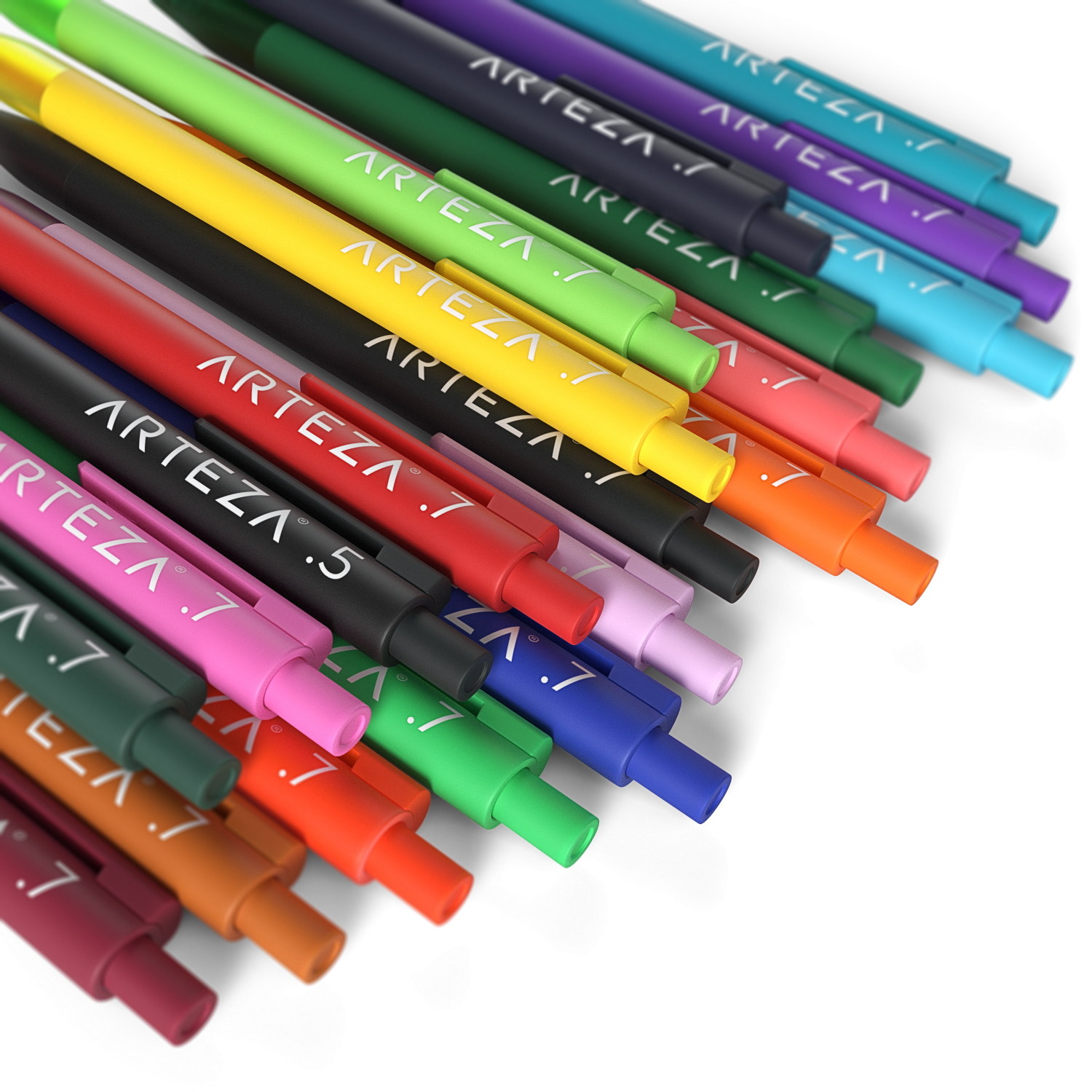 When it comes to scheduling, planning, or note-taking, it's easy to get lost in the repetition of dull lines of black or blue ink. Imagine how much easier it would be to read your notes or monthly calendar, or even how much less mundane these tasks would be, with splashes of lively color. This set of 14 vibrant retractable gel ink pens is perfect for students, writers, and structure-savvy individuals alike. With each pen's comfortable rubber-grip design and smooth 0.7 mm tip, you'll never experience another hand cramp while writing again. These gel ink pens are also formulated to dry fast and resist fading, so you can write neatly and efficiently without worrying about the ink smudging on your hand or bleeding through the paper. 

Inkonic Fineliner pens, set of 24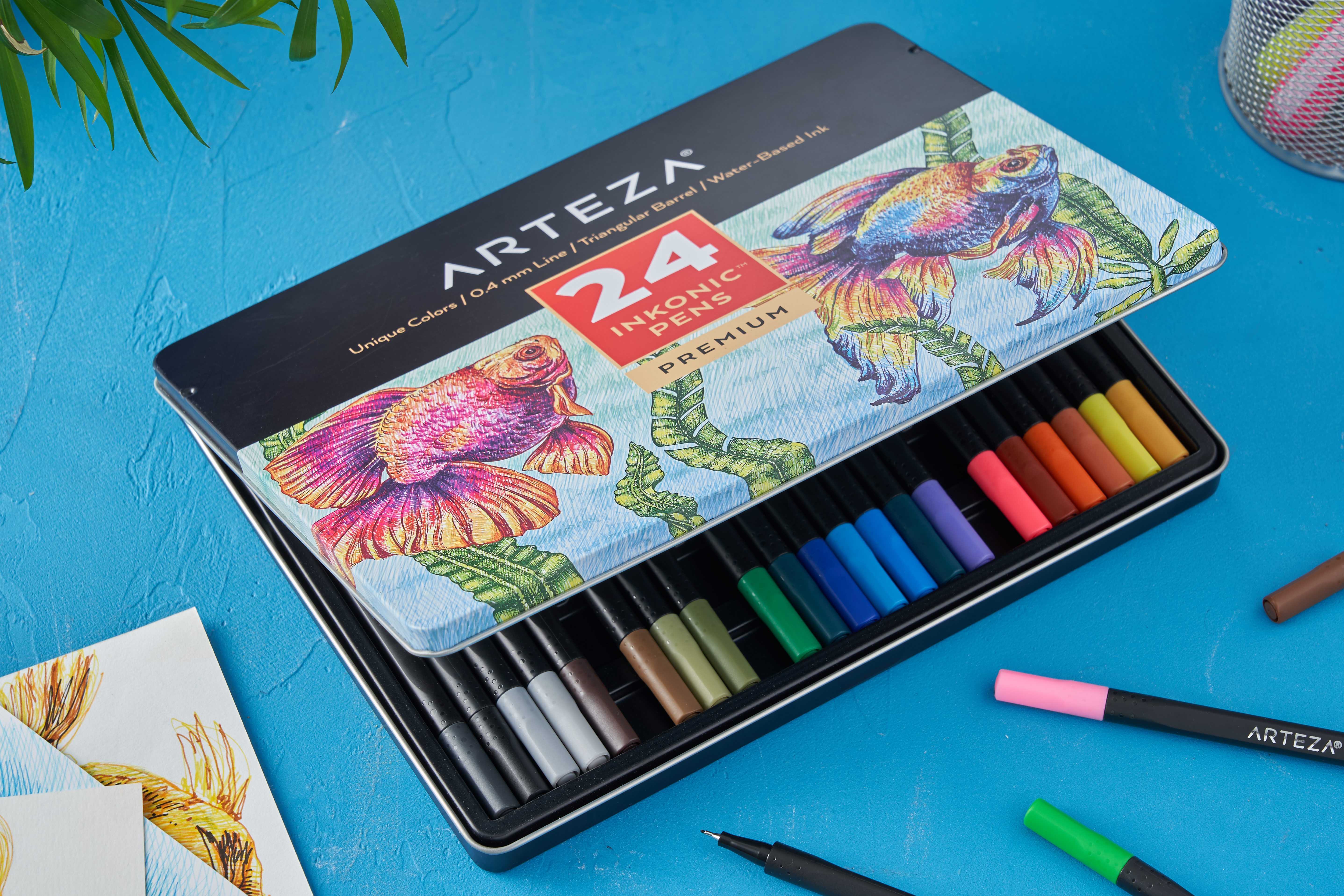 Experience the satisfaction of consistently smooth writing and drawing with this set of Inkonic Fineliner pens. With an array of 24 colors, you're able to put your pen to paper and create with vivacity. These premium pens are water-based and quick to dry, presenting you with crisp lines that won't smudge, budge, or bleed. Each pen is designed with a 0.4 mm tip for careful execution of the tiniest of details, as well as a triangular barrel for a solid grip and universal comfort, so you can create for hours on end. A tin for storage is also included, calling for organization and easy access to any color of your choosing next time you reach for this iconic set. 

Don't let summer fade away like last year's tan lines. With these 5 hot products, you can take advantage of the season that inspires you most before the sun sets on the endless possibilities of creation. Let us know how you like these products by leaving a comment in the section below.

Are you interested in trying out even more Arteza products? Shop suggested set below for your next creation.