Wildly beloved, exuberantly creative, color obsessed Kelly Graval, known as RISK, dominates the West Coast graffiti movement. Instituting something he calls "hitting the heavens" (painting graffiti in the highest, toughest and most visible spots, such as freeway overpasses), RISK built his hard-earned fame over more than two vibrant decades. His work directly led to graffiti being considered a legitimate and valid part of the modern fine art scene. Originally from New Orleans, currently based in Los Angeles, he has exhibited work in major museums (such as LA MoCA, California Museum of Art) and worldwide galleries, as well as collaborated with musical artists: Aerosmith, Bernie Taupin and Michael Jackson, to name a few. His current solo show at Goldman Global Arts Gallery at Wynwood Walls, "Pure Risk" features a range of mixed media pieces, some using refurbished products and found objects, created in his Los Angeles studio throughout the pandemic.
Tell us about your most recent "Pure RISK" show at the Goldman Global Arts Gallery at the Wynwood Walls? How did that come about?
Artist and gallery co-founder Peter Tunney and I have been planning a solo show with Goldman Global Arts gallery for a couple [of] years. Peter and I are consistently in close contact. He was interested in some of the work I created during Covid and he asked if I wanted to do the first show opening since the Covid shutdown. I thought it was a great idea and the ball got rolling. PT decided to expand the show "Pure RISK" and do a retrospective of work that led up to the Covid body of work, as well as the work created during the pandemic.
Talk to us about graffiti art and street art.
They are two very different things. I consider graffiti artists to be more like old school craftsmen, whereas street artists [have] more [of] a work smarter not harder mentality. Street art was a natural progression of graffiti art. A new generation took to the streets to be heard and make social commentaries. As these commentaries become more important, in some cases, than the artists showing off their skills, tools like wheat paste, and stencils became an easier, more effective way to get their message across.
Can you trace your journey as an artist?
I was always into art. My dad showed me how to draw a dragster when I was about six years old and I was off to the races! I was meant to be a graffiti artist because I would draw words like fire made out of flames, or cloud made from clouds, bubble out of bubbles, etc. When I was in high school, I was introduced to graffiti on subway trains in New York. I was drawing waves and writing the word surf, so what I saw seemed very similar to what I was doing—but larger scale with spray paint. That sounded awesome, so I went out and stole a few cans of spray paint, and hit my high school. That was about 37 years ago—and I never quit. As I got older, more forms of art were interesting to me. I started doing other things like sculptures, mixed media, public murals, and gallery work.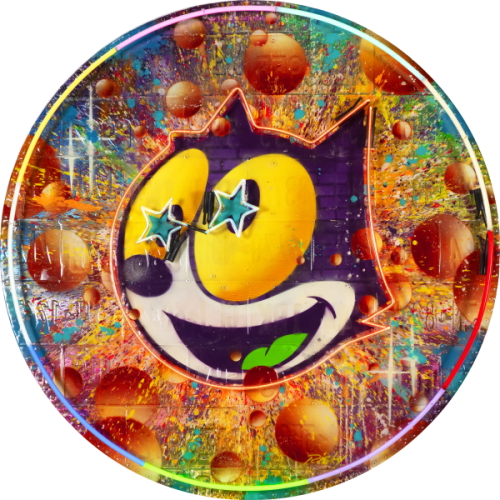 RISK, "Felix with Stars" (Neon), 2020, Goldman Global Arts
What artists have influenced you?
Meeting Keith Haring had a huge impact on me. I met him when he was at the Art Center doing a signing, and we talked about art. He helped me realize that I could do graffiti, as well as murals and/or galleries, and more. I wanted to travel and do what I love and support myself doing it.
Arteza Art Break:
Okay, I'm feeling the inspiration hit as I read about RISK and Keith Haring. Are you feeling it too?! Shall we take a mini art break and let the creativity run wild? I say, heck yes! Below are some products we suggest for you, so you can take a pause and get your art on.
Alright, let's get back to the article...
Who or what continues to teach you?
EVERYTHING . . . I watch and listen to everyone from my daughters to old masters.
Can you put your purpose or style into words?
To sum it up: I have been trying to continue the dialogue that the Ferus Gallery started before me. The original cool school guys: Ed Moses, Billy Al Bengston, Edward Kienholz, Dennis Hopper and their use of found objects, fine fetish materials, light and space. Also, as a Southern California artist, surf and car culture plays a role.
Speaking honestly, how and why do you think that your work opened the door to legitimizing street art and graffiti art, ensuring that the genre now becomes part of museum exhibits and collections?
I set out to make graffiti art a household name, so to speak—a legitimate art form. I did a ton of videos and movies. I did all the graffiti in Michael Jackson's "The Way You Make Me Feel" video, major designs for "Playboy" magazine, Budweiser, MTV and more. I always wrote "RISK" in "real" graffiti and avoided corny corporate stuff. This attracted people to the subculture. The art form was so, so powerful that it could not be overlooked!
How does your artwork mirror popular culture?
I like to include a lot of juxtapositions in my work: good and evil, love and hate, good times, bad times, contrasting colors, and more. I do my versions of a lot of things with a twist and my version of things that inspired me. For example:  Andy Warhol's soup cans. People ask why I do the Riskoleum Can...and it was simply my nod to Warhol's soup cans. People asked why he made the cans, and he said he liked soup, he painted things that were dear to him. So, when I thought about that, I decided I wanted to do a spray can, but I wanted to personalize it. I changed it from Rustoleum to Riskoleum!
Where do you get your ideas--what is your muse?
My art reflects where I'm at psychologically at the time. Lately I've been in a celebratory stage of life. I'm extremely proud and grateful for my daughters. My work transformed from dark, cement, steel, and glass to very vibrant work with butterflies. The butterflies don't just represent a new beginning. They represent my past as well. From Anarch to Monarch...I came from a very anarchist position, a very punk rock past in Venice Beach with the Suicidal Tendencies punk rock lifestyle and now I am celebrating life in a variety of ways. I'm just trying to capture a little of that via some of my paintings.
What is your fantasy project?
I don't really know, I like to think of myself as an artist that will never know completion, so I don't really have final goals. However, painting the Hollywood sign has always been a goal. I also want to paint a whole commercial airplane, which I just got word is happening!
Collaborations: do you find them useful or do they misdirect you?
I love collaborations. It's the way artists communicate. I don't think they are all useful in an artist's personal journey but they are useful in an artist's social journey which is incredibly important in one's life journey.
How has LA played a role in who you are as an artist?
LA played a huge role in who I am as an artist. I've learned how to have tough skin; I've been shot and stabbed! These things are valuable lessons, which teach you very quickly that you're not always going to make all people happy. I've also learned about family. Your family is not always blood. LA is a melting pot of cultures. I've learned to love and embrace different ways of life.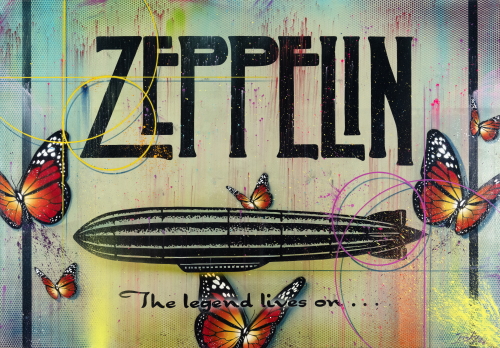 RISK, "Led Zeppelin Butterflies", 2020, Goldman Global Arts
What advice do you have for other artists?
Keep keepin' on! Don't worry about what anyone says, follow your dreams...just keep doing it over and over more and more...Keep on keepin' on!
What are you working on now, and what is next for you?
SOOO much! I've never been so proud of my family/team at Riskrock Studios. We have a book coming out in about two years with Rizzoli publishing...two toys with SideShow collectibles. "Forbes Magazine" just did an article on my "Face Your Fears" license plate shark sculpture, which sold last month at the big Summer Contemporary Auction at Phillips in New York. We have another profile article being done by "Marvin Magazine." I have a film project coming out with Dave Navarro of the Red Hot Chili Peppers and Jane's Addiction, Taylor Hawkins of the Foo Fighters, Corey Taylor of Slipknot, Chris Chaney of Jane's Addiction. That film was done during Covid. I'm art directing a major motion picture that I can't talk about yet. We are releasing the Movie "Vandal." I executive produced and played myself for about three or four lines in "Vandal." We launched a Monster Energy can/flavor last year. I was the first artist ever to design a Monster Energy can. I have a limited-edition print release with Slash (Guns N' Roses).
Are you feeling the spark of creativity after reading about RISK? Make sure to shop our store for your next creation.