Ernesto Kunde's artistic process doesn't confine him to his studio 24/7. You may find him kayaking and taking in Miami's natural beauty, its mangroves, sea grapes, roots, and trees, then transforming the inspiring scenery into art with his unique style. The resulting canvases have the spirit of Miami pouring out of them. And that's just one facet of his life's work.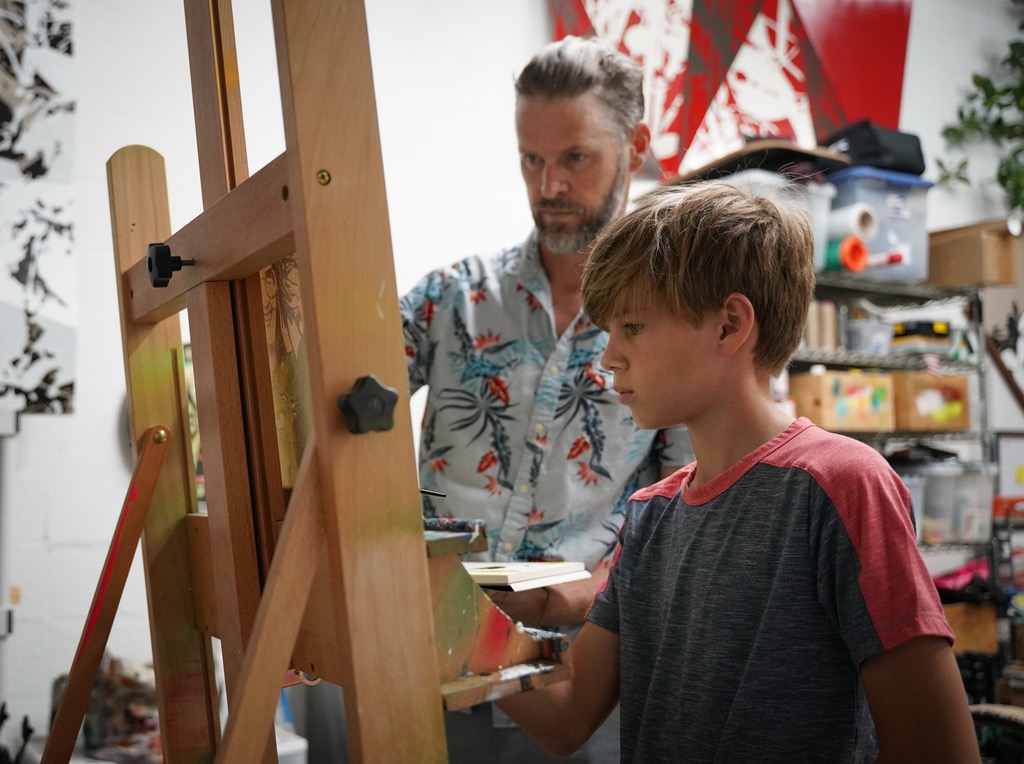 In a life featuring frequent relocation, it wasn't until Kunde moved to The Magic City in the late 2000s that his professional art career truly took off. Kunde was born in 1973 in the scenic southern Brazil municipality of Paraíso do Sul, and raised there on his father's farm. This is where his abiding bond with the natural world began. He got into art early on, and didn't let a lack of art supplies stop him from painting. By 1990, he was dabbling in landscapes and still-lifes, and while still at the farm, he sold his first painting—a still-life of bananas. Then he got into drawing and manipulating coffee stains on paper.
Kunde went on a quite the odyssey before settling in Miami. He first moved to Germany to study and explore family ties. He then returned to Brazil, then moved to the United States in 2001. He first lived in Beverly, Massachusetts, then New York City, and finally, Miami.
He built up painting knowledge and expanded his portfolio while studying at such schools as North Shore Community College, Cooper Union, the Art Center of South Florida, and the Miami Art League.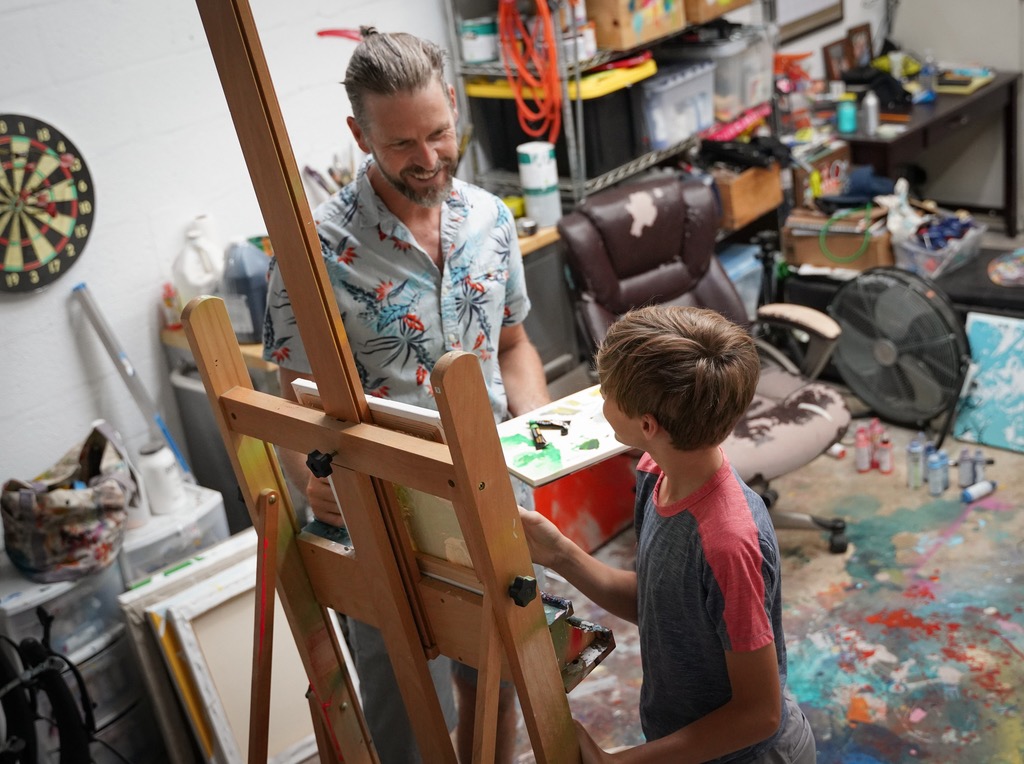 He and his wife moved to Miami to start a family in 2008, tired of the cold northern part of the U.S. His first art pursuit when he arrived was acrylics on canvas featuring such kid-friendly subjects as teddy bears and ladybugs. It would be the first time he could call himself a full-time artist. And though his path in the art world would lead away from this genre, he wouldn't completely abandon it.
Kunde's solo exhibition "Symbiotic Promise," staged in 2014 at the Swenson Gallery of the Bakehouse Art Complex, had works that exemplify his take on Miami's beauty. It was a group of large-scale acrylic paintings that paid tribute to South Florida flora and how humanity and nature relate. Interestingly, the color palette screams "pop art," definitely not a traditional, realistic take on plant life. In this particular type of work, plant root structures are a major recurring theme for Kunde. In the twists and turns of the roots, Kunde explores man versus nature, and the importance of saving the fragile natural world.
Kunde also has his eyes on distinctive Miami buildings and signs with the "Nostalgia" series, subjects which he notes won't be around forever. So, the Hotel Breakwater, the classic sign for the Vagabond Hotel, and plenty of other familiar sights get his signature pop art sheen, with a bit of art deco and the colors of local sunsets tossed into the mix.
But where there is light, there is also darkness. Kunde's other significant, critically acclaimed and award-winning type of artistic expression shows both the anguish and suffering of the less fortunate, and the tribulations of freedom fighters.
Kunde was deeply affected by encounters with homeless beggars while enduring a depressed economy. The result was the "Human Experience" series, which shows harrowing, poignant mixed media presentations of have-nots.
The "Revolution Narrative" series has the same feel with depictions of tortured souls inspired by political and social strife going on in the Arab world—where those seeking freedom clashed with oppressive rulers. Kunde typically created these darker pieces with black-and-white charcoal, pastels, and paint, plus found objects like mesh and nails. The surface was found wood, and the artist would purposely let the grain show.
Kunde has shown in many South Florida venues, including Sardiñas Gallery at St. Thomas University, the Art and Culture Center of Hollywood, and the Little Haiti Cultural Center. He has also shown multiple times at the prestigious SCOPE Miami art fair. On the charity front, he has shown at multiple Smash and Grab Fundraisers put on by the Locust Projects arts incubator.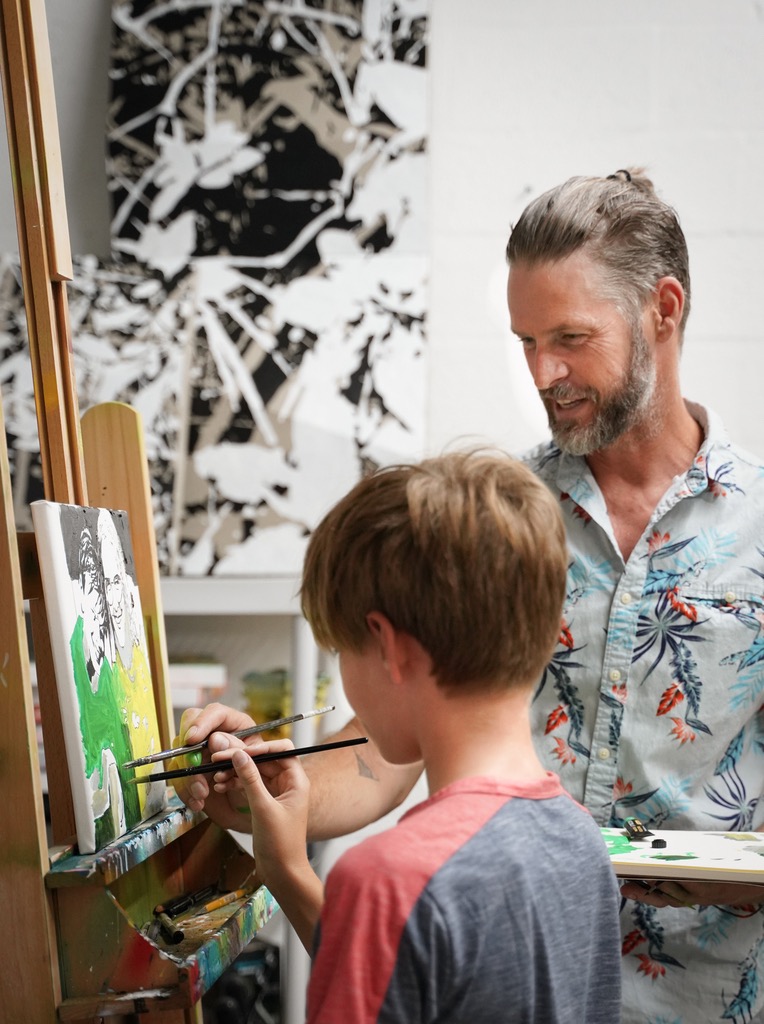 In this Q&A Kunde discusses inspiration, artistic process, what it meant to involve his children in his art, and more.
What was it like working with your children to create art?
[They] inspire me in a different way, they are the future and…have to know how important preserving our environment [is].

Where did your passion for art and nature come from?
[It] started in Brazil. I come from [a] farm, [and worked] on the farm [surrounded by] nature and as soon as I [moved] to Miami I got sucked in and [passionate] about it and [it's been] my subject since.

What medium do you like to use and why?
I mostly use acrylic on linen or canvas. [Acrylic is] easier, [has] no odor and [is] good for the environment.

What art genre or movement do you consider yourself to be part of?
I don't follow any genre. [I] try to be myself and what makes me happy and in peace. My art is very me.

What is your artistic process?
Most of the time I pick up an idea or photos that I have from the collection, sketch some ideas that I have recorded throughout the years [that are] waiting for me to work on them. I will work on them for a while and see if they are worth pursuing before I dedicate more time to develop them, but [it] normally clicks pretty easy, but I will tell I also had lots of failures. My most important [tools] when creating [are] my photos and the canvas.

Who are your favorite artists?
My all-time [favorites are] Paul Cézanne and Gerhard Richter as well as Willem De Kooning [and] Claude Monet. [There are] so many artists I respect.

What advice would you give to new artists?
This question is very important. Once you believe in something you will [stand] behind the final product so don't rush it and practice a lot.

What are you currently working on?
I'm currently working in some more vibrant colors [based on] Everglades National Park pictures I took a couple years ago…[a] new series called "Everglades."

What Arteza products are your favorite?
I love the pens a lot…I love [that] they are different sizes, and the colors give me so many options.