They say April showers bring May flowers. While we wait for that to happen, though, might as well take a peek at this month's art gallery spotlights in this edition of ArtSeen. And once you're done, grab your umbrella, raincoat and boots and head out the door to enjoy these exhibitions in person!
"Aqueous"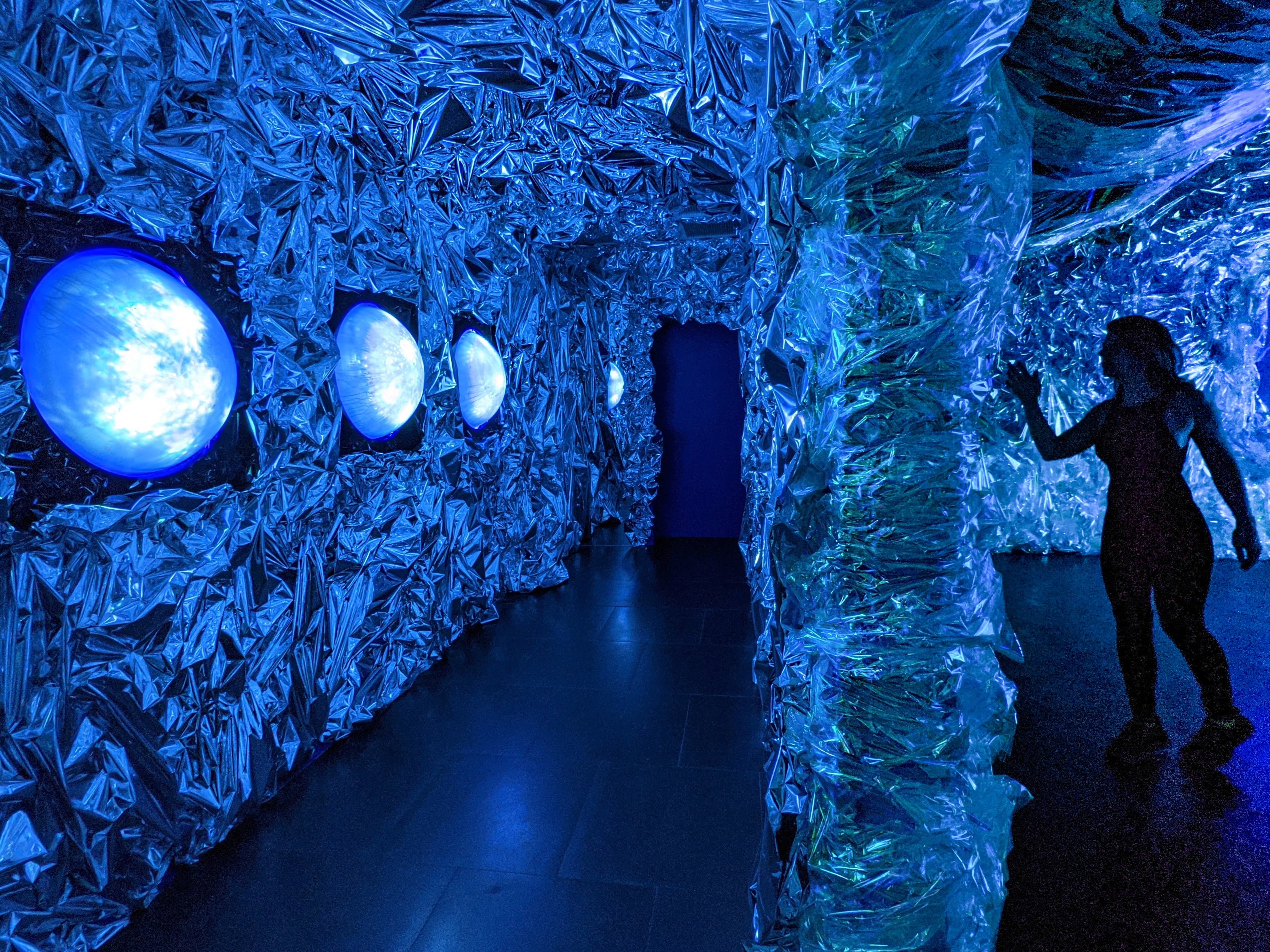 "Agua Haiii" at "Aqueous" credit: ARTECHOUSE and Haiiileen
WHO?
Miami-based artists Aileen Quintana and Alvin Hernandez created the original installations part of this oh-so-blue experience. Quintana—also known by her artistic name of Haiiileen—is an interdisciplinary Cuban-American artist whose work spans performance, design and visual art. Quintana channels her synesthesia, a rare sensory condition which transforms everything she hears into visual imagery, into bold, boundary-pushing work.
Hernandez on the other hand was inspired at an early age by '90s cartoons. Surrealism is a big part of his work. He refers to his paintings as "painted poems" or the illustrations of his inner feelings.
WHAT?
"Aqueous" is an immersive multimedia installation inspired by Pantone Color of the Year 2020 Classic Blue. It was created by the ARTECHOUSE Creative Team and is part of "Submerge" by ARTECHOUSE. This new series of surreal, immersive experiences consists of three distinct elemental experiences—earth, water and air—related to the unique qualities of Classic Blue and is featured at each of ARTECHOUSE's locations (D.C., Miami, and New York City, respectively). 
As part of her contribution to this exhibition, Quintana created "Agua Haiii," bringing together light, form and atmosphere to create an abstract "blue iridescent reality" for visitors to explore. Alvin, on the other hand, takes visitors on a surreal dream interpretation of Classic Blue in an immersive mural piece combining his signature style with the flow and energy of deep blue waves.
This multimedia installation is spread across two floors and seeks to soothe visitors' spirits by submerging them in an abstract exploration of the textures, sensations, movements and sounds of liquid.
WHEN?
"Aqueous" is soaking up soon. It runs until May 2, 2021.
WHERE?
ARTECHOUSE Miami
736 Collins Avenue
Miami Beach, FL 33139
Tickets can be reserved ahead of time at miami.artechouse.com
WHY BE SEEN AT THIS SCENE?
Sandro Kereselidze, co-founder and Chief Creative Officer of ARTECHOUSE couldn't have put it any better: "Before 2020 even began, Pantone selected Classic Blue as the color of the year because they saw it as the hue to sustain us during a time of change. 2020 ended up bringing changes no one expected, making the qualities and connotations of Classic Blue—calm, confidence, and creativity—especially relevant today."
Laurie Pressman, Vice-President, Pantone Color Institute adds, "As they experience this calm and confident blue hue, we hope these installations provide visitors to ARTECHOUSE with the peace and tranquility many are seeking during this time."
"Wink World: Portals Into the Infinite"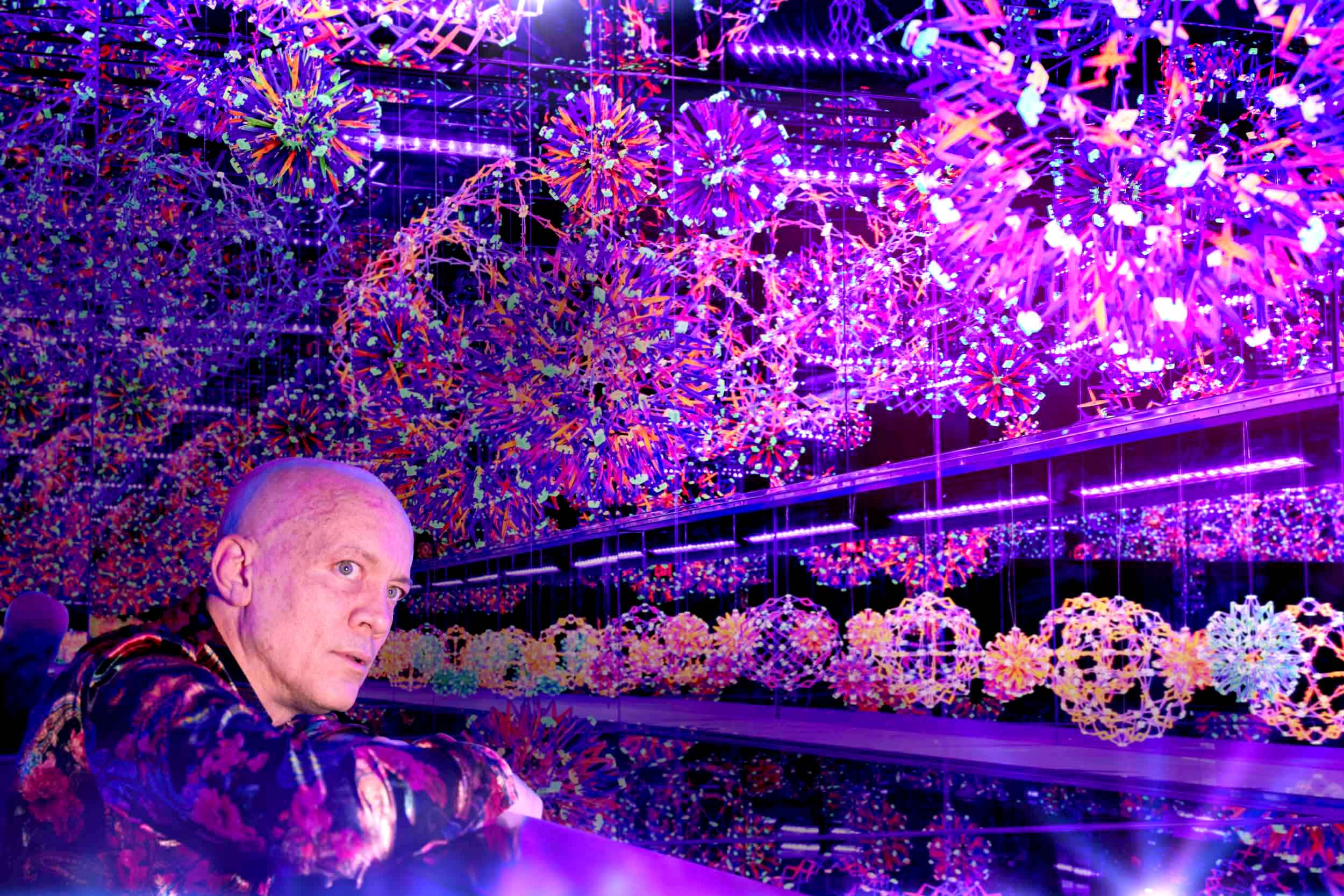 Chris Wink, Creator of "Wink World," at exhibition, credit: Photo courtesy of Laurent Velazquez for "Wink World: Portals Into the Infinite"
WHO?
Chris Wink, co-founding writer, director, performer and composer for the famed Blue Man Group, is the director of content and developer of this project—his most ambitious—since leaving Blue Man Group in 2018.
WHAT?
"Wink World" is a cross between psychedelic art house and colorful carnival fun house. The 1,500-square-foot space features six infinity mirror rooms, each featuring production numbers highlighting Wink's love of black light and spectacular stage effects. Other features including Slinkies and Hoberman Spheres, will definitely bring out the child in you.
WHEN?
"Wink World" is a permanent attraction at AREA15, an experiential retail and entertainment complex.
WHERE?
AREA15
3215 S Rancho Dr.
Las Vegas, NV 89102
Ticket information available at WinkWorld.com
WHY BE SEEN AT THIS SCENE?
Forget about waiting in line at the club. Head to AREA15 to experience this colorful exhibit, reminiscent of iconic Vegas events like Electric Daisy Carnival. Plus, if you've ever been to a Blue Man Group show, you know what kind of fun to expect.
"Not Another Second"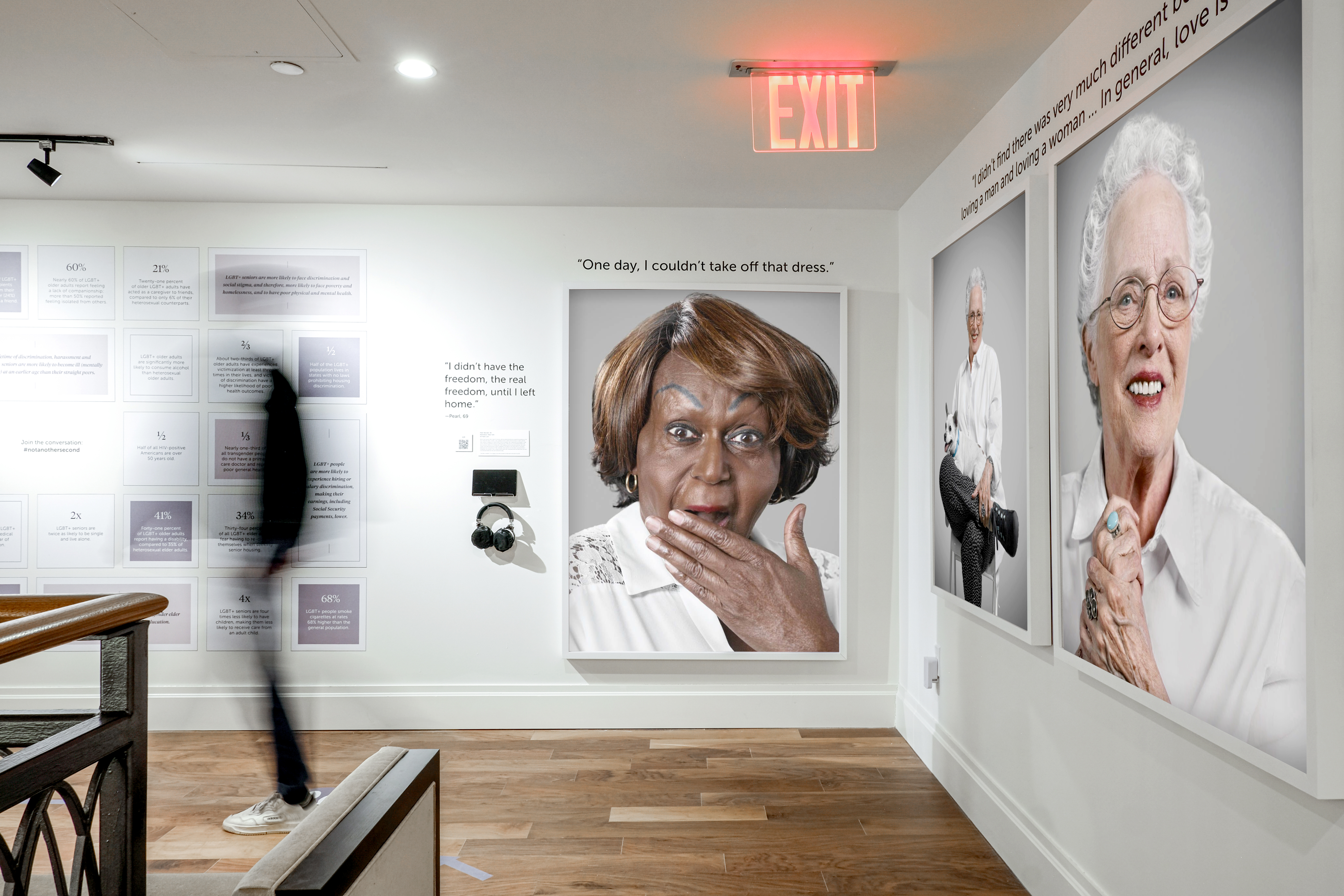 "Not Another Second" exhibit, credit: Watermark Retirement Communities and photographer Karsten Thormaehlen
WHO?
German photographer Karsten Thormaehlen—whose photography is part of this exhibition—began his career in the late '90s as an art director in New York. After years of working in the youth-obsessed world of cosmetic advertising campaigns and high fashion photography, he decided to shift his focus to older subjects. Some of his work during the past decade includes photography books such as the award-winning "Happy at 100" and "Aging Gracefully: Portraits of People Over 100."
WHAT?
"Not Another Second" (NAS) acknowledges the many sacrifices of LGBT+ elders. Each portrait is accompanied by the number of years lost living in the closet. Richard Prescott, who is featured with his husband, in the exhibition says, "Not only do we get to share our stories but give courage to younger generations who are still scared of being their authentic self."
SAGE Care, which offers LGBT cultural competency training, is also part of this exhibition. Michael Adams, CEO of SAGE said, "'Not Another Second' is a beautiful example of Watermark [Retirement Communities]'s commitment to honor the lives and histories of LGBT elders who refuse to be invisible… Too often, the achievements of LGBT pioneers are pushed aside or hidden back in the closet as they get older. SAGE is proud to work with Watermark to make sure LGBT elder voices are brought out of the shadow."
WHEN?
Due to popular demand, this exhibition has been extended until the end of May. Free socially distanced viewings take place Tuesdays, Thursdays and Saturdays. Reservations must be made to view the exhibition. You can reserve your timed ticket at notanothersecond.com
WHERE?
The Watermark at Brooklyn Heights
21 Clark Street
Brooklyn, New York
WHY BE SEEN AT THIS SCENE?
If you thought a museum was the only place to see artwork, well, this exhibition proves otherwise. NAS is being held at The Watermark at Brooklyn Heights, a luxury 275-unit residence which opened in summer of 2020. This isn't just ANY ordinary collection of photos. Curated and installed by nAscent Art, this exhibition has a state-of-the-art Augmented Reality (AR) portion. Through this technology, visitors will be able to experience one-on-one interviews with a whole generation of LGBT+ elders involved in such important movements as the Stonewall uprising and the ending of the U.S. military's "don't ask, don't tell" policy.