ArtSeen: Art Gallery Spotlights for Black History Month & More
It's mid-February and not only is love still in the air thanks to the recent Valentine's Day celebration, but we're also halfway through Black History Month. Speaking of which, if you're looking for a cool exhibition celebrating black culture, we've got all the details for you. Remember, if you want to be seen on the art scene, then this is your ultimate guide for this month's top exhibitions.
"Transfiguration: A Black Speculative Vision of Freedom"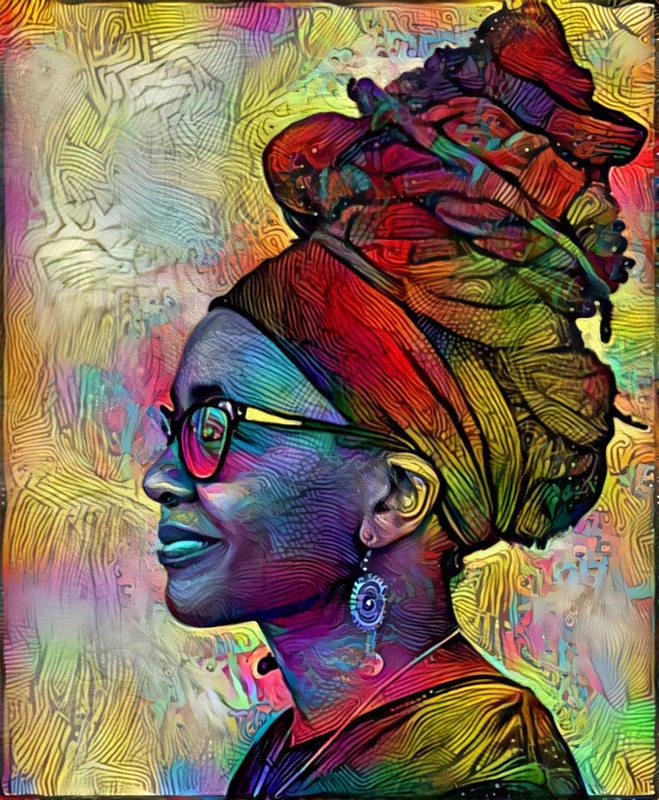 "Who Fears" by Nettrice Gaskins
WHO?
The collaborative entity known as Black Kirby (made up of John "Pitch" Jennings and Stacey "Blackstar" Robinson) and Nettrice Gaskins are just some of the artists taking part in this exhibition.

WHAT?
"Transfiguration: A Black Speculative Vision of Freedom" is an intimate look at the subject of Afrofuturism in the visual arts. It is part of Florida International University's 30th Annual Martin Luther King Commemorative Celebration. "Transfiguration" is included in the Martin Luther King, Jr. Exhibition and reinforces the late reverend's observation that Black visions of freedom strive for a better future.
WHEN?
The exhibition runs now through Sunday, April 25, 2021
WHERE?
Patricia & Phillip Frost Art Museum at Florida International University
Modesto Maidique Campus, 10975 S.W. 17th Street, Miami, FL 33199
Frost.FIU.edu
Tel. 305-348-2890
WHY BE SEEN AT THIS SCENE?
If you love comic books you'll be fascinated by these pieces. Julian Chambliss, Ph.D., professor of English at Michigan State University and curator of the exhibition, told me that because they worked with so many digital artists, many of their files were sent via e-mail. Once received, they simply had to print the file in a museum-quality size and mount it on the wall. Talk about modern!
"Tesoro: Pepe Mar's Love Letter to the Frost"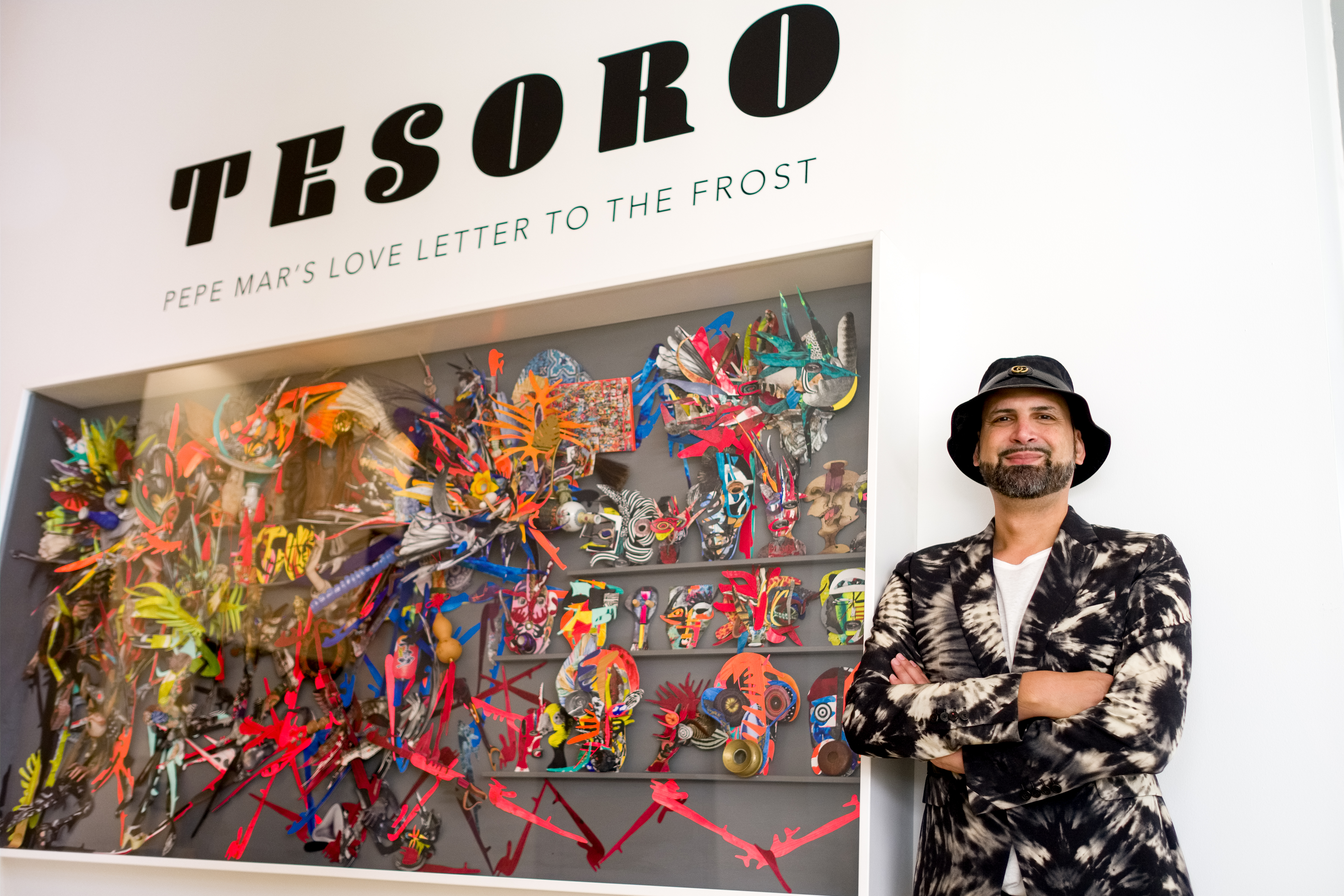 "Tesoro: Pepe Mar's Love Letter to the Frost" exhibition
WHO?
René Portocarrero, Thornton Dial, and Manuel Mendive are just some of the artists whose masks, ceramics, and paintings comprise this exhibition.  
WHAT?
Artist Pepe Mars, a Florida International University (FIU) alumnus known for his collage work, was handpicked to bring this exhibition to life. "Tesoro" (or "treasure" in English) is a reinstallation of the Frost Museum's permanent collection (or as I like to call it, a remix).
WHEN?
This exhibition is ongoing
WHERE?
Patricia & Phillip Frost Art Museum at Florida International University
Modesto Maidique Campus, 10975 S.W. 17th Street, Miami, FL 33199
Frost.FIU.edu
Tel. 305-348-2890
WHY BE SEEN AT THIS SCENE?
If you're looking for the other side of the story, then this exhibition is perfect for you. As its curator Pepe says, "A singular canon of art history, is by definition, exclusionary, and reflective of the social, political, and economic biases of a privileged few. I have winnowed through the museum's collection and proposed an alternative narrative, one in which I focus on art made by artists of color, self-taught artists, LGBTQ artists, non-Western artists, and others regularly excluded from the dominant narratives of art history." Also, admission to the museum is ALWAYS free (yes, you read that right).
"CAN I WATCH IT ONLINE?"
The answer to that question is "yes."  If this exhibition piques your interest, but you can't make it all the way to the Sunshine State, don't worry. You can always check it out online. The museum has a spectacular 3D version of it on its website. It's like going to the Frost, but from the comfort of your home.
"Away from the Easel: Jackson Pollock's 'Mural'" Jackson Pollock, "Mural," 1943
WHO?
The work of Jackson Pollock, American painter and major figure of the abstract expressionist movement, is featured in this exhibition.
WHAT?
This presentation focuses on Jackson's first large-scale painting, "Mural," done back in 1943. It was commissioned by collector Peggy Guggenheim for the first-floor entrance hall of her Manhattan townhouse.  
WHEN?
Catch this exhibition now through September 19, 2021
WHERE?
Guggenheim Museum
Thannhauser 4 and Monitor 4 Galleries
1071 Fifth Avenue, New York, NY 10128
(Between 88th and 89th Streets)
www.guggenheim.org
Tel. 212-423-3500
WHY BE SEEN AT THIS SCENE?
Pollock's "Mural" has not been exhibited in the Big Apple for more than twenty years.  The piece and his subsequent first solo exhibition at Peggy Guggenheim's museum-gallery Art of This Century definitely established his career. This exhibition marks the debut of "Mural" at the museum after an extensive research and restoration project by the Getty Conservation Institute and the J. Paul Getty Museum.

"Olafur Eliasson: In real life"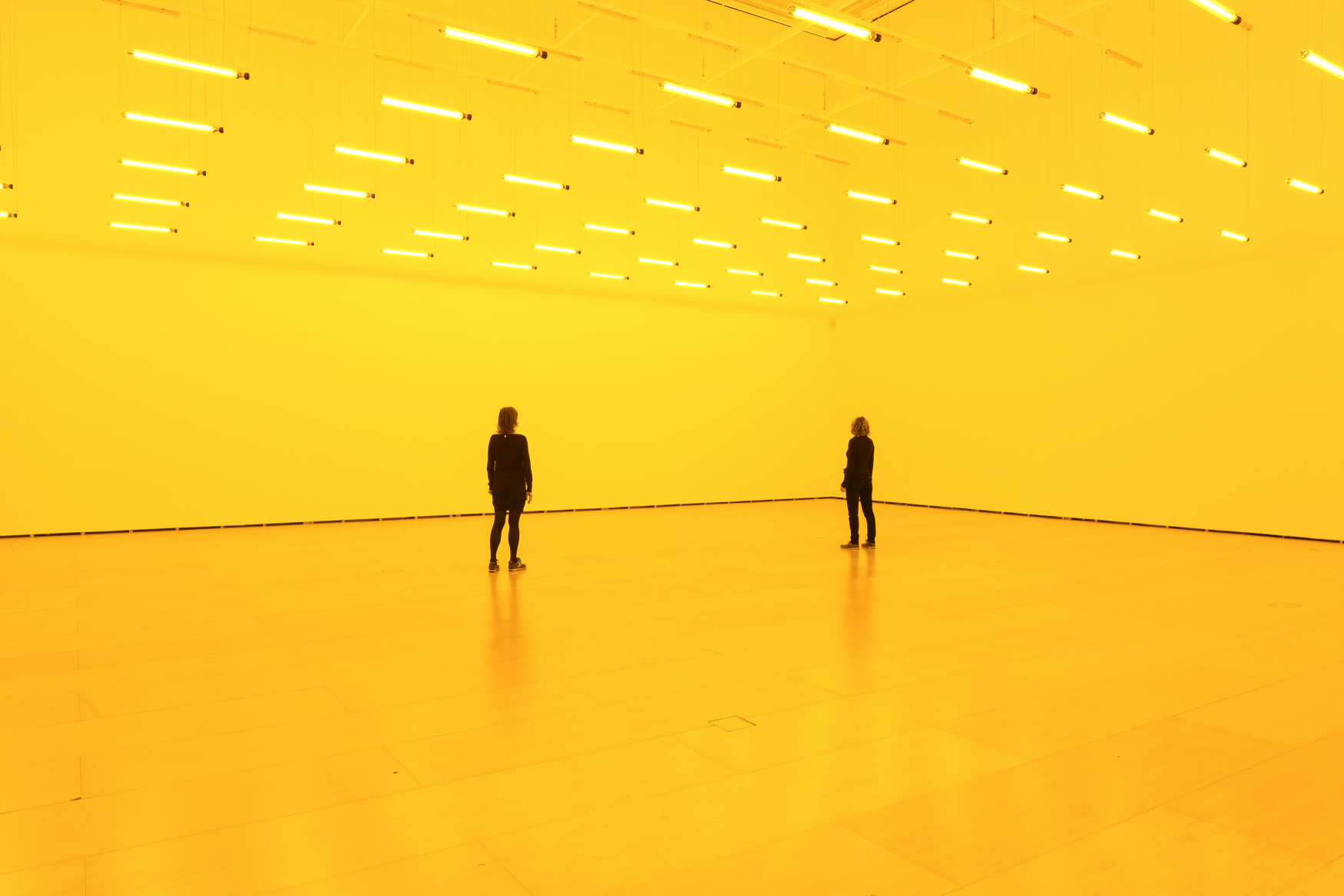 Olafur Eliasson, "Room for one colour"
WHO?
Named a Goodwill Ambassador for the United Nations Development Programme in 2019, Danish-Icelandic artist Olafur Eliasson is considered one of the most important working artists of our time and a grand advocate of environmental issues.
WHAT?
"Olafur Eliasson: In real life" showcases an array of about 30 works from the artist which include large installations, photography, sculpture, and painting created between 1990 and today. Some of these pieces have already been shown elsewhere while others were created specifically for this exhibition. Most importantly though, the exhibition highlights his commitment to the environment and society, hence why it was sponsored by global energy company Iberdrola.
WHEN?
Art fans in "la madre patria" will be able to enjoy this exhibition until April 11, 2021
WHERE?
Guggenheim Bilbao
Avenida Abandoibarra, 2
48009 Bilbao, Spain
www.guggenheim-bilbao.eus/en
Tel. +34 944 35 90 00
Hours 11 a.m. to 7 p.m.
WHY BE SEEN AT THIS SCENE?
The installation parts of this exhibition are simply jaw-dropping and visually mesmerizing, and something the whole family can enjoy. Eliasson encourages museum-goers to reflect on their perception of the physical world around them while immersed in the exhibit's many rooms, which have materials such as lights, colors, moss, water, glacial ice, and even fog. Outside the Guggenheim, visitors will be "greeted" by a 36-foot waterfall, which is supposed to draw their attention to this "constructed nature" in an urban setting.

Richard Artschwager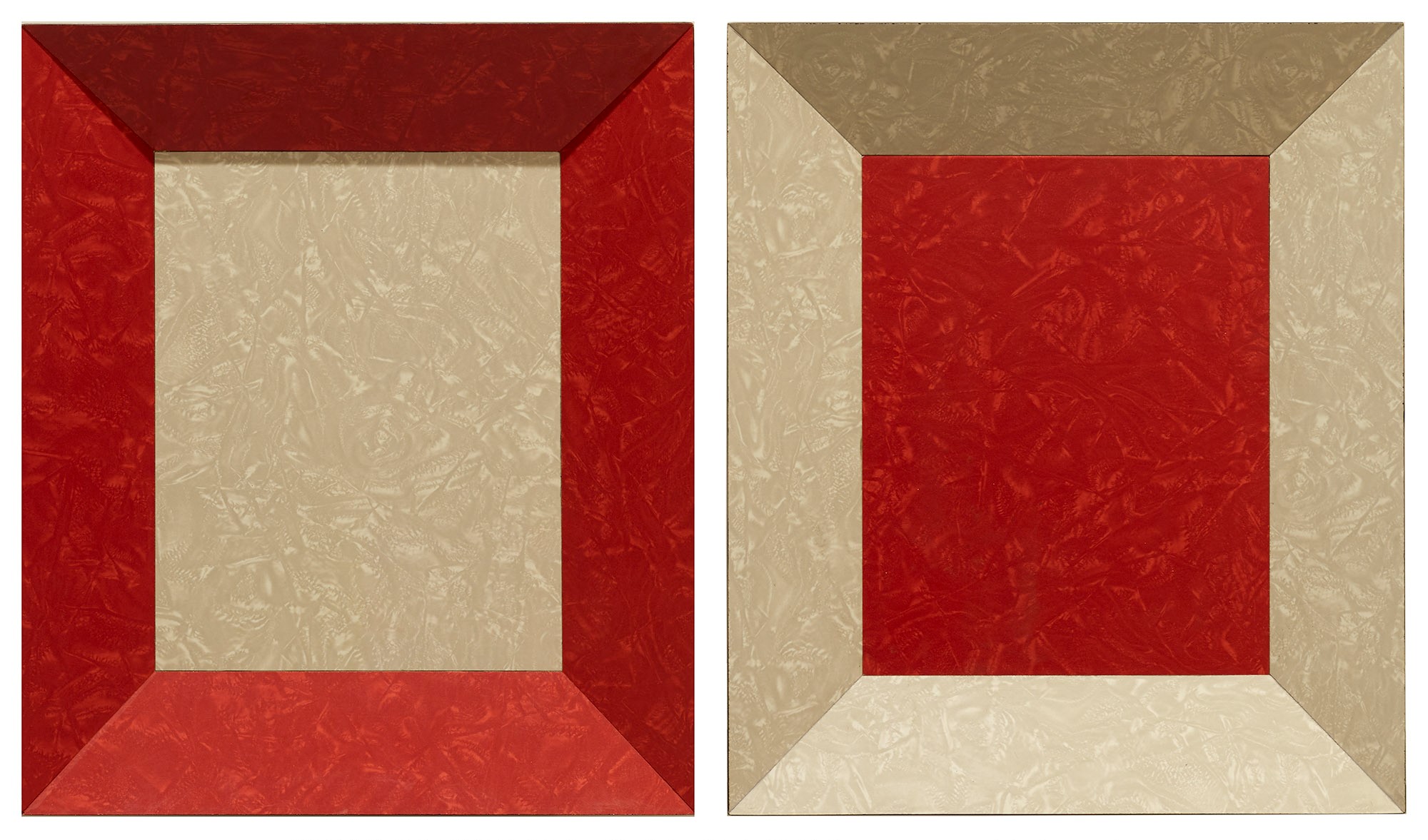 Richard Artschwager, "Double Color Study," 1965, Formica on wood, in two parts
WHO?
Late American artist Richard Artschwager, whose work didn't conform to any specific genre but was associated with many including Pop (for incorporating everyday items and commercial materials), Minimal (thanks to its solid geometric presence and crisp forms), and even Conceptual (for its intellectual engagement to information). 
WHAT?
This exhibition features works from a key period in Richard Artschwager's career from 1964 to 1987.  
WHEN?
If you're in Italy, make sure to visit this exhibition before it ends on March 11, 2021
WHERE?
Gagosian
Via Francesco Crispi 16, 00187, Rome, Italy
https://gagosian.com/locations/rome/
Tel. +39 06 4208 6498
Hours: Tuesday to Saturday 10:30 a.m. to 7 p.m., and Mondays by appointment
-While not required, advance appointments are encouraged
WHY BE SEEN AT THIS SCENE?
If you're in Europe, this is a great opportunity to enjoy the works of one of America's greatest artists at the Italian hub of the Gagosian. You certainly won't be bored as you'll get to sample various genres at the exhibit.
Whether you're seeking to go back in time (but aren't we all when we go to museums?) or looking for a belated Valentine's Day date activity, we hope these options have smoothed the planning process for you. Remember to always visit the gallery or museum's website for last-minute schedule changes. Have fun out there and stay tuned because we'll be spotlighting more exhibitions in next month's edition. Until next time…
Want More Content Like This?
Subscribe & have it sent right to your inbox.