Independence Day is almost here and what's a festive weekend without some fun trips to amazing art galleries? If you don't have major plans for the holiday weekend or the days following it, check out this edition of ArtSeen to find out where you can get your dose of fabulous artwork.  Remember, this Fourth of July is not just about being in the art scene, but also about being seen!
"Hialeah Eléctrica – Metavector"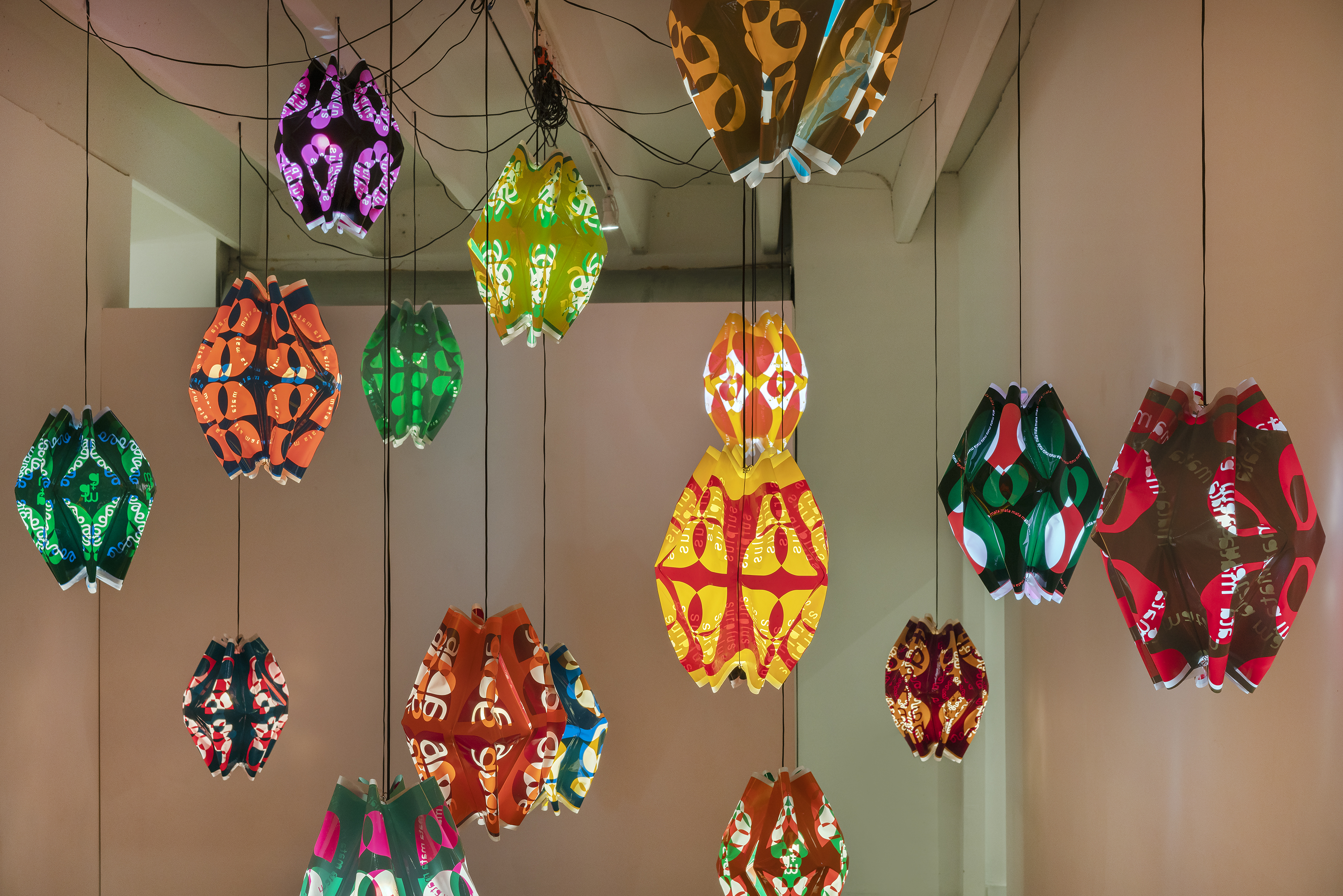 "Hialeah Eléctrica – Metavector" CREDIT: Courtesy of Fredric Snitzer Gallery Photograph by Zachary Balber

WHO?
They may be from two different generations, but have one thing in common: talent! Cuban artists Rafael Domenech (born 1989) and Ernesto Oroza (born 1968) are responsible for bringing this exhibition to life. Rafael, who has a Master of Fine Arts degree from Columbia University, explores urban design, architecture and material production as research for the production of various space and object categorizations.  Ernesto graduated from Havana's Superior Institute of Design and even became a professor in Cuba. He has a diverse background as an author, designer and artist who has worked and lived between Miami, Florida and Saint-Etienne, France.  

WHAT?
These two artists bring their mutual histories as Cuban immigrants to the United States in this project, fusing their interests in urban planning, architecture and modes of material production as well as adaptive construction. The exhibition's name references the South Florida city of Hialeah and architect Arata Isozaki, who was responsible for The Bass Museum of Art's expansion project in 2001 and its 2017 transformation. Since Hialeah is known as the epicenter of fabrication in Miami, the artists were interested in that city's response to globalized modes of production. They also looked to modern architectural history and that of The Bass, situating their installation in reference to Isozaki's installation "Electric Labyrinth," which focused on Japan's rapid architectural redevelopment after World War II.

WHEN?
You can enjoy this exhibition now until Sunday, October 10th, 2021.

WHERE?
The Bass, 2100 Collins Avenue
Miami Beach, FL 33139
www.thebass.org
Tel. 305-673-7530
WHY BE SEEN AT THIS SCENE?
This is a two-for-one combo you do not want to miss. If you are a fan of both artists, then you will be glad to learn this is their first time in a joint museum exhibition. Curated by Leilani Lynch, this exhibition is part of the Knight Art Commissions Program, which is funded and supported by the John S. and James L. Knight Foundation, and the Diane W. Camber Exhibition Fund.

"POW! WOW! The First Decade: From Hawai'i to the World"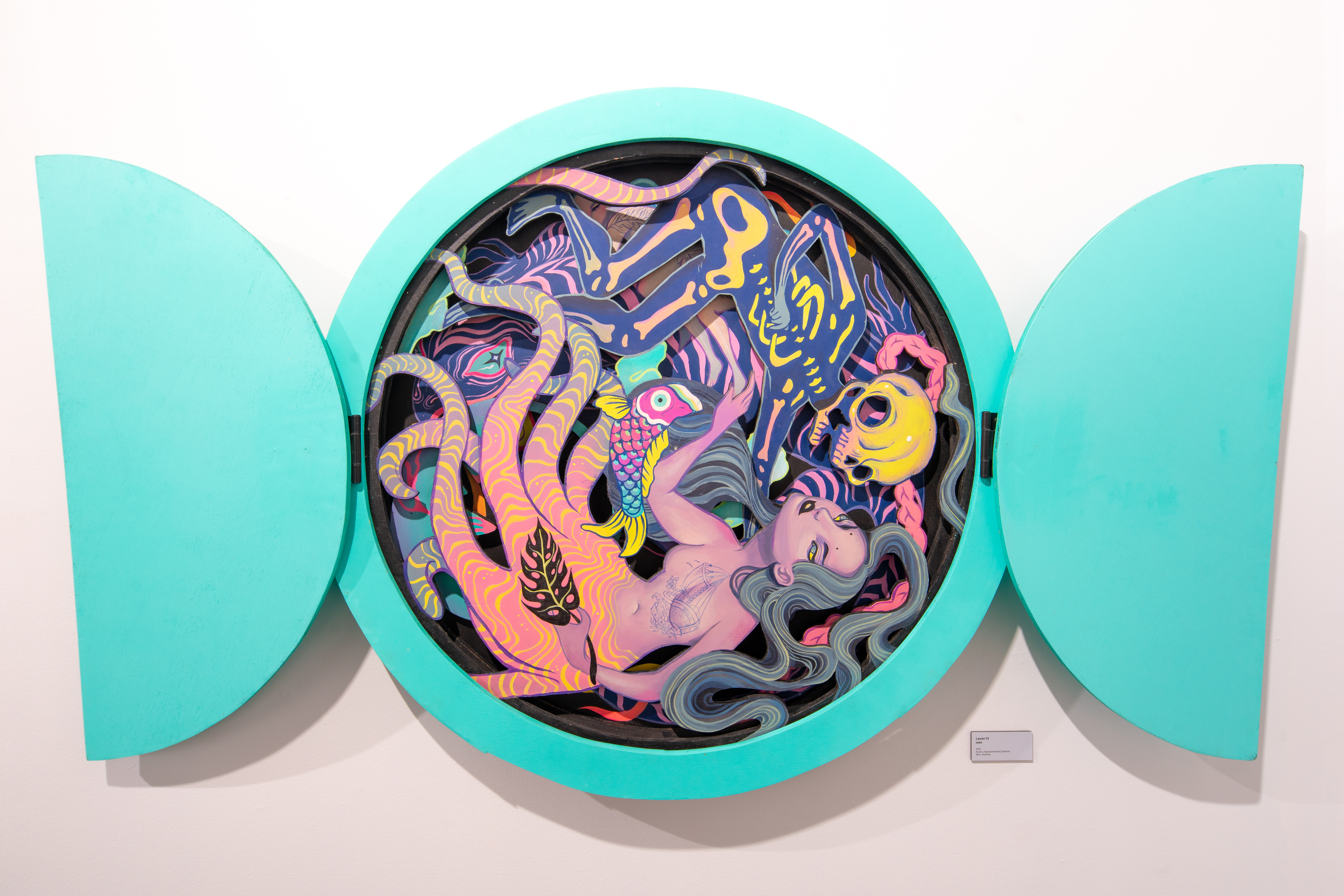 "Hako" by Lauren YS. Photo by Brandon Shigeta 

WHO?
This exhibition is a who's who of the art world. Guests will enjoy murals from Hawai'i artists Cory Taum, Kamea Hadar, Carl Pao, OG Slick, Hula, Woes, Solomon Enos and Wooden Wave.
Visiting artists Aaron De La Cruz, Cryptik, Greg Mike, Tristan Eaton, Matt Eaton, Amy Sol, How Nosm, Crash, Lauren YS, Hiero Veiga, Andrew Schoultz, Persue, 123Klan and Apex will also have their murals on display.
Also participating are sculpture artists Jasper Wong, Superplastic, Alex Solis and OG Slick. Large-scale originals can be seen from Dan Witz, Edwin Ushiro, Audrey Kawasaki, Simone Legno of Tokidoki, Shepard Fairey, Evah Fan, Mare139, Defer, Brendan Monroe, Tatiana Suarez, Jon Burgerman and Jay Howell.
Last but not least, you can also enjoy installations by Spenser Little, Hottea, Slinkachu and Dan Witz.
WHAT?
This original exhibition celebrates "POW! WOW!" and its 10th anniversary with a contemporary art experience linking creative expression, culture and indigenous narratives. It features well known street artists not only from Hawai'i but also from across the globe. More than 120 2x2 paints by international and local artists will be part of this arts event.

WHEN?
Check out "POW! WOW! The First Decade: From Hawai'i to the World" now until Sunday, September 19th, 2021.

WHERE?
Bishop Museum
1525 Bernice Street
Honolulu, Hawai'i 96817
Tel. 808-847-3511

Information about ticket purchases is available at www.bishopmuseum.org/tickets/ 
WHY BE SEEN AT THIS SCENE?
This is a wonderful time to experience creativity at its maximum at the museum. Some of today's hottest muralists have left their mark on the surfaces of Bishop Museum's structures. Also noteworthy is an outdoor street scene that was recreated in the gallery space which includes storefronts. Guests can walk into a variety of "stores" including a record shop, bodega, tattoo parlor and even a noodle bar. If you love graffiti this will definitely be a treat as the art form's history will be scribed onto the scene's surface by some of this movement's forefathers including Crash and OG Slick. 

"Heaven's Gate"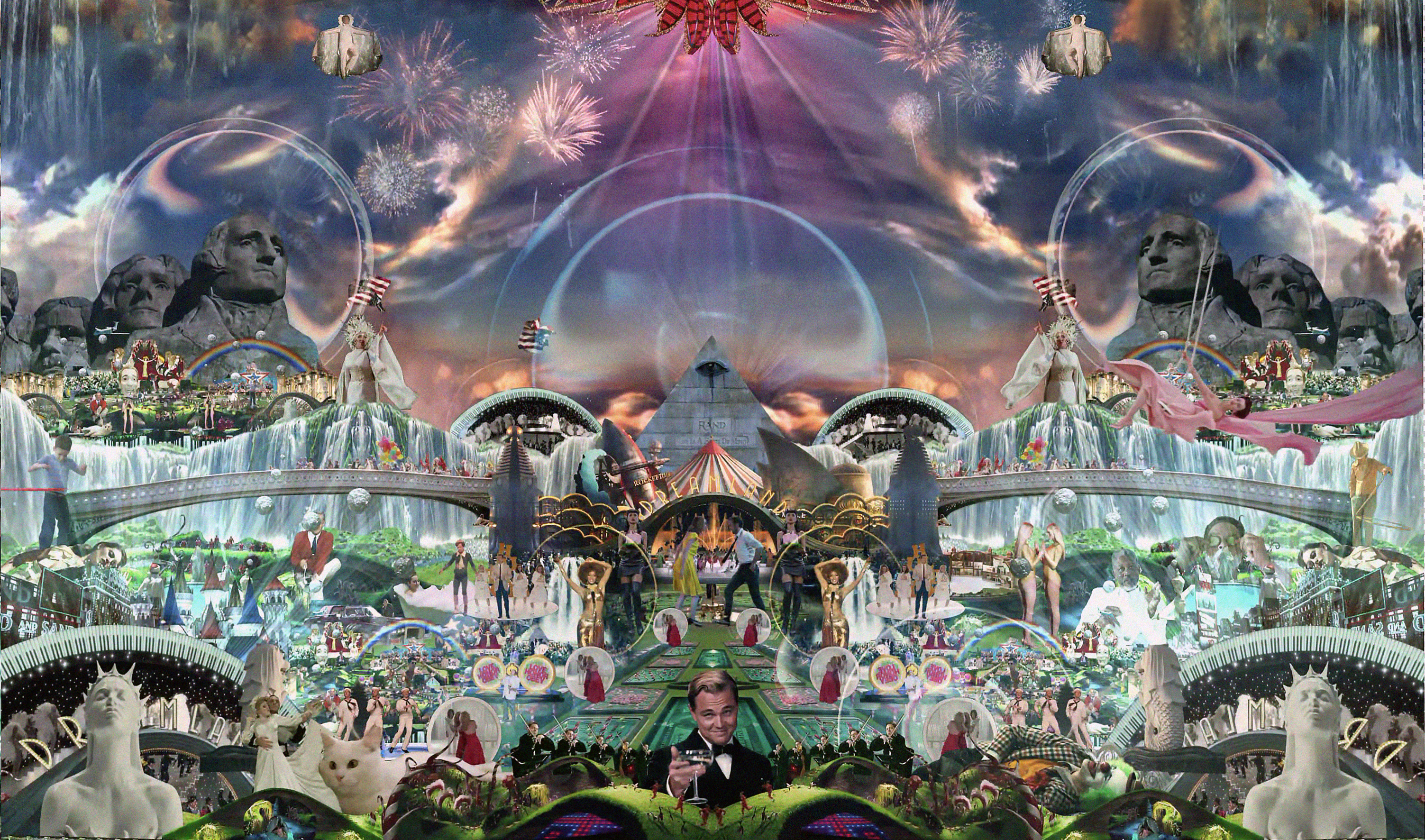 "Heaven's Gate" by Marco Brambilla. 8K color video with sound.

WHO?
London-based artist Marco Brambilla brings a bit of Hollywood glamour to Southern Florida. He, of course, does carry a little stardust with him as he directed the 1993 film "Demolition Man," which starred Sylvester Stallone and Sandra Bullock. Brambilla's work has been exhibited worldwide at venues such as the Solomon R. Guggenheim Museum, ARCO Foundation in Madrid and Seoul Biennial, South Korea. He has received the Tiffany Comfort Foundation and Tiffany Colbert Foundation awards, and his work has also been featured at Sundance Film Festival and the Venice Film Festival.  
WHAT?
"Heaven's Gate" is a satirical look at the Hollywood "Dream Factory" taking viewers through time to explore cinematic landscapes filled with collaged film samples "starring" Leonardo DiCaprio, Beyoncé, Audrey Hepburn, Christopher Walken and even Matthew McConaughey.
A totem-like screen display takes viewers through a vertical landscape of infinitely-looped scenes from famous movie productions which retell world history: from the universe's creation to a dramatic explosion, exploring humanity's relationship with overabundance and consumption.  
WHEN?
You have plenty of time to enjoy "Heaven's Gate" as it is on display now through early 2022.

WHERE?
Pérez Art Museum Miami (PAMM)
1103 Biscayne Blvd.
Miami, FL 33132
www.pamm.org

Please check the website's ticket section for prices and time slot restrictions. 

WHY BE SEEN AT THIS SCENE?
Marco Brambilla couldn't have said it better.  "The idea of 'Heaven's Gate' entering the world at this particular juncture in time seems somehow completely right. Our world, more than ever, is an undifferentiated chaos of dreams, nightmares and illusions, of shiny surfaces, optimism, pestilence and war. Life imitating art...as ever," said Marco.
Are you feeling inspired after reading this blog post? Let's make some art! Shop the suggested set below for your next creation.