Saint Patrick's Day is quickly approaching and in true holiday spirit you'll be oh-so-lucky to catch this month's spotlighted works of art in person. Welcome to another edition of ArtSeen, where it's not just about being in the art scene, it's about being seen! This month is full of fabulous exhibitions that we are itchin' to tell you about. Scroll down to get the scoop on them.
"Penn Station's Half Century"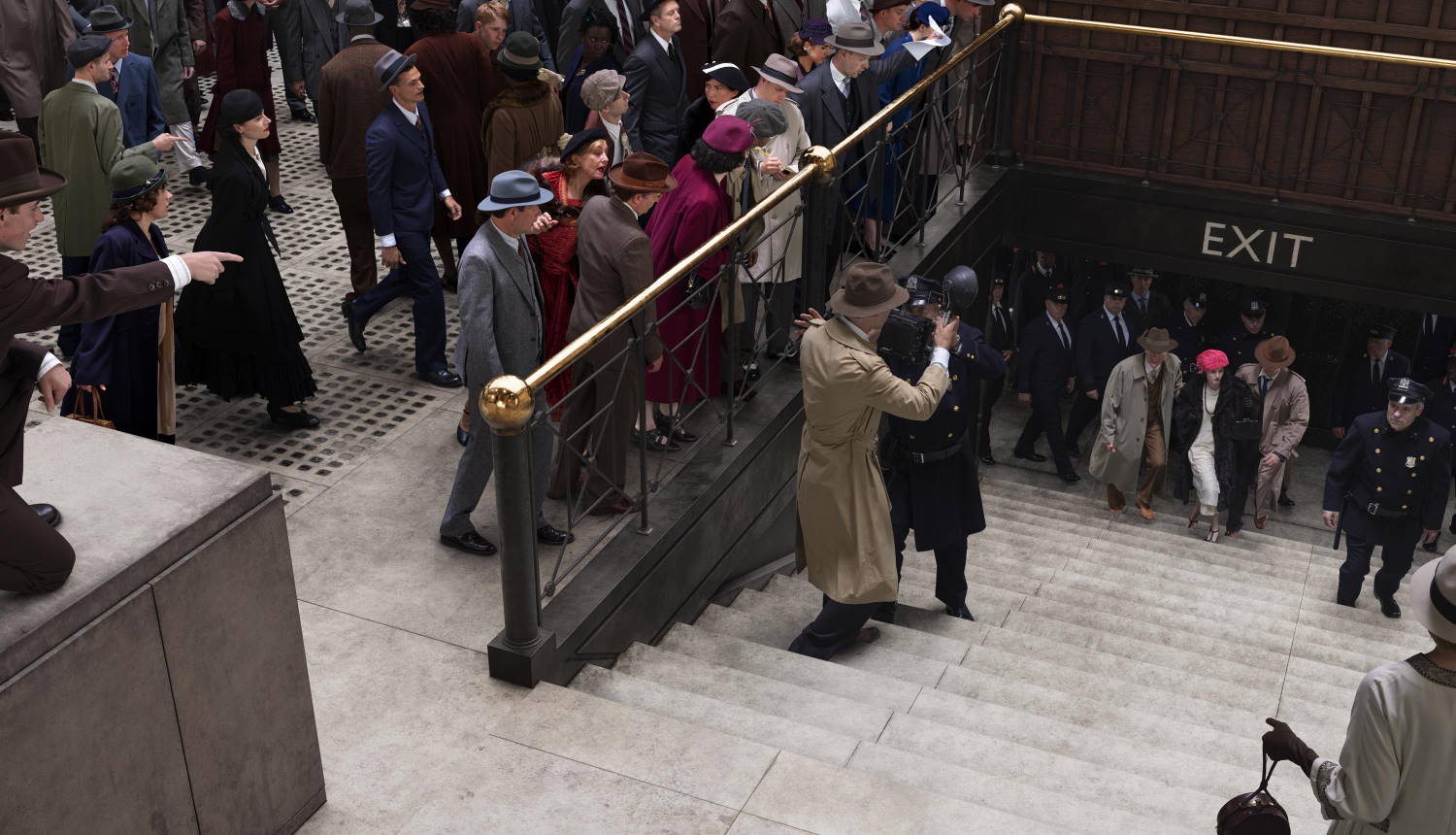 Stan Douglas, "22 April 1924," 2021. © Stan Douglas
WHO?
Artist Stan Douglas who will be representing Canada in the 2022 Vienna Biennale.
WHAT?
"Penn Station's Half Century" (2021) was commissioned by Empire State Development and Public Art Fund for the dedication of New York's new 255,000 square foot Moynihan Train Hall. The set of nine murals, done by Douglas, stretch along an 80-foot wall and depict different scenes throughout Penn Station's history.
WHEN?
Ongoing
WHERE?
New York City's new Moynihan Train Hall inside the James A. Farley Building
421 8th Ave.
New York, NY 10001
You can also enjoy an online viewing room of this project at the following address: 
https://www.davidzwirner.com/viewing-room/2021/studio-stan-douglas?authkey=20210128&utm_source=press&utm_medium=referral_direct&utm_campaign=STUDIOSDDZON2021

WHY BE SEEN AT THIS SCENE?
Given the current pandemic, pulling off these beautiful pictures was quite a feat. More than 400 actors and 500 period costume pieces were used throughout the four-day shoot at an empty hockey arena in Vancouver, Canada. One hundred actors were photographed on each production day and were later stitched together on digitally-recreated interiors of Penn Station by an Emmy-nominated visual effects studio.  

"Eternal Return and The Obsidian Heart"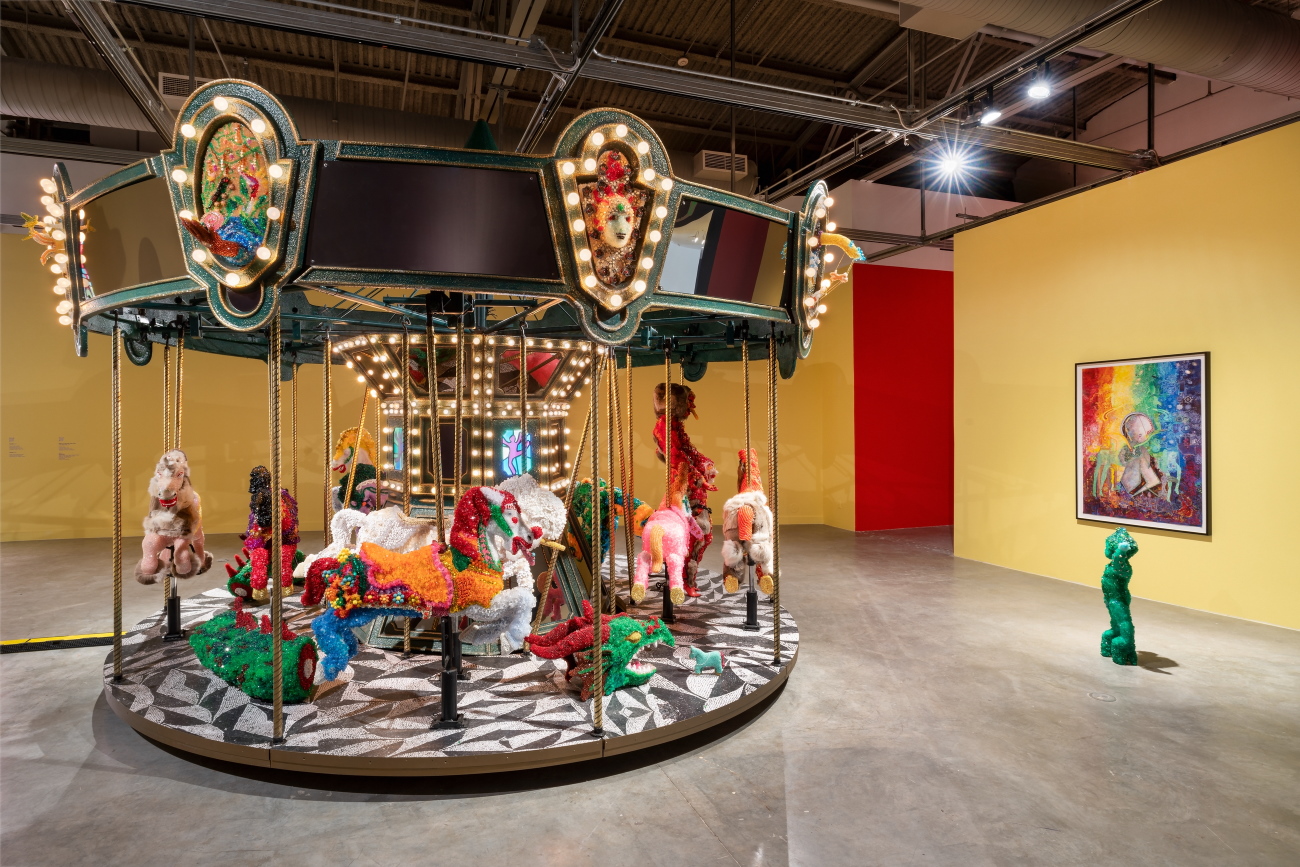 "When I Look into Your Eyes I See the Sun."
WHO?
Raúl de Nieves, multimedia artist, performer, and even musician, is the mastermind behind this exhibition. Raúl, born in Michoacán, Mexico, and currently based out of Brooklyn, New York, is definitely an artist like no other in the world of fine arts. Known for investigating beauty and transformation in his works, his pieces draw on Catholic and Mexican motifs, and usually explore sexuality, public histories, and the human body.  
WHAT?
"Eternal Return and The Obsidian Heart" is the most comprehensive look at de Nieves' work ever. Here you will get to experience the artist's decadence. Sculptures and installations made with craft store beads, plastic jewels, sequins, and even tape combined with audio from performances are part of the exhibition. From a distance these pieces may sparkle and shine, but once you get closer to them, you will realize that you can find some of these things at your local craft store.  
WHEN?
The exhibition is in its final stretch: on view through March 21, 2021
WHERE?
MOCA – Museum of Contemporary Art North Miami
770 N.E. 125th Street
North Miami, FL 33161
www.mocanomi.org
WHY BE SEEN AT THIS SCENE?
In order to experience Raúl's theatrical approach to making art, you MUST visit the MOCA. All that energy is probably a result of him being the frontman of noise band Hairbone. His showmanship is certainly evident in the life-size (yes, you read right) carousel, which is also part of this installation. And while you can't buy a ticket to ride aboard the carousel, it is quite a sight to see and will definitely brighten your day, as it's reminiscent of everyone's childhood.

"World on a Wire"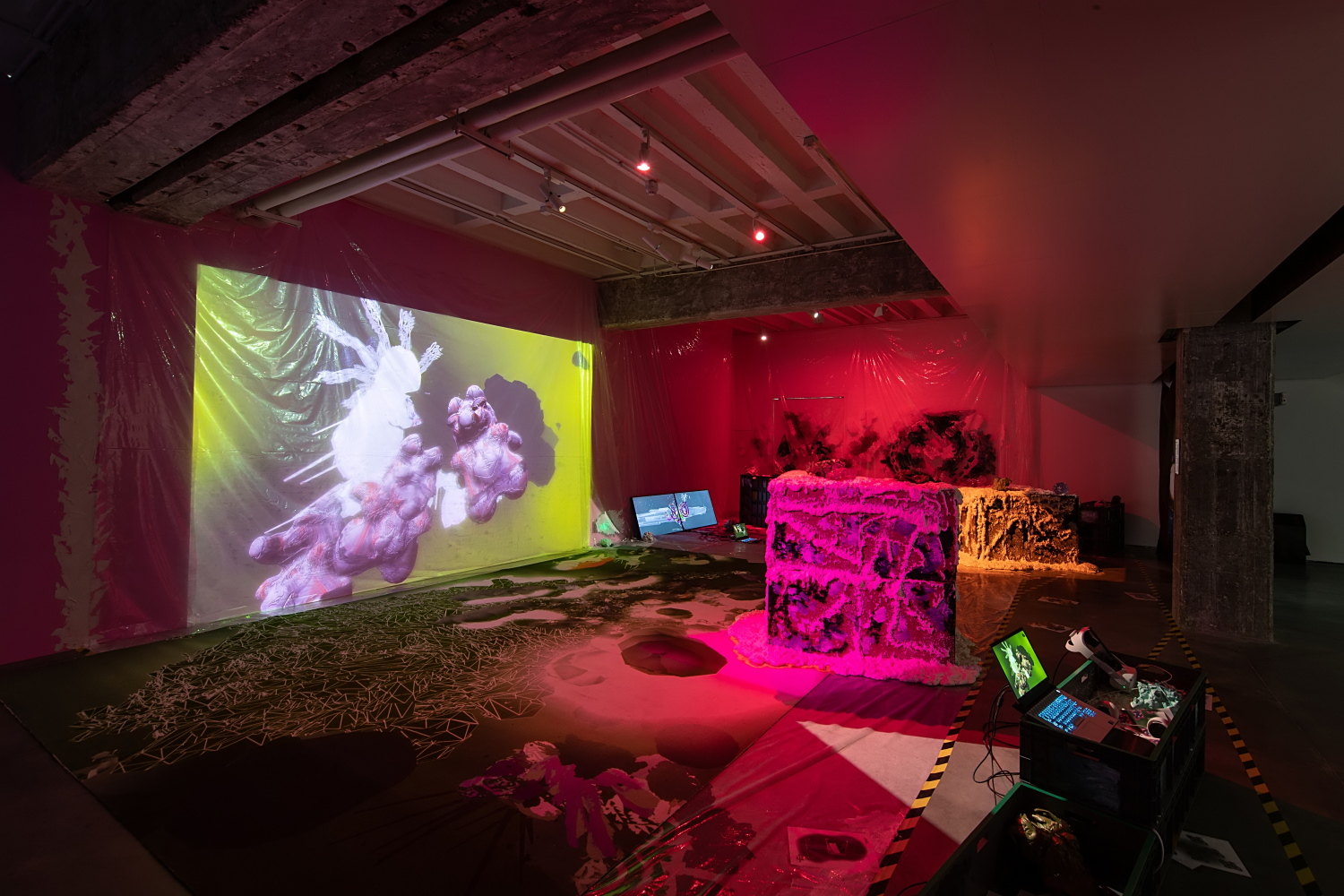 "Dungeon: Maximalism HyperBody" (2021) at Hyundai Motorstudio Beijing.
WHO?
A slew of artists from around the globe have their works featured in this exhibition.  Amongst the lucky ones to be included are New York-based artists Rachel Rossin, ZZYW, and Tabor Robak. Also, in the mix are Los Angeles-based Theo Triantafyllidis, Pete Jiadong Qiang (Beijing-based), Mariia Fedorova (based in Moscow), and JooYoung Oh (based out of Seoul). Sascha Pohflepp, Matthew Lutz, Alessia Nigretti, Lu Fei, Lei Jianhao, Ye Nan, and Timur Si-Qin are also part of this exhibition.  
WHAT?
"World on a Wire" is a global art exhibition and collaboration between Hyundai Motor Company and Rhizome (an affiliate of New York City's New Museum), which focuses on art and culture made through digital networks and tools. Plexiglass sculptures with augmented reality (AR) interaction ("I'm my loving memory" by Rachel Rossin), a sci-fi retro-seeming videogame on AI (JooYoung Oh's "Unexpected Scenery"), and even a 3D-printed replica of a tree from Georgia O'Keeffe's ranch ("Juniper" by Timur Si-Qin) are just some of the unique things you'll get to see here.  
WHEN?
Now through June 6, 2021
WHERE?
New Museum
235 Bowery
New York, NY
Or see related content online at 
https://worldonawire.net
WHY BE SEEN AT THIS SCENE?
If you ever wondered what art in the era of "The Jetsons" might look like, well "World on a Wire" is definitely a great example of that. "In this exhibition, we were able to bring together installations that mix traditional artistic techniques with high-tech methods to respond to critical issues in today's digital culture," said Rhizome's Artistic Director Michael Connor. And being that this is a project that supports digital mediums, it's also wonderful to be able to experience it online and enjoy virtual talks or even a walkthrough of it with some of the participating artists.
"PURSEonality; A Stylish Handbag History"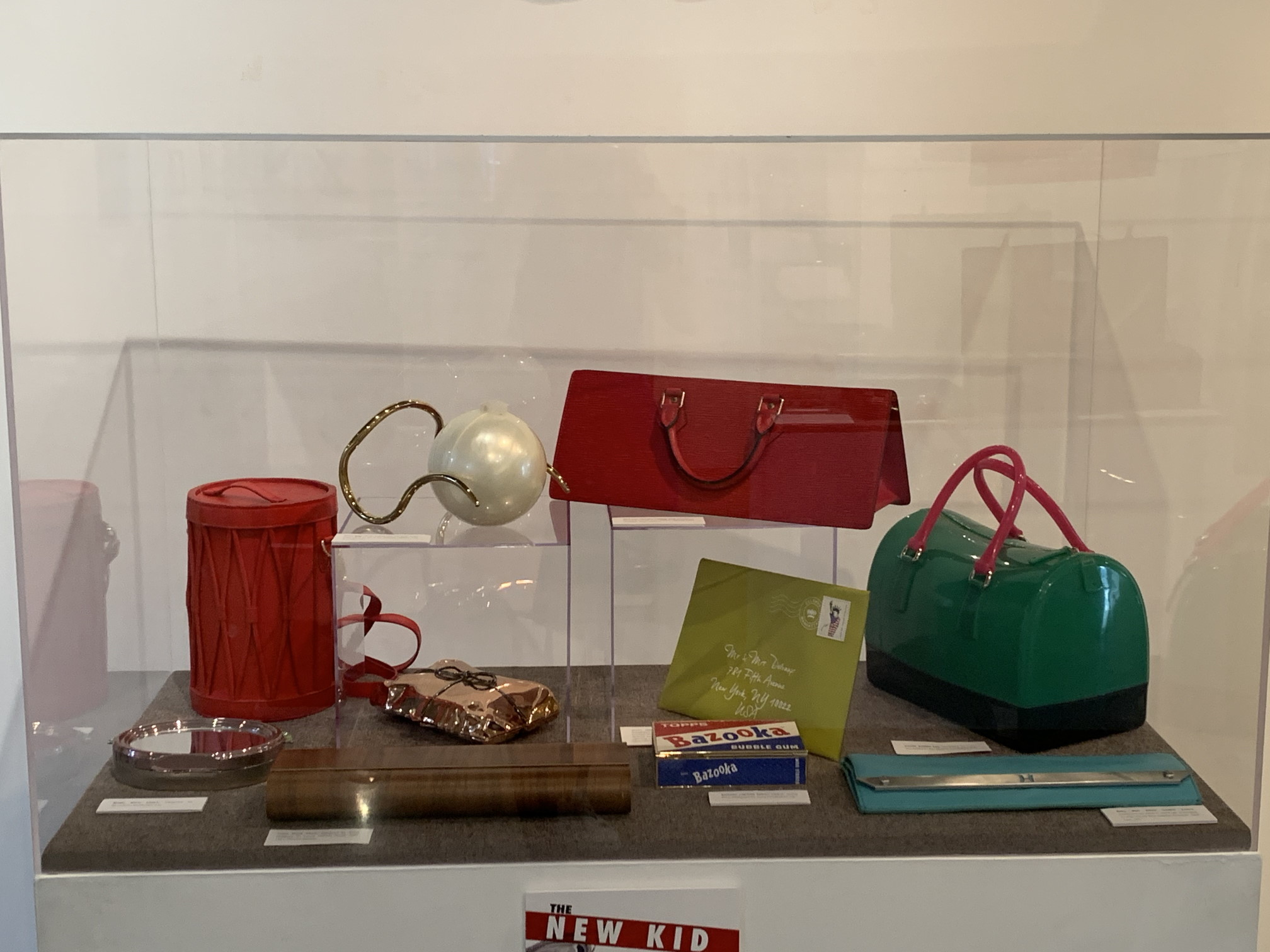 Installation View of the exhibition "PURSEonality; A Stylish Handbag History," Gallery 109 and Anthony R. Abraham Family Gallery, Coral Gables Museum.
WHO?
Stylish purses from a number of designers and brands including BSWANKY.  
WHAT?
You'll walk, talk, and smile with a LOT of purse-onality after visiting this exhibition.  This one-of-a-kind installation highlights some of the many purses from Ilene Hochberg Wood's collection (the largest in the United States). You'll find some of the most expensive, rare, and unusual purses that Wood has acquired throughout the years, from folk art examples to creations by contemporary designers. Visitors can also see "BAG LUNCH," a series of short videos where Ilene shares anecdotes and the history of specific purses.
WHEN?
Snatch this purse exhibition before it says "ta ta," it's running until March 7, 2021
WHERE?
Coral Gables Museum
285 Aragon Avenue
Coral Gables, FL 33134
www.CoralGablesMuseum.org
WHY BE SEEN AT THIS SCENE?
Fashion is fun! If you can't buy these accessories then might as well "window shop" for them at the museum. Industry experts have told Wood she actually owns the world's largest privately-owned purse collection (her most expensive one is worth a whopping $110,000). It can certainly be said that Ilene is the Imelda Marcos of purses.