They say April showers bring May flowers. No wonder this edition of ArtSeen is blooming! The spring is a colorful "bouquet" of art gallery exhibitions and we've handpicked the best ones just for you. Don't forget, this month it's not just about being in the art scene, it's about being seen!
"Point of Departure"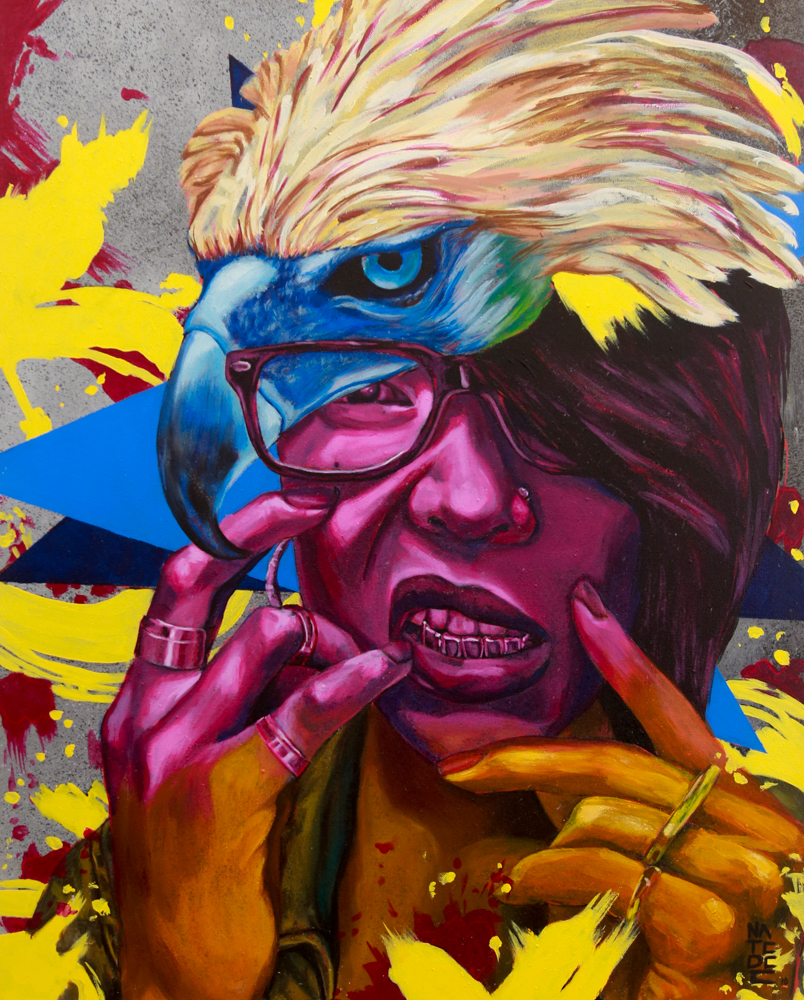 Point of Departure, credit Casimir Veillard
WHO?
Street artist Nathan Delinois a.k.a Nate Dee may have been born and raised in South Florida, but he has strong ties to the Caribbean.  Known for using bright and bold colors reminiscent of his Haitian background, Nate has also drawn inspiration from other sources.  Dee, for example, has been influenced by pop surrealists, Greek art drama from the Hellenistic period and the Art Nouveau quality of design.
WHAT?
Point of Departure is Dee's debut solo exhibition at WYN 317 featuring all new works that will throw art fanatics into the sensual and dynamic world of color. According to WYN 317, the exhibition's surreal and bold images will surely leave you enchanted.
WHEN?
You might want to hurry! Your final opportunity to catch Point of Departure is tomorrow, May 15th.
WHERE?
WYN 317
4320 NW 2nd Ave,
Miami, FL 33127
For more information, contact the gallery at info@wyn317.com or at 305-761-1116.
WHY BE SEEN AT THIS SCENE?
Dee is causing quite a stir in the arts scene, not only locally but on a national level. He's been the subject of multiple blogs and featured in numerous magazines. Amongst the publications where he's been in are Travel + Leisure, the Miami New Times, DUO, Delve, WeMerge and Making Waves. If you haven't caught Nate and his work inside the pages of these publications, now is your chance to see what he's all about in person.  
"Omega Mart"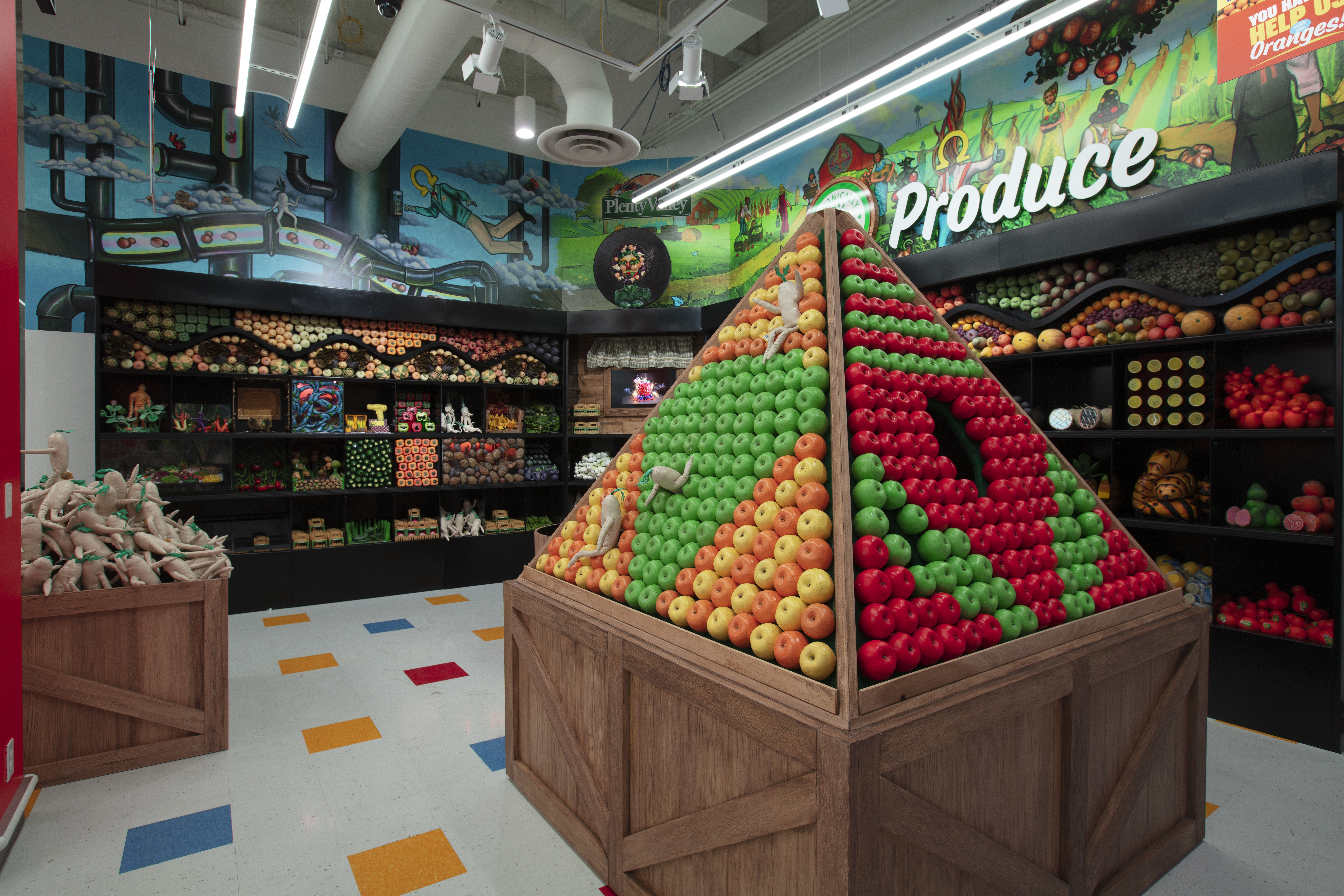 Omega Mart Grocery Store, credit Kate Russell
WHO? 
A whopping 250 internal artists from Meow Wolf, the arts and entertainment company behind Omega Mart, helped put this experience together. This is in addition to the more than 50 collaborators including muralists, musicians, large scale projection artists and even recycled materialists from around the world and Las Vegas who contributed to it. Amongst those contributing artists are Eric Vozzola, Amon Tobin, Heather Herman, Android Jones and Claudia Bueno.
WHAT? 
You won't have to choose between paper or plastic at this "store." Also known as "America's Most Exceptional Supermarket," Omega Mart is Meow Wolf's most ambitious project to date and its second permanent exhibition. "Customers" will be stepping into a psychedelic and unpredictable immersive art experience covering 52,000 square feet at Las Vegas' AREA15 complex.
As you go up and down the aisles of Omega Mart you'll find an array of specialty products such as Nature's Canvas Tattoo Chicken or Camel's Meal Substitute Sop (yes, you read right) sprinkled with their signature "Additive S."  But there's definitely more than just meets the eye because this unusual supermarket is full of secrets that you'll only be able to discover by exploring what goes on beyond the store walls.
Here's an insider tip for you: make sure to wear clothes made out of non-slippery fabric like denim or cotton so that you can enjoy the slides at this interactive experience. For safety reasons, those guests not wearing the correct attire such as sandals, clothing made out of silk or other materials (full list of requirements are available on the website), will not be able to get on the slides.
WHEN?
This is a permanent exhibition.  "Store" hours (in Pacific Standard Time) are as follows:
Monday to Thursday 12pm-10pm
Friday 12pm-12am
Saturday 10am-12am
Sunday 10am-10pm

Tel. 725-241-6300
For tickets visit: https://tickets.meowwolf.com/las-vegas/
WHERE? 
Area15
3215 S. Rancho Drive
Las Vegas, NV 89102
WHY BE SEEN AT THIS SCENE? 
Not only will you be visually mesmerized by everything you'll see at Omega Mart, but you may also leave feeling kind of good. Meow Wolf has been getting major praise from different media outlets such as Fast Company, which included it in its 2020 list of World's Most Innovative Companies. It is the only certified B-Corporation in the themed entertainment industry. These types of corporations meet high standards of environmental and social performance, which Meow Wolf is dedicated to. It strives to build a more sustainable economy. Proof of their commitment to this are the 100+ jobs created just for this Las Vegas exhibition.
"Assemblage"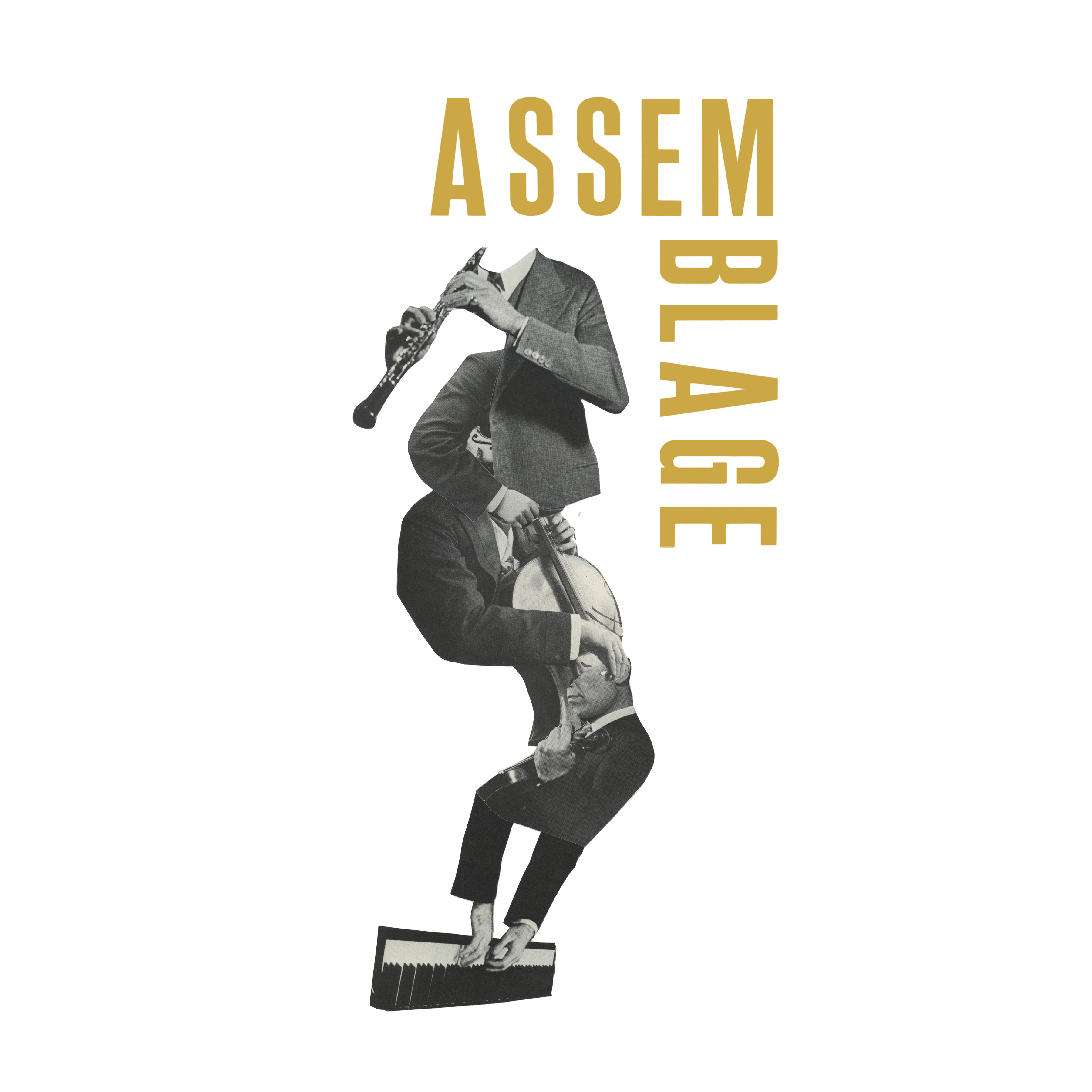 Assemblage by Richard Vergez, credit MAD Arts
WHO?
Richard Vergez is the Cuban-American sound and visual artist behind this exhibition. Currently a resident of South Florida, Vergez was born in Philadelphia, Pennyslvania and lived in New York where he was part of the Brooklyn Collage Collective. His handmade collages on paper and mixed media reflect his background in graphic design and audio/visual collaboration. His name may ring a bell to South Florida residents as he has previously collaborated with choreographer Ana Mendez to provide a sonic palette for dance pieces presented at MoCA, Bas Fisher Invitational, Adrienne Arsht Center, the De La Cruz Collection and Miami Art Museum.  
WHAT?
Music fans, get ready for this audio-visual installation known as Assemblage. Here you will get to enjoy a number of pre-recorded audio performance vignettes such as a synthesizer soundscape, piano, guitar, clarinet, bowed objects and percussion. The audio and video exhibition is created through sound design and projectors that create digital replicas performing together in the room. Sounds pretty fun, doesn't it?
WHEN?
This exhibition is currently open and will be showing until August 3, 2021.
WHERE?
MAD Studios 
481 S Federal Hwy
Dania Beach, FL 33004
Bad Space Gallery III

Hours:
Monday to Friday
9am to 6pm
Closed on Saturdays and Sundays

WHY BE SEEN AT THIS SCENE?
You'll definitely want to be seen at this scene, especially now. The final touches of Mad Studios' upgrade are being made this month. From an 11,000 square-foot space, the facility is expanding to a massive 50,000 square feet. This new space will include 3 full-time art gallery spaces, a virtual reality theater/private viewing room, a container park with a coffee shop, co-working shops, an outdoor stage, artists' studios and an expansive office workspace for employees.
Now that you've made time in your agenda to check out these exhibits; if you're feeling inspired to create some art, make sure to shop set below for your creation.