Allison Matherly and Jeffrey Noble both discovered their penchant for art-making early in life, but when they became a couple, their collaborative effort was much more than the sum of its parts. 

They met in 2015 at the Institute of Contemporary Art in Miami, where Noble was an art handler, and Matherly worked at the front desk. They got to talking, and eventually Matherly asked him out. It was not too long after they became boyfriend and girlfriend that discussions about collaboration began. They were adamant that it would not simply be a mash-up of their respective artistic styles, but its own entity, which they named "Nice 'n Easy."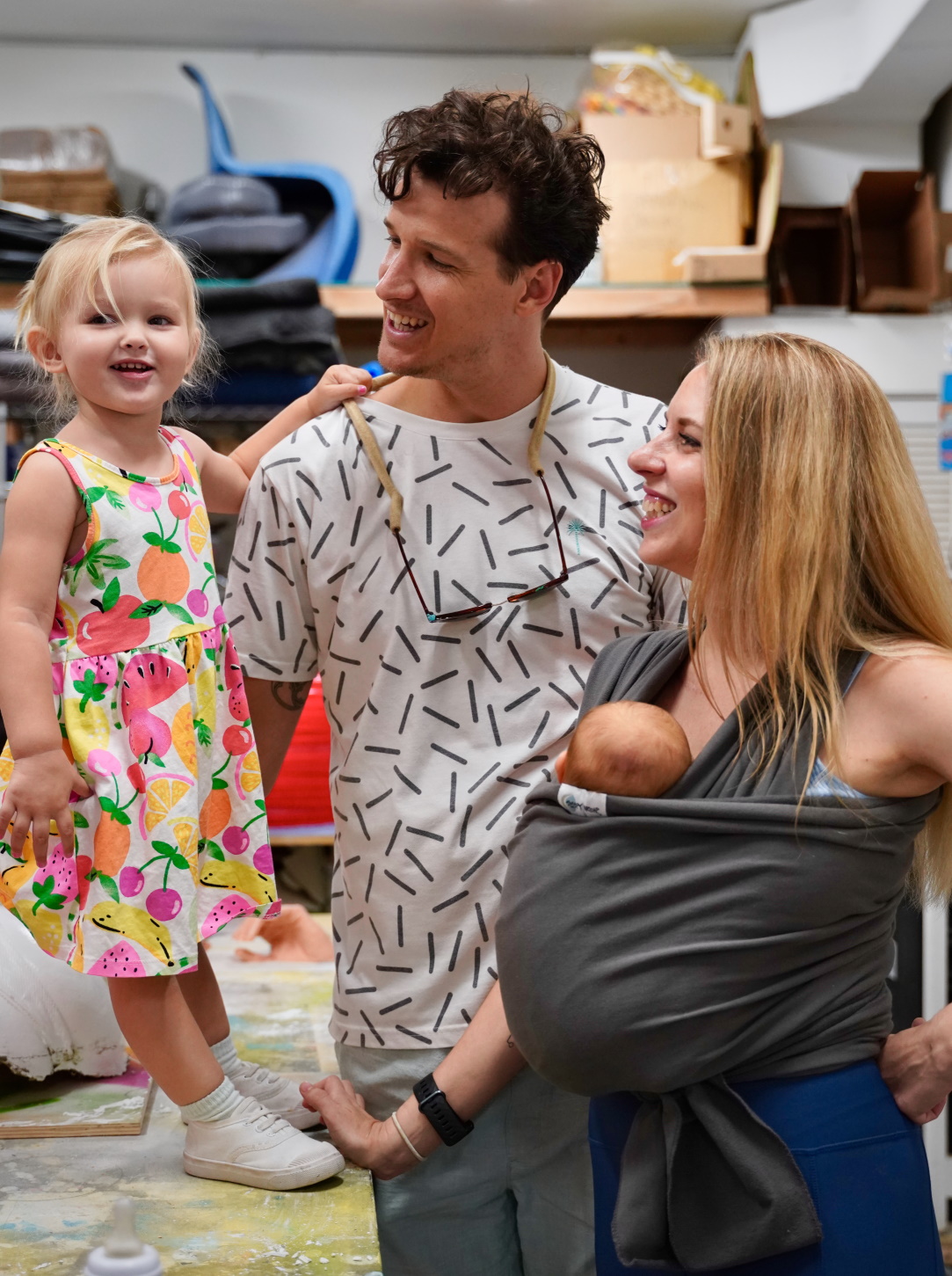 They are best-known for murals and installations. In addition to painted murals, they have also created seemingly suggestive billboard ads that shift meaning in a surprising and innovative way. Many of their murals are in public and gigantic, which means a ton of people from different backgrounds see them, a situation they call "humbling." With their installations, it's all about immersing visitors in the experience and inducing a dream-like state. 

In this artist profile, Noble and Matherly discuss the origins of their collaboration, artistic processes, inspiration, artwork in the time of COVID, and more.

Where did the name "Nice 'n Easy" come from?

Allison was reluctant to collaborate, so she set terms for the collaboration. Ultimately, we did not want to try and do what each of us would usually do and just force it together, we wanted to completely restructure and reorganize not only our approach to art but the ways in which we thought about art. An old idea we shared was that art was hard to do or that it was born out of some type of struggle or conflict. While this may be the case for some great works of art, we no longer wanted to adopt it as our baseline for making if we didn't need to. We decided to approach the process with an open, carefree and curious state of mind. We had no plans for what we would make, we agreed to just let our experience in the now guide us. We see this approach as a way of being "Nice" to ourselves and to make the art-making process feel "Easy." We aren't in denial that this world can be a difficult place and provide everyone with their share of obstacles, we choose to rely on Nice 'n Easy as a mantra of sorts when dealing with difficult experiences and [it] connect[s] us to our baseline that there is an inherent positivity to our existence. 

Who are your favorite artists?

Individually we have varying tastes but as Nice 'n Easy we certainly feel an affinity for other artist couples and collaboratives. Some of our favorites are Christo and Jeanne-Claude, Roberto and Rosario, Elmgreen and Dragset, Allora and Calzadilla, Charles and Ray Eames, Superstudio and Atelier Van Lieshout.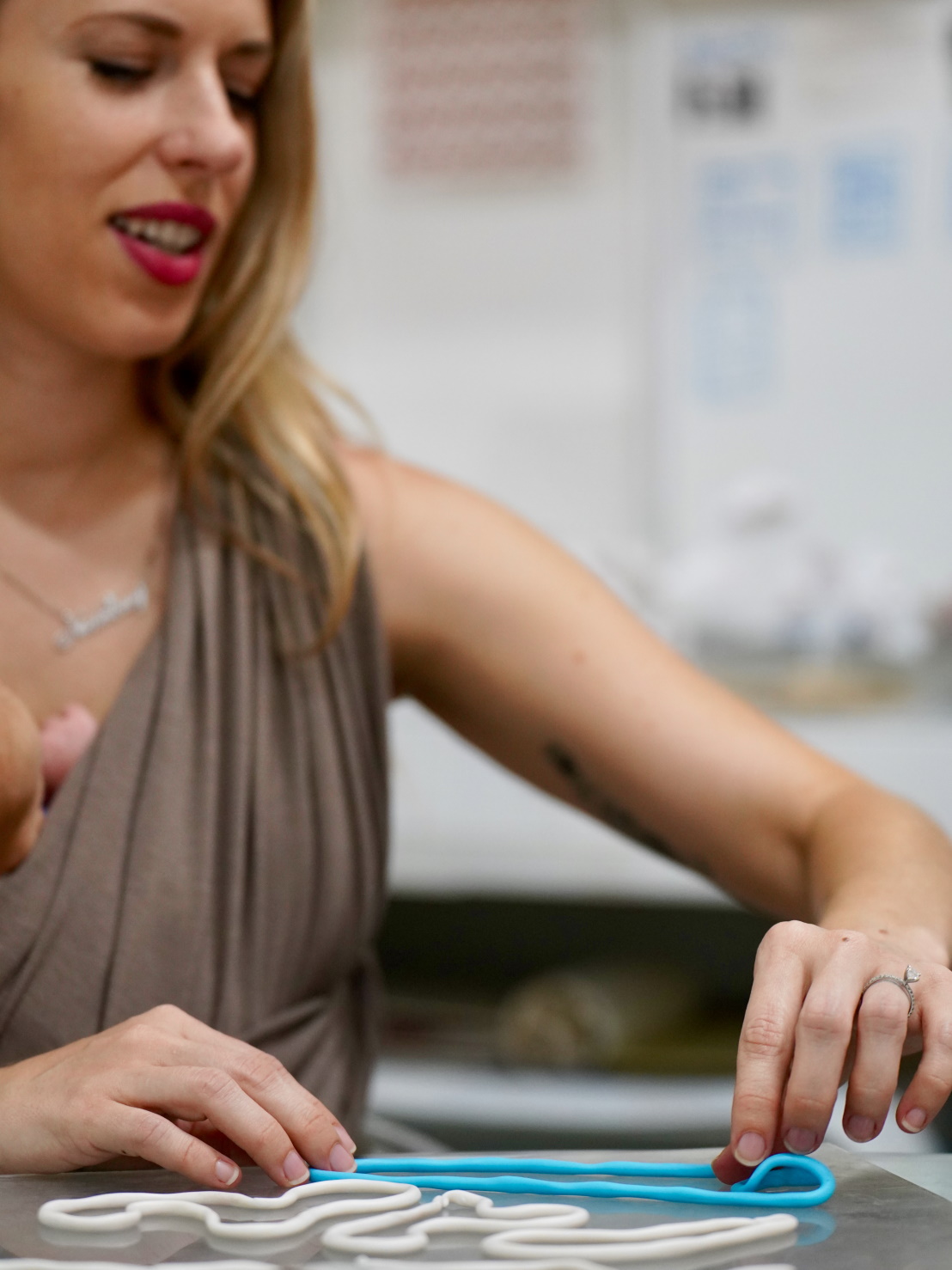 What inspired you to create installations?

Jeffrey came from a background in painting and Allison in sculpture but both of us had created installations as well. Our first piece we made was a video because we didn't want to do what we normally do. We appreciate installation because it is immersive and can facilitate an experience that can't be reproduced in a single photo or video but also isn't preoccupied with being completely convincing as an illusion.

Describe your artistic process for installations.

It generally starts while we are having an experience of our own, something we walk away from and feel we want to share. From there we may journal or sketch some loose ideas about that experience and file them away until the right opportunity and space present themselves. Once we know we're committed to a concept we go about creating more specific drawings and plans, researching and sourcing materials. As it comes together, we try to stay flexible and listen to how the space and [how] the materials want to behave together. In the end our aim isn't to literally reconstruct an experience but create a new experience that builds off of and expands our initial personal experience.

What do you want the viewer to experience when taking in one of your installations? 

A quality we aspire our work to have is a particular range of mood or feeling. We don't care to come off as overly cerebral or preoccupied by overwhelming technicality. For us a successful installation allows you to be present in the moment as someone viewing an artwork while simultaneously activated in something like a lucid dream. 

What inspired you to create murals?

One of the most important reasons [we're inspired to create murals] is that it democratizes the viewing experience. The audience who experiences public murals is made up of all different types of people, many of whom may never go visit a museum or gallery. We have also seen how murals can contribute to an identity of a neighborhood in a very powerful way, especially in places where there is not a lot of other access to art. 

Describe your artistic process for murals.

Depending on the project some of our main considerations are site, audience, and architecture. When considering the site, we try and find a balance of what will work with the existing environment but still stand out enough to make the mural surprising or uncanny. We do consider who the audience is and how the mural will contribute to the existing community. And last, we always try and work with the architecture of the building in constructing our composition and arranging our motifs. 

Do you have a particular favorite work that you have created? 

Both of us agree that our favorite work is "Open Up," an installation we created at Locust Projects [in Miami] in 2017. It was a very personal piece but also had a universality to it which we think makes for a successful work. 

How is your art creation different when collaborating versus independently?

It is very different! There is more planning that happens when collaborating because we have to be in conversation constantly with each other. Maybe not all collaboratives work that way, but we are constantly asking what the other person thinks about one idea or another. We share sources of inspiration or materials we like. What this inevitably leads to is a level of compromise that finds its way into every work. There are decisions that Jeffrey makes and decisions that Allison makes, and they become layered in a way that to try and work backwards and uncover who authored what becomes very difficult if not impossible.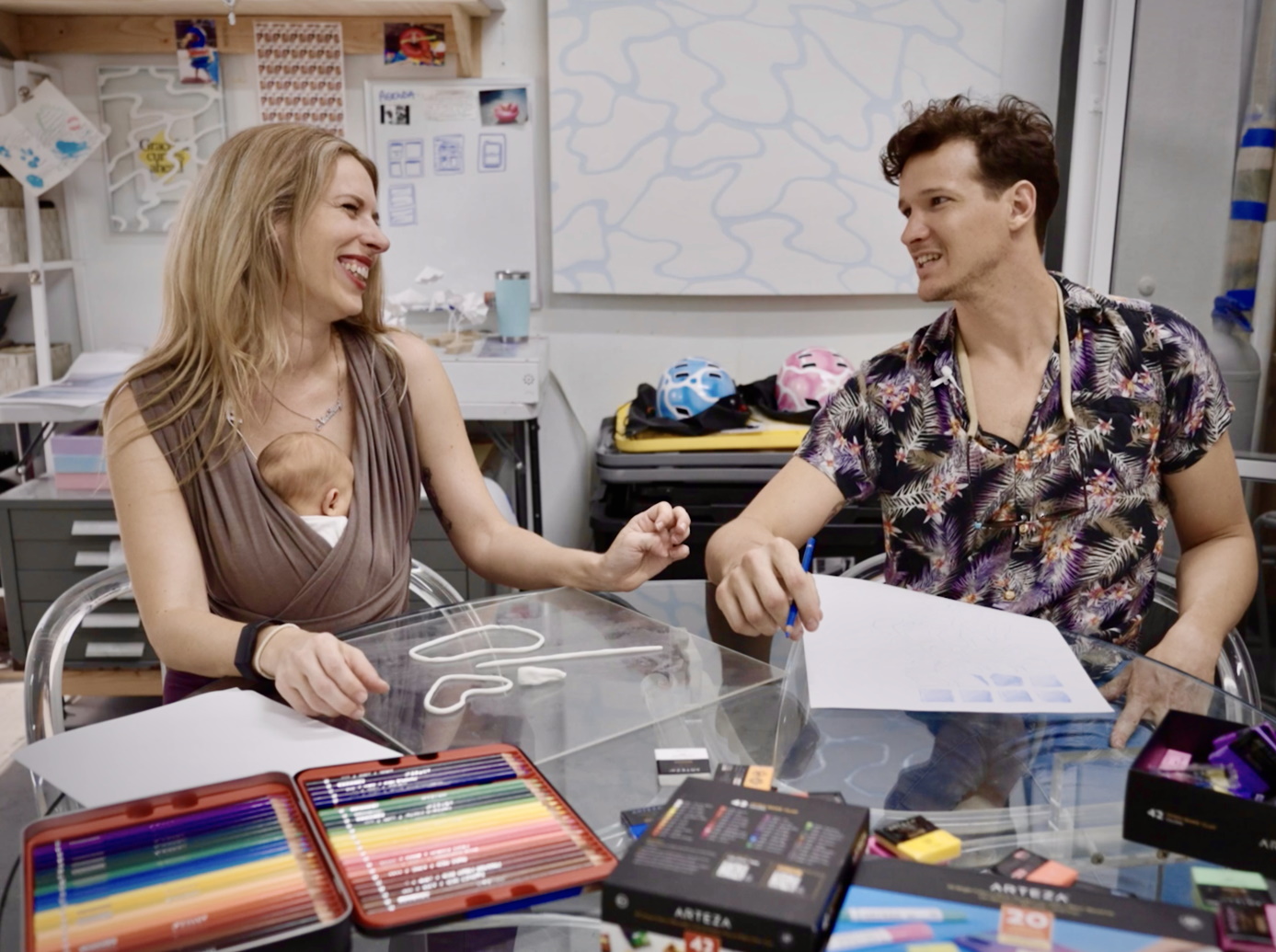 Why are you drawn to the themes of self-help, recovery and interpersonal dependency?

At the time we started our collaboration we were both at a turning point in our lives—we had each been seeking outside help for personal challenges. Self-help philosophies and the concept of recovery are interests that we share and bond over and ultimately initiates a conversation around interpersonal dependency.

What inspired you to lampoon advertising?

Parody is probably a more fitting way to describe our exploration of advertising. We're not interested in being overly critical as much as we are interested in acting out already exploited tropes for ourselves in order to have that experience. We do usually approach these works with some sort of joke in mind, we try to consciously highlight the absurdities of trends or mechanisms we see in popular advertising. This avenue of work also allows us to examine more nuanced notions of our own personas often forcing us out of our comfort zone. 

Where did the idea come from to add a phone number to your advertising billboards and create a pre-recorded message when you dial it?

We were approached by a curator about participating in a county-wide public art exhibition called the Commuter Biennial. We had always noticed the billboards off of the highways that seemed to prey on people's desperation, notably injury attorney ads, religiously motivated ads and hookup hotline/strip club ads. We took cues from each to create a type of bait and switch billboard/hotline ad. The imagery and text on the billboard presents a strong allusion to some sort of sexy hotline but once someone calls the number, they are greeted with a calming guided meditation about how to let go of road rage. 

What COVID-related message were you intending to convey with the "We're All in this Together" installation?

We find drowning to be an apt metaphor for the shared feelings of people not only struggling with the direct impacts of COVID-19 but the massive amounts of information, misinformation, [and] disinformation on the subject. Coupled with other issues such as sea level rise or racial tensions and social unrest there has been a term coined for the consumption of massive amounts of such information through social media channels, "doomscrolling." However, amidst the sea of dystopian news we have found some solace from [society's] growing pains in the dark humor of internet memes. We see our installation functioning as a sculptural meme sharing in many of the same ironic sentiments while also making some direct references to art history and self-help platitudes that have been meme-ified. 

What are your favorite Arteza products?

We really [enjoy] using the Arteza colored pencils and the modeling clay. We sketch a lot and make small models of our ideas so the range of colors and quality of these materials [serves] us well.

Are you feeling inspired after reading this blog? Please view the suggested products below for your next creation.