David Hockney is an 83-year-old, English painter, who is known for his revolutionary landscape, swimming pools, and duet portrait paintings, as well as his films. Hockney argues that landscapes aren't outdated or boring, rather some artists just can't truly see the beauty of what is before them. His work has exhibited across the world, enchanting an incredibly large audience. Hockney's 1972 painting "Portrait of an Artist (Pool with Two Figures)" sold for $90.3 million, after only nine minutes of bidding at Christie's in 2018. His vibrant and sometimes surreal, body of work dares to go where no artist ever has before, making David Hockney a truly inspiring contemporary artist.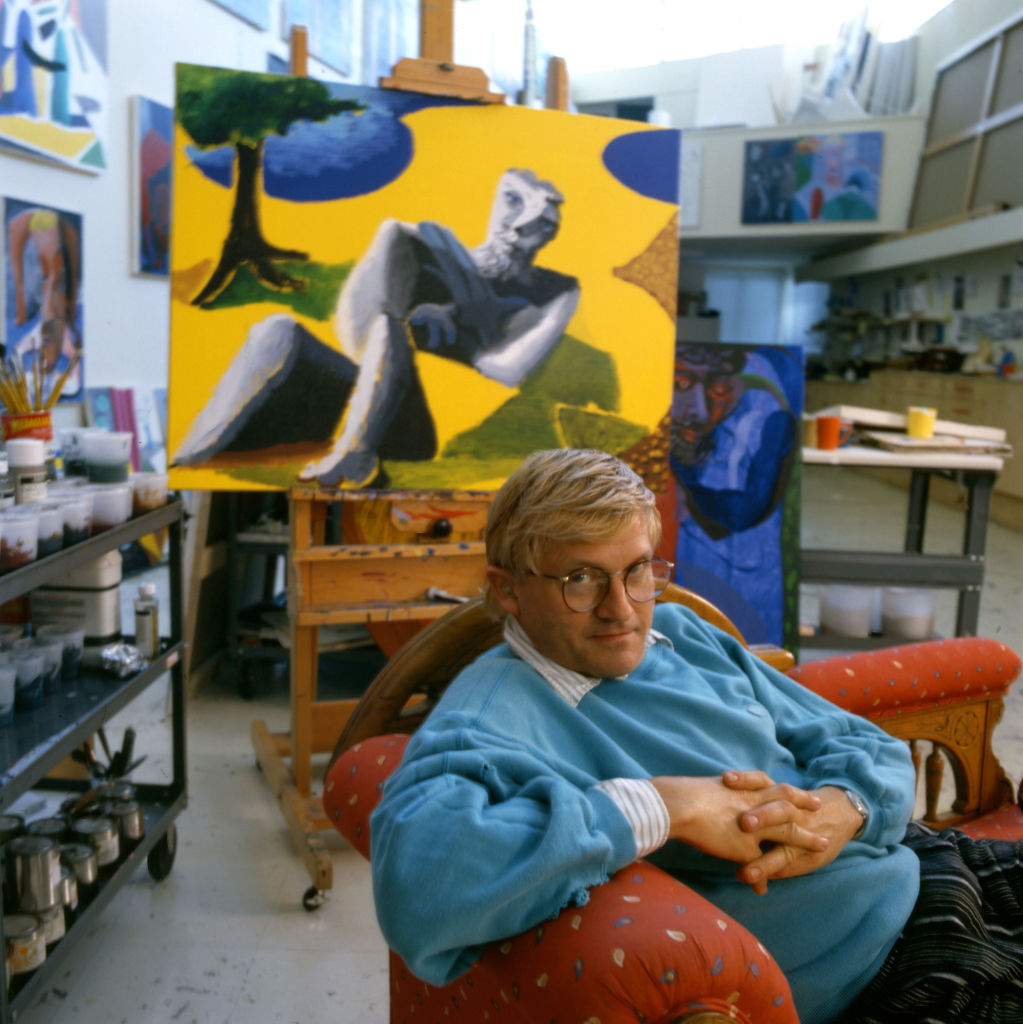 Portrait of English painter David Hockney, dressed in a light blue sweatshirt and tan trousers, as he sits in an armchair in his home, Los Angeles, California, 1987. Photo by Anthony Barboza/Getty Images
Formative Sketches: the Early Years
Born in Bradford, England in 1937, Hockney's first memory is his mother screaming after bombs dropped during the end of the second World War. While he was raised during a time of rationing, he never felt disadvantaged. His father was a caring man who believed in universal human rights. Watching his father paint a straight line, without the assistance of a ruler, thrilled Hockney as a child, and left a lasting impression; he has compared it to watching Michelangelo paint a circle. Hockney's mother, Laura Hockney, who is the subject of dozens of his portrait paintings, lived to the age of 99 years old. Hockney's mother, and her beautiful, bright blue eyes can be seen in "Laura Hockney" (1996), "Mum" (1990), "Mum" (1997), and "My Mother, Bridlington" (1988).
As a child, Hockney was always sketching, doodling, or drawing; his interest in art sparked at a very early age. Hockney's biggest influences are Pablo Picasso, Vincent van Gogh, and Henri Matisse; his admiration for these artists is proudly present in his landscape and portrait paintings. Hockney attended the Bradford College of Art in 1953, and went on to attend graduate school at the Royal College of Art in London, in 1959. Here, Hockney explored his sexuality and creative expression, which led to his ground-breaking paintings: "Doll Boy" (1960), "Adhesiveness" (1960), "We two Boys Together Clinging Together" (1961), "Domestic Scene" (1963), "Peter Getting Out of Nick's Pool" (1966), and "A Bigger Splash" (1967).
Splashing Into His Sexuality
David Hockney explored the beauty of gay love through his portraiture and abstract paintings. Hockney was inspired by the works of Alan Rechy, as well as Christopher Isherwood, who is depicted in his 1968 painting, "Christopher Isherwood and Don Bacardy". Hockney went on to move to the United States during an incredibly transformative time for the LGBTQ+ community in 1966. Unfortunately, the AIDS epidemic of the early 80s took several of Hockney's friends from him, all too soon. Since Hockney's main muses were his friends, the AIDS epidemic impacted him negatively in more ways than one. Hockney's film "A Bigger Splash" (1973) shared the story of his touching relationship with Peter Schlesinger. Hockney's fascination with water and romantic male relationships didn't end there—he's known for his immersive pool paintings.
"A Bigger Splash" (1967), acrylic on canvas, features a border to take the viewer outside of the frame, while the splash of the water pulls the observer in; these opposing forces work beautifully together. "A Bigger Splash" (1967) enticed Hockney because, as he has explained, it's a painting of something that passes in a second's time. His 1972 painting "Portrait of an Artist (Pool with two Figures)", acrylic on canvas, was the first, and only painting to date, to combine Hockney's duet style portraiture work, with his signature LA pool painting scenes. Hockney's, like many influential artists, style evolves with time, leaving him with seasons of certain, distinctive styles, akin to Pablo Picasso.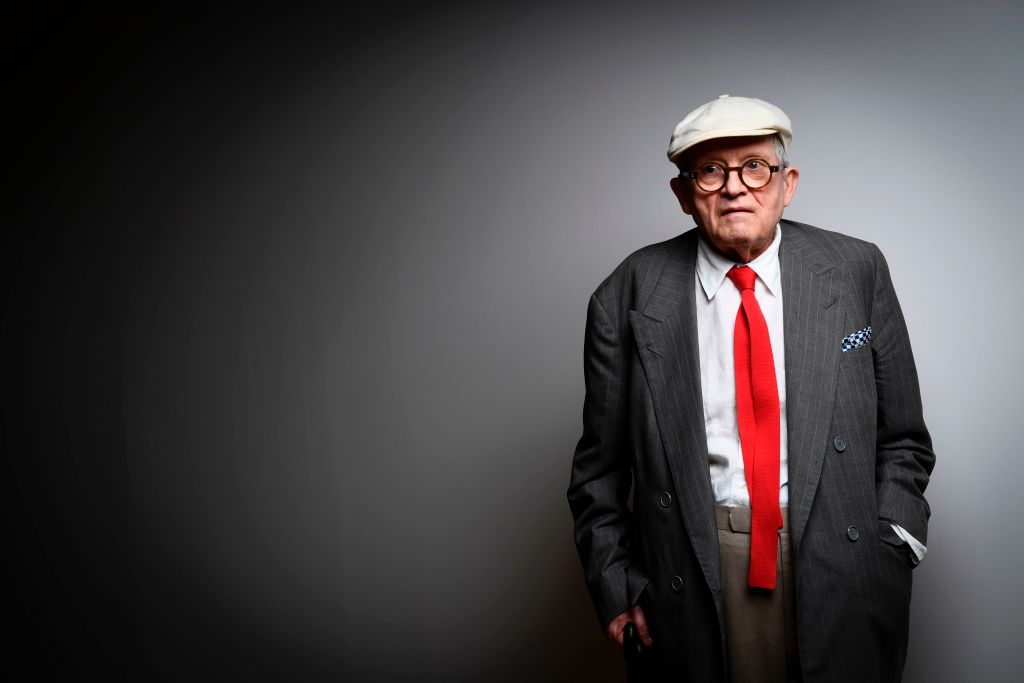 British artist David Hockney poses during a photo session at the Pompidou Centre in Paris, on June 16, 2017. / AFP PHOTO / Martin BUREAU (Photo credit MARTIN BUREAU/AFP via Getty Images)
Lucid & Lively Landscapes
When many had abandoned the art of landscape painting, Hockney reinvented the delivery. He discovered that altering, eliminating, or moving the vanishing point, made a world of difference. His somewhat stacked landscapes, with a fictional, improvised, or adjusted vanishing point did well, and made a vibrant addition to his ever-growing portfolio. Hockney's landscapes and seascapes feature colors from the rainbow, as opposed to monochromatic washes. Rather than just painting the road grey, Hockney adds light blues, pinks, lavenders, and more, to create colorful landscapes that grab the viewer's attention. Some of his notable works of art where this style is present are: "Early Blossom, Woldgate" (2009), "May Blossom on the Roman Road" (2009), "Hawthorne Blossom Near Rudston" (2008), "Late Spring Tunnel" (2006), "Spring in Woldgate, East Yorkshire in 2011 (twenty eleven)" (2011), and "The Sermon on the Mount X (after Claude)" (2010).
Hockney's body of landscapes and seascapes strongly suggests that the art of landscape painting is not retired, it just needed a makeover. The bold color choices, brush marks, and simplifications taken in Hockney's later landscapes shows his growth as an artist, and deep understanding of color theory. Hockney sees beyond the surface, finding every undertone present in a landscape, then painting it as such. He takes creative liberties to give each landscape its own colorful twist and interpretations. Moved by Vincent van Gogh's landscapes, David Hockney is constantly pushing himself to see more from each location that he studies. 

Recent Work & Exhibitions
In recent years, Hockney discovered a new approach to landscape painting. Hockney's canvas size was limited by his studio space's stairway; instead of letting this defeat his goal of painting large landscapes, he decided to use multiple canvases to compile large pieces—like a puzzle. Hockney typically uses two to six canvases to create still-life, observational studies, of areas of Yorkshire, UK. He often works when the sunshine is best illuminating an area, which tends to be the early mornings and afternoons. Many know Hockney from his daily, digital flower drawings, which he created on his iPad, and shared via social media in the early 2010s, with a large audience from all over the world.
His current exhibition "Hockney - Van Gogh: The Joy of Nature" is running at The Museum of Fine Arts in Houston, Texas until June 20th, this year. If you're able to see his larger-than-life landscapes in person, you're in for a treat! Additionally, Hockney's exhibition "David Hockney: My Normandy" is running at LA Louver until May 1st, 2021. If you're located in, or traveling to New York City this spring, check out his exhibition at The Morgan Library and Museum New York, titled "David Hockney: Drawing from Life", which started in October 2020 and ends May 30th, 2021.
Those in the UK can experience his photography and videography of landscapes at his exhibit "David Hockney: Woldgate Woods, Winter, 2010", at Salts Mill in West Yorkshire, which is running through September 2021. Lastly, he has two ongoing exhibits, also in Saltaire, West Yorkshire, entitled: "David Hockney: The Arrival of Spring" and "David Hockney: A Permanent Collection". For an at-home viewing of one of his more recent exhibitions, watch his film "David Hockney at the Royal Academy of Arts" (2017).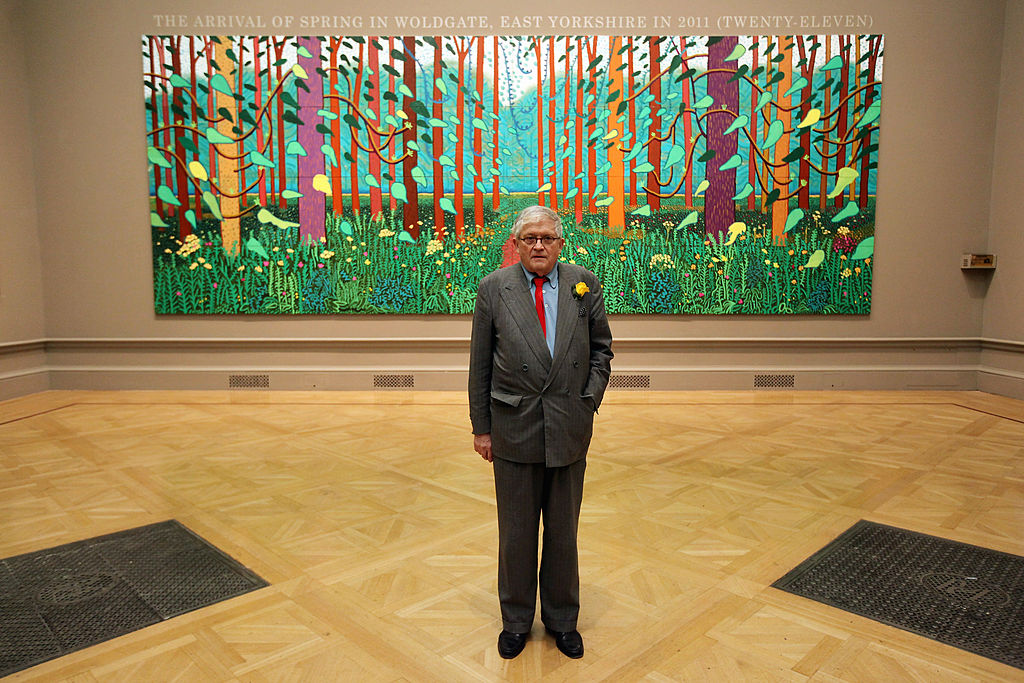 British artist David Hockney poses in front of his painting entitled "The Arrival of Spring in Woldgate, East Yorkshire in 2011 (twenty-eleven)" at the opening of his exhibition David Hockney RA: A Bigger Picture in the Royal Academy of Arts on January 16, 2012 in London, England. Photo by Oli Scraff/Getty Images.
David Hockney's work shares the perspective of an unapologetically gay man, who sees infinite colors, everywhere he goes. Whether he is painting the pools of Los Angeles, landscapes, or 82 portraits and a still-life, Hockney's ability to transcend the viewer into his world feels effortless. Since Hockney creates under the philosophy that he should paint what he loves, the purity of his artwork truly resonates with countless viewers across the world. His natural ability to share his truth through portraiture, landscapes, seascapes, film, and design, make David Hockney an extraordinary artist of the past, present, and future.
Has inspiration hit after reading about David Hockney? Make sure to shop set below for your creation.