Whether you realize it or not, you likely recognize or have interacted with at least one collaboration or work of art of Takashi Murakami. Nicknamed the 'King of Collaboration,' Murakami has made a successful creative career of collaborating with rappers, musicians, and high-end clothing brands, bringing contemporary fine art to places it has never been before. You're likely familiar with his collaboration with Louis Vuitton, which lasted twelve years—making it the longest collaboration Louis Vuitton has had to date. If you're a hip hop fan, perhaps a young Kanye West introduced you to with the artwork for his 'junior' album "Graduation" (2007). Known for bridging Western and Eastern cultures through his signature (colorful) flower, sculpture work, paintings, directorial work, and animation, Takashi Murakami is nothing shy of a living legend.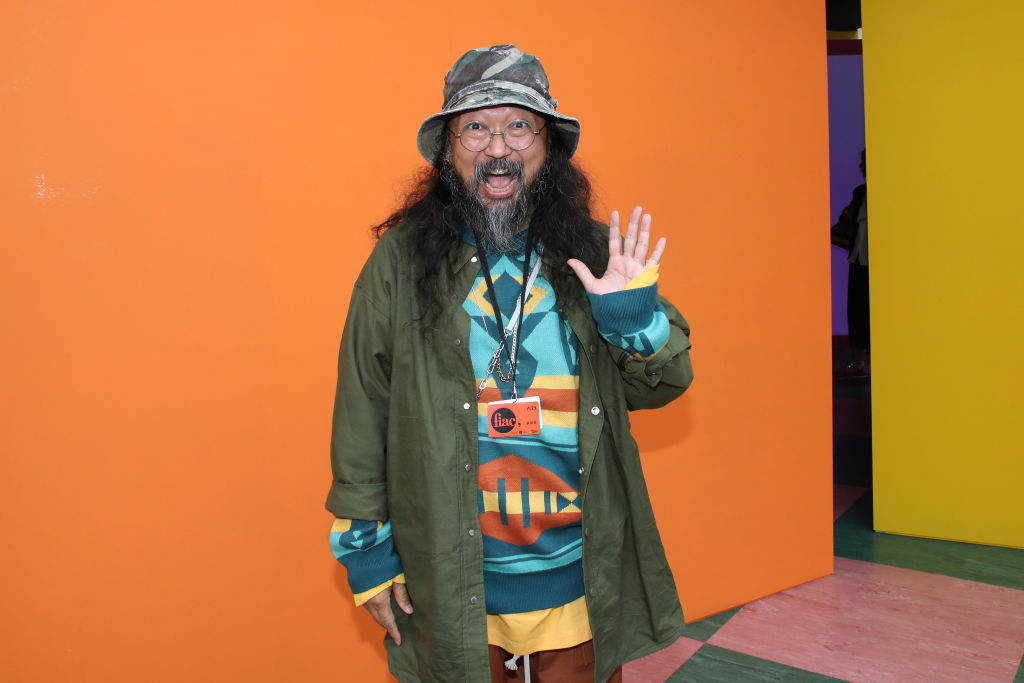 PARIS, FRANCE - OCTOBER 16: Artist Takashi Murakami attends the FIAC 2019 - International Contemporary Art Fair : Press Preview at le Grand Palais on October 16, 2019 in Paris, France. Photo by Bertrand Rindoff Petroff/Getty Images
The Forming of Takashi Murakami 

Takashi Murakami was born on February 1st, 1962, in Tokyo, Japan. His father was a taxi driver, and his mother a homemaker. From an early age, Murakami had a strong appreciation and deep connection to the arts. Murakami's mother influenced his early interest in the arts, through her needlepoint work and designing textiles. As a child, his parents insisted that he attend exhibitions and write reviews, if he refused his punishment was to go to bed without dinner. Murakami grew up with a constant reminder of how lethal and traumatic World War II had been on Japan, and specifically his mother. His mother would tell him that if the U.S. dropped another bomb, he would have not been born. This underlying fear can be seen represented as the tears forming in his (signature) flower character's eyes.
The devastation of the war left Japanese citizens with enormous pressure to compete with the West, which prompted Murakami to pick up hobbies that would be considered ahead of his age, such as calligraphy. He was (and still is) considered 'Otaku'—a Japanese term describing all things anime and manga; similar to the American slang term 'weeb'. His admiration for anime can be seen throughout his entire body of work, whether it be the vibrant colors, cartoon style, or Japanese characters features, there is no denying Murakami's appreciation for anime, as well as Japanese culture. In 1980, Murakami studied animation at Tokyo National University of Fine Arts and Music, where he went on to also complete his masters and doctoral degree. In 1994, following his doctoral degree, Murakami was sent to New York City from the Asian Cultural Council to participate in P.S.1 Contemporary Art Center's International Studio Program.
It was in New York City that Murakami realized how to combine his Japanese culture with American expectations; by simplifying his work to make it more consumable by Americans. This realization marked the true beginning of the Takashi Murakami we all know and love today. In addition to Japanese pop culture, Murakami found inspiration from the works of contemporary American artists Andy Warhol and Jeff Koons. His early 1990s work, for example "Polyrhythm" (1992), in comparison to his 'Superflat', such as "717" (1996) or "Chaos" (1999), drastically show the difference in Murakami artwork before and after his artistic awakening in NYC. 

Popping Off in Pop Culture 

"DOB's March" (1995) debuted Takashi Murakami's first rendition of his now trademarked flower design. In Murakami's curated show "Superflat" (2000) he introduced his style of Japanese-inspired pop art to the world. The flatness of the work featured in this show was intended as context for the aftermath of World War II on Japan. His artwork can be seen as cute and happy, yet also devastatingly sad when you acknowledge the context. The duality between visually exciting and historically driven make Murakami's work unique. He truly became a household name after his collaborations with Louis Vuitton and Kanye West.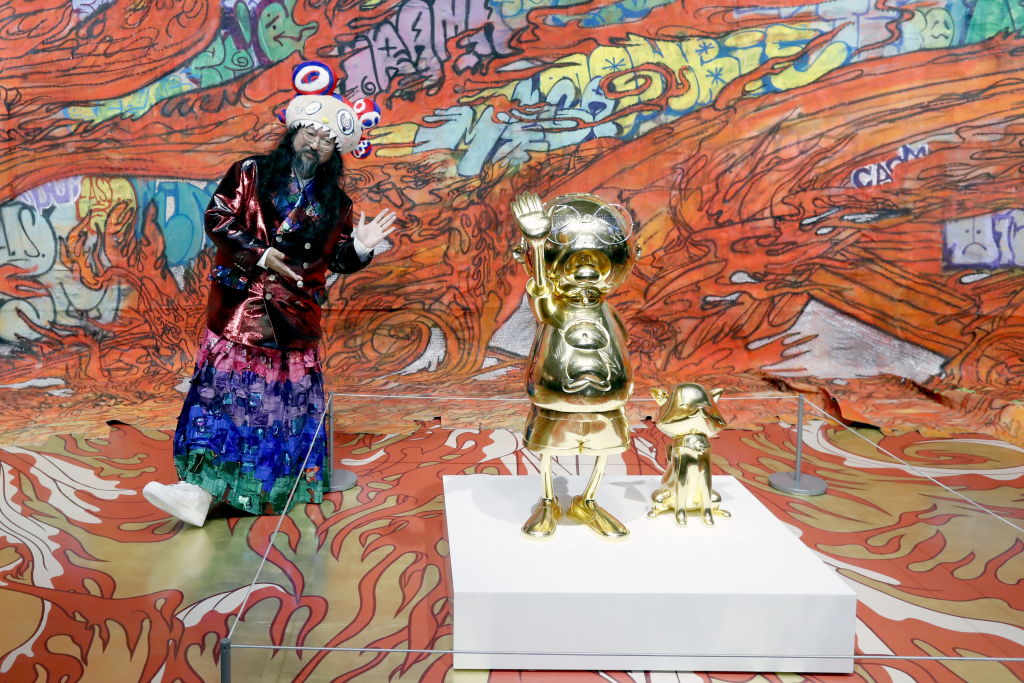 MOSCOW, RUSSIA - SEPTEMBER 28, 2017: Japanese artist Takashi Murakami at the opening of his exhibition titled "Under the Radiation Falls" at the Garage Museum of Contemporary Art. Artyom Geodakyan/TASS. Photo by Artyom Geodakyan\TASS via Getty Images

In 2003, Louis Vuitton (LV) started what would end up being a twelve-year collaboration with Murakami. Takashi Murakami's Monogram Multicolor collection with LV included: "Cherry Blossom" (2003), "Panda" (2004), "Cerises" (2005), "MOCA Hands" (2007), "Monogramouflage" (2008), "Cosmic Blossom" (2010), and of course the timeless "Speedy" (2003). Additionally, LV x Murakami released a short film called "Superflat First Love" (2009). Louis Vuitton x Murakami truly took over the fashion scene in the early 2000s with their iconic collaboration. Those who spent more time watching VH1 or MTV than E! during the early 2000s were likely introduced to Murakami by Kanye West. 
Arteza Art Break:
This artist's vision and imagination is an invitation to creativity. We can take a break from reading right about now to put some Kanye West on, grab the following suggested Arteza products below, and let the art unfold.
Now back to Murakami! Similar to the teddy bear character depicted on the cover, "Graduation" (2007) skyrocketed Takashi Murakami's career. Murakami put his spin on Kanye West's signature teddy bear character, and the results speak for themselves. This colorful and engaging album cover acted as the beginning of what would become a lifelong practice of creating artwork to illustrate music for Murakami. He went on to animate and direct the music video for "Good Morning" by Kanye West, which to this day is known as an ageless (track and) video among the hip hop community. Kanye West and Murakami now consider each other close friends—as do Kid Cudi and Murakami. He went on to design the album cover for Kid Cudi and Kanye West's 2018 album "KIDS SEE GHOSTS"; which the three recently developed into an animated series.
From Flowers to Friendships 

Since Murakami is known for his incredibly sweet and youthful persona, it should come as no surprise that he's collaborated with Billie Eilish. He actually went on record saying that he was the first of the two to reach out, via direct messaging (DMing) her on Instagram. Since then, the two collaborated on a limited-edition clothing collection called UNIQLO's, which was part of "UT lineup," inspired by their collaboration on the music video "you should see me in a crown" (2019), which Murakami animated and directed. The video features many of his characters, including his notorious flowers (unfortunately dying), as well as an original characterization of Billie Eilish.
You may remember seeing Murakami's flowers as pillows in recent years. In 2018, Murakami sent rapper Drake a multicolored stack of flower pillows as a housewarming gift. Murakami first gave Drake a six-foot flower pillow at his studio in Japan. Since then, the pillow has truly blossomed and become a must-have for any real Takashi Murakami fan. He went on to collaborate with artist Ferris Rafauli to create a one-of-a-kind 380VC Concert Grand piano for Drake. Murakami recalls Drake DMing him out of the blue with designs for an OVO (October's Very Own) x Takashi Murakami collaboration, since the collaboration took off in March of 2018, the duo has released limited-edition hoodies that retail for $268, t-shirts for $58, and beanies for $48.
Aside from Cudi, West, Drake, and Eilish, Murakami is also good friends with Pharrell Williams. When unveiling "The 500 Arhats," his first exhibition in Japan in 14 years, Murakami invited his dear friend Pharrell Williams to visit before the opening. At this exhibition, Murakami debuted his new screen-printing technique, which brings unbelievable depth to his Superflat body of work. As if the scale, color schemes, and detail of his paintings weren't already influential, Murakami's screen-printing techniques take his artwork to the next level. Takashi Murakami's ability to preserve traditional artistic techniques while also advancing them to fit the modern perception of contemporary arts is inspirational to say the least.
There's not enough time in the day to touch on all the countless collaborations that the "King of Kings" (as nicknamed by Pharrell Williams) has collected over the years; from clothing brands like Off-White, Supreme, Vans, and OVO to recent collaboration with beverage company Perrier. While it is impossible to discuss Murakami without celebrating his iconic collaborations, his solo work also deserves endless praise. Takashi Murakami's 2013 film, "Jellyfish Eyes" and 2016-2017 animated series "Six Heart Princess" show the immense value that Takashi Murakami still holds as a solo artist. Whether you favor his animated work, paintings, clothing, or sculptures, one thing is undeniable, Takashi Murakami is a truly versatile contemporary artist.
If you're feeling inspired by this article, grab your sketchbook and create your own Takashi Murakami collaboration! Incorporate one of his characters into your next drawing, to give his style of Superflat paintings a whirl. Share how your Takashi Murakami-inspired artwork turns out in the comments section of this article!
Are you feeling motivated after reading this post? Are you ready to create some art yourself? Shop our store for your next creation.