Inspired by mobility, enlightenment, accessibility, and stimulation, Jeff Koons' body of work demands a reaction from its viewers. You may find that Koons work feels especially nostalgic, this could be because of its subject matter, or perhaps because you've seen his sculpture, "Rabbit", in the Macy's Thanksgiving Day Parade, in 2007. His artwork aims to make fine art more accessible to the lower and middle class. From his early work, "Three Ball Total Equilibrium Tank (Two Dr J Silver Series, Spalding NBA Tip-Off)" (1985), to his more recent work, "Balloon Venus Dolni Vestonice (Violet)" (2013-2017), a theme of everyday objects as the focal point for fine art persists. Koons' gone on record to say this theme is deliberate, as he hopes to make fine art more approachable to everyone in the world. He has made quite a name for himself, from breaking records for contemporary art auction bid sales to including adult entertainers in his pornographic self-portrait pieces. Whether you love or can do without Jeff Koons, one thing is for sure, his artwork will capture your attention.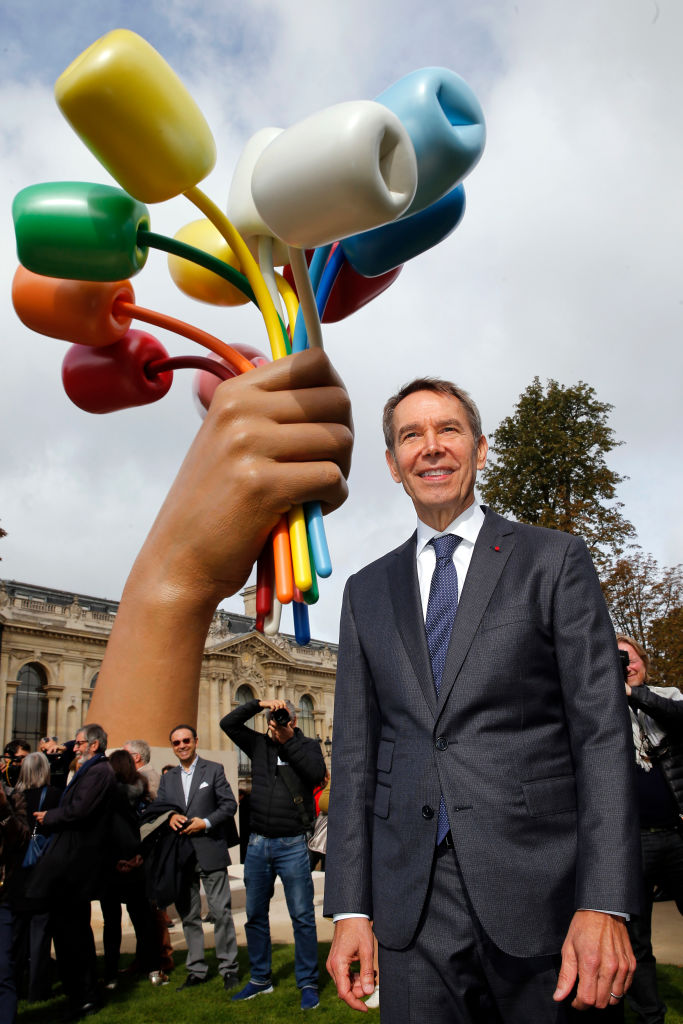 Artist Jeff Koons poses with his sculpture "Tulips" in front of Christie's at Rockefeller Plaza on November 6, 2012 in New York City. Photo by Jamie McCarthy/Getty Images. 

Inflating Jeff Koons

Born in York, Pennsylvania, Koons spent his early years in the furniture store where his father worked as an interior designer and decorator. Koons found an appreciation for everyday objects from watching his father find new ways to illuminate furniture—his father's ability to make something as simple as a lamp, a marketable work of art, deeply fascinated and inspired a young Jeff Koons. Koons is known for his background in art history, that stems from his early childhood when he produced replicas of Old Master paintings, which he sold at his father's store. His admiration for the arts only grew from there. 

Koons studied at the Maryland Institute College of Art and the School of Art Institute in Chicago. He went on to get his BFA from the Maryland Institute College of Art in 1976. Following his graduate studies, Koons moved to New York City, where he initially worked at the Museum of Modern Art (MoMA). In New York, Koons was able to network with other like-minded artists, through their collective: "East Village Art". The artists who made up this collective, or rather movement of artistic rebels, rejected mainstream views of what art should look like and consist of. This group of free-thinking creatives supported each other's artistic ventures and unconventional methods. While Koons has made a name for himself for making art out of household items, he's also known for idolizing Salvador Dalí and befriending Andy Warhol in the 80s. 

"The New" Koons 

In 1980, Koons' debut series, "The New", took New York by surprise, although this series was foreshadowed by his earlier work "Pre-New" (1979). "The New" featured a series of vacuum cleaners which were proudly showcased in glass display boxes at The New Museum. This unique introductory exhibition caught many audiences by surprise, which would go on to be a common reaction to Koons' unpredictable body of work. His series "Equilibrium" (1985) attracted a more diverse crowd, as it featured a bronze basketball, snorkel, and soccer ball, as well as framed Nike posters of basketball players, and basketballs submerged in distilled water, which appeared to be floating. This body of work was considered more inviting to the average middle-class New Yorker, in comparison to other contemporary work found in museums throughout NYC at this time. 

"Made in Heaven" (1991) was a revealing exhibition, where Koons brought photo-realistic pornographic images into a museum setting, which at the time was completely unheard of. "Made in Heaven" (1989) 'starring Jeff Koons and Cicciolina' is a lithograph billboard of Koons' naked body beside a half-naked Ilona Staller, who was a European adult entertainer who Koons hired for this series of work. This controversial and graphic series included works made of glass, "Couch(Kama Sutra)" (1991), marble, "Bourgeois Bust - Jeff and Ilona" (1991), polychromed wood, "Jeff and Ilona (Made in Heaven)" (1990), plastic, "Ilona On Top (Rosa)" (1991), oil inks on canvas, "Ilona on Top (Rosa Background)" (1990), and lithograph billboard, "Made in Heaven" (1989). From this series, a romantic relationship blossomed  between Koons and Staller, which resulted in a child, whose custody would later be taken from Koons.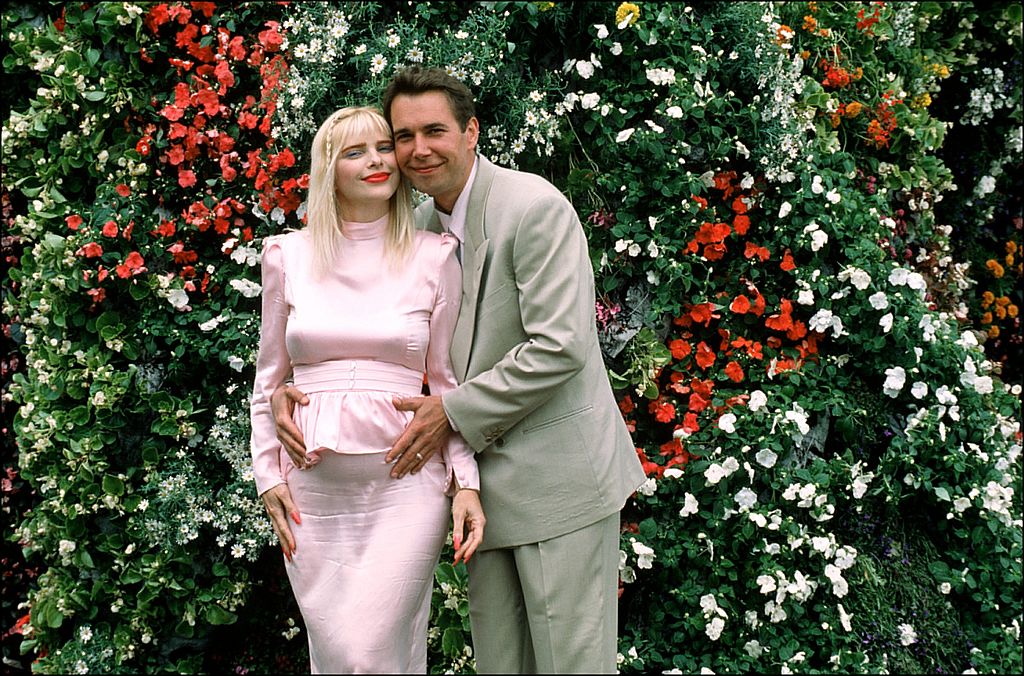 Jeff Koons with Ilona Staller, pregnant. Photo by Patrick PIEL/Gamma-Rapho via Getty Images

Oversized Balloons Galore 

Jeff Koons went from well-known to a household name, after he introduced balloon animals as fine art to audiences all over the world. "Celebration" is an ongoing series from Koons which originated in the 90s. "Celebration" (1994-2021) includes oil paintings, steel sculptures, and polyethylene pieces, depicting balloon animals, kids' toys, kids' cutlery, large-scale hearts, and even a sculpture titled "Play-Doh" that stands over 11 feet tall. "Play-Doh" (1994-2014) is a recreated sculpture that Koons' estranged son made during one of their few visits after he moved to Europe with his mother. This distant relationship inspired many of Koons' works from his notable series "Celebration". Koons dives further into the inspiration for this series in his book, "Jeff Koons: Celebration" (1996). From writing his own book, to starring in films, such as "Milk" (2008) and "The Price of Everything" (2018), is there anything Jeff Koons can't conquer? 

More inflatable-inspired artwork was showcased in Koons' exhibition "Jeff Koons: Popeye Series", which showcased at the Serpentine Gallery, in London. This exhibition also featured more of Koons more scandalous works, which were oil on canvas paintings, inspired by magazine collages that Koons produced. His works "Beach House" (2003) and "Lobster" (2003) were tied together through his work "Elvis" (2003) at this exhibition. Showcasing Koons' steel/balloon pieces alongside his more sexually driven paintings was a bold choice by the artist, which it seems, paid off. More notable recent works of Koons include: "ARTPOP - Lady Gaga" (2013),  "Gazing Ball (Stool)" (2013-2016), "Inflatable Balloon Dog - Jay Z - 4:44 Festival Tour" (2017), "Louis Vuitton x Jeff Koons: Masters" (2017), "Bouquet of Tulips" (2016-2019), "Venus" (2016-2020), and "Antiquity (Uli)" (2019).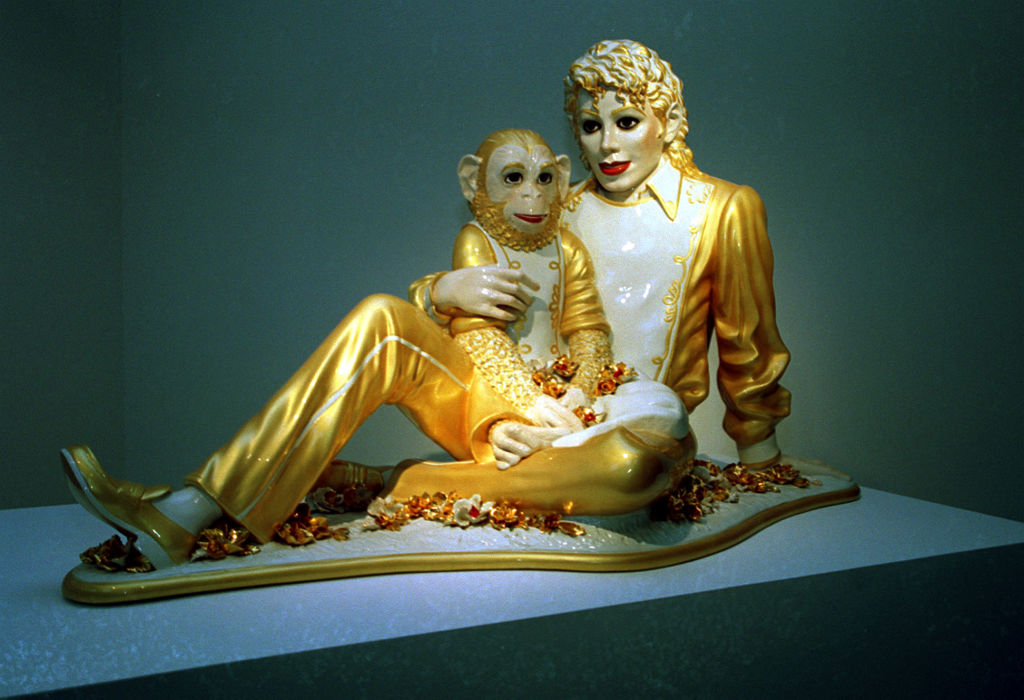 Broad Museum Michael Jackson and Bubbles by Jeff Koons on May 5, 2017 in Los Angeles, California. Photo by Santi Visalli/Getty Images.

Jeff Koons is currently exhibiting two solo shows: "Jeff Koons Mucem. Works from the Pinault Collection" in Marseille, France (until October 18th, 2021) and "Jeff Koons at DESTE Foundation Project Space" in Hydra, Greece, which ends on September 30th, 2022. Koons' work is also currently being showcased in group exhibitions, including: "Art of Sport" at Copenhagen Contemporary, "Technicolor Constellations: Tales from the Permanent Collection'' at Rockford Art Museum (Illinois), "Beyond Colour, the Black and the White in the Pinault Collection" at Couvent des Jacobins, and "The Imaginary Sea" at Fondation Carmignac. If you're interested in learning the ins and outs of his artistic process, you can sign up for his (virtual) Masterclass, titled "Jeff Koons Teaches Art and Creativity". Regardless if Koons' work resonates with you personally or not, it is undeniable that he is reshaping the definition of the term 'fine art'. 

Are you feeling inspired after reading this blog? Please view suggested products below for your next creation.