Table of Contents:
The Power of a Pencil
To gain those all-important nuances in light and shadows, it's important to have pencils in varying hardnesses . That's why sets are so popular with professional and student artists alike. A range of leads achieves correct placement of values in shading, sketching, and detailing.
In this article, we've broken down our most popular set, Arteza 33-Piece Expert Drawing Pencil Set . It has 25 drawing tools and 8 accessories to support your efforts. We know that once you've heard what this kit has, you'll agree it's the only set you'll ever need!
Drawing Pencils & More!
Let's start with its metal tin that keeps everything inside protected and together. A sturdy, lightweight design makes it easy for tossing in your bag or backpack when you're ready to go urban or nature sketching or to art class.
Inside are two trays and slots for everything, so it's easy to see it all at a glance. This also makes it simple to replace things once used and keep your set organized.
Now let's take a look at what's included.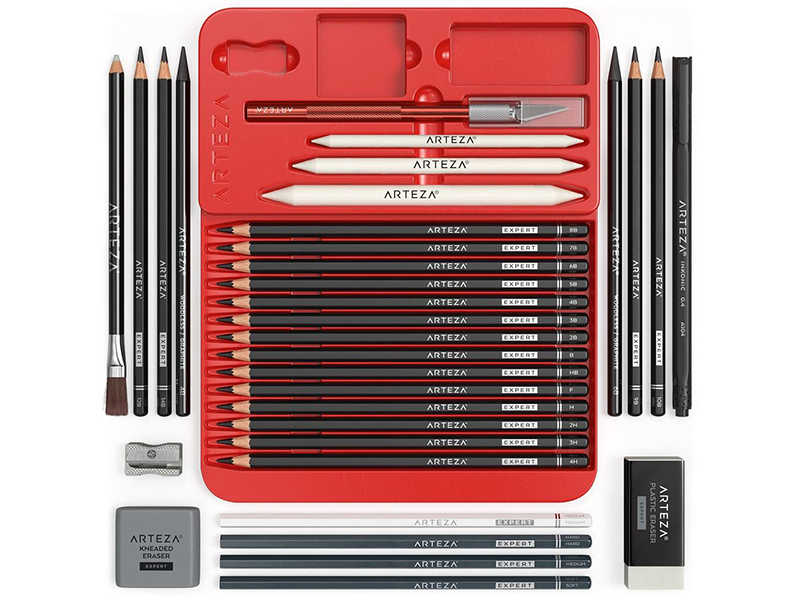 Pencils Organized By Hardness
You get 18 pencils, including soft leads from 14B to B, medium-soft, HB and F, and hard ones from H to 4H.
Hard - Hard pencils retain their point a long time and can create precise sharp lines; therefore, they are ideal for sketching and preparing initial drawings for other works, when it's especially important that marks are as light as possible. Even when you press really hard, your darkest mark will be a medium gray.
Medium-Hard - Labeled HB and F, these combine properties of both hard and soft pencils. Add not-so-dark lines and shaded areas by layering and crosshatching.
Soft - A higher number before the letter "B," indicates a softer lead. Soft lead creates dark marks, rich transitions, and dense shading in a uniform tone.
Woodless Pencils
Two woodless pencils —one 4B, one 6B—are perfect for subtle techniques. By altering the angle of the pencil or your hand, you're able to fill in larger areas and create unique gradients.
Black Charcoal Pencils
If working with charcoal is your thing, there are three levels to choose from in this kit—hard, medium, and soft. Use it to draw or smudge for rough shadows and to create the illusion of texture.
White Charcoal Pencil
White charcoal works best with tinted paper. The one here enables you to draw or add highlights to your subject on black, gray, and colored paper. Because the white stands out so well against the colored pages it brings a uniqueness not achieved any other way. You can create mid-tones by using a paper blender.
Inkonic Fineliner
Nothing complements a pencil drawing quite the way ink does, so we've included one of the Arteza Inkonic Fineliner pens in the set. Accent works or use alone for bold, graphic sketches.
Erasers—Precision, Plastic, Kneaded
Erasers not only assist in correcting mistakes, but they also act as a tool to lift the lead for subtle highlights or for smoothing or smearing marks for dramatic effect. We've given you three eraser options.
Precision - Use this eraser for more detailed work when you need to get into tight spaces or be extra careful about what you're erasing. You get the most control with this one since it's designed like a pencil. It has a handy brush on the end to flick away eraser particles and lead dust for a tidy result.
Plastic - The white plastic eraser can easily remove those dark pencil marks.
Kneaded - This type of eraser is ideal at lifting soft graphite from your page. It's best if you try not to use regular pencil erasers because they can cause smudging all over your piece. Instead, blot any excess graphite with the kneaded eraser and then use a plastic eraser. Kneaded erasers are also good for erasing large areas.
Blenders
These tools are a necessity if you want to create realistic works. This set comes with three sizes of paper stumps or blenders—small, medium, and large. This allows you to choose the size that fits your situation best. If you have small spaces or specific areas that need blending, choose the small stump. For adding gradients to an intermediate area, use the medium-size blender. For bigger areas, try the large one. Each one has a finely pointed end for blending or creating details. If you hold a blender at an angle, you can get smooth gradients that help give your subject depth and dimension.
Sharpener
To keep your lines sharp and precise, we've added a sharpener. Use this with all the pencils, regardless of lead hardness.
Craft Knife
For the charcoal pencils, it's best to sharpen them with a craft knife; you get one of these in the set as well. Softer mediums, such as charcoal, have a tendency to crumble when used with a traditional sharpener. By using the knife instead, you're able to get a good point, expose larger areas of the charcoal, and avoid breakage.
Whether you're doing large, highly-detailed drawings or quick coffee-house sketches, nothing makes the experience more enjoyable and the result more satisfying than having the right drawing supplies. You can create with ease and stay fully focused on your work when everything you need is right beside you. As a community of artists at Arteza, we design sets like this with the needs of the artist in mind. We hope you'll give this drawing pencil set a try and let us know what you think.