Emerging Artist: Adler Guerrier
Haitian artist Adler Guerrier is causing quite a splash in the art scene.  Although he is based out of Miami, Florida this emerging artist's work has been seen throughout the United States and even abroad.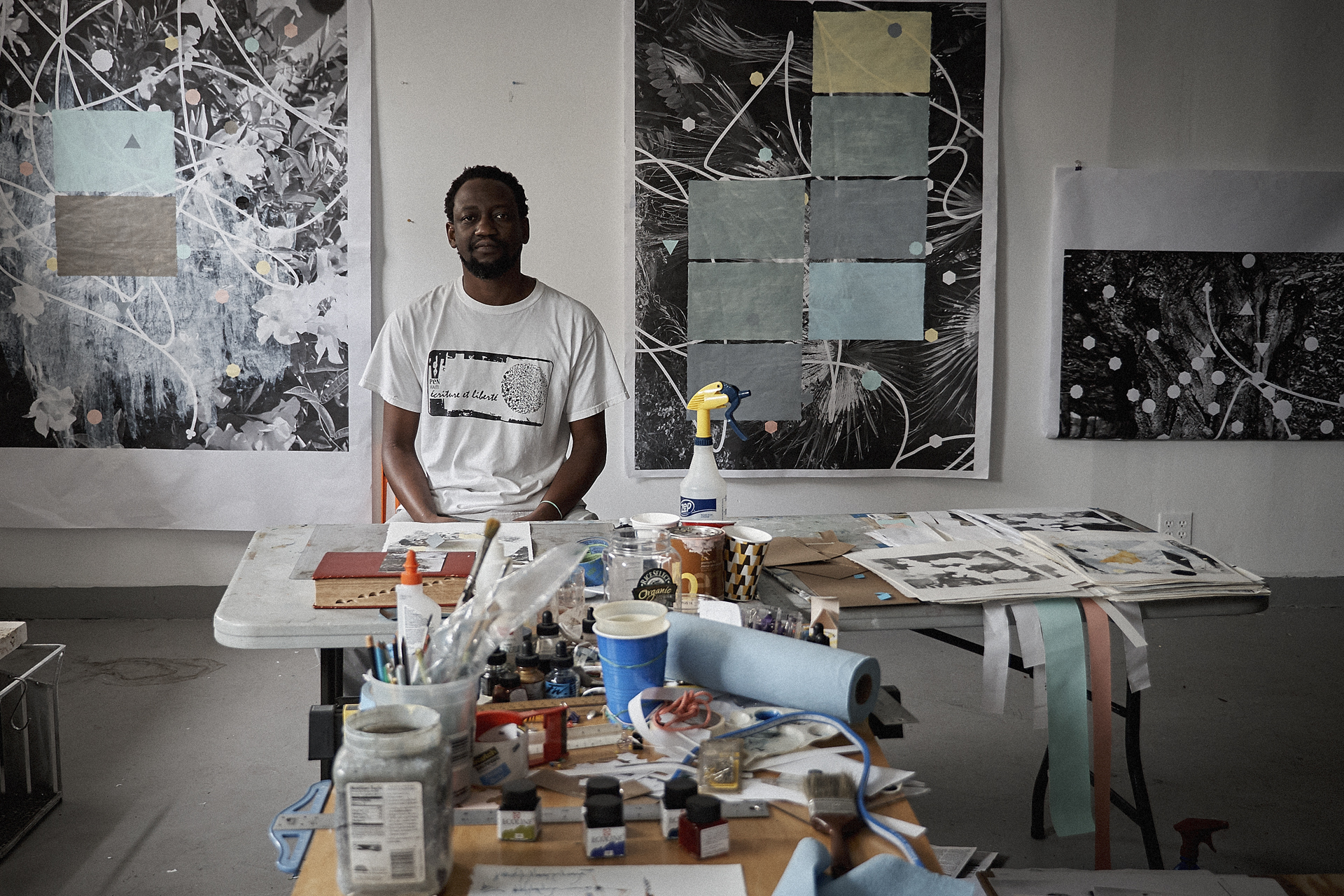 Adler Guerrier
If you've driven or walked by the Miami Design District recently then you've certainly run into his work—a huge billboard outside the Moore Building located on Northeast 2nd Avenue.  The piece was commissioned by the nationally recognized For Freedoms organization, which supports artists of color across the country, giving them the opportunity to create art on billboards that not only speaks to their identity but also opens up discussion on civic issues and equality. The Design District location of the billboard's installation is a "full-circle" moment for the artist, since early in his career, Guerrier set up shop in a studio in this same section of Miami. 

Guerrier, repped by Bakehouse Art Complex, revealed he is always "on the go."  Despite this, however, he took a moment out of his schedule to talk to us about his latest work and how it came to fruition.

Adler Guerrier For Freedoms Billboard
Could you talk to us about this billboard project at the heart of the art world in South Florida?
"In the summer I was invited to design the billboard. I knew the location, and I had a sense that the billboard should be an interesting place to talk about a lot of themes that are in my work, specifically how being conscious of the conditions that I, well, that one needs to live.  In my case, I prefer in my living environment, which is one that is connected—to green—to openness, to a particular lighting quality… one that is the Caribbean, one that is heavily influenced by the African diaspora, not just the Caribbean diaspora.  And it's also in a way, a context that is very conscious of being outside, or I should say, that uses the outside as a way to congregate communally as opposed to…the insides of one's house."
What are the different art forms that compose this billboard?
"The main art form that composes the billboard, the main discipline would be I guess graphic design because the billboard, of the scale, that it is, it's printed on fabric, on a vinyl fabric and stretched on the side of the building.  And so. I needed to generate a PDF that I sent for the printer to print, but the sources that I used to make this work…some photography, tech and collage."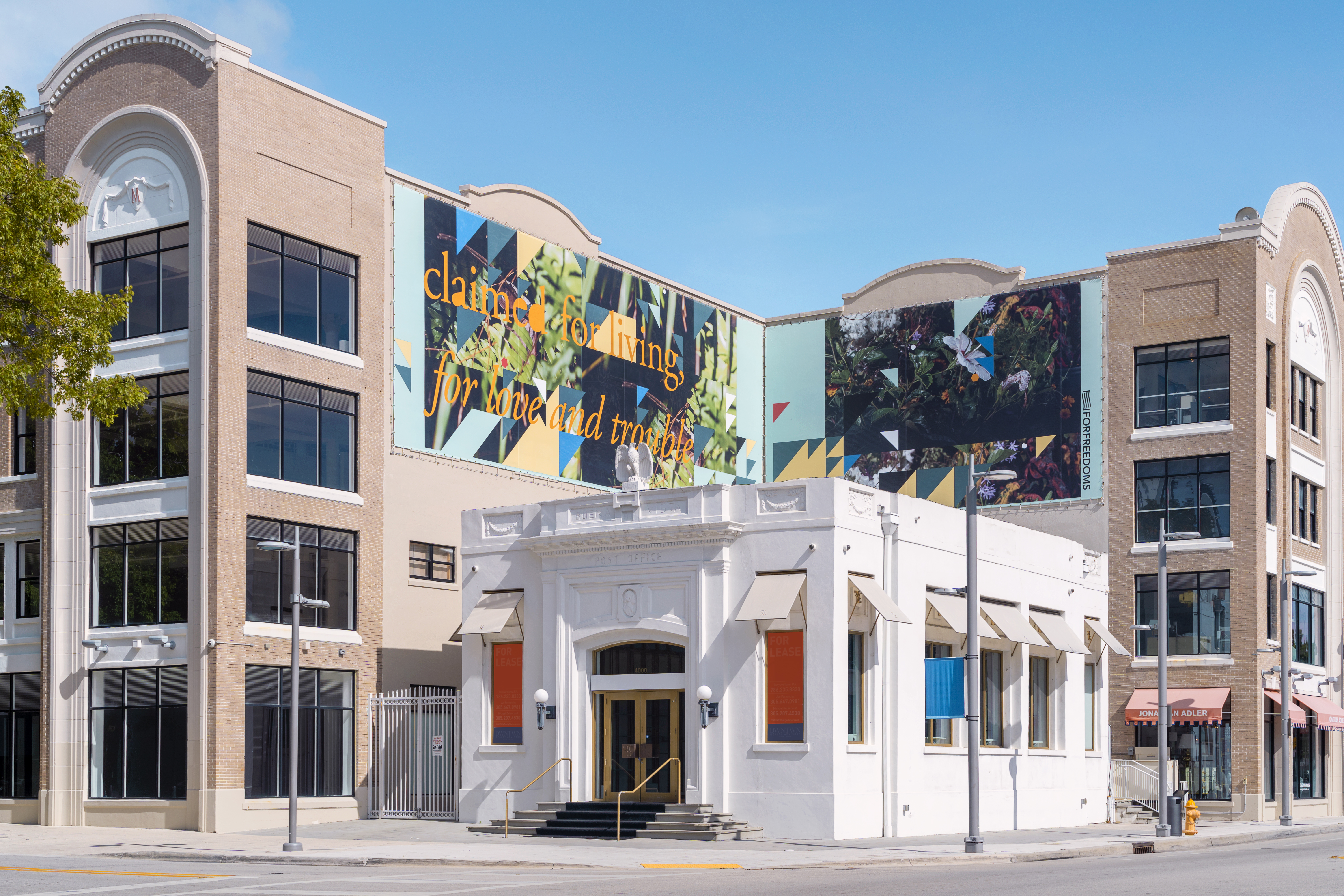 Adler Guerrier For Freedoms Billboard Outside Moore Building
How long did it take you to put this together? 
"The 2 photographs from the show pre-date the billboard, they came from earlier projects and they have their own particular life.  The text also comes from a different project."
"When I started working on the billboard I had at least 3 different trajectories of working that came together into the billboard.  So, how long did it take me?  It took me a few hours…how much time I spent on my computer or how much time I spent editing a photo or how much time I spent laying out text, so there are 2 different production times within this work."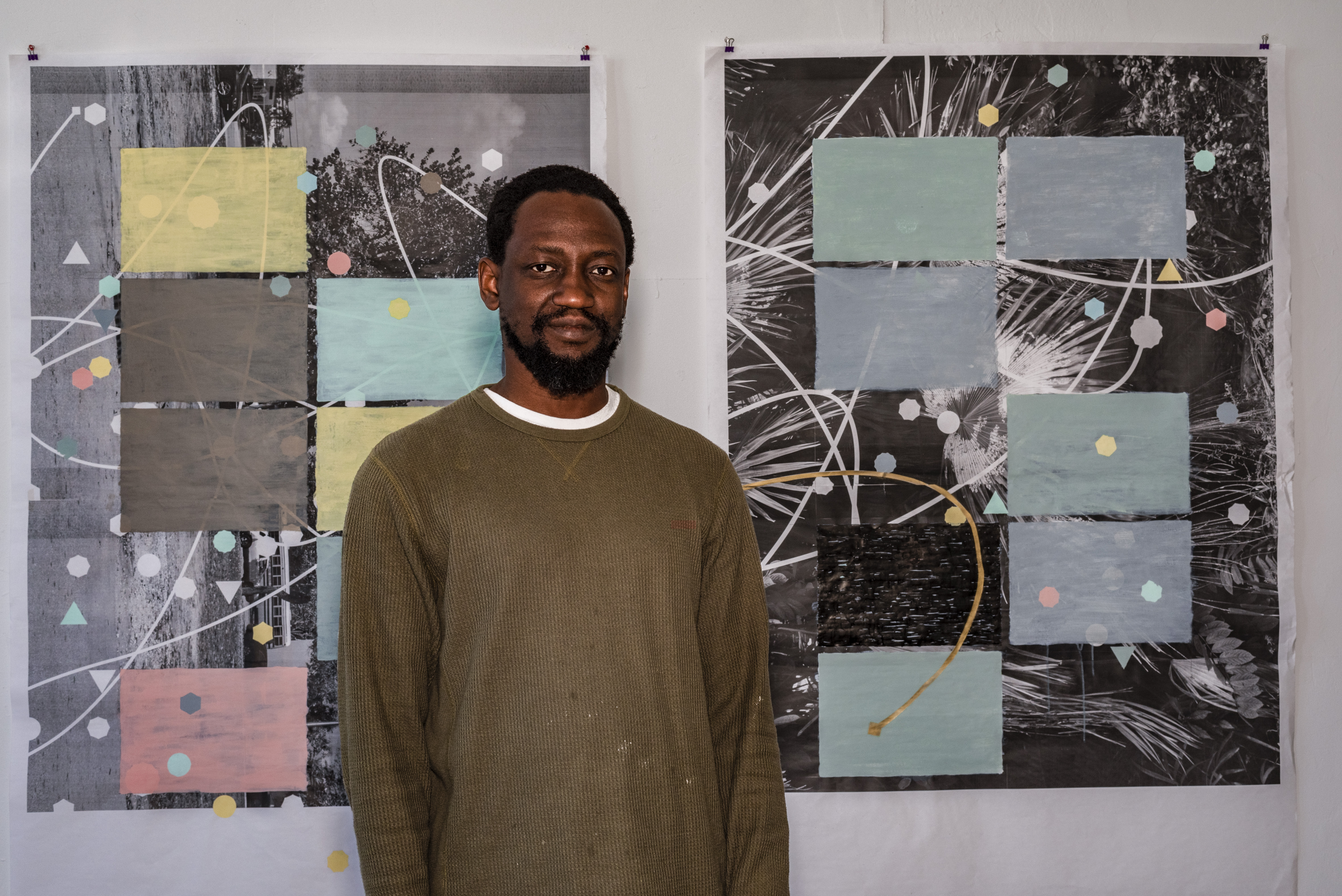 Adler Guerrier at Bakehouse Art Complex
You're based out of South Florida.  Do you feel that is the best place for you to explore your creativity?
"I don't think it works this way.  Not for me anyway.  I live somewhere and it's the place that I live that is the center of my universe.  But it's where I live that allows me to think about what ideas, about people, about community and even about other places, so it's as simple as that.  I live here in Miami so my reflection of the world will always be centered from the perspective of being in Miami which means that it's reflective of a Caribbean influence, it's reflective of the Americas.  It's reflective of a narrative that's highly influenced with Europeans coming here in the late 15th century."
"Yes, I have lived in New York City, that could be a different narrative, but I don't live in New York City and … I don't have any desire to live anywhere else at least nowadays…and so yeah, from Miami I can think of a lot of different ideas that hovers around the globe.  It may mean that I am distant from some of them, but it also may mean that I am very close to certain things…but that's the job of the work, the job of the work is for me to translate with the knowledge that I have, however, I've gathered it and so that the artwork can communicate properly its poetic relationship to what is being seen."
In Spanish, there's a saying that goes "¿Se Nace O Se Hace?" (Are you born with it or did you develop it?)  Do you think this is true?  Were you always artistically inclined even before studying art?
"It's an idea that we used to see this a lot, but it's exclusionary by nature because we know the opposite is more true.  The opposite being one can learn how to overcome deficiencies and become the thing that we need to be…and being an artist…we all have the capacity for.  We can learn it, we can develop our voice, we can learn how to observe the universe, reflect upon it and make artistic statements.  It's making artistic statements that make an artist.  It's not necessarily what you're born with.  You either learn it on the job, you learn it formally in school, you learn it through an apprenticeship.  It has to be learned.  It has to come out."  
"It's a lot less with what one is born with and it's a lot more how one develops one's skills and abilities.  That's why the word talent is not a really good word.  It's really more about the skills and techniques that one masters.  When we become a master of techniques, we can express in ways that are consistent and even forceful."
As an artist, how important is it for you to be recognized during Black History Month?
"It is not important at all to me.  It is often always other people who want to do this.  I have no impulse to do this… To me, I understand where Black History Month comes from.  I know the history…but history is not a one-month thing to me.  It is always there…every structure, every color, every word that I use in my work, they are impressed upon by a knowledge of history. That happens every day.  That doesn't happen to me for a certain period of time….Black History Month …is not something that I hold high.  Because what needs to be held higher is a consistent appreciation for history—the appreciation of black lives, appreciation of how black lives have contributed wonderfully (within a historical frame).  That to me does not happen one month at a time."
Want More Content Like This?
Subscribe & have it sent right to your inbox.