Feature image: "To Have to See", from the "Mr. Freak & Lucy" showcase, c/o Martin Medina WorldRedEye" per https://worldredeye.com/2021/04/manolis-projects-greg-schriefer-present-mr-freak-lucy-by-fernanda-lavera/
Fernanda Lavera has been making waves in the arts scene thanks to her neo-expressive style, as well as her celebrity clientele which includes iconic music producer Clive Davis. We caught up virtually with Fernanda, who spoke to us in a matching setting: the entire room was decked in white décor—including the sheets! This interview seemed taken straight out of a magazine and perhaps it's thanks to Lavera's past in the editorial world. Let's jump straight into the conversation...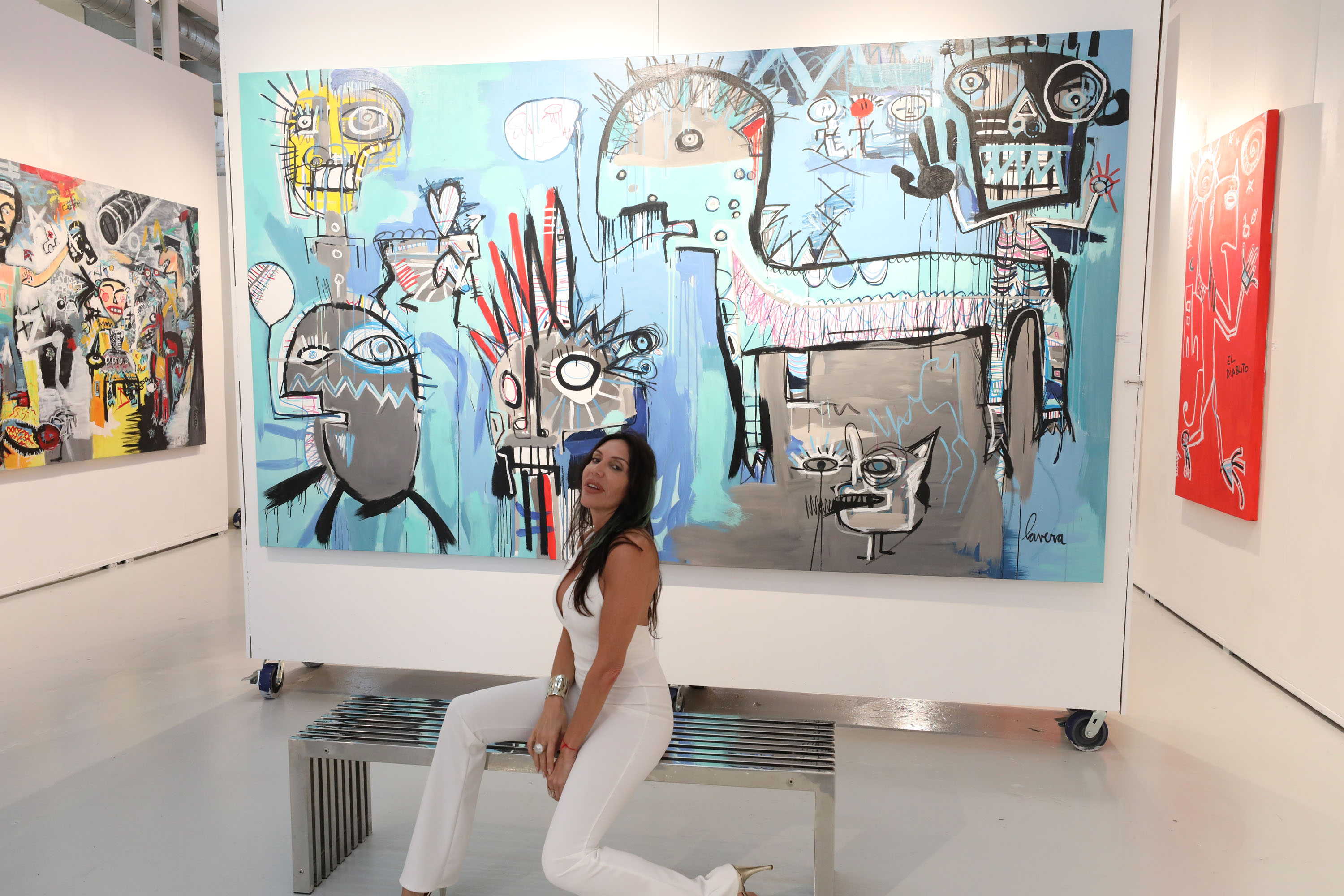 Fernanda Lavera at the "Mr. Freak & Lucy" showcase, c/o Martin Medina WorldRedEye
How did you get started in the art world?
"As a child I always wanted to be an artist. I always wanted to paint. I had an aunt who lived below us, she was French, and she had these big murals.  I'd always look at her and play with her brushes. Life took me in another direction.  So, I became the editor of fashion magazines, so I was always very involved in the world of aesthetics, art, fashion. Once I got older, I said, 'I love this, right?' and then I began taking art workshops. You always have to try to fight for your dreams."
Are there certain tools in your artwork that you can't live without or does that change with each work?
"It changes all the time. For me it's kind of like what the great Pablo Picasso said, 'Art is like exposing an intimate diary of yourself at that moment and expressing what is happening to you.' So, the artworks are different and there is a manifestation of that change because you are changing and absorbing different situations in life, of what's happening to you. For example, I paint what I see. If I'm in my hometown, [I paint] what's happening in the city."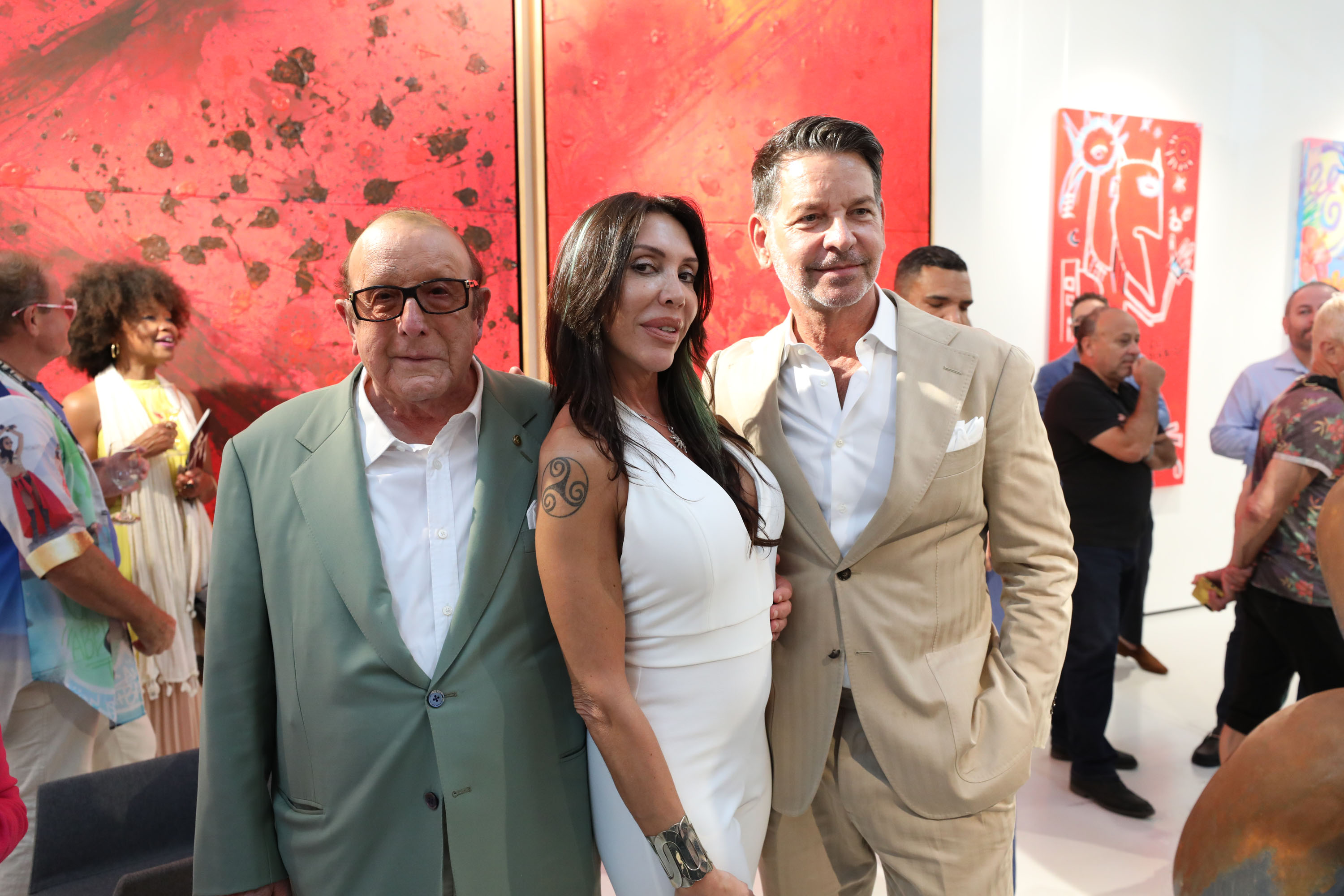 Clive Davis, Fernanda Lavera & Greg Schriefer, at the "Mr. Freak & Lucy" showcase, c/o Martin Medina WorldRedEye
Is it difficult for you to let go of your works of art?  Or is it a pleasure for you to share those works and to be compensated for them?
"It's very crazy. That's a great question. It's very difficult to let go of your work. It's not that easy. The work is a chapter of your life, that only you know about. You have to open up and let go of it. In terms of art and artists and their work, sometimes I say, 'I don't want to sell it. This is mine. Why am I going to sell it?' It has nothing to do with the money and then you say, 'But no.' A great collector once told me, 'You can't do that because it doesn't belong to you anymore.'"
"It hurts a lot honestly because you don't know when you're going to see it again, where, who is going to have it. And all of these are my memories, things that have happened to me. I'm letting go of something that happened to me, right? I get anxious. 'Who is the owner?' And then they tell me, so and so bought this piece and I start looking them up like a fangirl, sorry. I'll look at who bought it, what they do for a living, what their name is."
I've seen you burn art pieces online. Is it to achieve a certain look in your work?
"No. I don't do anything to achieve a look. I already have it. I burn because it's an act of rebellion, protest, of being able to do it. The end of a chapter, beginning of a new one. I have a neo-expressive side. For me, the burning signifies that I will be born again. The burning means this will stay in my past."

Has anything ever gone astray during these burnings?
"Everyday things happen, things that happen to everyone, stupid things. Once while dressed in white, looking splendid…I fell in a pit and was full of mud before starting a fire."
Your workspace is beautiful. Tell us more about it.
"I have a beautiful home in Buenos Aires and the third floor of my house is like a glass cube; it's all cement and marble and only has 3-meter-tall windows from one end to the other. I have a dome where a lot of sunlight comes through. And that's my art studio because it's huge. Things happen. There's a work on exhibition called 'Bird Man.' And it's crazy because going back to what I said about the great Picasso, it's like you have a diary and share what you see. So, since I'm painting in this space with all this glass, everything is very transparent. A lot of birds go through, so I open the dome and the birds go through one end and out the other, they circle around and it's crazy because while this is something joyful, there's also the sad part of life. Sometimes with the heat, they don't see well, [they] crash and die."
"Bird Man is this abstract character born out of this situation who comes to pick up these birds and take them to a different place, a different state. He's the bird man. So, that's why the backstory of this piece is so fun, there's a lot of meaning behind it and there's always a reason behind it."
As a critic of society in your work, do you think it will have repercussions in your personal life or career?
"I think everything has a repercussion because I believe in a very strong law, which is the law of cause and effect. So I want to be the cause in my life. I don't want to be the effect. And if I want to be the cause, I am going to work to be the cause. In life you're never too beautiful, too ugly, too good, or too bad. You're always going to face criticism, but the important thing is the assertiveness with which you do things, with your job. If you're confident about what you're doing and you're completely convinced of it, perhaps someone may not like it and that's fine, but you can't be afraid of that."

Did you enjoy reading about Fernanda Lavera? Are you ready to get creative? Shop set below for your next creation.