Thomas Lavin Credit: Don Flood
Thomas Lavin: A Collection Worthy of Star Treatment
Thomas Lavin's home gets major kudos or as we say in Tinseltown: five stars! The design dealer recently opened the doors of his Hollywood Hills home to "Galerie Magazine" to showcase his splendid collection of figurative art. During an online conversation with the publication he expanded more on his love of art and we got to delve into best practices for emerging art collectors. Below are some key highlights from the chat.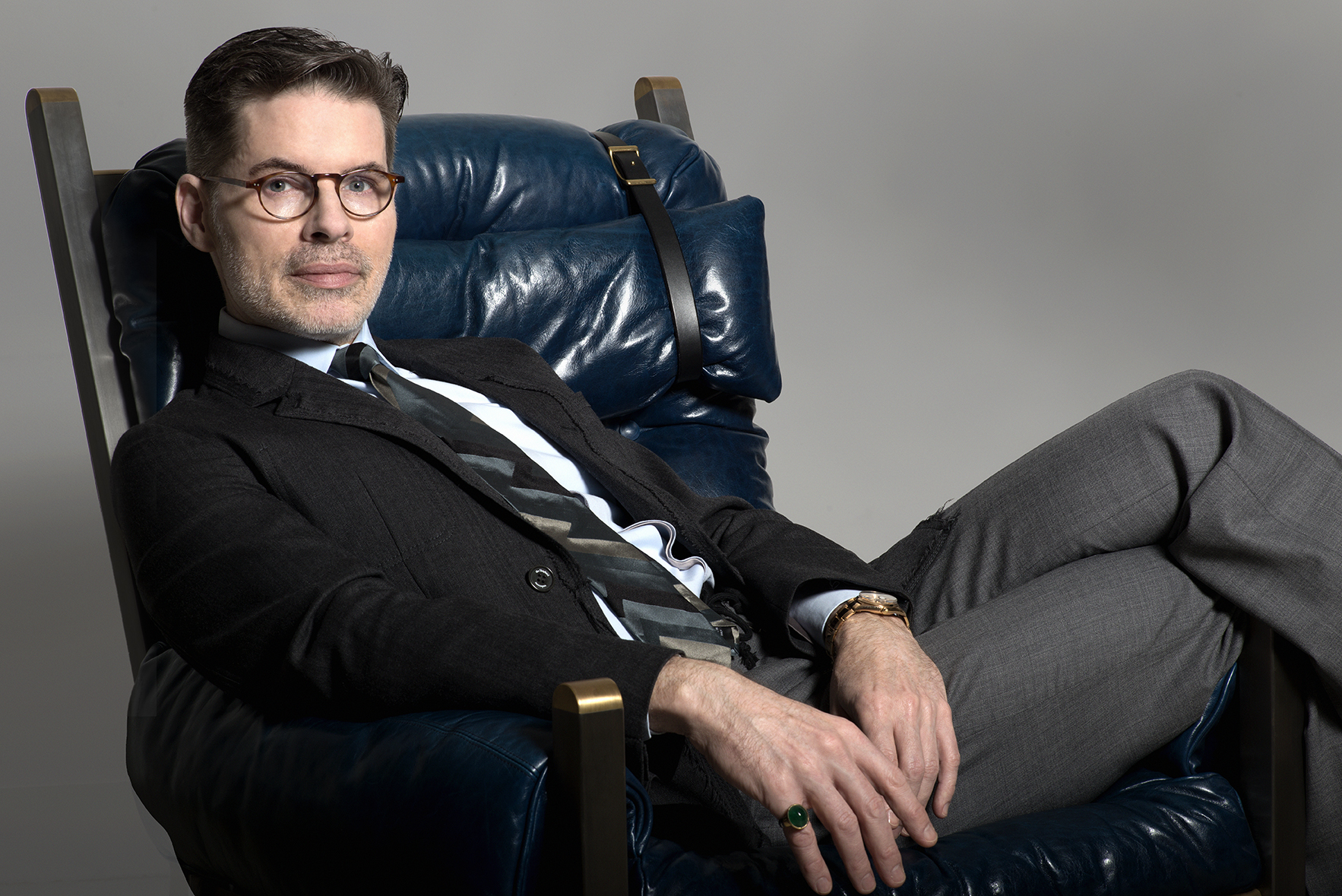 Thomas on how he began collecting art:
"It was always something that I was interested in. I was an Art History major at UCLA… the two areas of focus were Byzantine and contemporary American. So, it was an interesting juxtaposition…of course, the more that I got into art, the more I realized that Byzantine is utterly contemporary. I was too afraid to buy figurative which is what I really wanted because I just get the emotion, I get the sensibility, I get sort of what's happening off the people in the paintings.
So, I started buying abstract because it was safe, it was intellectual… and there was a painting at the Acme Gallery for their 20th anniversary by Kurt Kauper… and I saw it, it was a small piece on a wall and I went up to one of my friends from the gallery and I'm like, 'I love that' and he's like, 'It's yours.' And I was so proud, my first figurative piece. And then I went over to the other gallerists… and I said [to one of them], 'I'm really excited. I bought the Kurt Kauper.' And he looked mortified. He's like, 'It's already sold.' And I was so bummed out. And so, I think that sort of put a kibosh on it. And then later they were able to bring in a painting by Kurt.
Meanwhile, I met one of my dearest friends… who is an extraordinary collector in Los Angeles and his focus is figurative. And whenever I saw his collection I was so inspired by his intellect, his bravery… that's when I moved into figurative, which I've been collecting over the past five years."
Lavin reveals what he's done with all the abstract art in his house:
"Everything is in storage. Not only is the abstract in storage, but also… the house is not big enough to accommodate all the art so now it's sort of a rotating exhibition. Which I swore I would never do."
What's Thomas' approach to decorating his house when he is surrounded by artwork that is "not shy"?
"No, you're right, they are truly not shy... I moved into my house about 10 years ago. It's a 1958 modern. And my friend, Gary Hutton, the San Francisco interior designer, designed it for me…. Gary… inherently has this incredible sensibility… of design because I think he's one of the greatest working in America but also for collectors. When he did the house I wasn't collecting, but his sensibility went right into it so I really didn't have to do anything around it. Although it was funny there was one moment where I decided I was going to wallpaper my den with something really extraordinary. And I said to Gary, 'What do you think?' He's like, 'You're just starting to buy art. Leave it for art.' At that point I think I had maybe two paintings… and lo and behold he was right because now… there's no space to breathe.
What's fun about the house is because it's not large [and] I don't want to move, I thought to myself, 'Well, what can I do to change it up?'… so, every Memorial Day I put all the white slip covers on [the furniture] … and the house becomes white... it's my ode to the east coast."
On whether he's good about snapping up works from emerging artists:
"It's a process. And I've had what they would say, [is] good market luck because I chose people that ended up having rises. And I didn't buy the work because it was someday going to be, you know, famous or valuable. I bought it because I loved what the artist was saying."
Where are some of the best places to find works from emerging artists?
"You know what? There's a… publication called 'New American Paintings'… but the advice that I had read was… start reading. Look at any art forum and find the best galleries wherever you live and start looking. And I think that there's a lot of wonderful galleries and there's some galleries that I think really have such an eye on the market. They actually have artists and launch their careers."
What is the best way to preserve your purchased artwork?
"Anything that's delicate: drawings, photography, pastels, watercolors, those are all framed with the UV plexi. There's a special name for it. I use the UV plexi. Oil paintings, sometimes I frame them, depending where they're going. Sometimes I don't because those are sturdier. But definitely, I think it's the more delicate ones."
Do you think about the light in the room? Is the UV protection fine even if it's getting a lot of sunlight somewhere?
"No… all of my windows have UV protection and I have slim shades. I don't have full blackouts so everything is as protected as I can [get it], with a house that has a good deal of light."
Do you keep a certain room temperature throughout the house?
"Yes, so the house is always between 68 and 72, so it's all year long. And so is the storage where I keep the art."
Is it difficult to know the value of art in a market that's always changing?
"Well you know that's such a great question. That's actually a whole philosophical conversation…. You know, if you build a collection of any size…have it reappraised from time to time because things do go up. I'm not a seller… but I don't buy to sell, I buy because I love."
Are there certain pieces that are surefire investments that will increase in value over time?
"It is an area of collecting. It's not my area of collecting. And there are also those scoundrels in the art market who buy to flip, which is not what I or my friends are about. We buy for passion, not for investment."
Are you feeling inspired after reading this blog? Are you ready to create something extraordinary? Make sure to shop set below for your creation.