If you love anime, you're going to really enjoy meeting artist, Michaël Riss. He's burning up Instagram right now with his incredible marker drawings using Arteza EverBlend markers. Are you trying to find out how to choose characters, improve your drawing skills, or find the right medium? Here are his tips and techniques for turning characters into exciting anime drawings that will inspire you to create you're own!
- Hi, Michaël. Tell us a little bit about yourself.
Hi, I'm 35 years old and I live in Lorraine, France. I have two children, and my 8-year-old boy also loves drawing! I work in electric power, but drawing is one of my favorite hobbies along with mountain biking and playing the electric guitar. I'm a huge fan of anime, especially Dragonball Z.
- How did you start painting? Did you attend art school?
I am self-taught. I drew a lot during my childhood until the age of 15. After that, I had a very long break. Three years ago, my wife gave me some alcohol markers. I started drawing again, but not without difficulties! After several months of practice, I could clearly see my improvement. That's when I created my Instagram page and met other french artists. Now we're a team (#saiyanfrenchsquad) motivating each other and giving helpful advice.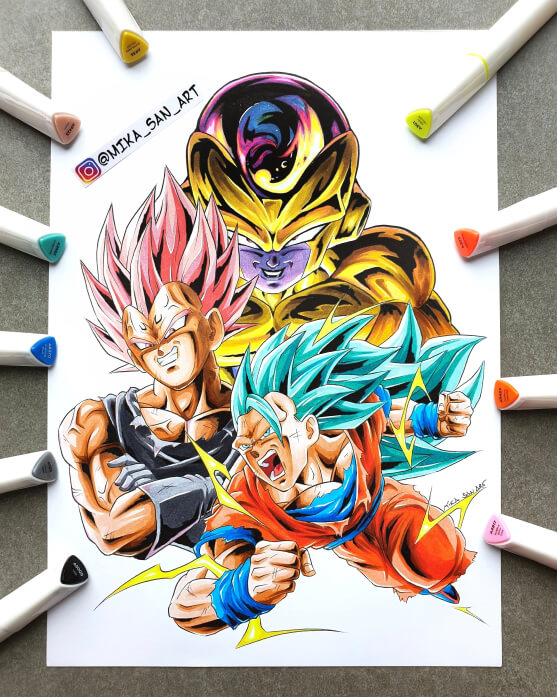 - Anime seems to be a major theme in your paintings. How do you choose characters to draw?
I choose my favorite characters, heroes, or villains. My compositions are made as if they are movie posters. I like to give a badass side to the characters.
- What do you find the most challenging about the creative process?
The initial sketch is the most challenging. Most of the time, I create my sketch based on a pose, and then I add the character's features and some personal details. For me, this is the hardest and longest part of the work. I feel more comfortable when I'm coloring.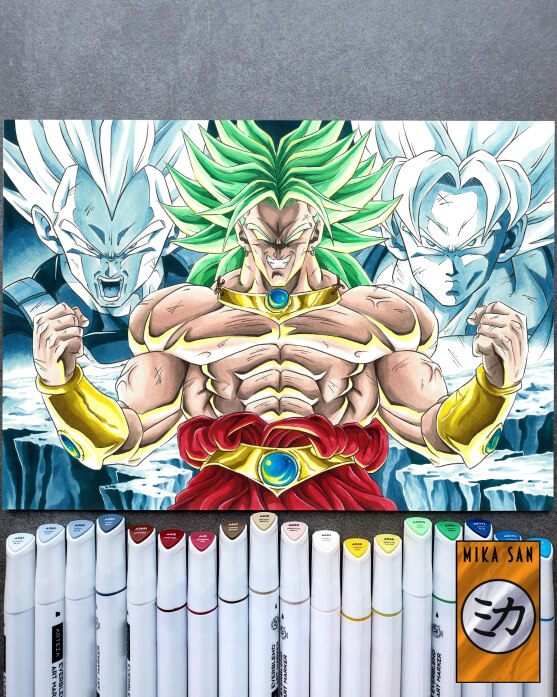 - What inspires you and how do you overcome creative blocks?
I look at the best traditional and digital artworks and try to be as good. I like to try new techniques like lineless backgrounds, lighting effects, shading, blending, the use of non-conventional colors...
- What is your main media and why?
Absolutely EverBlend markers. I use the full set. The color selection is complete and they blend well.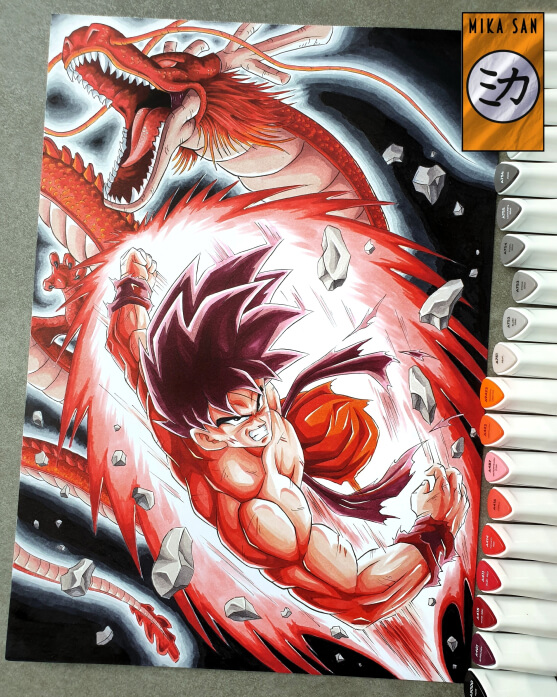 - What advice can you give to beginner artists?
Take your time! Redo your sketch until it looks perfect to you. Watching tutorials or speed drawing on the internet is really helpful. Use references to learn anatomy (the hardest part). With time, you'll shape your own style! Also, use good quality media in order to not limit yourself.
- Tell us a little secret about how to draw better.
Patience is the key! Every stage of an artwork is important. If you take your time, the final result will only be better. The temptation to post a lot on social media is high—but less is more!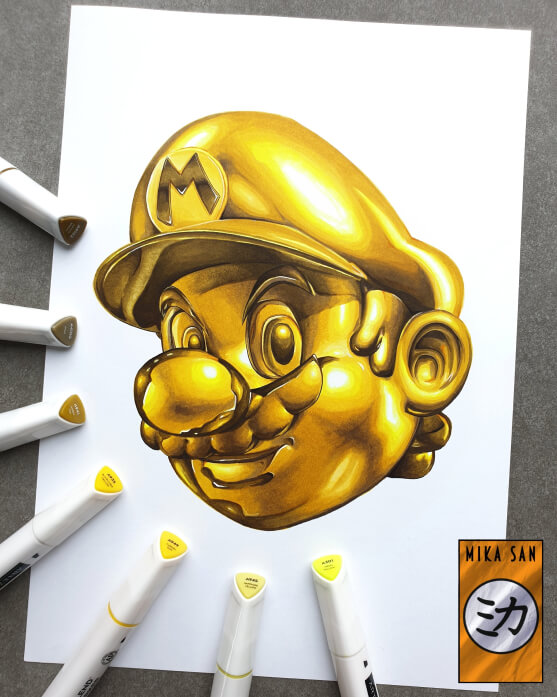 - How often do you use Arteza?
On every new artwork! I draw a new one every two weeks. I spend around 10 hours on one drawing.
- What's your favorite Arteza product and why?
I mainly use Everblend Markers (the 120 set, portrait set, gray set). Markers are definitely my favorite medium because I can quickly cover big surfaces and also have precision in the details. I use the set of 48 Inkonic Pens to do lineless backgrounds; I like their fine point. I also use Real Brush Pens for more traditional looking art; I can blend them with water on watercolor paper!
Other posts you may enjoy: