It's in the very nature of contemporary art to strive to defy the ever-changing boundaries of what is deemed acceptable by those in power, through incorporating a wider range of perspectives, exploring new mediums for expression, or simply attempting that which has never been accomplished before. Because of the historic oppression of the African-American community in the United States, the art scene has been revolutionized by the inclusion of black artists, who have expanded and reimagined the spaces they were all too often not allowed to enter—even today black artists face obstacles between them and commercial success that white artists will never face. Simply put, contemporary art would not exist without their contributions.
Though there is no wrong time to celebrate African-American artists, Black History Month offers a dedicated period of time in which to prioritize our shared understanding and appreciation of the artwork generated by black artists, particularly those individuals who have majorly influenced modern and contemporary art as we know it today. These bodies of work can and do depict a wide range of subjects and topics, often revealing the unique struggles and experiences of these artists through their chosen mediums, helping to shine a light on the oft-ignored perspective of the African-American community. Often this artwork is able to hold up a mirror to society, enabling people to consider their place in today's world, leading to greater discourse about what it means to be a human being.
While there are a great number of incredible African-American artists more than worthy of your attention, here are four artists whose work showcases the influence and diversity of American contemporary art.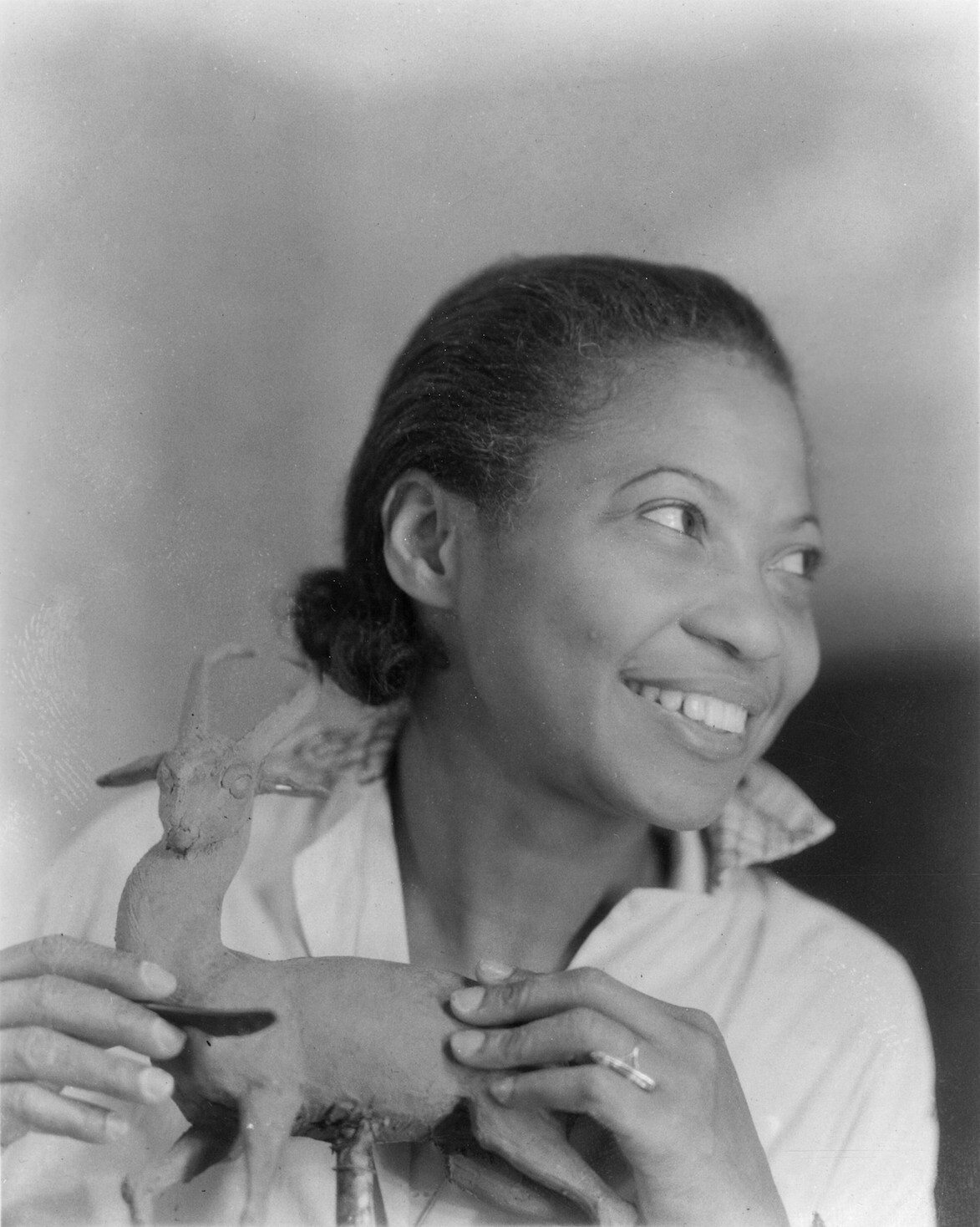 Augusta Savage smiling while sculpting a clay animal, credit Wikimedia Commons
Augusta Savage
You can't discuss the Harlem Renaissance without mentioning African-American sculptor Augusta Savage. Born in Florida in 1892, Savage showed an early inclination towards artistic representation, forming the red clay that was present where she grew up into small animals. She persisted, despite the opposition she received from her father, eventually receiving a more formal instruction in sculpting once she reached high school.
Despite her innate talent and extensive training, Savage was initially rebuffed by the art community in the 1920s, who had no interest in allowing a black person to work alongside them. Fortunately, after moving to New York, Savage received a commission to create a series of busts and sculptures depicting prominent African-American figures, notably creating work that went beyond the stereotypes and racial fetishization typically seen in these depictions. This was a bold move, considering it defied the preferences of patrons at the time, pushing art and society at once towards a new future.
From there, Savage's life became a series of firsts, whether she was the first black artist or first woman in a particular role or position that was previously denied to either category of human. She truly blazed a trail for those that would follow, proving that African-American artists had plenty to contribute to the art scene, and that societal obstacles could indeed be overcome. Savage created working spaces for other black artists in which to hone their talents, evolving her instruction into a school, and ultimately empowering thousands of African-Americans to push beyond the confines put in place by those in charge.
Savage's legacy persists today in the paths she paved and the young people she influenced. She was a sculptor by nature, whether it was with clay or the minds of her students.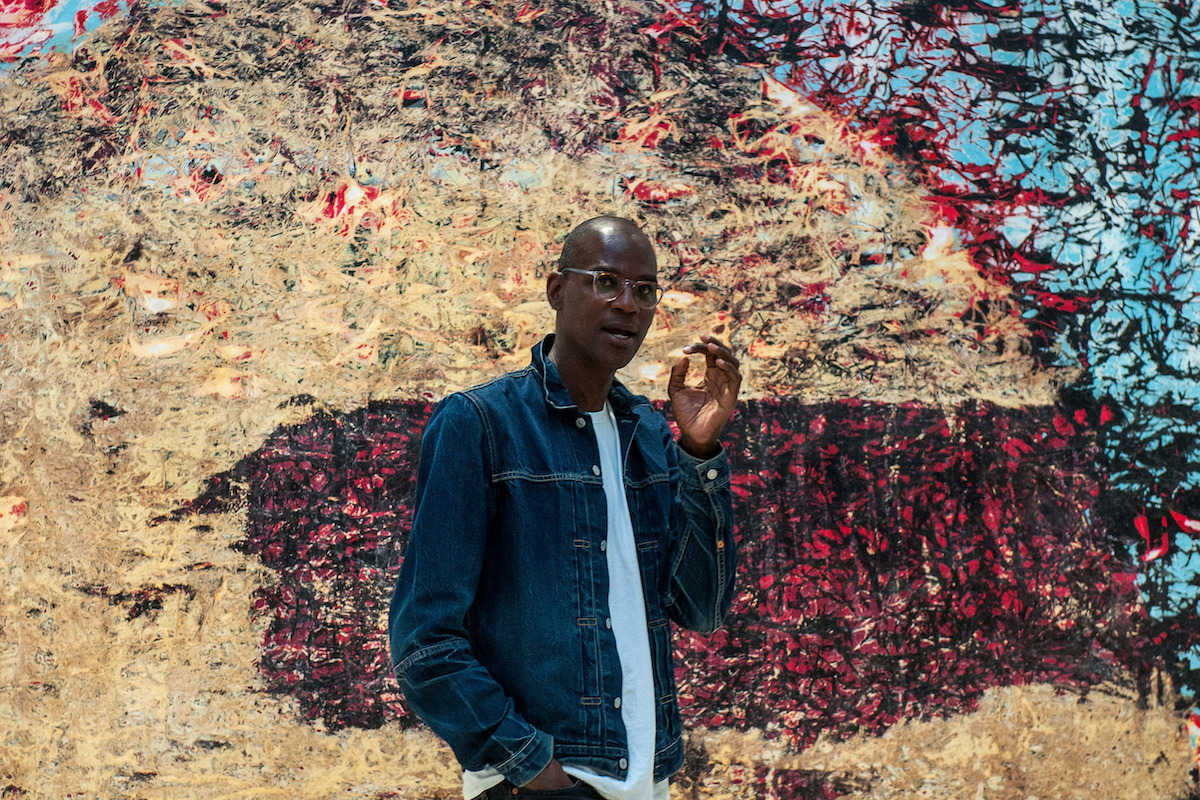 Mark Bradford Presents His Project At The USA Pavilion At The International Art Biennale 2017, Getty Images
Mark Bradford
Mark Bradford is a contemporary artist most widely known for his abstract, large-scale works using paper. His abstract works are highly detailed and often heavily layered, mixing collage with paint. The themes seen throughout his work explore the way long-held structures marginalize certain communities and certain people already in vulnerable positions.
Born in 1961, Bradford has stuck to his roots, remaining in Los Angeles, where he is originally from. The son of a hairdresser, Bradford originally worked in his mother's salon before attending CalArts for both his BFA and his MFA. His formal education came after his enlightening travels throughout Europe, where the art museums there made a particular impression on him.
Contained within Bradford's deeply detailed, complex artwork are displays of how poverty and racism lead to struggle. Even the materials he works with, which are typically the kinds of things anyone could get from their local hardware store, affirm his artistic language, which is often referred to as "social abstraction." Bradford layers paper of many varieties and many origins, cutting into them once they are glued on top of each other to reveal the almost geologic patterns inside.
His artwork is currently available to see at exhibitions around the world—he even has a new collection developed in 2020, resulting from the worldwide quarantine.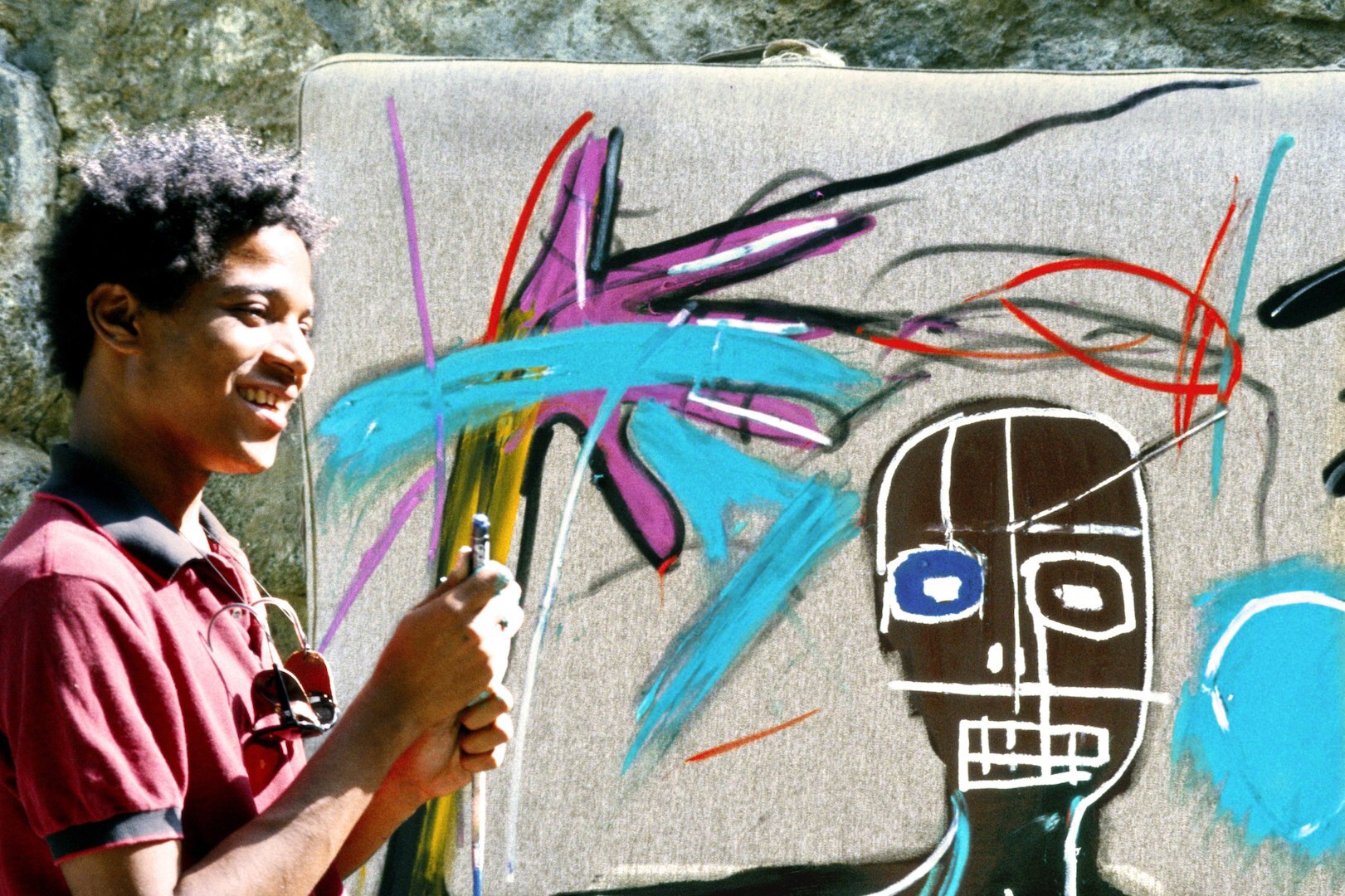 Jean-Michel Basquiat, 1983 in St. Moritz, Switzerland, Getty Images
Jean-Michel Basquiat
It wasn't so long ago when graffiti was solely considered vandalization, rather than the contemporary art form it appears as today. This can be credited in large part to Jean-Michel Basquiat, an African-American artist most prominent in the 1980s, who brought graffiti art to the attention of the gallery scene in New York.
Born in 1960, Basquiat came from Haitian and Puerto Rican roots, and started his career with coded, subversive street art for which he would eventually get credit. His love of art came from his mother, who often took him to the Brooklyn Museum of Art with her. He found his paintbrush in spray paint, his early canvases the buildings and subway cars of his city.
Although Basquiat's career was cut short—he died at age 27, the work he created was powerful and evocative, even after he moved on to painting and drawing in more traditional mediums. He brought together images and text, cultural references and his own imagination, in bursts of color and shape that took aim at the power structures denying the advancement of African-Americans, while still being heavily autobiographical and true to what he was personally experiencing.
Today his artwork, which challenges colonial thinking and class suppression, ranks among the most coveted at auction. In 2017 a piece of his sold for upwards of $110 million.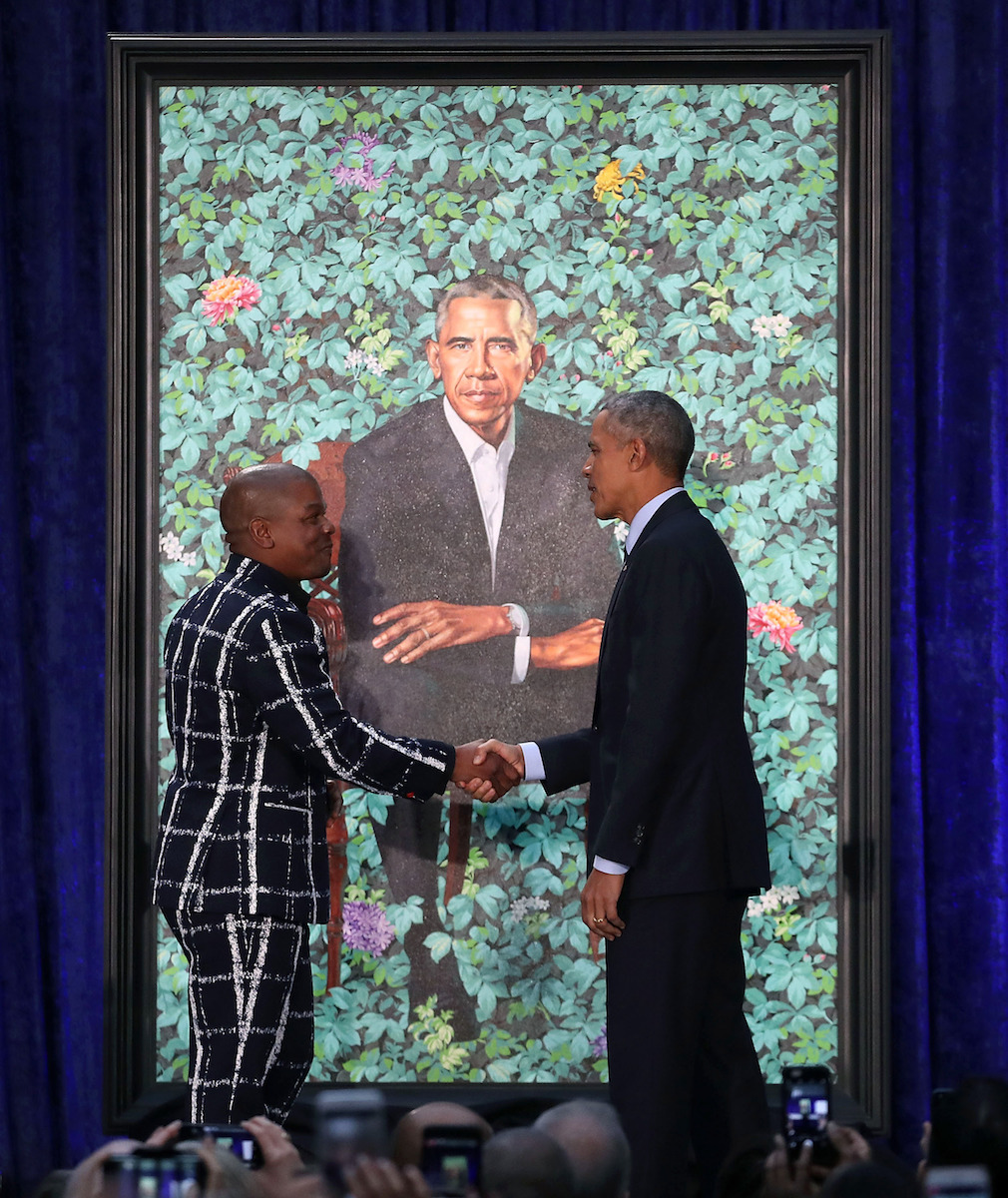 Kehinde Wiley shaking hands with President Barack Obama, Getty Images
Kehinde Wiley
Kehinde Wiley is a Los Angeles-born, New York-based African-American painter of portraits that blend his modern style with references to the Old Masters. His most famous portrait is that of President Obama, revealed in 2018 to great acclaim.
Like the official presidential portrait, Wiley's work is inspired by the black men and women he is depicting, in front of intricate, patterned backgrounds drawn from a variety of motifs, including hip hop and Islamic architectural styles. His mother initially helped him and his twin brother develop their passion for art, eventually leading him to get a BFA from the San Francisco Art Institute and an MFA from Yale.
Wiley's unique style is a blend of the traditional and contemporary, fusing styles to imbue power and heroism into the subjects of his paintings, which are typically black men, who are so often denied power and proud masculinity in other forms of media. By reimagining the black men he encounters throughout the United States in roles historically given only to white men, Wiley changes the conversation and asks viewers to question why they weren't depicted as such historically.
There is no doubt that Wiley's work has served to push the envelope on contemporary art: his presidential portrait was so influential in fact, that the Smithsonian's National Portrait Gallery saw an increase of visitors from 1.1 to 2.1 million people, after it was put on display.