Table of Contents:
What You Need to Know About These Vibrant Art Markers
Art markers are becoming more and more popular with hobby artists, illustrators, urban sketchers and graphic designers. Today's art markers are especially vibrant and come in every color imaginable! At Arteza, we believe we've developed the ultimate art marker with our EverBlend brand—just check out the Arteza reviews for them! So, if you've never tried creating art with them and want to know more about them, or you're trying to decide which ones are the best, you'll find answers to all your questions here.
The Facts About EverBlend Art Markers
What Is An Art Marker?
Art markers are pens that have a barrel filled with water-, solvent-, or alcohol-based ink. Their barrel is much larger than a normal pen and the ink is applied through a felt or nylon tip. 
Why Are Alcohol Markers Preferred by Artists?
Alcohol-based ink is permanent, unlike water-based ink. Water-based markers tend to leave lines or variations in color when they are blended, while EverBlend alcohol-based markers give you a smoother finish.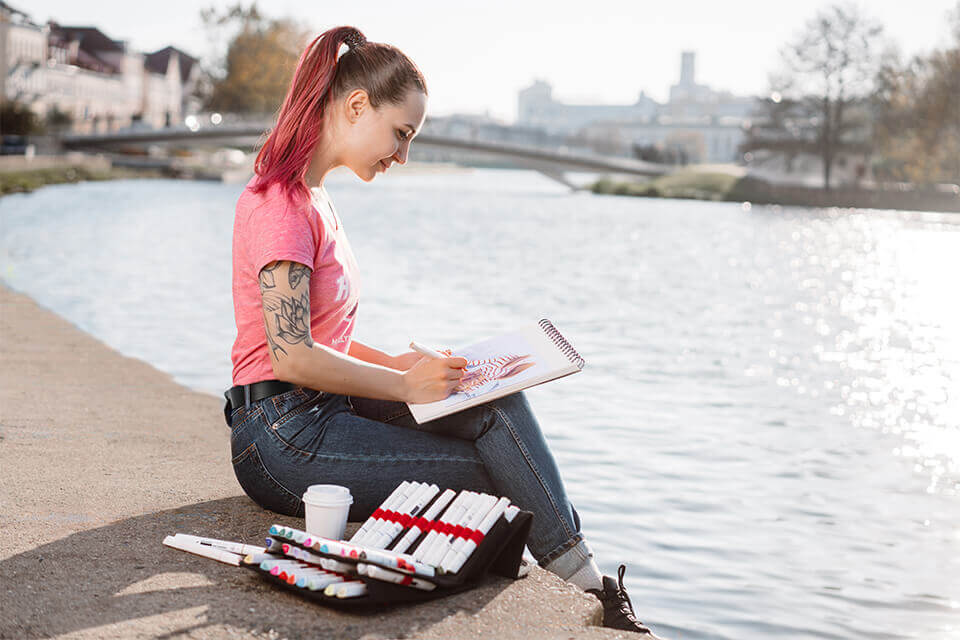 Do EverBlends Have an Odor?
Most alcohol-based markers have a slight odor. EverBlend's odor is minimal, unlike their solvent-based counterparts. 
What Kind of Tips Do EverBlends Have?
Arteza EverBlends have a different tip on either end. You can use the 0.11" fine tip for detailing and sketching, or flip the marker over and use the 0.24" chisel tip to fill in large areas. 
Are The Tips Replaceable?
Yes! No matter how often you use your marker or how much pressure you apply, you'll always have a tip. We offer sets that come with replaceable tips and a tweezer for your convenience. Once a tip is ready to be replaced, simply use the tweezers to slip the old tip out and insert a new one. It couldn't get any easier and will help you save on the cost of replacing markers that still have plenty of ink left.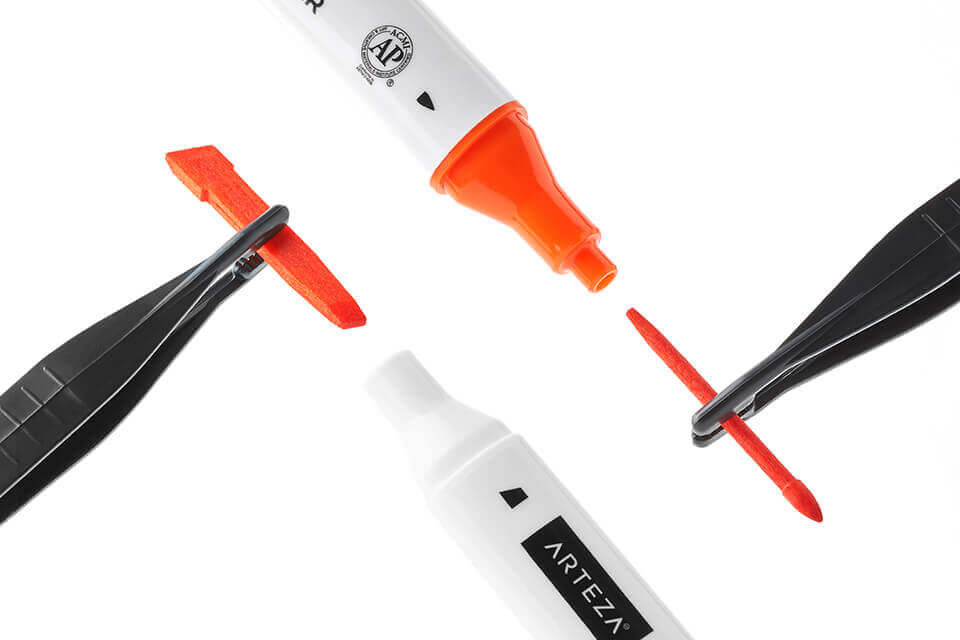 How Many Colors Do They Come In?
You'll be amazed at how many hues you can get in one of our EverBlend marker sets! You can choose from our ultimate set of 60 brilliant colors, special sets of 36 gray tones or skin tones, or purchase single colors in handy 4-packs. 
Is There a Blender Marker?
Yes! There's a blender marker that contains no pigment but is perfect when you want to make subtle gradients of one or more colors, mix two colors together or soften a hue. 
What's the Best Way to Store EverBlends?
We recommend storing EverBlend markers with their caps tightly in place and in the carrying case they come in. This will keep them from evaporating and they'll be ready to use when you are. 
How Many Markers Does the Carrying Case Hold?
The carrying case that comes with our set of 60 actually holds up to 72 markers. We also offer a larger case that has 144 slots! Not only is keeping your markers in a case a good way to keep them organized and protected, but it's also a great way to take them with you when you go on location for sketching and drawing!
Why Would Someone Need a Set of Markers in Only Gray Tones?
The most successful and realistic drawings contain a wide range of light and dark areas called values. Adding these subtle values to your drawings, such as in the form of shadows, will give your subject dimension and volume. A set with a variety of gray tones will help you practice making these important contrasts and give you a value scale to use as a reference in your artwork.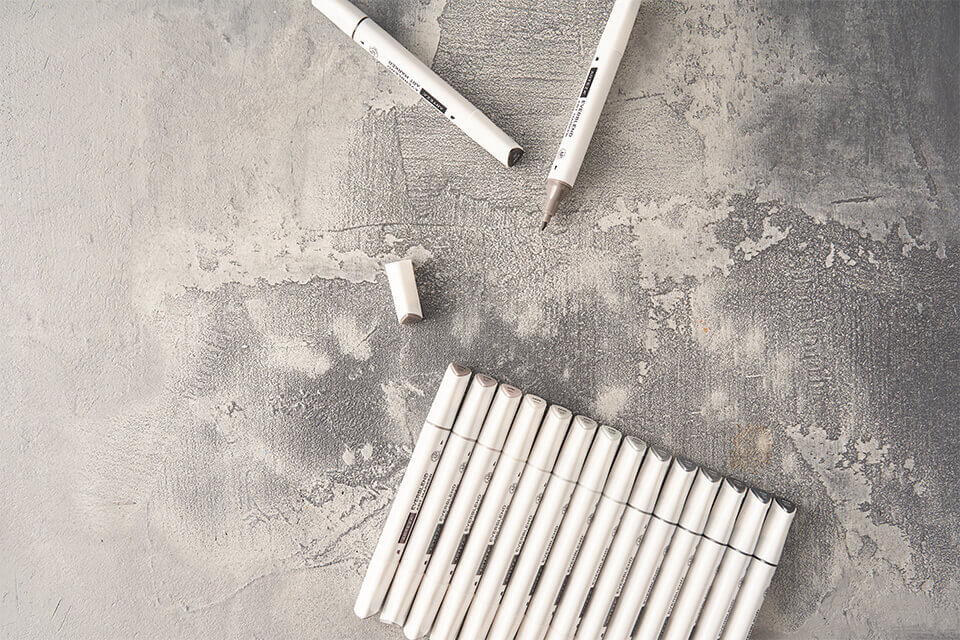 What's the Advantage of Having a Set of Skin Tones?
It can be difficult to mix the right shade of someone's skin, so we've made it easier by doing the mixing for you! Our skin tone set includes 36 shades to take out the guesswork and help you get the most realistic skin tones you can.
What's the Best Art Paper to Use with Arteza EverBlend Markers?
Markers work best on a heavyweight paper. We recommend using them on mixed-media paper. This allows the artist to use multiple layers of color or add pressure without the fear of the color bleeding through. It's also important to use acid-free paper to ensure colors stay vibrant and not yellow or fade with time.
What Other Surfaces Can You Use?
There are so many surfaces that are ideal for art markers! You can use these on any porous surface including paper, wood, cardboard, canvas and even rocks!
What Kind of Art Can Someone Create with These Markers?
The sky's the limit when it comes to the kind of artwork you can make with art markers! Their most popular uses include drawing Manga and graphic novel characters, illustrations of all kinds, highly detailed and colorful portraits, landscapes and still lifes, hand-lettering and calligraphy, as well as using with adult coloring pages and to create personal mandalas.  
How Lightfast are These?
Although we never tested the lightfastness of our EverBlend markers, there is a way you can test them for yourself. You can apply each color to a small piece of paper to create a swatch, then leave it under direct light and record how long it takes to lighten.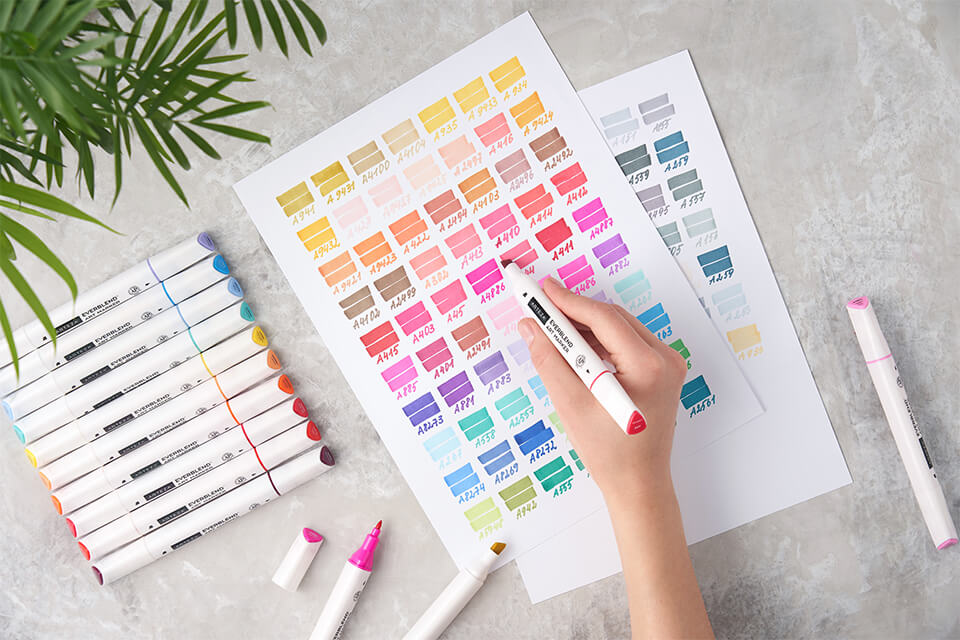 Are EverBlend Markers Safe & Nontoxic For Children?
EverBlend markers are perfectly safe for artists of all ages. In fact, they are AP certified nontoxic, so everyone in the family can use them!
Where Can Someone Find Tutorials on EverBlend Art Markers?
We offer blogs, how-tos and videos on our website about how to use these amazing markers! 
This guide will explain how to use them, if you're just getting started or want to expand your knowledge. 🌠
Whatever type of art you make, this tutorial will help you take it to the next level with these techniques for adding art markers to the mix.  🖍
Here you will find a simple guide by Arteza for a car drawing.🚙
And here is our realistic diamond drawing in Alcohol Art Markers. 💎

Now that you've got more info on what exactly EverBlend markers are, how to use them and why they're an art tool that belongs with your other art supplies, we hope you won't wait but will give them a try today! Still have questions? Please don't hesitate to ask us in the comments section below. We're always ready to help you make the most of your desire to create!
To find out about upcoming events, videos, new products, special discounts and more, subscribe to our newsletter!