Walking into an art museum can be all at once, an exhilarating and intimidating experience. Beyond the raw talent showcased, museums have a way of drawing us in, and bringing out our most visceral emotion, by displaying artworks using techniques designed to build upon the inherent message of each piece. Not only are we faced with the passion imbued into each work of art, we are also taken on a journey of these feelings thanks to art display ideas unique to each museum.
Displaying art takes an artistic talent all its own, which is why we sat down with María Elena Ortiz, Curator at Pérez Art Museum Miami (PAMM), to learn about how we can level up our own spaces using methods like those found at PAMM.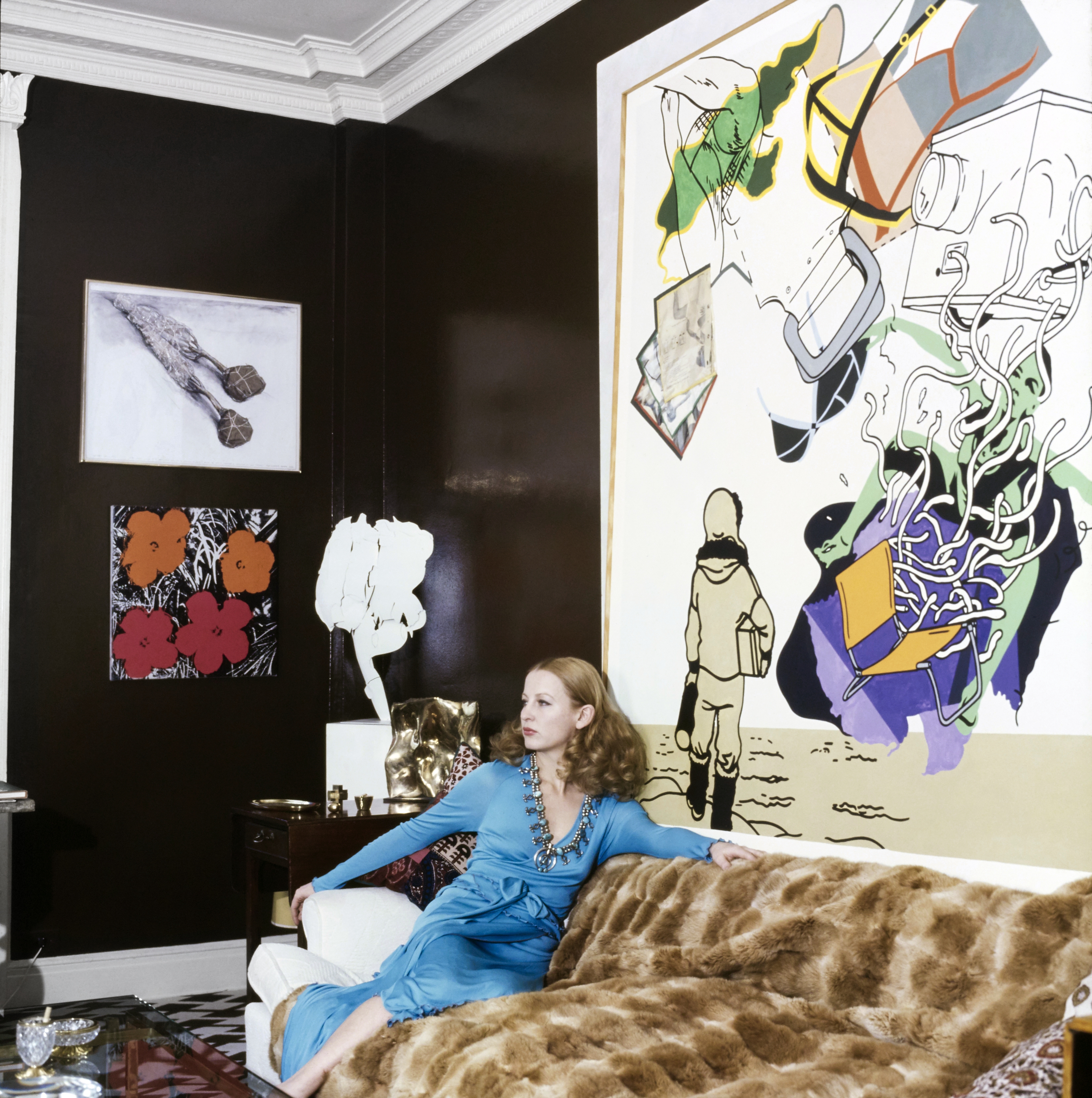 September 01, 1972 - Art collector Jeanette Bonnier in the library of her New York apartment where dark-chocolate walls frame a Talemark painting, left, and, on the far wall a Christo hangs over a Warhol silkscreen flower, Getty Images

And who better to learn from? PAMM is a Miami-based contemporary art museum exhibiting modern international art, showcasing the pivotal role Miami plays as a crossroads for a diverse number of communities. Since 1984 the museum has served as Miami-Dade's flagship home of contemporary art, presenting works reflecting the lives of artists from the U.S. Latino experience, the African diaspora, Latin America, and the Caribbean.
Let's find out how María Elena Ortiz brings PAMM's mission to life, and how all of us can bring that knowledge of art display ideas into our own spaces.
1. Go with what you LOVE
"You live with the art and you should surround yourself with artworks that resonate with you, your life, emotions, and beliefs," María Elena suggests. As tempting as it can be to emulate your artsy friend's living room or your favorite museum – and that's a perfectly fine source of inspiration – the art displayed in your home is about you and should reflect your true self.
2. Think beyond the walls
"Not all art objects need to go on the wall," advises María Elena. Floors, shelves, tabletops, even hanging from the ceiling – the possibilities are endless when it comes to where art can live. Not to mention, there are more forms of art than paintings. As María Elena says, "you can always incorporate sculpture into your home." Or if you want to permanently showcase a painting on a display easel, go for it!
3. In your house, consider the unexpected places
Besides looking beyond walls for art display ideas, María Elena also suggests considering other rooms and areas of the home that don't immediately jump out as potential places to showcase artwork. "We often think about the main room in the house, but also think outside the box. Bathrooms, staircases, hallways are great places for art, and also get a lot of traffic." Even though the main room or bedroom might be where you spend most of your time, it can be exciting to get a glimpse of an art piece on a more limited basis, or while in motion. These unique approaches can change the emotional response an artwork creates.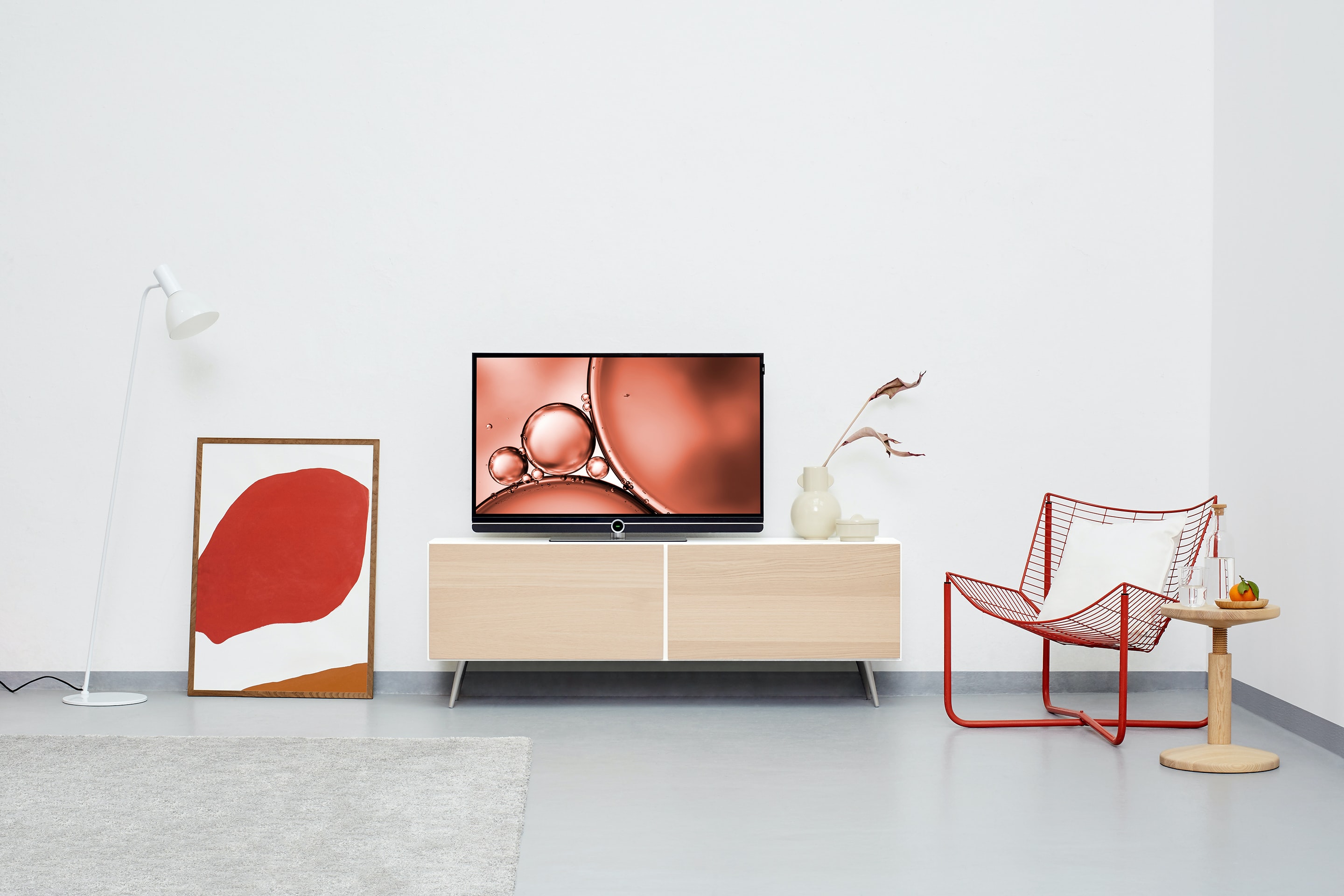 Loewe Technologies, Unsplash
4. Stick to one room at a time at a time
When surrounded by bare walls almost begging for pops of color or to be reimagined by the creativity of your favorite artists, it can be tempting to dive in headfirst in an attempt to finish the project. But like any work of art, displaying pieces can be a dynamic process that takes time to get right, or can change as you do it. "Don't feel the pressure to cover your home with art right away," María Elena suggests. Instead, she says to "start by focusing on one room at a time," and see how that feels before committing to everything at once.
5. Conversely, you can also focus on the art
Sometimes the motivation to display art in the home comes from the works themselves, rather than from purely an interior design standpoint. "If there is an art piece that you love, get thinking about where you can place it in your home," says María Elena. This way the artwork can guide the display process, rather than taking the approach of filling space for the sake of it.
6. Consider having a centerpiece
Surely you have experienced walking into an exhibition space in an art museum and immediately had your eyes unwittingly drawn to a piece on display. María Elena says this approach can be taken in your own home, too. "Try to consider what is the 'main' or 'anchor' art work in each room and continue from there." If there is one standout piece, perhaps something that made you an art fanatic in the first place, let it guide subsequent purchasing decisions and design choices, creating a natural flow in your space.
7. Remember, you have to live with it
Bringing art into your home is like inviting a friend over who will then permanently grace you with their presence. Point being, art needs love and care just like anything else. "Contemporary art is made of different materials at times vulnerable to light, temperature, and time. Art works can deteriorate so remember that you live with these works and take them with care." Whether that's buying UV-resistant glass for your frames or displaying pieces to avoid sunlight or wind, let nature help you determine where your art can go.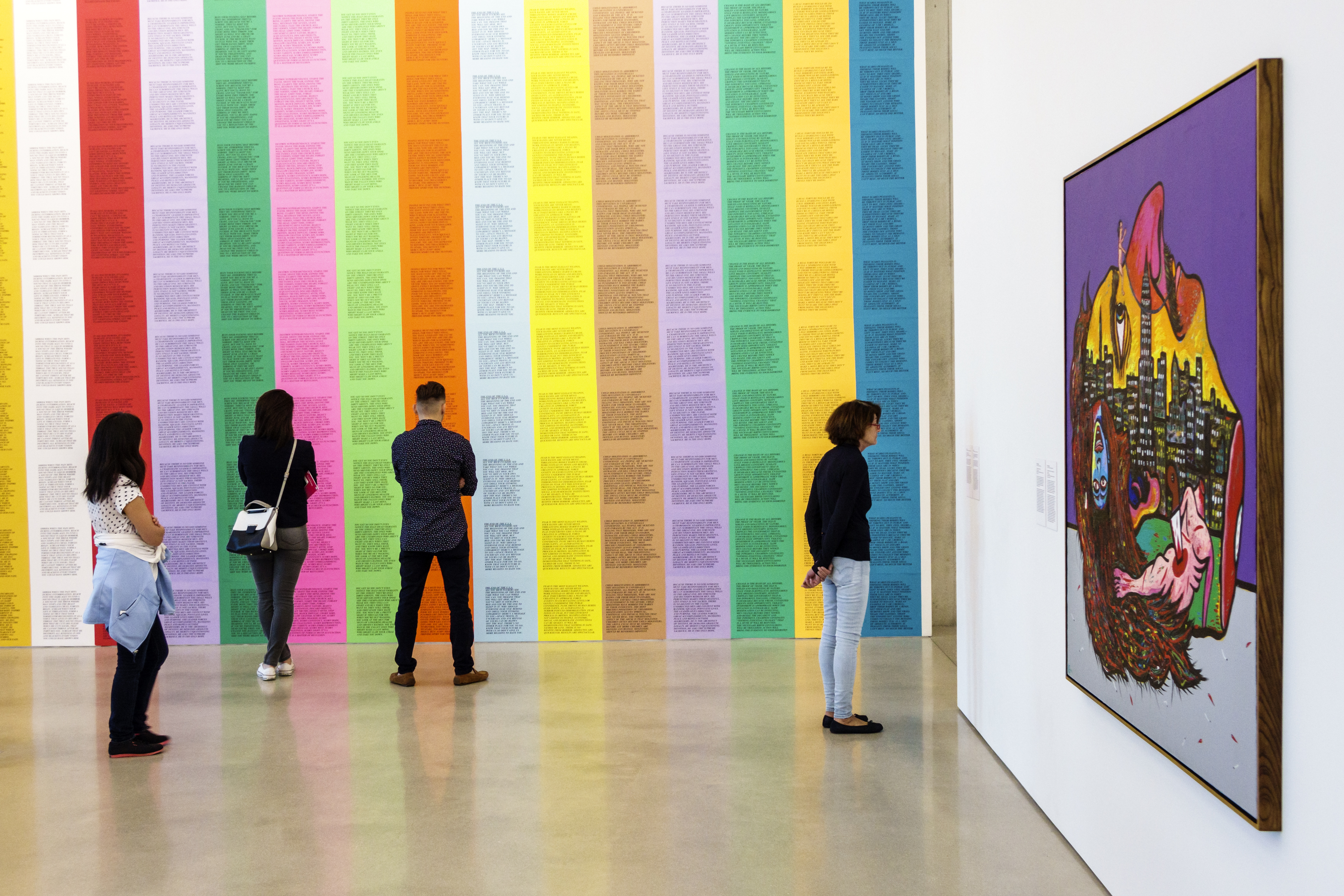 Inflammatory Essays inside the Perez Art Museum Miami, Getty Images
8. Do not forget sizing!
"Measure, measure, measure!" cautions María Elena. "It is important to consider the size of the art work in relation to the space you have available," because it would be disappointing to bring home something fantastic only to find that it won't fit in the space you have identified for it. Of course, this can inspire a new creative challenge, but if the artwork can't even fit through the door, you are going to have some problems. Beyond issues of fitting, taking time to measure also helps you ideate whether certain pieces will look good together, with nothing unintentionally overpowering anything else.
9. Don't be afraid to mix it up
"When placing art, don't be afraid of having a room that includes painting, sculpture, photography, video, etc," María Elena suggests. "Mixing mediums is also a great way to great ambience and sophistication." It can be easy to go with what we already know, but give other mediums the opportunity to make your home a unique sanctuary of artistic expression.
10. Keep looking at Art, Art Art!
Finally, María Elena reminds us not to discount the importance of museums. "The more time you spend in museums, galleries, artist's studios or any venue that gives you access to art, the more you will learn about the most exciting artists coming along, or important historical figures. Now with art in your home, consider yourself a collector and continue to refine your eye for art!"