Table of Contents:
Simple Doodles to Draw
During my high school days I realized doodling helps me stay focused during class. Although it got me in trouble on several occasions, I kind of let it become a habit and doodled even when studying at home. I'm not a student anymore, but traces of my doodles can still be found everywhere—on shopping lists, when successfully finishing sudoku or writing a message on a sticky note.
I usually doodle animals. With a simple step-by-step guide, I will show you how to draw a cute koala, elephant and giraffe.
You can doodle with literally any medium but I recommend using an ink pen. For this tutorial, I used an Arteza Inkonic Fineliner pen and an Arteza Sketchbook. If you want to play around a bit more, you can also add some color (I did that with Arteza Colored Pencils).
Keep in mind that doodling is all about having fun and not thinking too much!
List of Supplies:
Step-by-Step Guide to Drawing Small Doodles and Tips
Step 1. Draw the basic shape of a head
If you are not sure how an animal's head should look, take a look at some photos you can find online. A koala's head is a bit more square, giraffe heads are pretty long, and what makes elephant heads special are their trunks. When drawing a basic shape of a head, keep these special features in mind.
Tip: If you think drawing the shape of a head in one stroke is too hard, imagine simple shapes first—the koala's head as a square, the giraffe's head as a square with a smaller oval located under it and the elephant's head as a square with a little heart that's upside down (that will be the tip of its trunk). Draw the simple shapes lightly with a pencil or colored pencil first and then erase it before moving on to colors or details.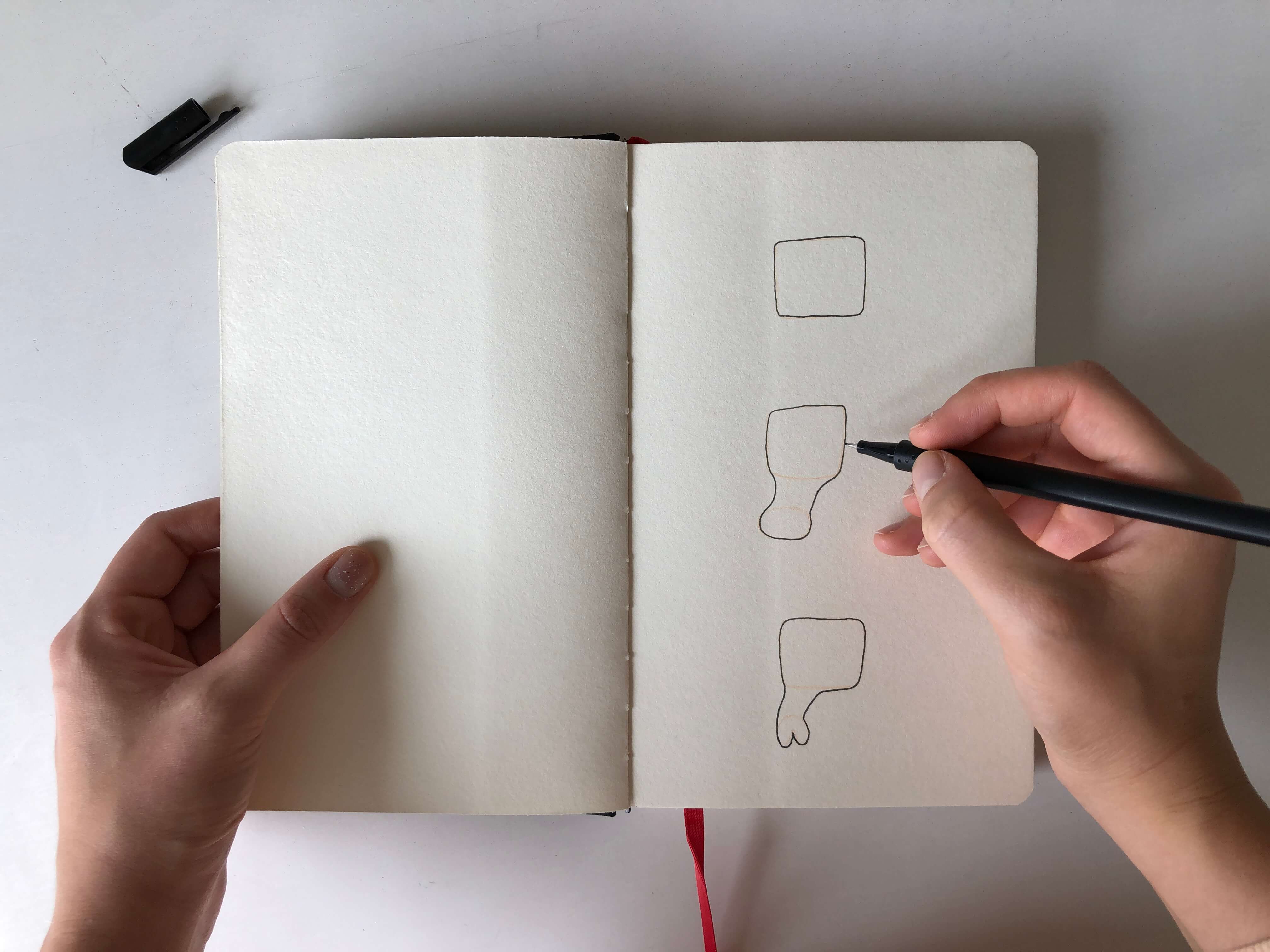 Step 2. Add more shapes and details
All animals have special ears (and some don't even have any!). Add two smaller squares on each side of the koala's head, two "leaves" for ears and two cones on top of the giraffe's head, and two big butterfly wings on both sides of the elephant's head.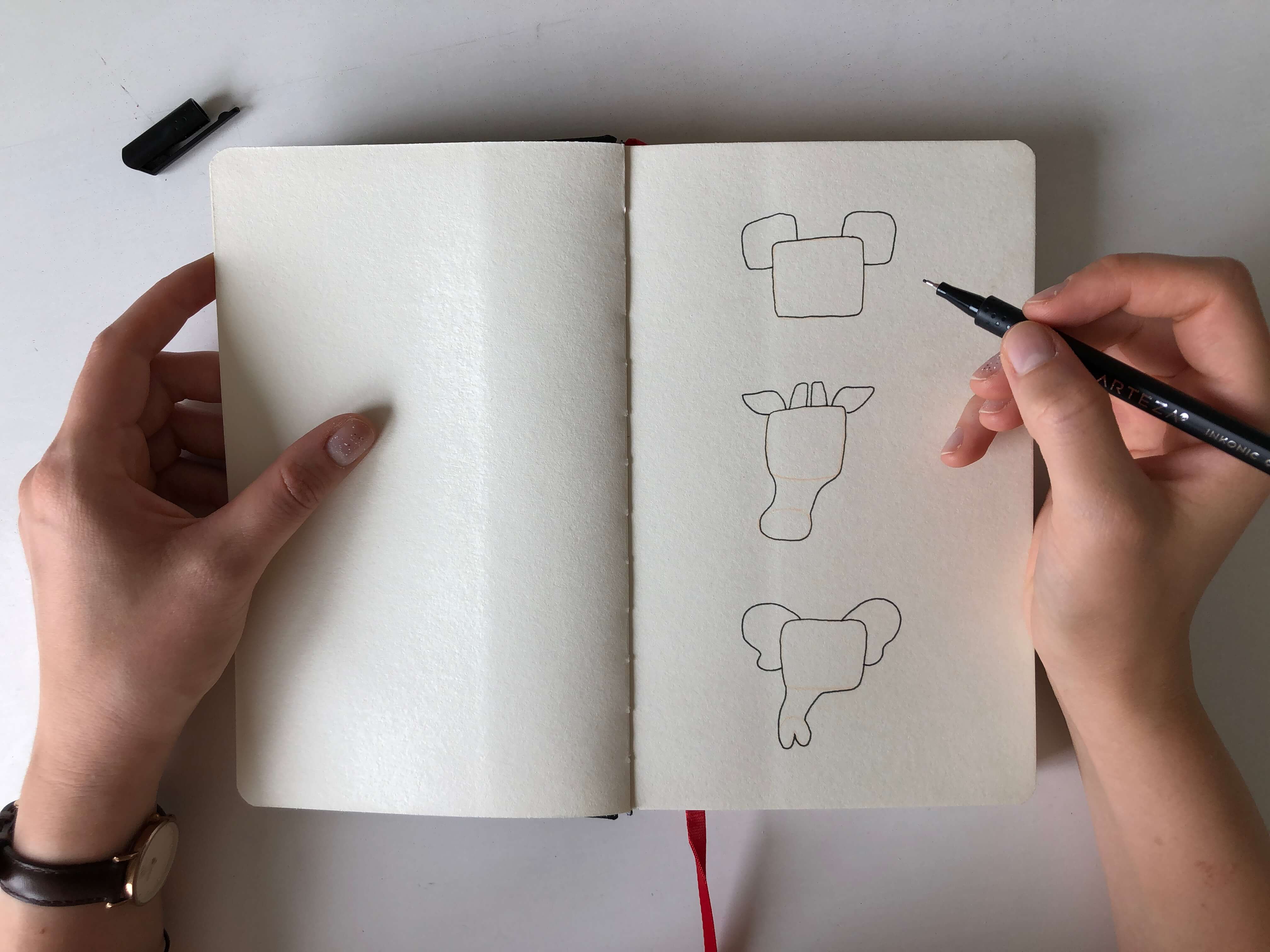 Step 3. Draw the face
I imagined that all my animals had their eyes closed. For their eyes, draw two U-shaped lines and add an extra one for the koala's mouth. Also, I drew some extra lines to give the ears more shape.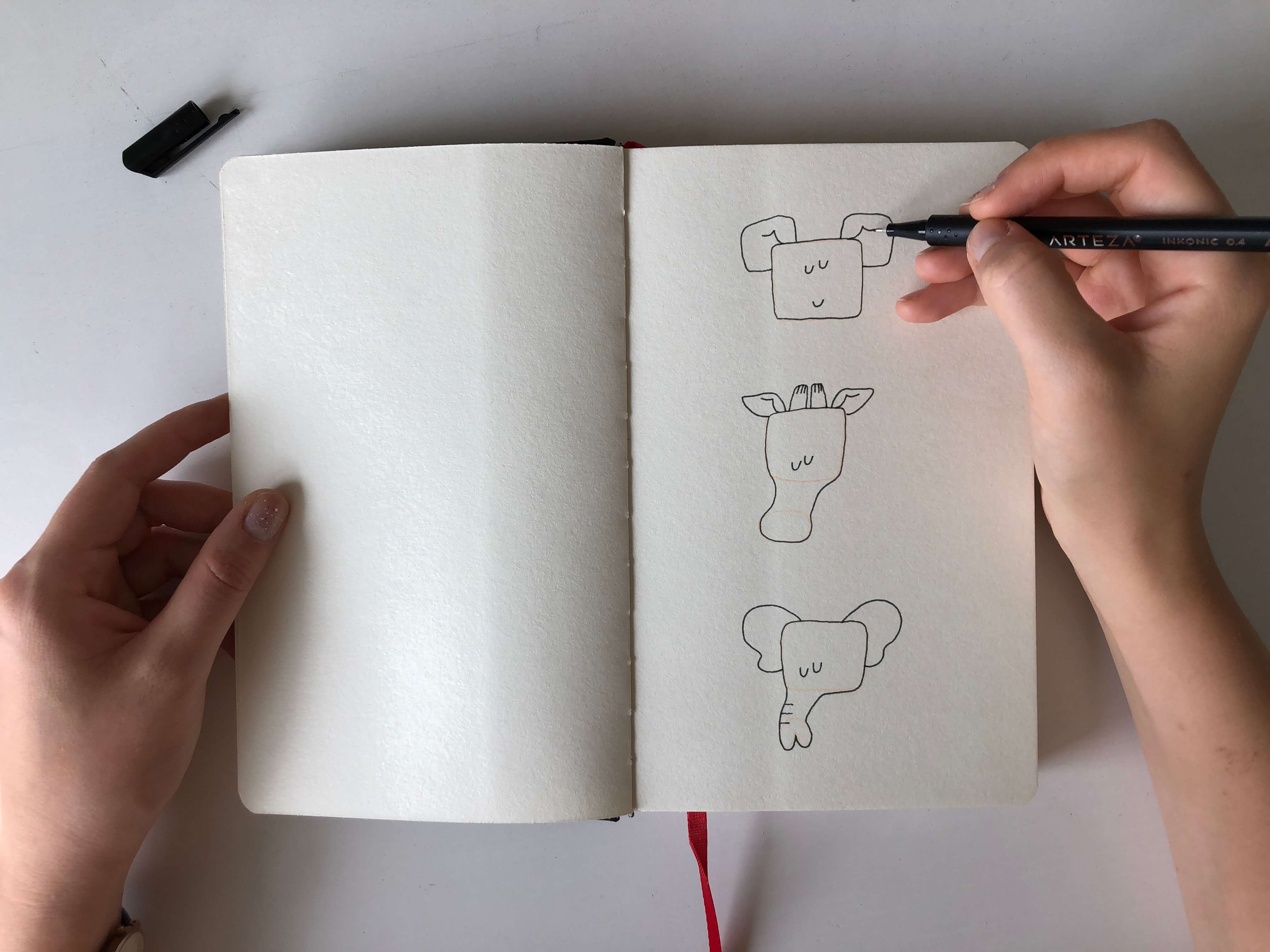 Step 4. Add more ink
The koala's nose is black, so draw an up-side-down heart and color it in. Add some patterns on the giraffe and freckles on the elephant.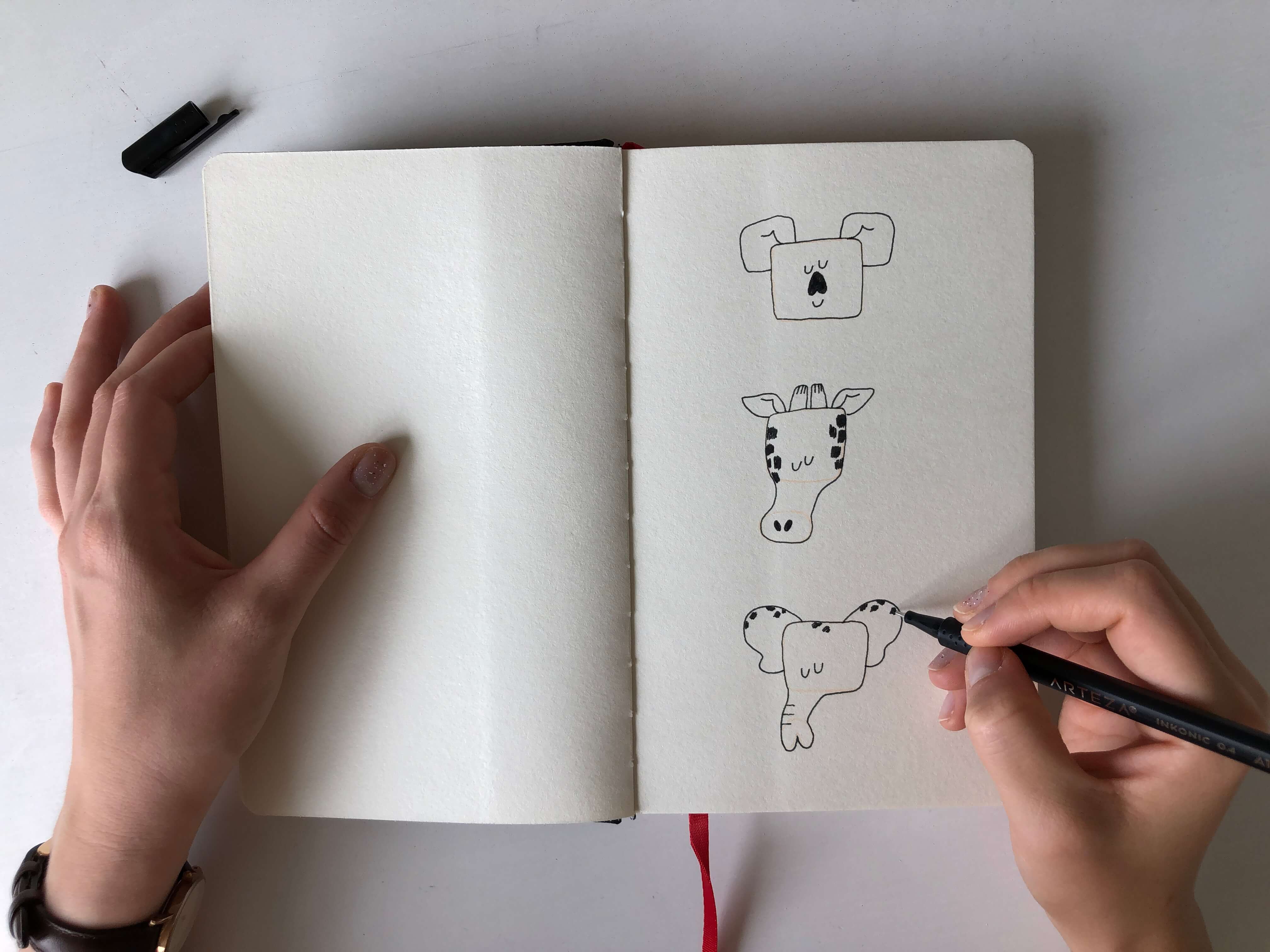 Step 5. Finishing touches - Play with some colorful Colored Pencils
I love Arteza Colored Pencils and I enjoy including them in my doodles. I chose to use pink to add some blushing cheeks and make the animals look cuter.
Tip: You can use any color of your choice. I like to fill in the background with random colors or add more details or shadows. Play around as much as you like!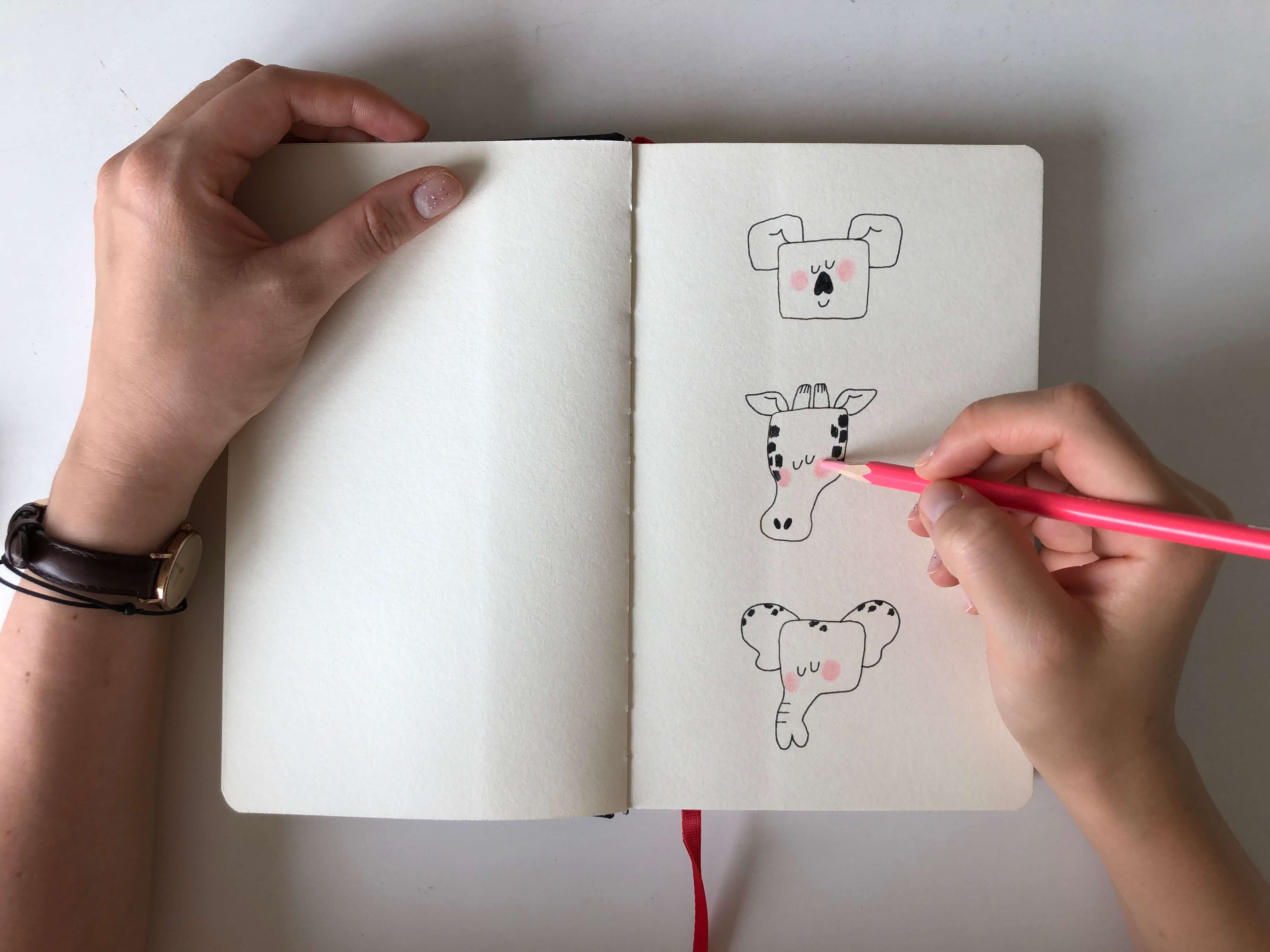 Recommendations:
Observe and find inspiration all around you. That way you will always have a head full of ideas for new doodles.
To gain more confidence in doodling, try drawing the same subject over and over again.
Change the basic shapes a little bit and you will see how easy it is to draw different animals as well!
I hope you enjoyed my tutorial and will try to draw a cute animal next time you catch yourself doodling. If you would like to see more of my art, you can find me on Instagram.