Have you ever imagined of one day sharing your art with the world? Our artist this month, Domingo Lozano did and it happened. Read how this passionate artist got started on a journey that lead to his work being shown in prestigious art galleries, what inspires him, and the advice he has for anyone chasing their dream.
- Hi, Domingo! Tell our readers about yourself.
My name is Domingo Lozano, I am 32 years old and I have been working in the world of art for approximately 14 years. I truly love making art and above all, it makes me happy to see others enjoy my art. This is the thing that makes me feel whole and pushes me to continue creating day by day, trying new things, innovating myself, and surprising everyone.
Today, I live in Córdoba, Spain, where I was born. My future plans are and will always be to continue creating, constructing dreams and castles in the air. My hands are a legacy and my thoughts are something I want to take to every corner of the planet, with the help of all those who need art to keep on believing that it is possible to have a better world.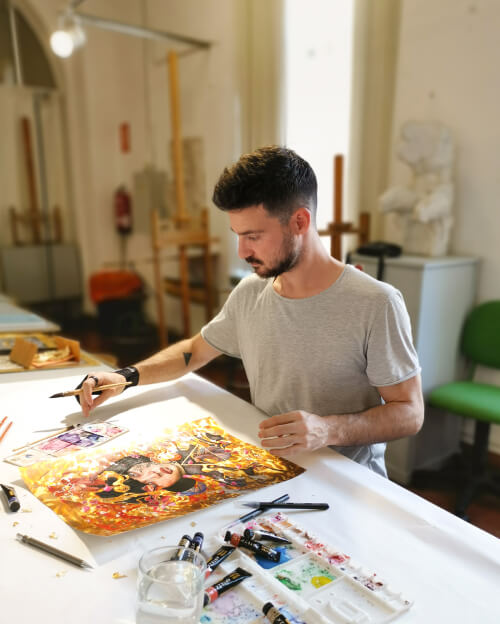 - When did you start drawing? Did you immediately feel that it was "yours" or was it a long route?
Since always I wanted to draw. For me, it was like an ocean of emotions that was pushing me to take a pencil in my hands. I started learning by myself when I was just a child and experimenting with all the tools I had at my disposal. My memories take me to an early age, around 9 years old, when I discovered the universe of possibilities that these tools can offer you. I have always had a clear idea about what I wanted to be since I was very young. I was always surrounded by the world of art and my education was focused on art, from the very beginning.
I graduated in graphic design and through my studies, I was fortunate enough to work with Nike, Adidas, Quicksilver, and Billabong. I have a lot of experience, mainly as an illustrator, more than as a graphic designer. Although graphic design has always been my job, the joy I feel when creating illustrations has been my biggest motivation. After my studies, I lived for a longer period of time in California, where I was able to grow as an artist exponentially. I had the opportunity to meet important people and great artists and exhibit my works in big galleries. Being recognized by the audience was a great motivation.
I cannot say that for me it was a long route; moreover, I think I am still on the same route I started in my childhood. I think it has been a continuous evolution and I think it is beautiful to remember sometimes, where you come from, where you grew up, and your origins—to know who you are. But if there is anything I can affirm without doubts, I can say that I have always been excited to create art. During my whole life and on a daily basis, one has to take the decision to be an artist and I have chosen it, always, and I will keep on choosing it, every day.
- Do you think a degree in art gives one an advantage in pursuing their artistic path?
I am in favor of the talent before anything, and I think the most important thing is to have something to say to the world. An artist will always be an artist, it runs in your blood and a degree won't make you better or worse, it will just give the world a certain vision of you. We have to fill our artistic path with faith and confidence, to truly believe that we are performing an honorable task. In my case, for example, nobody taught me to draw. I took the initiative to learn and I achieved my goals, basing my work on sacrifice, to which I added a skill that I have been nourishing since day one.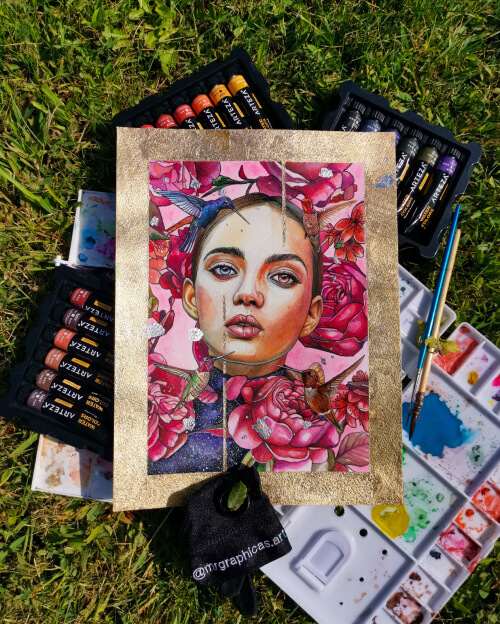 - For your artworks, do you use portraits of real people or is it a figment of your imagination?
For my works, I search for inspiration in real people and I take them as an anatomical reference to create new spaces and new artistic compositions. The imagination forms a part of this creative process. My works are characterized by being packed with messages and symbolism and it is in this resource where the artist's identity can be seen. We must assume that it is necessary to consider the image as a pragmatic element to create. Imagination is another tool in the range of elements we play with.
- What do you enjoy the most about mixed media art and what do you find particularly challenging?
To combine and fuse elements is something beautiful and at the same time complex, in my opinion. To make various inks co-exist in the same space is a challenge. The part I enjoy most is the decision making. To make a drawing with charcoal and have to create a mental image of how it will be and create it with initiative and patience. It is beautiful to learn and to keep growing.
- What inspires you and how do you overcome creative stagnation?
I am inspired by life, having a message to tell, a sunset, the seashore, the full moon and the stars, the beauty that emanates from the earth and nature. I think there are so many beautiful things out there that could inspire us that we will always have work to do.
I have to say that I rarely have creative stagnations; on the contrary, sometimes on the same day I get ideas about too many things and projects I want to realize, so I end up forgetting many of them. But I take notes in a notebook. I love having tasks to face daily.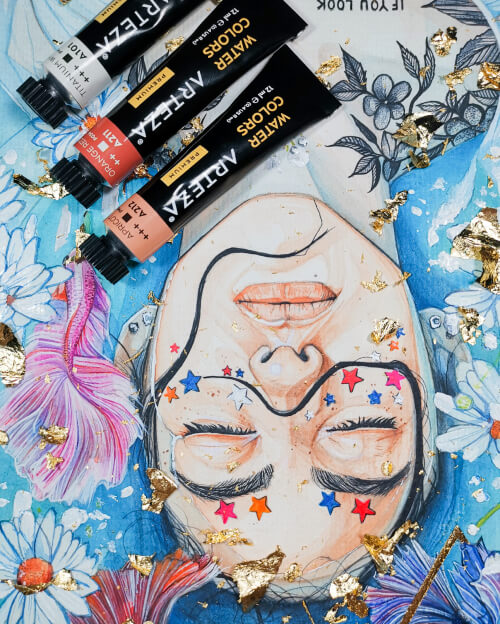 - Are there any tips or techniques that you can share with our readers?
Try to experiment with watercolors. It's a precious technique by which one can achieve a multitude of unimaginable effects. The digital world is getting closer and closer to us, so my suggestion is not to get too influenced by it. We are artists and our job is to bring our love to the world through touching and feeling, mixing, making mistakes, rectifying, and growing with every mistake. The technology makes our hearts cold. What would Michelangelo think if he saw us draw the Sistine chapel digitally?
- What advice can you give to beginner artists?
Throughout my career, I have known that patience is something important. We should not be anxious in the search for results. Set yourself daily goals to stay motivated and, above all, love what you do, enjoy each process and progress. I think that if we are not able to fall in love with our works, we will never be able to make others fall in love with them.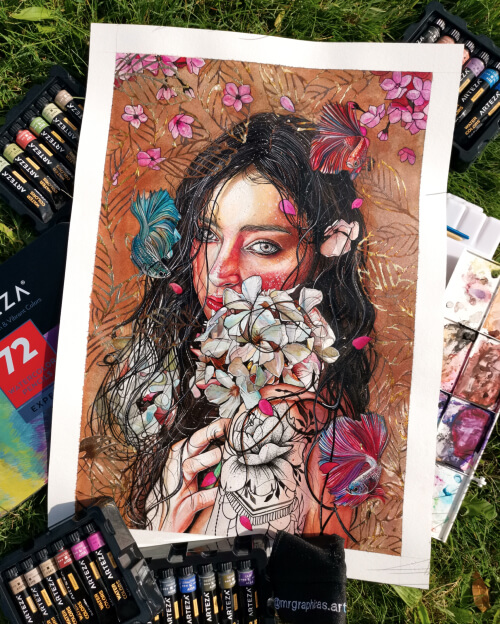 - What is your main media and why?
Watercolor is my ally to create works. I use it because I love the transparencies that can be produced. And, above all, because I find it relaxing, the way in which the paints mixes with the water. The light is undoubtedly another important factor, which in the context of watercolor transforms our way of perceiving art.
- Do you use a lot of Arteza products in your work?
The inks offered by Arteza are of a wonderful quality, I can't stress enough the luminosity of the pigments. I have to say that I am very happy with that differentiating factor that makes the inks very vibrant. I use their other very good products such as fineliners, acrylics, markers, gouache, among others, and of course, the watercolors.
- What's your top Arteza product and why?
Arteza has a lot of incredibly powerful products, but for me, the best is the pack of 60 watercolor colors. Wonderful!
Other posts you may enjoy: