Some of the most valuable tools an artist can use are journals and sketchbooks. These practical little books are great places to quickly capture a scene for later work, doodle ideas, practice new techniques, and even write down thoughts and notes. Keeping a sketchbook and/or a journal you regularly use is also an important way to improve your artistic abilities. That's why, at Arteza, we offer books in different sizes, shapes, and paper weights, so you can always have one with you in your backpack, art bag, desk, car, or studio. That way you'll never miss the opportunity to create when inspiration hits.
5 Books to Use When Inspiration Strikes
1. Pocket Notebooks, 40 Sheets, 5 x 8"- Set of 5
Journal wherever and whenever you feel inspired to write, draw or doodle with these pocket notebooks. They are 5" x 8", the ideal size for traveling or commuting students, artists, and writers. This set also includes ruler-stencil sheets and stickers for transforming the pages. Each notebook features 40 sheets of dual-sided paper that are ideal for pens, pencils, crayons, markers, and highlighters. 

Pocket Notebooks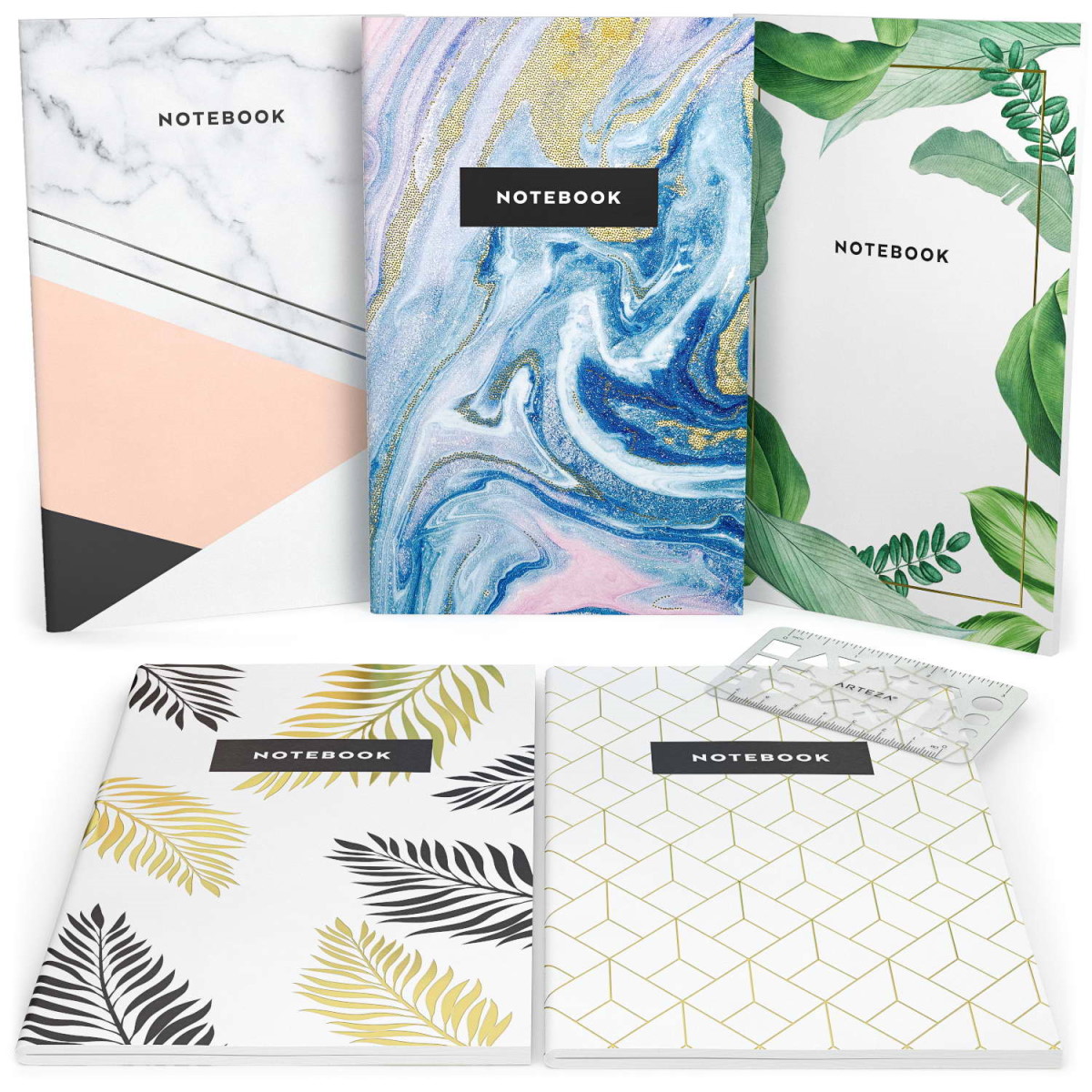 We suggest using Arteza glitter and gel pens to add bold color to your drawings and notes. Our Metallic Gel Ink Pens - Set of 14 includes gel pens in shining metallic colors in red, pink, bronze, mint, green, blue, cobalt blue, purple, lavender, gold, copper, black, and gray tones. 

2. Sketchbook, 5.1" x 8.3", 132 Pages - Pack of 3
Bring your creative ideas to life with a pack of 3 durable, heavyweight A5 sketchbooks. You get 132 blank pages for creating, all protected in a strong faux leather hardcover. Each sheet is 118lb making it capable of enduring both wet and dry media without buckling, warping, or tearing. Acid-free paper means your work won't fade or yellow over time. 
Sketchbook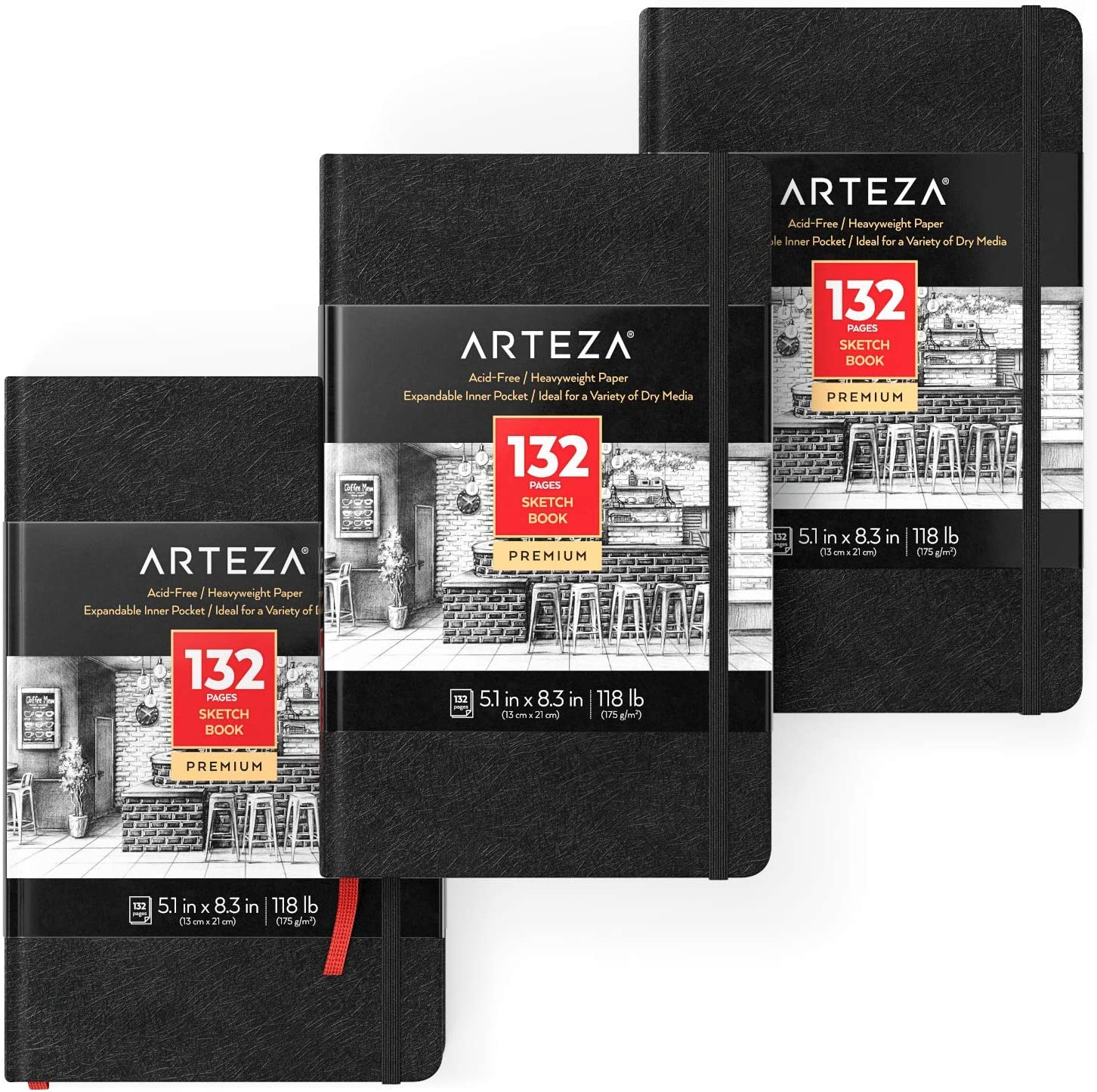 Work in this sketchbook with these Charcoal Pencils, 3 Black & 1 White - Pack of 4 and you'll create interesting sketches, drawings, and illustrations. This pack of 4 features 1 medium white charcoal pencil, and 3 black charcoal pencils in soft, medium and hard. They're great for light sketches and value studies.
3. Spiral-Bound Scrapbook, Black Cover, 8.5" x 11", 40 Sheets - Pack of 2
This pack comes with two 8.5" x 11" premium scrapbooks that contain 40 sheets of black paper ready to be customized. The heavyweight 90lb pages are strong enough to withstand layering and wet media techniques making them great for vision boards, collage, drawing, painting, and coloring
Spiral-Bound Scrapbook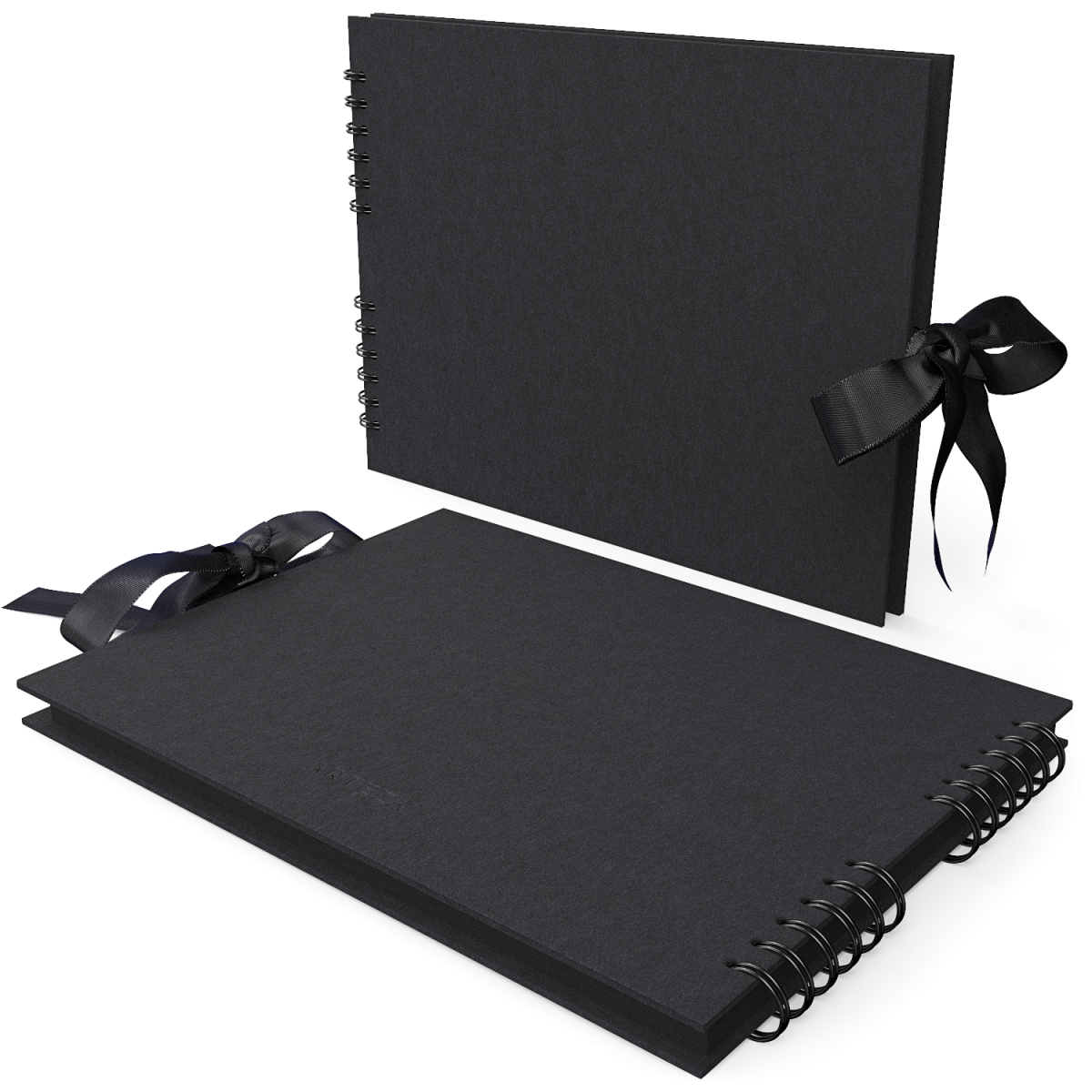 Really make your artwork stand out by using these White Gel Pens - Set of 12. These opaque, quick-drying pens remain white on dark surfaces and on various other media. Make a complete drawing with them or use to add the finishing touches to your piece. Each set comes with 3 0.6 mm pens, 5 0.8 mm pens, and 4 1.0 mm pens.
4. Hardcover Watercolor Book, 5.5" x 3.5", 80 Pages
Arteza's Hardcover Watercolor Book is the perfect addition to any painter's collection. This book is 5.5" x 3.5", making it the ideal travel companion. It features a durable hardcover that protects pages and provides you with a hard surface to create on, thanks to its lay-flat design. Each page of premium paper is perfectly textured to hold your wet media with confidence. The unique size of 5.5" x 3.5" makes this premium watercolor book able to fit in almost any purse, bag, backpack, and some pockets. The cold-pressed paper in this hardcover watercolor book can withstand several washes without damage to your work, making it ideal for watercolor techniques and mixed media creations. Paint a landscape and include a doodle or a quote. Turn this watercolor book into a personal journal as well.
Hardcover Watercolor Book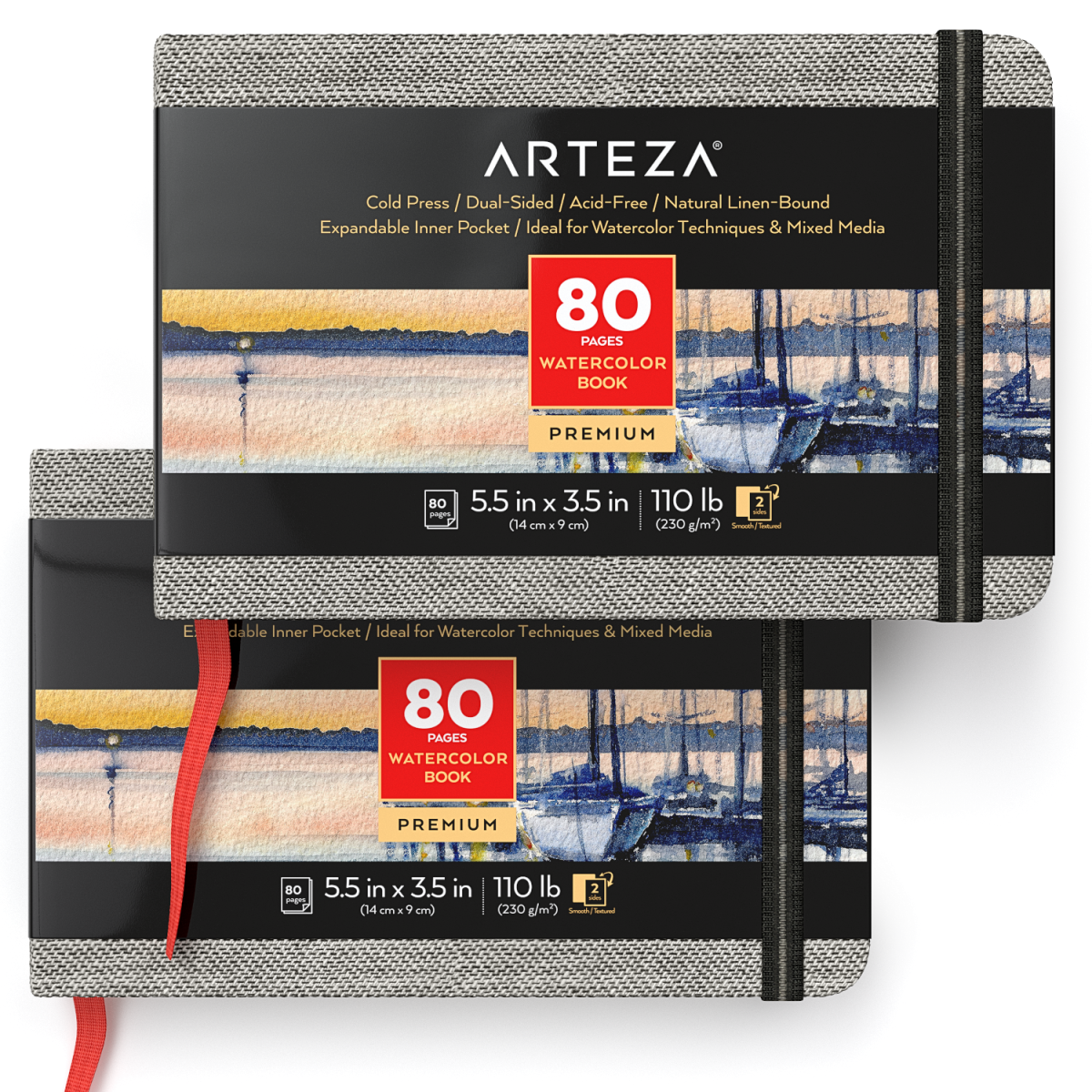 We suggest you use our Inkonic Fineliner Pens, Black - Pack of 12 for creating your initial drawings and painting studies in this book. Create precise, 0.4 mm lines with these pens that have quick-drying ink that allows you to draw in black ink that won't bleed or smudge.
5. Hardbound Sketchbook, 8.5" x 11", 110 Sheets - Pack of 2
You'll have plenty of room to create in the heavyweight 8.5" x 11" hardbound sketchbooks in this pack of 2. Each book contains 110 blank sheets perfect for a variety of dry media like drawing pencils, pastels, charcoal, gel ink pens, colored pencils, and more. Easily erase, revise, and layer your media on the fine-tooth 68lb sheets. There's no need to worry about your designs fading over time, as the pages are acid-free. The faux-leather hardcover helps to protect your pages so that your sketchbook can remain intact while you create on the go.
Hardbound Sketchbook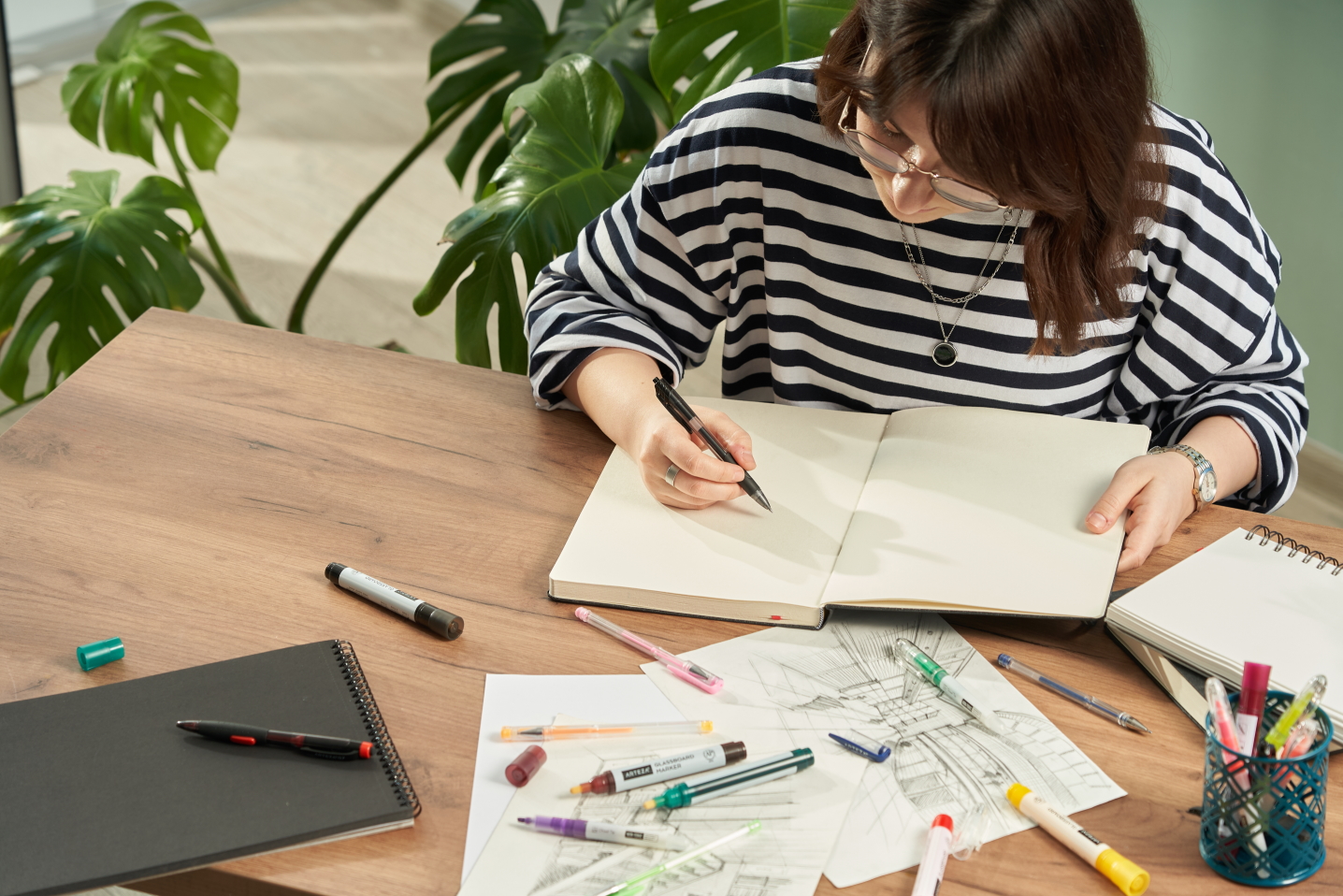 You'll feel like a true artist when you use this Professional Drawing Set - 33 Pieces, that includes 18 drawing pencils, 3 charcoal pencils, 1 white charcoal pencil, 2 woodless pencils, 1 black Inkonic Fineliner Pen, 3 paper blenders, 1 metal sharpener, 3 erasers, and 1 hobby knife.
Isn't it time you book some time to draw, sketch or paint? If you have one of these 5 books on hand, you'll always be ready! Let us know about your art practice by leaving a comment in the section below, and make sure to check out our other suggested products below.