Happy birthday Marc Chagall! This 20th century art legend was one of those rare artists that didn't adhere to a single style or movement, but incorporated elements of multiple ones into his own unique blend. Chagall explored such profoundly abstract modernist styles as cubism, fauvism, suprematism, and surrealism, but he never shifted all the way to non-representational art, choosing to keep recognizable figurative and narrative elements. 

The artist was born in 1887 with the birth name Moishe Shagal as the oldest of nine children in the city of Vitebsk, Belarus, which was part of the Russian Empire at the time. Unfortunately, Chagall was born in an area of the world that was hostile to his family's Hasidic Jewish faith. 

The genesis of Marc Chagall art came with his interest in drawing and copying pictures from books as a student at a Jewish-only religious school. Chagall soon decided to make art his career, and despite his parent's disapproval, he began his artistic education. 

Eventually, Chagall traveled to St. Petersburg, Russia to study under artist and set designer Leon Bakst. His new teacher was a devoted Jew, and inspired Chagall to include unmistakably Jewish elements in his works.

Chagall moved to France in 1910, changing his name to the more French-sounding "Marc Chagall," and became a luminary within the School of Paris, a blanket name for the incredibly creative modern art happening in the city during the first half of the 20th century. This loose collection of artists included thousands of painters and sculptors from other countries.

Chagall dove right into the modern and avant-garde styles, attending an art academy, even though he couldn't speak French. 

The Marc Chagall painting "I and the Village" (1911), an oil on canvas, shows how Chagall synthesized styles in one work. The structure is cubist, the exaggerated colors are fauvist, and the dream-tinged elements foreshadow surrealism.

"I and the Village" is a kind of fairy tale tribute to Marc Chagall's place of birth, a subject he would revisit many times. Elements of Belarusian and Yiddish folktales and culture can be discerned in the work. Color, size, and even the force of gravity departs from reality here. There are a series of overlapping elements, in the foreground, a man with a green face, who his holding a glowing tree, and wearing a St. Andrew's cross, gazes at what could be a goat, sheep, or cow. The animal is dreaming of the other composition elements, the milkmaid at work on its cheek, along with the upright, scythe-wielding man, and upside-down female violinist in the background. This piece of Marc Chagall art is light-hearted, which is different from the uber-serious cubist creations produced by Picasso and Matisse.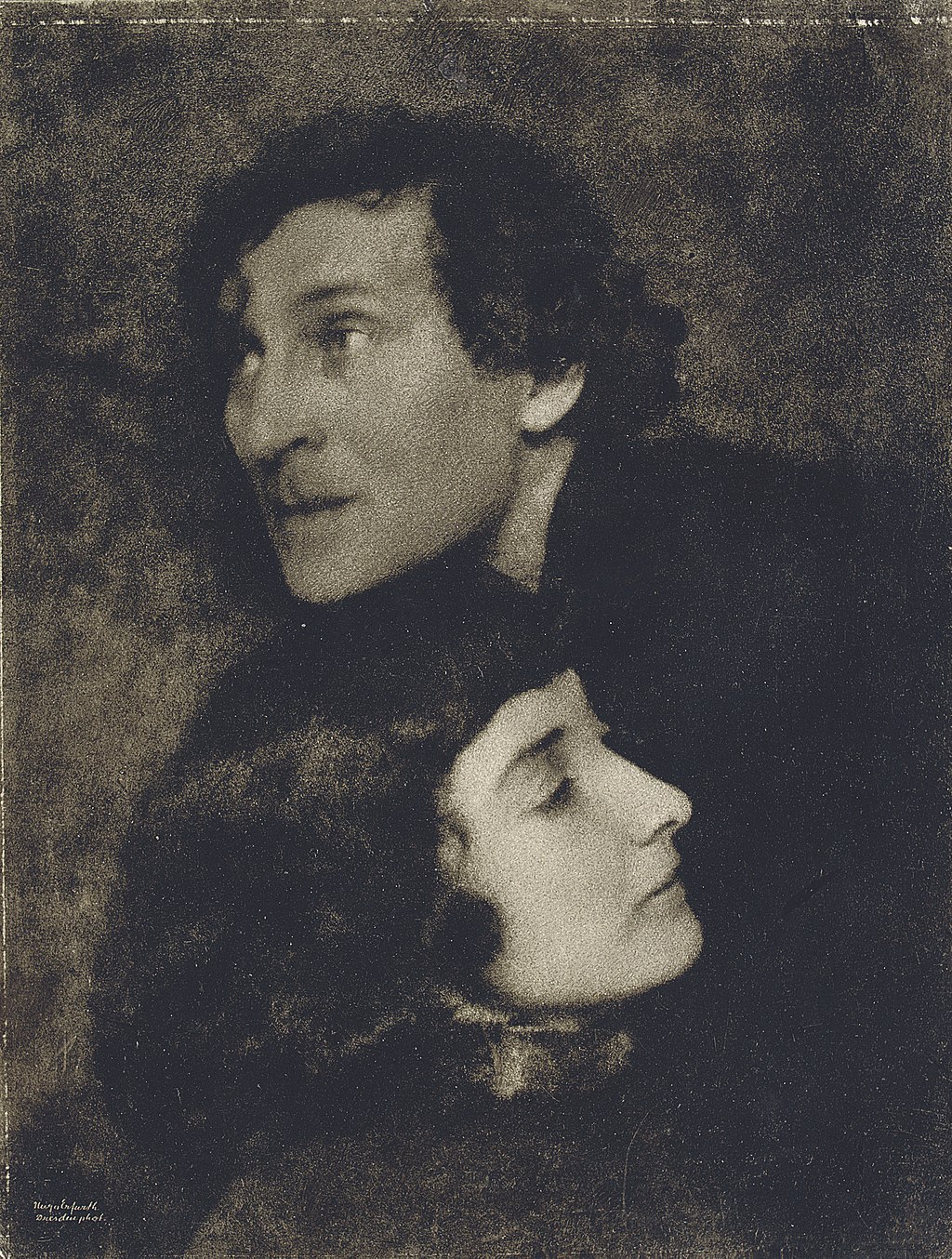 Photo of Marc and Bella Chagall by Hugo Erfurth, 1923, 
credit Wikimedia Commons

Love was central in Marc Chagall's work, with the artist seeing it as his "primary color." A big modernist trend at the time was to depict things that existed, but were intangible and not in the outer world. Marc Chagall did this with love. The biggest source of love in his life was his first wife Bella Rosenfeld. They met in Chagall's hometown in 1909, and got married in 1915. Their marriage went against her parent's wishes, as Rosenfeld's family was wealthy, and Chagall's was poor. She would make frequent appearances in his art, including 1915's "The Birthday," an oil on cardboard, which commemorating her being with him on his 28th birthday. In this dreamlike expression of affection, Chagall floats above Bella, with his upper body curved unnaturally around to reach her lips for a kiss. Rosenfeld bobs in the air as well, holding a bouquet of flowers. Levitating lovers would appear on more than one Chagall canvas.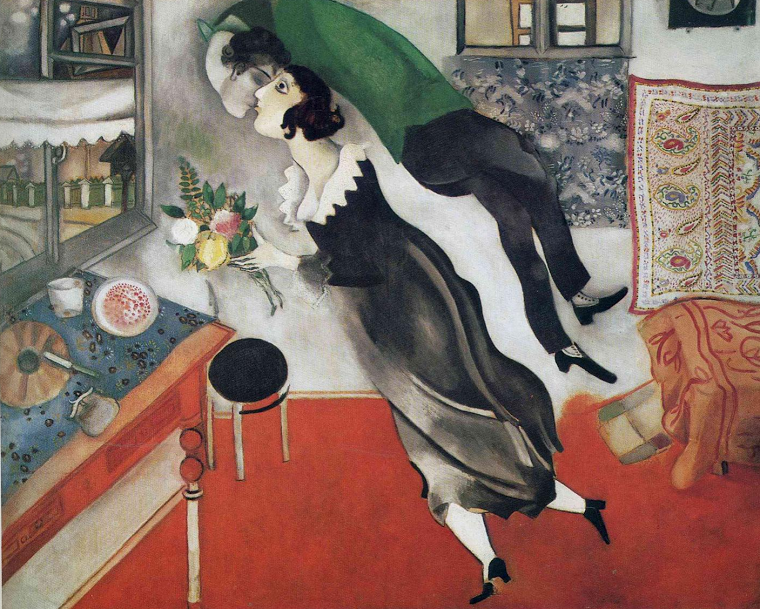 "The Birthday," by Marc Chagall, 1915,
credit Wikimedia Commons

Despite the positives in Marc Chagall's life at the time, including his increased success as a visual artist and the birth of his daughter Ida, he was caught up in World War I, which erupted in 1914. Chagall and Rosenfeld had left Paris beforehand, but going back would be impossible, and they remained in Russia. Then Russia's Bolshevik Revolution of 1917 occurred. Within this new political atmosphere, Chagall managed to become Commissar of Arts for Vitebsk, a political post that enabled him to open People's Art School in 1918. Interpersonal conflicts resulted in the school closing soon after, and with all the chaos swirling around him, Chagall became unmotivated in his art practice. 

By 1923, Chagall and Rosenfeld had sufficient funds to bankroll a return to Paris. At this point Chagall was gaining more and more respectability in the modern art world, a reputation that allowed him to travel around Europe and the Mediterranean. Marc Chagall saw himself as the archetype of the "Wandering Jew" as he engaged in all this travel.   

Religious themes would soon become one of Marc Chagall's prime focuses, and he would become incredibly prolific when depicting scenes from both the Old and New Testament. Regarding mediums, he did oils and gouaches, as well as around 100 etchings of Biblical scenes. 

"Green Violinist" (1923-24), was heavily influenced by Judaism. The spirit of the oil on canvas was Chagall's nostalgia for the rural Vitebsk of his childhood. The titular figure, who may be a stand-in for the Biblical prophet Elijah, appeared on more than one of Marc Chagall paintings, and embodied the Hasidic Jewish belief that music and dance was a way to commune with God. His place on the rooftops at the bottom of the canvas which morph into his pant-legs signifies the violinist's colorfulness and his place as a key member of the community. And if a violinist playing on a rooftop sounds familiar, it's because this Chagall motif inspired the 1964 musical "Fiddler on the Roof."

The "White Crucifixion" (1938) oil on canvas is one of the Marc Chagall paintings that depicts Christ as a Jewish martyr, and alludes to Nazi persecution as the world hurled toward WWII.
By the time Chagall created this work, anti-Semitism was rampant in Europe, and the Holocaust was right around the corner. The artist saw the suffering of Jesus as a parallel to the suffering of Jews at this time. 

At the center of the composition is a crucified Christ, altered to reflect the Son of God's Jewish self. His loincloth is replaced by a prayer shawl and the crown of thorns is replaced by a headcloth. Instead of mourning angels, there are mourning individuals in traditional Jewish dress. Christ is surrounded by images of the Jewish pogroms—a burned and looted village, and a synagogue aflame. All over the painting are Jews lamenting and fleeing in terror. "White Crucifixion" is seen as an equal to Picasso's monumental "Guernica" as an anti-war and anti-hate statement. 

Marc Chagall lived in Nazi-occupied France at the beginning of the war, and rumor has it that head Nazi propagandist Joseph Goebbels himself directed Chagall's paintings to be burned. 

In 1941, his daughter Ida, and Museum of Modern Art director Alfred H. Barr, Jr., managed to get Chagall's name added to a list of artists in danger that required asylum, which enabled Chagall and Rosenfeld to make it to New York City. Ida also played a big part in rescuing Chagall's paintings from the Nazis.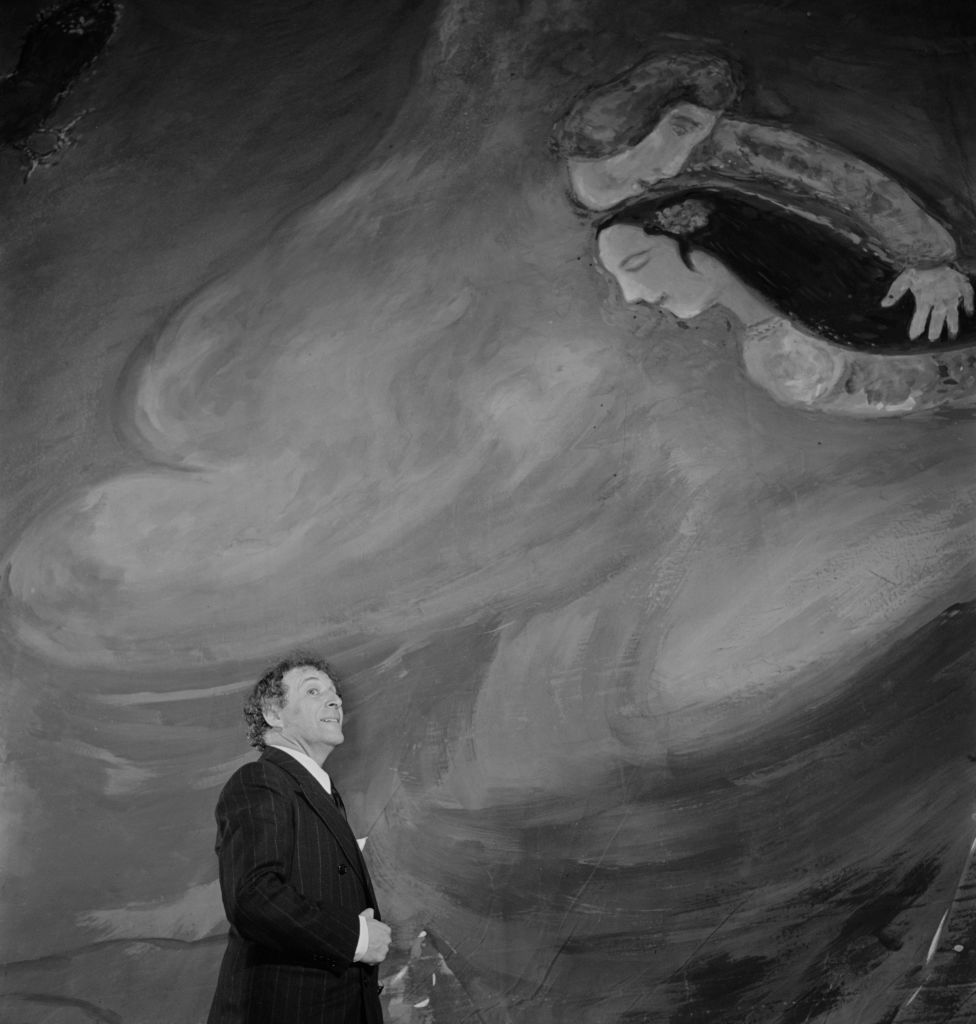 Russian-French artist Marc Chagall (1887-1985) with one of his paintings, circa 1942. Photo by Pix/Michael Ochs Archives/Getty Images

But Chagall could not escape tragedy. In the last days of the war, Rosenfeld contracted a viral infection and died. Then he learned that Vitebsk was completely destroyed by the Germans. Understandably, a devastated Chagall was bereft of inspiration for a time, but he did get commissions to design theater sets and costumes, which he gained acclaim for. A more notable one he worked on was the thoroughly Russian ballet "Aleko," written by notable choreographer Léonide Massine, and based on Alexander Pushkin poems with music by Pyotr Tchaikovsky. 

Chagall returned to France in the late 1940s, settling in Vence, a city in the southern area of the country. He then remarried in 1952 to Valentina Brodsky, and the couple stayed together for the rest of Marc Chagall's life. 

Starting in the 1950s, Chagall found a home on the French Riviera not far from friend and admirer Pablo Picasso. One of the major things that Chagall adored in the area was what he called "lumière-liberté," or the "light of freedom." In this creative atmosphere, Marc Chagall's art became more diverse, with the artist getting into tapestry, pottery, mosaics and more significantly, stained glass. 

Marc Chagall's status as a 20th century art icon was greatly reinforced in the last 20 years of his life, when he received a number of large-scale, high-profile commissions. 

In 1960, he began crafting stained-glass windows for the Abbell Synagogue in Hadassah Hebrew University Medical Center in Jerusalem, the largest hospital in the Middle East—what would come to be called the "Chagall Windows." The 12 stunning creations, 11 feet high, and eight feet wide, correspond to the 12 tribes of Israel. Each has a distinct color and contains unique elements to each tribe, like animals, fish, and flowers, and tells what their particular role is among the 12.  

Upon the death of Dag Hammarskjöld, the second Secretary-General of the United Nations, in a plane crash in 1961, Chagall was commissioned by a special UN committee to create an artistic tribute to Hammarskjöld. But the meaning expanded. It was, as Chagall wrote, "To all who served the Purposes and Principles of the United Nations Charter, for which Dag Hammarskjöld gave his life."

"The Window of Peace and Human Happiness" is now on display in the United Nations Headquarters in New York City, a free-standing piece of stained glass 15 feet wide and 12 feet high. It depicts peace and love symbolically, with a child kissed by an angel emerging from flowers, motherhood, and people engaged in the difficult quest for peace—with everything taking place on a blue background, a wide field of color that Chagall favored. There is even a nod to Hammarskjöld, with representation of Beethoven's "Ninth Symphony," of which the fallen Secretary-General was a fan.

As the sixties progressed, Marc Chagall art graced some of the world's most important opera houses. The artist created a massive ceiling piece for Paris's Opéra Garnier, which was revealed in 1964. It is a circle of canvas just short of 2,600 square feet, surrounded by elegant decoration, with a chandelier emerging from the center. The painting is a colorful, dreamlike array of elements that pay tribute to composers, actors, and dancers from past and present, and its spirit is how art can change people for the better. 

In 1967, Marc Chagall painted the largest works of his career that appeared in the lobby of the Metropolitan Opera House in New York City. "The Sources of Music," and "The Triumph of Music" murals are both 30 feet by 36 feet, and visible from the outside of the building. Both pieces have flowing, harmonious synergy front-and-center, plus a dominant color. The yellow "The Sources of Music," sees King David playing a harp at the center, with an almost cubist face. David is encircled by frolicking, kinetic musicians, animals, and angels. The red "The Triumph of Music" has a whirlwind at the center, which sweeps up a large triumphant angel blowing a trumpet, along with smaller musicians, dancers, and fantastical animals. Art experts have discerned multiple references to Mozart's "The Magic Flute" opera, a composer and a work that Marc Chagall was especially fond of. 

Though Marc Chagall created art right up until his death, the spectacular stained-glass piece "America Windows" was his final large-scale hurrah. The windows were installed at the Art Institute of Chicago and dedicated in 1977. "America Windows" honors both the American Bicentennial and recently-deceased Chicago mayor Richard J. Daley. It is also Chagall's tribute to the United States, a country that gave him refuge from the horrors of WWII.

Marc Chagall collaborated with French stained-glass artist Charles Marq to produce this work. Chagall gave the sketched plan to Marq, which showed how to create the 36 color glass panels. Chagall then used metallic oxide paint on the surface, which was bonded to the glass through a heating process. The windows would end up being eight feet high, and over 30 feet in total. There are three main sections, each divided into two panels.

At its core, the imagery in "America Windows" commemorates the arts, and America's independent essence. From left to right, the first panel features musicians and instruments, the second, the tools of painting, the third, symbols of writing and literature, the fourth, a soaring bird and the Statue of Liberty representing the spirit of American freedom and democracy, the fifth, images related to theater, and finally, the sixth depicts scenes of the art of dance. Across the whole span of "America Windows" is a common skyline. 

Chagall outlived all of his original legendary European modern art peers, passing away at the age of 97 in 1985 in the southeastern French locale of Saint-Paul, where he is also buried.

The thing that mattered most in Marc Chagall art was a final litmus test when it was just him and the work. He stated, "When I am finishing a picture, I hold some God-made object up to it—a rock, a flower, the branch of a tree or my hand—as a final test. If the painting stands up beside a thing man cannot make, the painting is authentic. If there's a clash between the two, it's bad art."
After reading about Marc Chagall are you feeling inspired to create? Make sure to shop the suggested set below for your next creation.