In February, the great artist Renoir celebrated a posthumous 180th birthday. Although he passed away in 1919 at age 78, his legacy as a groundbreaking French painter lives on.  His contributions include being one of the leading artist in the development of Impressionism, having a keen eye for feminine sensuality, and featuring modern scenes of Paris in each of his works. He was born Pierre-Auguste Renoir in Limoges, Haute-Vienne, France on February 25, 1841—the sixth child of a brood of seven. His father was a tailor of modest means, and his mother was a seamstress. In 1845, Renoir's father decided to move the family to Paris in search of better prospects. The family ended up living near the world-renowned museum, the Louvre, and Renoir attended Catholic school. At age 13, his parents realized their sons talents, and sent him to apprentice at a factory with a porcelain painter. Here, he decorated plates and other dishware with flowers. He moved on to other mediums, as well as studying drawing in his spare time. Renoir took free classes at a city-sponsored art school run by sculptor Louis-Denis Caillouette.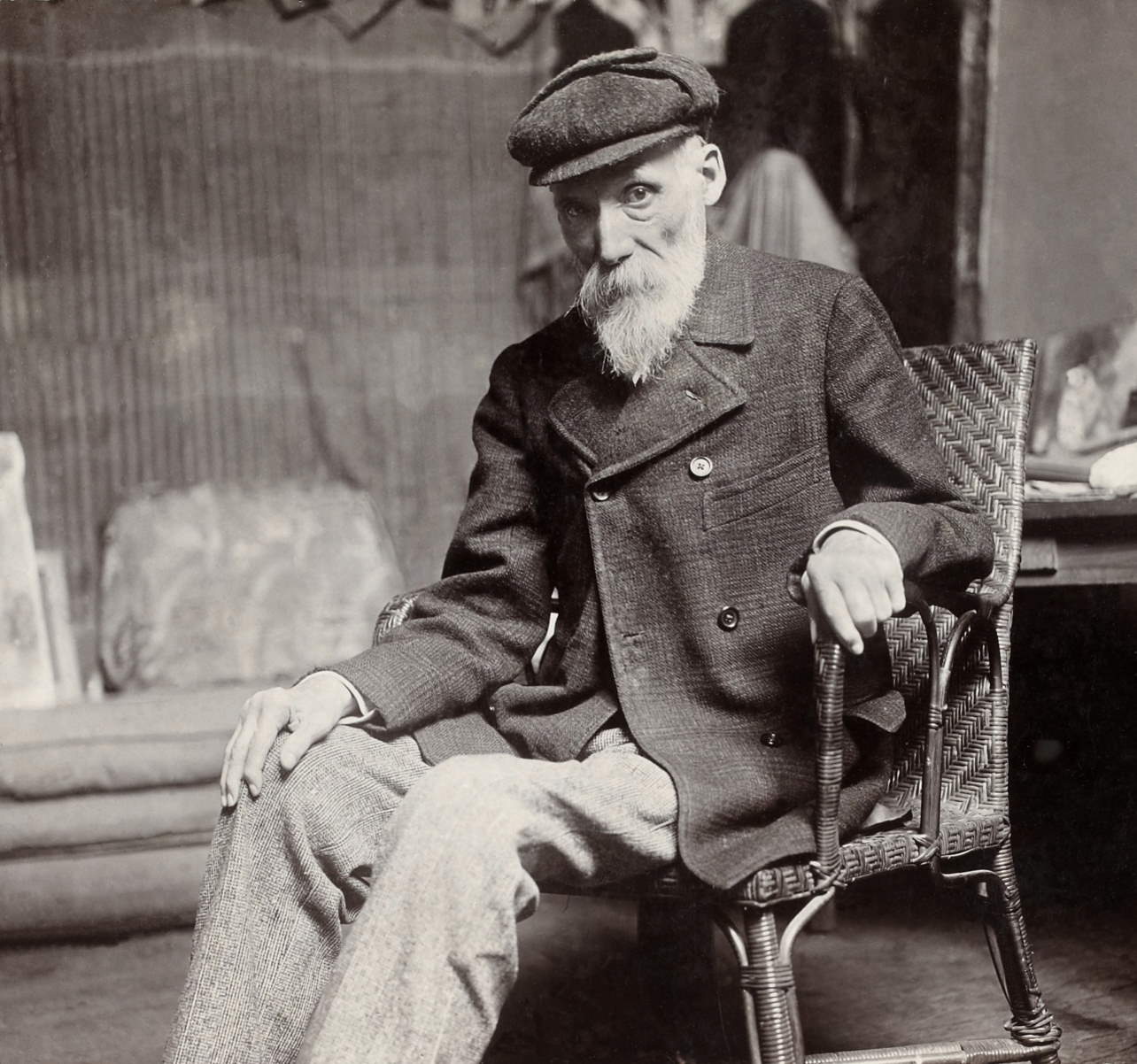 Pierre-Auguste Renoir (1841–1919), french painter, public domain, Wikimedia Commons
In his early days, Renoir visited the Louvre often to study and copy some of the great works. He began studying painting in earnest in 1862 at the École des Beaux-Arts and he also took painting lessons from Charles Gleyre, a Swiss painter. It was here that he met three fellow artists who would become his colleagues and friends in the Impressionist movement: Alfred Sisley, Claude Monet and Frédéric Bazille. Each of these artists were interested in breaking with traditions and creating their own artistic mark on the world. In the spring of 1864, Renoir began to explore new painting techniques. What was customary at that time, was for artists to paint landscapes based on their memory of the landscape. Renoir and his fellow students went into the forest of Fontainebleau to paint landscapes in real time. They began painting nature right at the source. This practice birthed a new kind of artistic technique called Impressionism, a movement that took 10 years to come to fruition.
Renoir's fellow classmates, including Monet, shared a passion for going back to nature. Monet was quoted as saying: "The richness I achieve comes from Nature, the source of my inspiration. I perhaps owe having become a painter to flowers. Everyone discusses my art and pretends to understand, as if it were necessary to understand, when it is simply necessary to love." In his early thirties, Renoir, Edgar Degas, Camille Pissarro and others founded the first Impressionist exhibition. His work is one of the prime examples of this movement's tenets. Renoir's early works include "Frédéric Bazille" (1867), "The Painter Sisley and His Wife" (1868), and "Claude Monet Painting in His Garden at Argenteuil" (1873). In addition, Renoir was more fascinated with the human form rather than landscapes. He received many commissions for portraits within upper-middle-class society, mostly of women and children. Each of his paintings showed the vitality and pleasure of living life.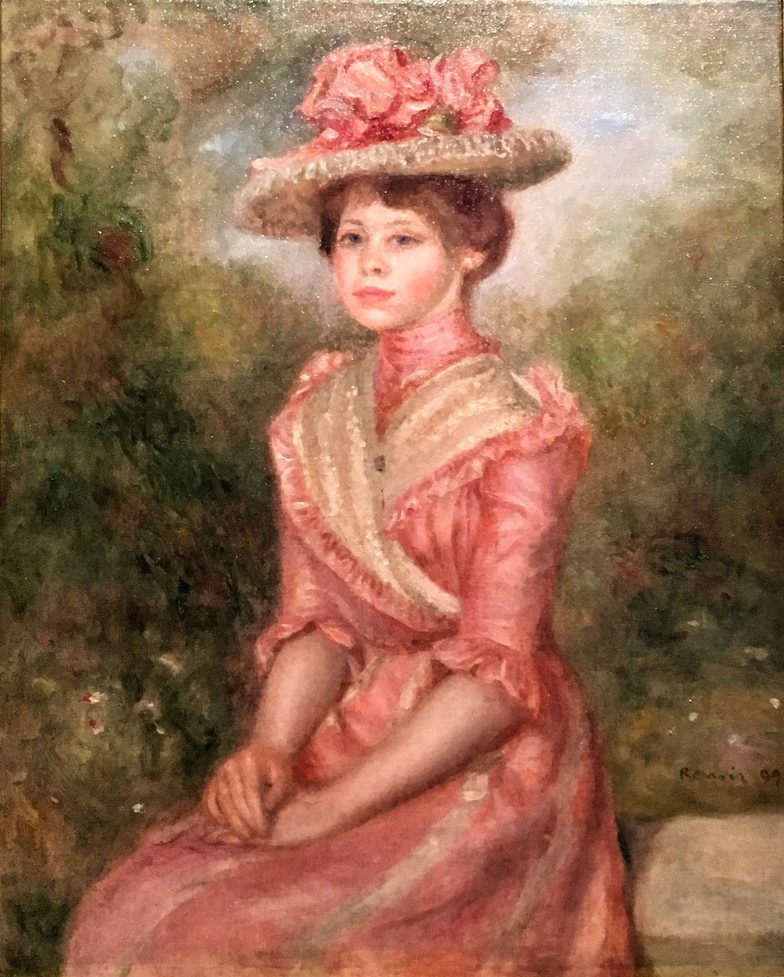 "Yvonne en Rose," 1899, by Pierre-Auguste Renoir, Wikimedia Commons
The Art Story critiqued and commented on a few of Renoir's notable works:
"Diana the Huntress" (1867): This wonderfully composed piece is far from exemplary when considering Renoir's later body of work. What we see, rather, is a young artist with a gift for oil painting and composition and yet without a truly distinct voice of his own. During his early years, Renoir spent a great deal of time touring the halls of the Louvre and other museums and studying the French masters of the 18th and early-19th centuries. In this canvas, he rendered his mistress Lise Tréhot as the Roman goddess Diana, a common trope in Rococo portraiture. Though the matter-of-fact depiction of a full-figured nude also recalls his love of Realism a la Courbet, he achieves a Classical timelessness that Realism lacked."
"La Grenouillère" (1869): At the popular outdoor bathing spot and bar La Grenouillère ("The Frog Pond"), Renoir and Monet, not yet financially successful artists, painted images of middle-class leisure that they hoped to sell to its wealthy clientele. As they worked closely alongside one another, the two simultaneously developed several of the theories, techniques, and practices that would give rise to Impressionism. Both artists painted this scene from this exact vantage point. If Monet's gives a broader perspective and focuses more on the vivid effects of light on the water and surrounding trees, then Renoir's version gives a closer view of the fashionable denizens of the popular resort. Indeed, even when painting nature en plein air, Renoir gave a weight to the human subject perhaps unmatched by his fellow Impressionists."
"La Loge" (1874): Depicting an elegant-looking couple sitting in an elevated theater box, this tribute to Parisian modern life was also the artist's principal contribution to the very first Impressionist exhibition of the same year, and it was met with much acclaim. The theater played a prominent role in Parisian life, from opera to the popular variety shows featuring can-can dancers, and depictions of the theater typically focused on the performers. However, much of the allure of the theater for the middle class was the opportunity to see and be seen, and "La Loge" deftly captures that complex interplay of gazes. The woman lowers her opera glasses, implying that she is no longer watching the events on stage and allowing her face to be seen. Meanwhile, the man (Renoir's brother Edmond) leans back in his seat, perusing the theatergoers in other balconies through his glasses. With his delicate and masterful rendering of his model's lacy bodice, glinting jewelry, and floral accoutrements, Renoir painted a canvas about seeing that spoke to his own keen eye."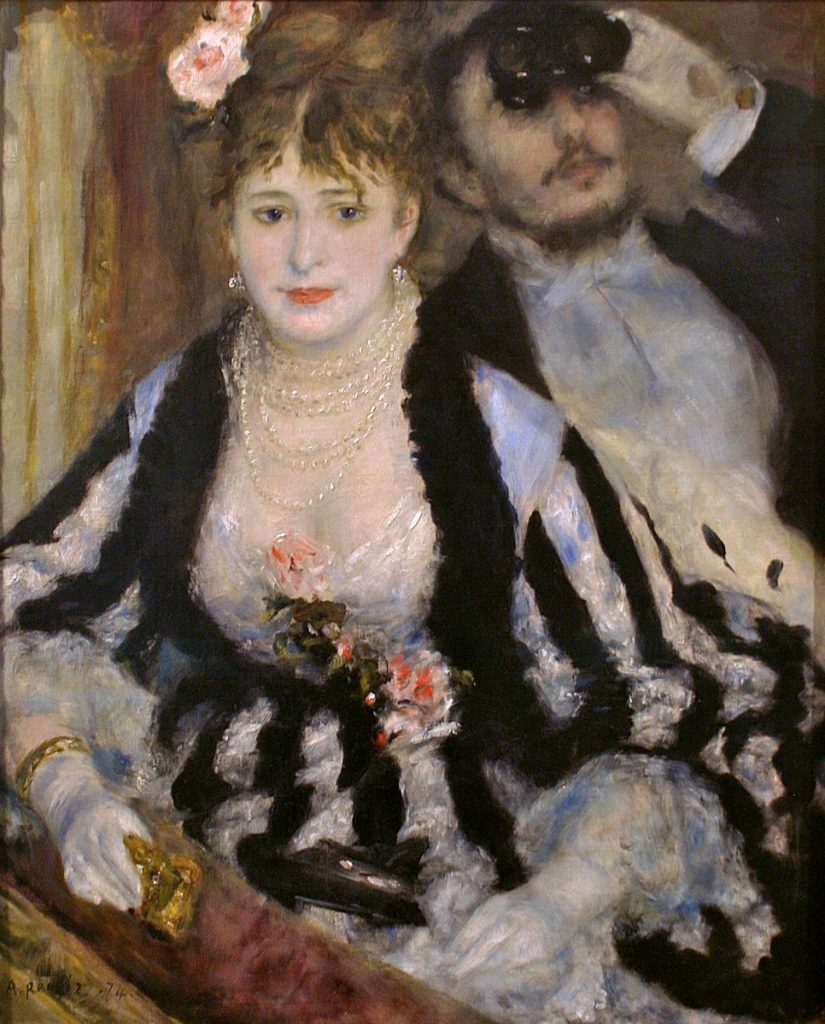 "La Loge," 1874, by Pierre-Auguste Renoir, Wikimedia Commons
In addition to his paintings, Renoir left behind the thoughts and emotions behind his pieces. These are thoughts that can be applied to painting, and life in general. He believed, "art is about emotion; if art needs to be explained it is no longer art." The queen of colors, as he put it, stayed the same: "I've been 40 years discovering that the queen of all colors was black." And finally, Renoir believed we were the true directors of how we spent our days, and inevitably our lives: "I was beaten from the start by this insane passion for monotony so strong in our day. I had to give up."

In his later years, Renoir had his first attack of rheumatoid arthritis, causing him to spend more time in the South of France for its health benefits. His illness became more debilitating as time went on, but it didn't stop him from painting. In fact, when his fingers were no longer supple enough for use on their own, he bound his hand to his paintbrush. Renoir's work still stayed vibrant and cheerful, even with his health concerns. In 1919, Renoir passed away, filled with the memories of his first visit to the Louvre, his contributions to the art world, and even his last time at the Louvre to see his works on the wall several months before his death. He was survived by his three sons Pierre Renoir (1885–1952), filmmaker Jean Renoir (1894–1979) and ceramic artist Claude Renoir (1901–1969).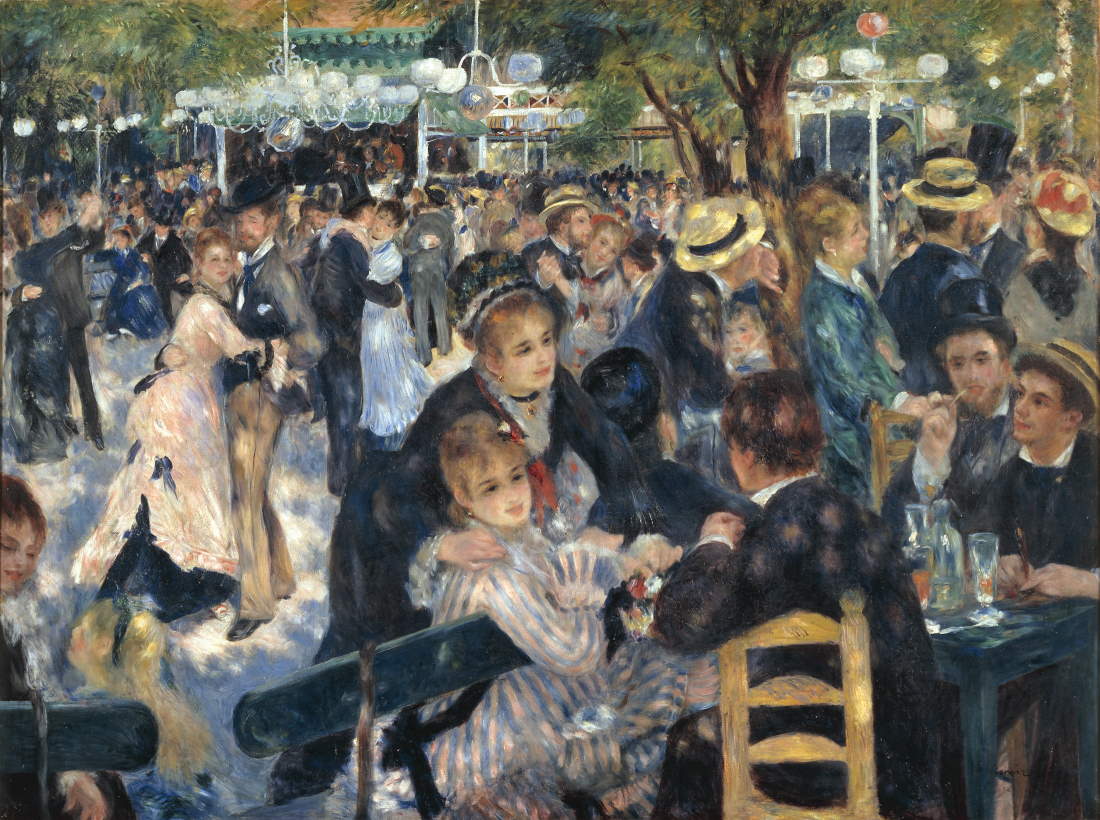 "Le Moulin de la Galette," 1876, by Pierre-Auguste Renoir, Wikimedia Commons
Even though he's no longer with us, Renoir has inspired many artists to study Impressionism, and consider their own directions when it comes to creating art, as he did in his early years. His life also inspired the movie "Renoir" in 2012, which focused on the painter during the summer of 1915, when his wife had passed away. This beloved painter will likely continue to appear in our modern culture in a variety of ways. There is no better birthday tribute for an artist who once said, "The pain passes, but the beauty remains," than to appreciate his artwork and share it with future generations.