Table of Contents:
The Road to Pop Art
The Pop Art movement burst into being in 1952, but that landmark moment didn't happen in a vacuum. Its roots can be found in the 19th century, largely in Europe, when the artists themselves wrested control of the art world's trajectory from ruling powers. As the 19th century ended, artistic composition became more and more distant from exacting depictions of reality. As the 20th century picked up steam, the answer to the question "What is art?" turned out to be more complicated than previously thought. Cubism turned geometry on its head. Marcel Duchamp famously drew a moustache on "Mona Lisa" and submitted a urinal to an art show.
Soon after World War II, Abstract Expressionism took off. This style is drastically non-representational, and had legends like Jackson Pollock putting his subconscious on the table by flinging and dripping paint onto canvas. Pop Art ideas are the complete opposite. Pop Art artists felt that the Abstract Expressionism was too serious, so they embraced wit and irony. Pop Art works were markedly representational, utilizing found, everyday imagery.
What is Pop Art?
To understand the Pop Art movement, you need to understand the world in which it developed. There was significant economic growth after World War II ended. The United States saw the rise of middle-class suburbia, with teenagers listening to rock and roll, watching TV, seeing movies and worshipping celebrities. At the beginning of the 1950s, there was a groundswell of artists, activists and intellectuals who wanted to challenge what they considered a constricting societal sameness. Among them was the Independent Group (IG), who met at London's Institute of Contemporary Arts from 1952-1955. They sought to completely revamp perspectives and portrayals of visual culture, and in the process invented Pop Art and produced motivational art that jump-started the movement.
IG member Richard Hamilton is one of the earliest to use the phrase "Pop Art," and is also credited with a codification of Pop Art ideas, famously writing in 1957, "Pop art is popular (designed for a mass audience), transient (short term solution), expendable (easily forgotten), low cost, mass produced, young (aimed at youth), witty, sexy, gimmicky, glamorous, big business."
Pop Art at a Glance
Want to know how to spot a piece of Pop Art? Here are some characteristics to look for:
Appropriation: A major aspect of Pop Art ideas is taking an existing image and altering it, especially something commonplace from mass media or popular culture. Often the aim here is to critique the image and the motivation behind it.
No Boundaries: There is no single medium or technique in Pop Art. Works from the Pop Art movement could combine fine art elements with ads or comics; painting with photography and printmaking; or mass-produced items juxtaposed with unique handmade items—or any combination thereof.
Repetition: The same appropriated images can appear on a single canvas, or as part of the same exhibit.
Primary Colors: Pop Artists used boldly applied red, blue and yellow hues to grab the eye.
Commercial Techniques: Silkscreening methods were used to produce "multiples" of the same work.
Pop Art Artists and their Works
Eduardo Paolozzi: He presented what he called "Bunk!" at the first IG meeting, a title inspired by a famous Henry Ford quote. Paolozzi utilized overhead projection to display a litany of comics, ads, film stills, pin-ups, news photos, and depictions of technology.
Richard Hamilton: Would create what is considered the first Pop Art work, "Just what is it that makes today's home's so different, so appealing?" first displayed in the exhibition "This is Tomorrow," held at Whitechapel Gallery in London in 1956. The collage uses magazine clippings to depict a man (notably holding a lollipop sporting the word "POP!") and woman in a living room surrounded by furniture, logos, decorations and devices. Hamilton likened the duo to Adam and Eve, surrounded by dominant '50s ideas.
Andy Warhol: He made a splash in the Pop Art world after having success as a commercial artist living in New York City. Warhol transformed everyday items into high art, and was obsessed with the concept of celebrity. In 1962, he unveiled the now-iconic "Campbell's Soup Cans." Each of the 32 Campbell's varieties had its own canvas, and they were simultaneously hung from the wall like an official work of art, and rested on a shelf like an item at a grocery store. Warhol produced them in a painstaking process of projecting, tracing, painting, and stamping. The year also saw Warhol's public introduction of another enduring process—the silk-screening and artistic embellishment of celebrity photos, creating unique Pop Art portraits.
On the heels of his Pop Art fame, Warhol established "The Factory"—his infamous New York City studio whose name alludes to his blending of business and art, utilizing manufacturing techniques to produce multiple copies of a single work. He also famously delved into avant-garde filmmaking, a pursuit culminating in "Chelsea Girls". It saw Warhol's famed "Superstars" brought to screen utilizing two projectors showing two reels simultaneously.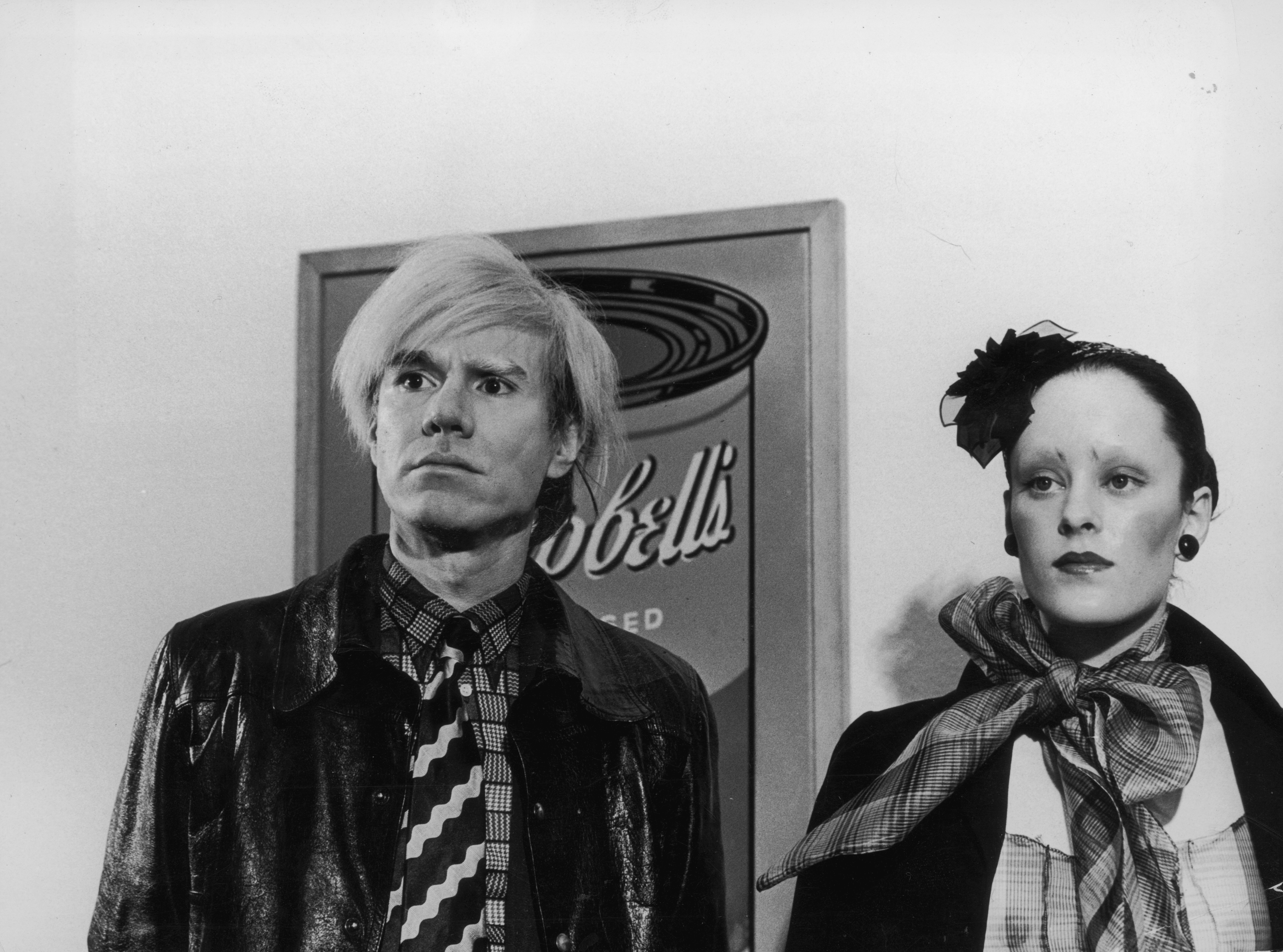 American Pop artist Andy Warhol stands next to actress Jane Forth, Getty Images
Roy Lichtenstein: A major manifestation of his Pop Art ideas included the elevation of the comic strip into high art, and it made him a modern art icon. The tone of his chosen comic strip panels was typically unresolved tense or climactic moments. Lichtenstein maintained a detachment from his work, and freely acknowledged how cliché the scenes could be.
In terms of composition, Lichtenstein famously utilized Ben Day dots, which are patterns of dots used to produce hues and shading in mass color newspaper printing.
A quintessential Lichtenstein Pop Art work is 1963's "Whaam!" Here, a panel drawn by Irv Novick in an issue of DC Comics' "All-American Men of War," became a canvas diptych. It captures the moment an enemy fighter plane explodes after being hit by a missile fired by an American plane. Above the American plane on the left canvas is a bold statement by the pilot, and above the enemy plane is the word "Whaam!" The missile traverses both canvases.
Lichtenstein's process for creating "Whaam!", had him projecting, penciling, then applying Ben Day dots, which involved pressing oil paint through an aluminum mesh he fashioned himself, then he made bold lines with acrylic resin paint.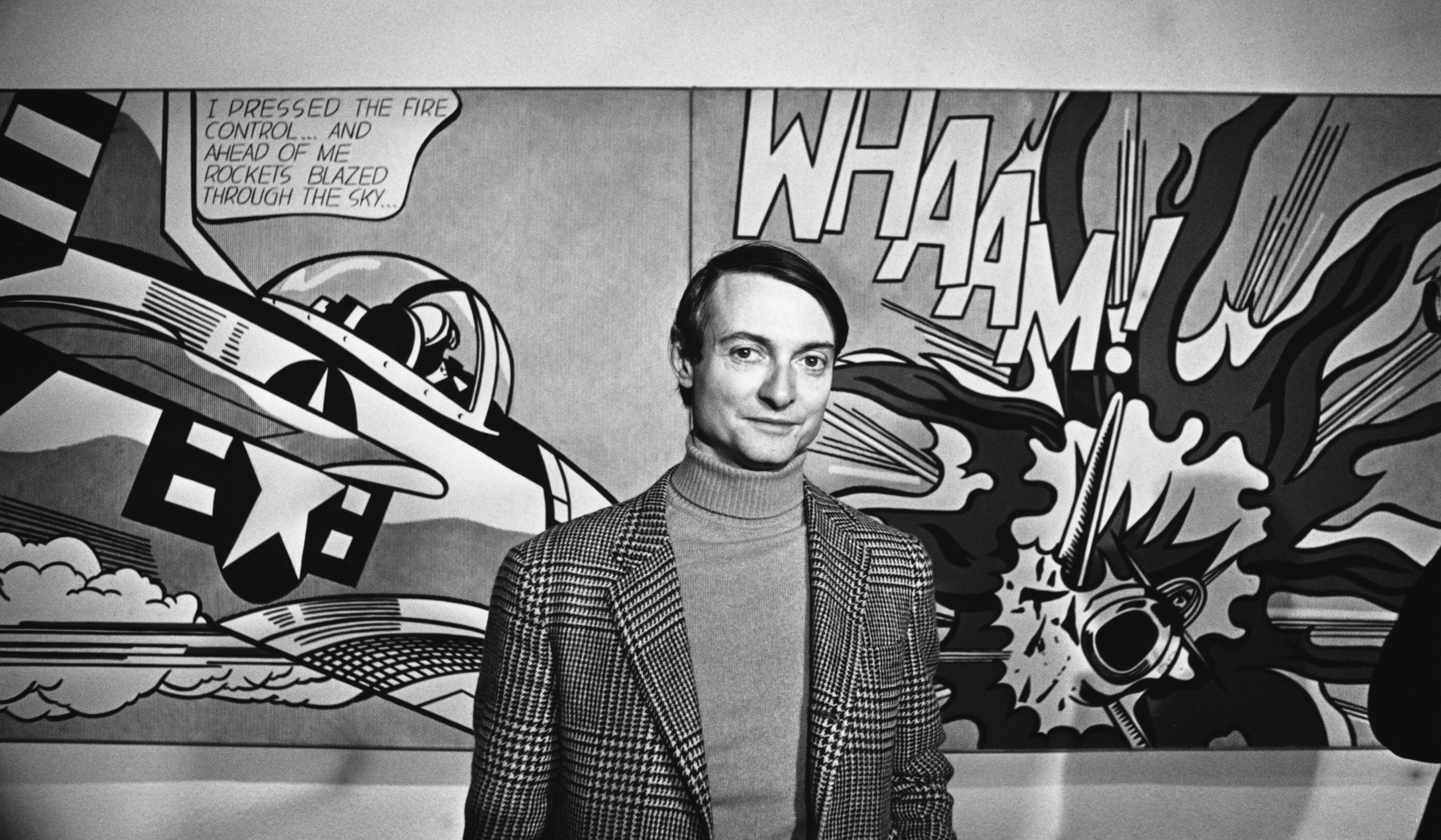 Pop Art painter Roy Lichtenstein in front of his painting "Whaam!" Getty Images
Robert Indiana: He will forever be known for "LOVE," a famous Pop Art project that unexpectedly became beloved by the public. "LOVE," with its geometrical symmetry and distinctive tilted "O" first appeared on the Museum of Modern Art's 1965 Christmas card. The design became ubiquitous, appearing on U.S. stamps, countless prints, paintings, and plenty of other forms. Indiana reveled in the written word, numbers, symbols, signs. And though critics have discerned such themes as religion, eroticism, politics in the design, Indiana revealed that "LOVE" was inspired by a design motif and color scheme from a Phillips 66 gas station that he saw as a child—especially the large round sign combined with blue sky.
Metal sculpture versions of "LOVE" can be seen all over the world, and even in different languages. Appropriately, there is a "LOVE" sculpture in the center of Philadelphia, aka "The City of Brotherly Love," composed of painted polychrome aluminum. Many other "LOVE" sculptures were fabricated using Cor-Ten steel, a type of alloy created specifically for outdoor structures. Indiana's fabricator of choice was the Lippincott Foundry, revered for their work in fine art.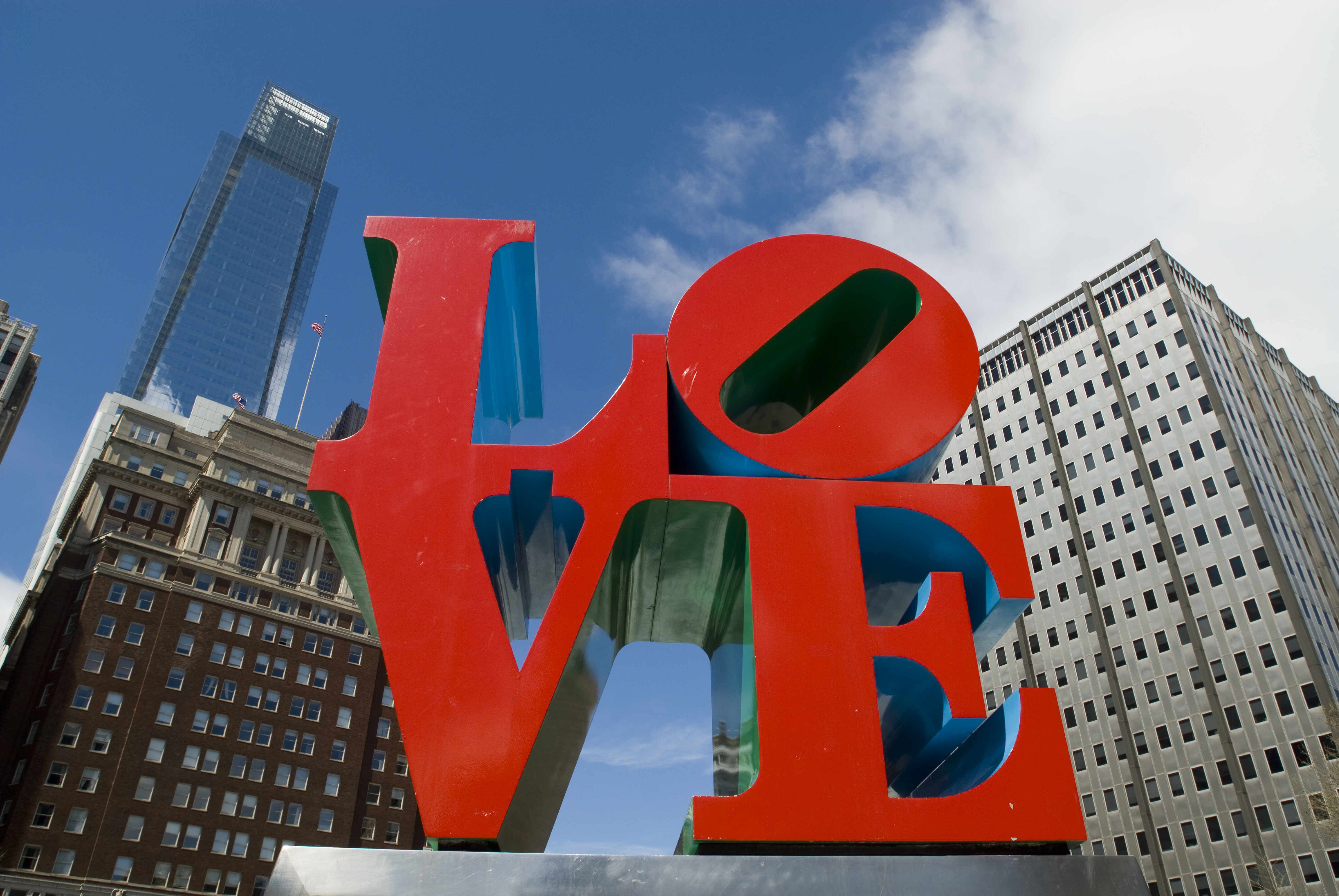 Robert Indiana's "LOVE" sculpture in Philadelphia, Getty Images
Though many decades have passed, Pop Art remains in the public eye. In 2007, London's National Portrait Gallery opened the "Pop Art Portraits" exhibition at the National Portrait Gallery, which saw Pop Art luminaries gathered for a photo. It is a poignant image because many in the photo have since passed away.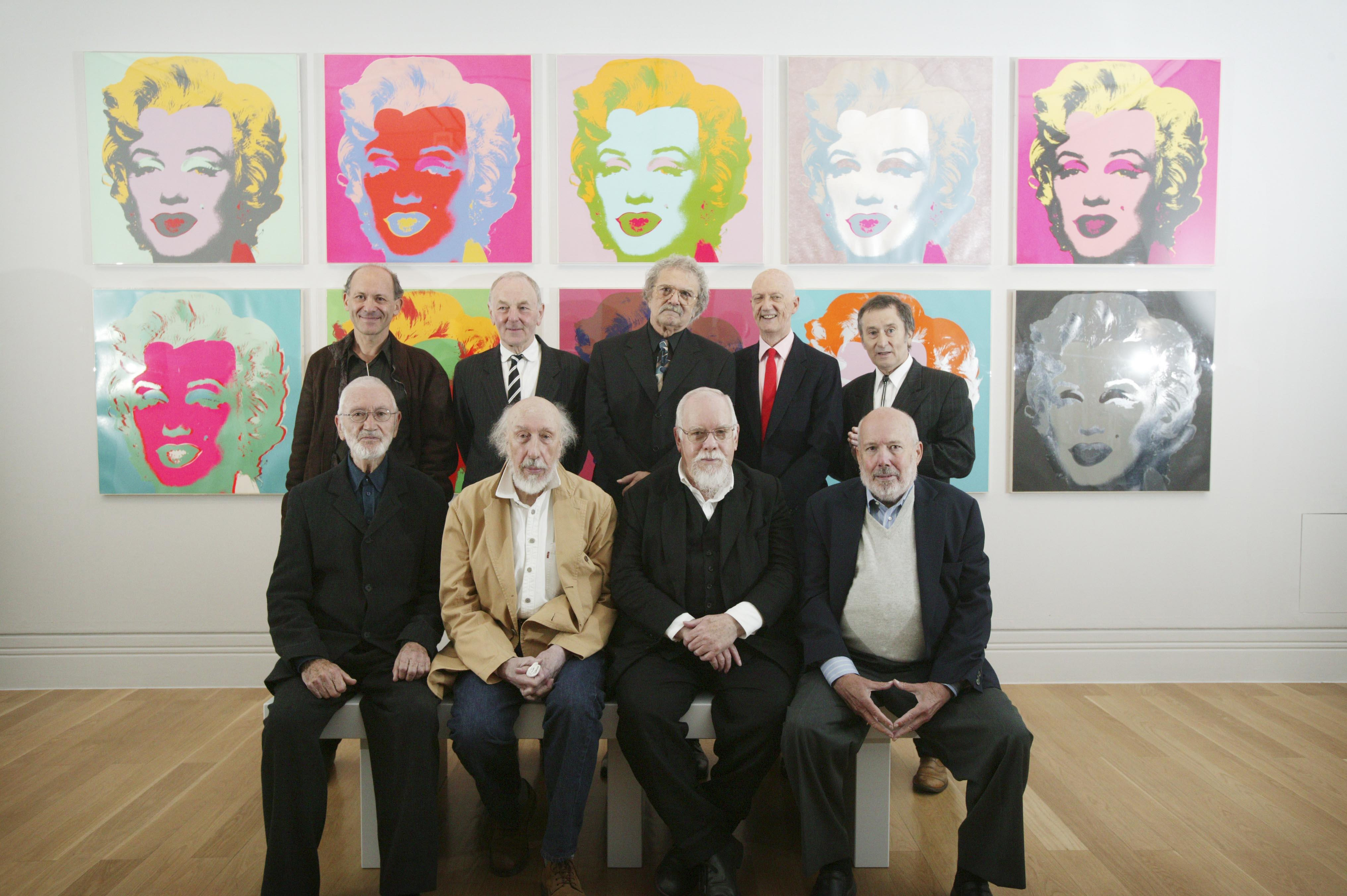 Pop Art artists at "Pop Art Portraits" exhibition, Getty Images
Back row, left to right:
Peter Gidal: An English writer, theoretician, and filmmaker, who famously responded to Warhol's "Screen Tests" series with his own "Heads" film.
Gerald Laing: A co-founder of Hybrid Enterprises in 1965, a project which sought to create idealized art by utilizing market research.
Mel Ramos: Most famous for painting and sculpture depicting nudes posing with familiar consumer products.
Allen Jones: Known for figurative sculptures that doubled as pieces of furniture.
Colin Self: During Pop Art's rise in the '60s, his mixed-media works expressed an unease about the prospect of nuclear war and anxiety about the Cold War.
Front row, left to right:
Joe Tilson: A member of the Independent Group, he explored Pop Art ideas as applied to notorious political figures.
Richard Hamilton
Sir Peter Blake: Known to millions as the co-designer of the cover for The Beatles' landmark 1967 album "Sgt. Pepper's Lonely Hearts Club Band."
Richard Smith: Blurred the line between painting and sculpture by creating "shaped canvases." He's also known for "kite paintings" with canvases stretched on rods.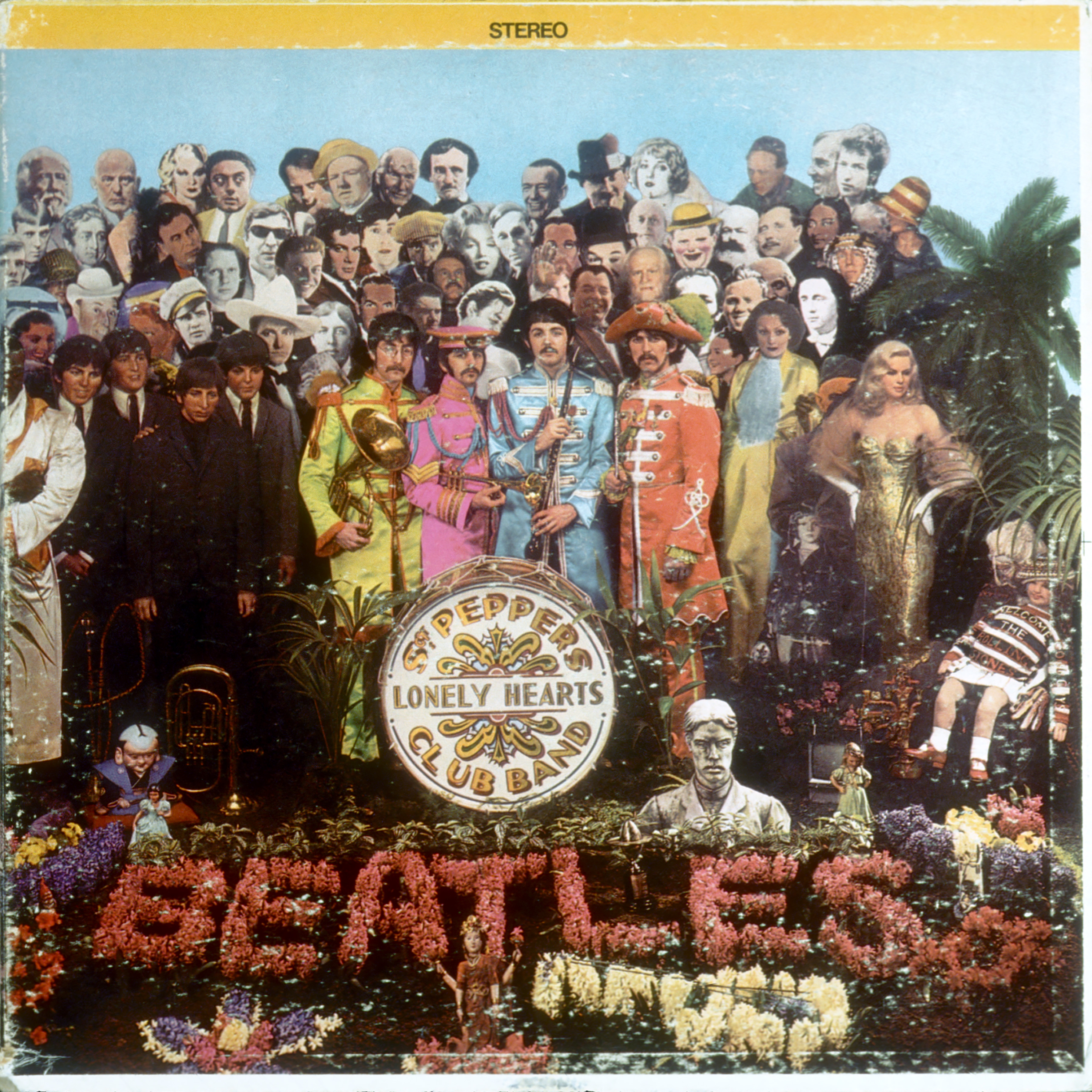 Album cover for The Beatles' "Sgt. Pepper's Lonely Hearts Club Band," Getty Images
Judging by the continued interest in the Pop Art movement and its luminaries, it is clear that Pop Art has far exceeded Andy Warhol's notorious allotment of 15 minutes of fame. There is much more to explore in the Pop Art movement, and we encourage you to dig deeper, it'll be a fascinating journey!