Table of Contents:
Supplies to Get Started
Having the right tools makes any job easier, and quilting is no exception. It can mean the difference between a project that's a pleasure to work on or one that's more frustrating than fun. That's why we've put together this checklist of the most important supplies every quilter should have in their craft closet.
Once you've rounded up these supplies, chosen your fabric, and set up up your sewing station, you're more than ready to start making beautiful quilts!
Here's What You Need
Quilting is all about precision—measurements have to be correct and cuts have to be precise. It's important to always use quality tools that allow you to measure correctly, and that have sharp, well-honed blades to get the cleanest edge every time. Also, you need a large enough work surface to be able to spread out your fabric so there are no bumps or wrinkles that could cause the measurements to be off.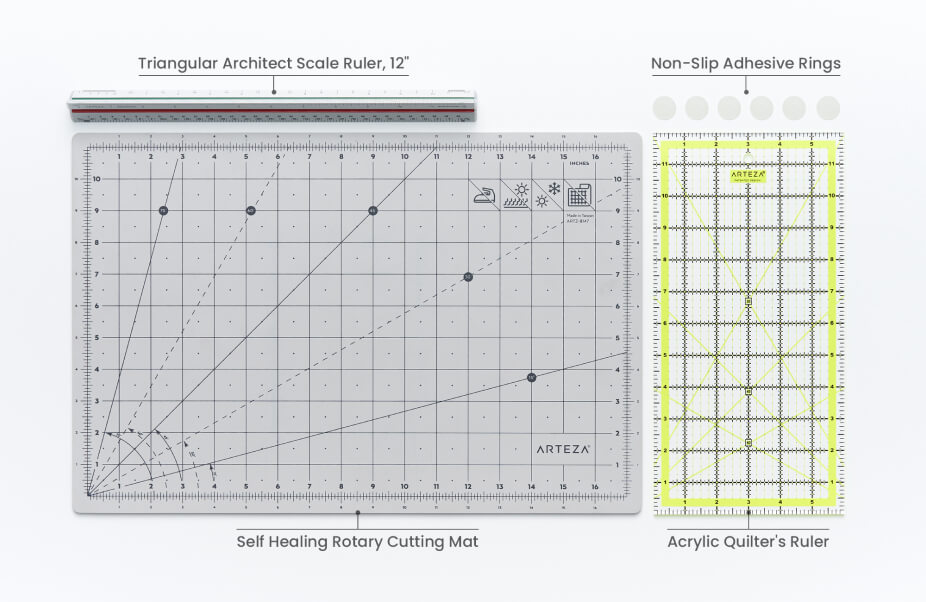 Rotary Cutter
Beginning quilters sometimes ask, "Why use a rotary cutter instead of scissors?" The answer is that this kind of cutter is made to use with a ruler and will give you a straighter, more accurate cut than a pair of scissors. Its blade fits flush against the quilter's ruler as it rolls and cuts in one smooth stroke. It never catches on the fabric the way scissors sometimes do and the cut edge is always clean and straight. Also, when used to slice multiple fabric layers at once, you can be certain that each piece will be the exact same size.
The rotary cutter blade will last through many cuttings, but there are replacement blades for these cutters. Once you're finished using it, just push up the blade guard and it's safe for storing.
Cutting Mat
To save your work surface from damage, a mat should always be used in conjunction with a rotary cutter. These mats are designed to be used for measuring fabric as well. They have pre-printed rulers along the edges, a grid with one-inch blocks, and angles of 15°, 30°, 45°, 60°, and 75°.
We recommend using a self-healing cutting mat, as it can take the deep slices of a rotary cutter without leaving stray cuts. This means the mat stays smooth, helping the fabric to stay flat and in place. Since the self-healing mat absorbs cuts, it will help keep the blade from becoming dull.
Quilter's Ruler
Quilting rulers are designed with the needs of the quilter in mind. It is made of clear acrylic to see the fabric underneath. With its preprinted grid and angle lines, it's easy to line up with the lines on the mat to ensure the straightest, most exact cut. It also has a 1/2" seam allowance line to help make all your seams the same depth. The ruler we recommend has mirrored angles, making measuring easier for left- and right-handed quilters.
Sewing Machine
There are many different types of machines on the market today. If you've never used one, we suggest checking out sewing classes at your local sewing center or community center to get hands-on attention and personal instruction. You'll probably want to begin with a very simple machine with limited settings until you get more skilled at using one.
If you've already learned how to use a sewing machine, but this is your first time making a quilt, we recommend you start with an easy pattern or check out the many video tutorials on Youtube.
Fabric
Just like a painter choosing the colors for their next painting, choosing fabric is where you can express your creativity and imagination. You'll be surprised at all the choices of colors, patterns, and prints in the quilting section of your fabric store. Most of these shops have knowledgeable sales associates who are quilters themselves, so take advantage of their experience and get recommendations on color and pattern matching.
Iron
The iron is the quilter's best friend for ensuring the flattest quilt blocks possible. Make sure the iron's surface is kept sparkling clean and it has the appropriate settings needed for your fabric.
Accessories
Now that you have the essentials, here are a few other tools that are nice to have around.
Lots of quilters use these adhesive rings to keep their ruler or template from slipping or sliding. These super-thin, sticky rings are easy to attach and peel right off your ruler.
The architect's ruler is great for converting measurements with its three sides with six different scales.
Use pattern weights on top of the fabric to keep it securely in place.
Whether you're attempting to make a quilt for the first time or you're an old hand at making quilts for family and friends, it never hurts to take stock of your supplies. We hope this list gives you the information you need to start making that quilt today!