The power of art was revealed to Sara Averbook Kaplan early on in her life. As a little girl living in Miami, she saw how one of her crayon creations made a friend happy. This conjuring of positive feelings with a giving gesture was the impetus for all of her artmaking to follow, and is still something she greatly values. Fast-forward a few decades, and after studying theater for a time, Kaplan graduated from the California Institute of the Arts with a Bachelor of Fine Arts in 2000. This particular university is known for emphasizing freedom and not playing it safe, an atmosphere that Kaplan embraced, as she explored performance and conceptual art. After college, Kaplan moved back to her hometown, where, through the years, she embraced drawing, painting, wallpaper design, fashion, and illustration, plus poetry performance. This marriage of visual art and performance is an essential blend in all the highlights of her artist bio.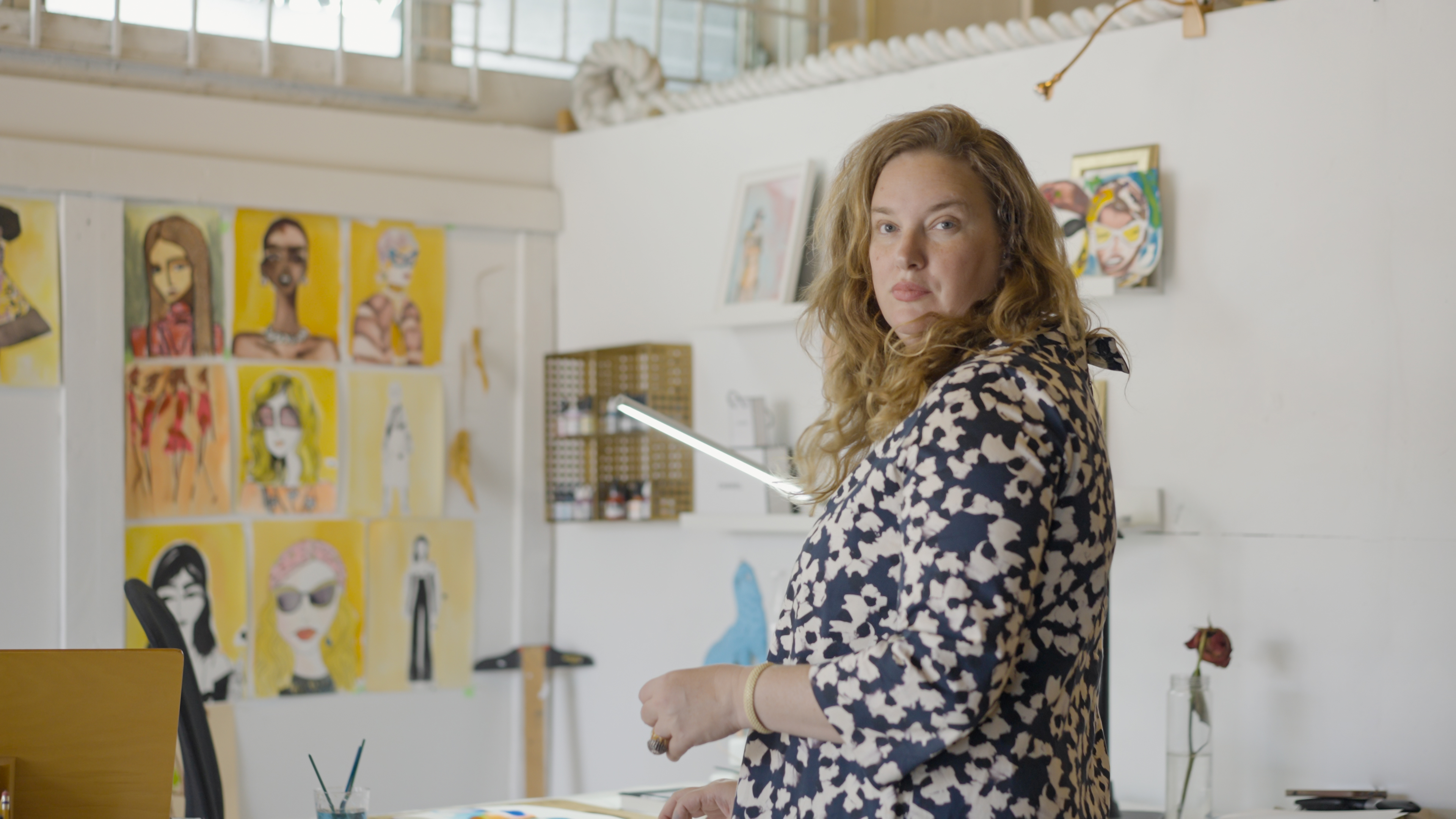 Kaplan loves to educate children about art, and conducts art classes for children in her community, and her own two sons are never too far away from her artistic pursuits. This is especially true with her "Poetry in Pajamas," a recurring event which has kids reciting their own poetry or favorites from other authors while clad in PJs, both virtually and in person. She is perpetually experimenting in her studio, and one of her exploratory tangents led to the marriage of glass, pigment, and fire. Yes, actual fire. It goes without saying that kids don't participate in this particular venture.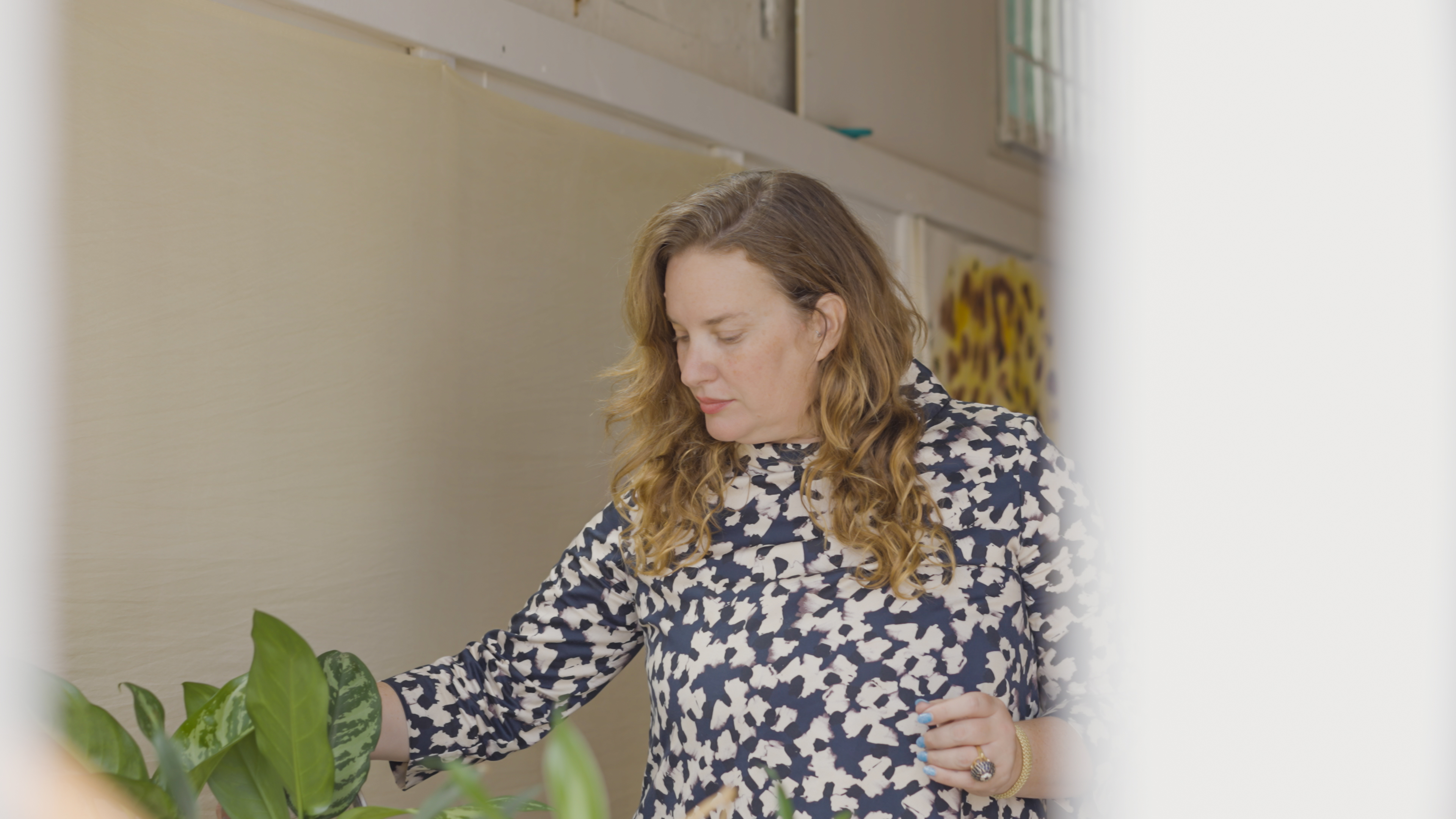 In this artist profile Q&A, Kaplan details her favorite mediums, processes, and creations, the joys of teaching children, and more:

When did you first get into art?
I first discovered art when I was about five years old with a box of crayons and three colors, red, yellow, and blue. From there I realized I could make a rainbow. I could give it to a friend, and it would make them smile. It was that transference of energy that lit a spark for art. 

Who are your favorite artists?
So many. The classics are Judy Chicago, Frida Kahlo, Yayoi Kusama, and Andy Warhol.

Do you consider yourself part of a particular art movement?
I consider myself part of the Instagram art movement. So many wonderful artists have given up the path of pursuing galleries to monetize on their work. Instagram has provided an even playing field and platform for just about everyone. We can make our work and share the process, allowing you into our studios. We can inspire you and be inspired by you. 

You dabbled in performance and conceptual art at Cal Arts, what was your favorite or most formative of your artistic presentations?
Performance has always been a big part of my process as I studied theater before I formally went into visual art. In my work, one cannot exist without the other.
I have enjoyed producing shows and giving other artists a platform to expose their talents. This is where my passion lies.
I love art that finds you unexpectedly. My work popping up in stores like Fendi and Dior has been really exciting because the viewer was not expecting to see me. There, they encounter art and the process of making it. It's a different experience when art encounters you when you least expect it. That excites me. 

What drew you to watercolor?
For as long as I can remember I have loved the water and longed to be close to it. I have always followed the water and gone with the flow of where it will take me. I use that same approach in my paintings. There is a certain surrender when doing a watercolor painting. Let the water lead the color and not vice versa. Because I'm a tropical girl I am drawn to vibrant colors that the medium provides. I like the translucency and layering, but it does require a patience that challenges me.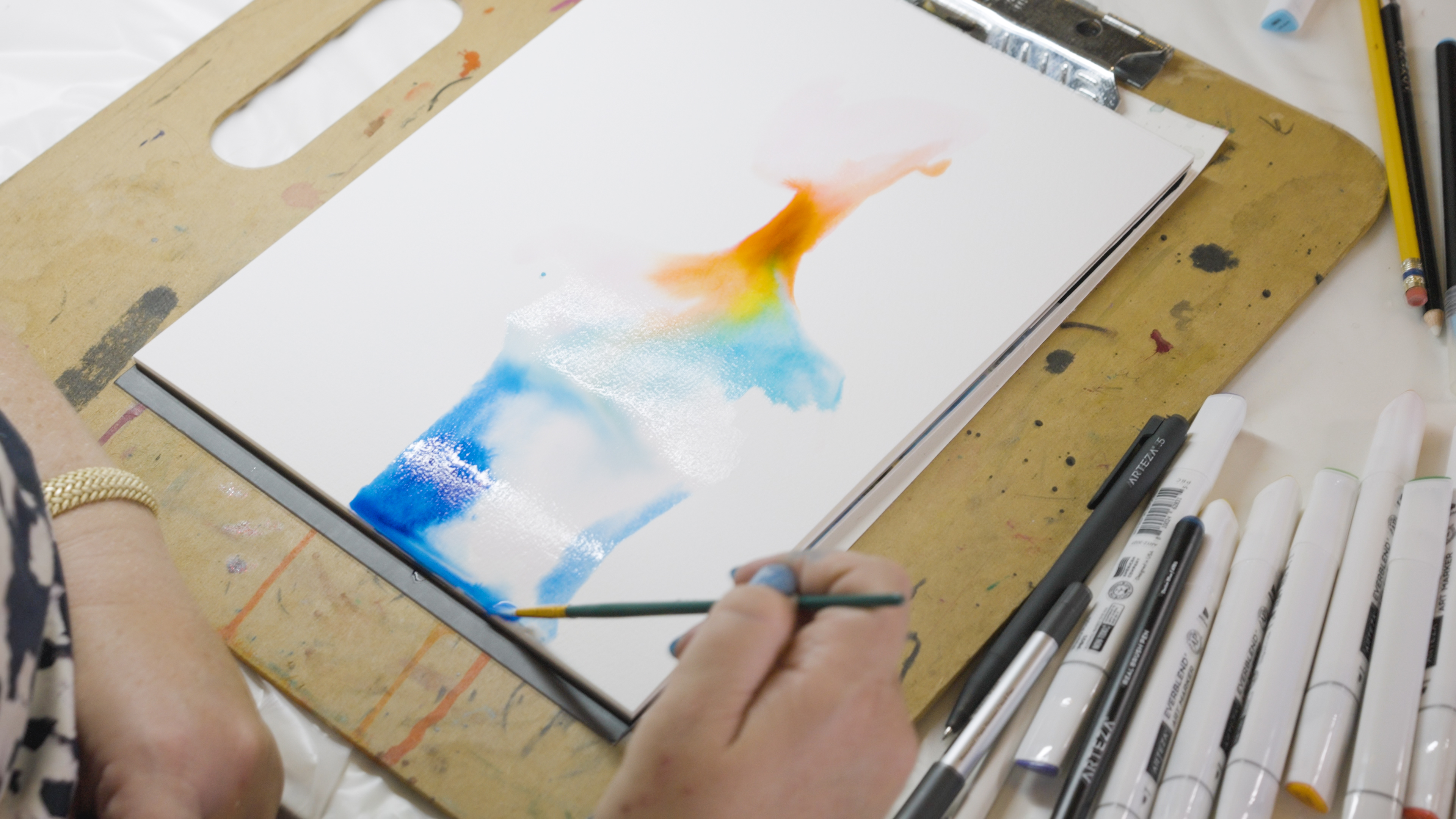 What drew you to wallpaper design?
Immersive experience. Wallpaper design gave me the freedom to go as big as I wanted to envelop any space. [It began to click to my eye] when my artwork became sacred geometry and symmetry themed. I followed that queue and it led me to wallpaper. 

How did fire become part of your creative process?
If you visit my studio, you'll see materials of all sorts. I am a strong believer in constant experimentation. I love art supplies and I collected alcohol inks to play with. When looking for children's art projects I ran across an idea that you could light a glass on fire and the color will burn to the surface. Although I would not recommend it for children it's a truly fascinating art form and I've done lots of fire paintings. They used to line every window of my studio so I could test their lightfastness. My grandfather was a stained-glass artist so perhaps some of my love for colorful glass came from him. 

Does your creative process change depending on the medium?
Absolutely, I am always surprising myself and I don't have anything set in stone as far as process goes. 

Do you have a favorite medium that you work in?
Performance and painting.

Do you have a particular favorite work that you have created?
I am really proud of the project I created with my sons called "Poetry in Pajamas". Overall, I would say that's my favorite because it encompasses so many of my strengths and touched so many people. Of course, it involves my two sons and it's a project that we worked on together for years. We have had the opportunity to perform it at the Pérez Art Museum Miami, Vizcaya Museum & Gardens in Miami, Miami Beach Botanical Garden, Olympia Theater in Miami, and of course, virtually into the living rooms of hundreds of families. 
This project is interactive, and children of all ages are inspired to write their own poems or recite their favorite ones in their pajamas. We were fortunate enough to gain the support of the O, Miami Poetry Festival who believed in our idea and helped it amplify our voices and the voices of all the children. Creating artistic and magical experiences for children and families is what I believe will make Miami a more wonderful city. 

What inspired "Poetry in Pajamas"?
The power of words and performance and cute patterned pajamas. 

What inspired you to teach children about art?
Sharing what I am most passionate about with children comes naturally to me. Usually only a child can match my enthusiasm for colors blending together so beautifully. Sometimes only a child can see what I see. I learn from children as I teach them. They are irreverent and enthusiastic. That's the way I like to approach my work as well.

Do you feel that there is a connection between visual art and poetry?
I like my poetry the same way I like my visual art—surprising to encounter. They are one in the same. 

What advice do you have for beginning artists?
Don't judge if it's good or bad. There are no mistakes in art. Just do it. You are your own best advocate, always believe in yourself. Keep working. 

 What are you currently working on?
I'm currently working on a kaftan line with a fashion designer and Royal Queen philanthropist, a line of illustrations for Target and Bed Bath & Beyond, and large-scale paintings. I'm also [devising] more creative ways to bring the community together and have art accessible to kids. 

What are your favorite Arteza products?
The watercolor brush pens and the alcohol markers.
Did you enjoy this read? Please share comments. Also, Sara mentioned her favorite Arteza products being the brush pens and the markers. Make sure to shop these products for your next creation.