This month, we're honoring an amazing artist from Belgium named Steffy Bertels. By day, she's an art director for an advertising agency, but during her free time she becomes an incredible artist. She uses K-pop to inspire her creations and even integrates her artwork into real life in some of her pieces. We had the pleasure of sitting down with her and talking more about her inspirations and how she comes up with her brilliant ideas. 
Hi, Steffy! Tell us a little bit about yourself.
Hi! My name is Steffy. I live in Belgium where I work in an advertising agency as a creative and Art Director.
I spend my free time with friends, family and drawing. I also love K-pop in general. It gives me joy, a lot of inspiration and it's the reason why I started my Instagram account.
How long ago did you start painting? Do you have a story behind it?
For that we go way back! I started drawing basically when I was able to hold a pencil, so I have been drawing for as long as I can remember. 
There is not really a story behind it. First it was a hobby; later I studied art in high school and I finished my studies in 'Graphic Design / Advertising' in college. 
Drawing was and is always something that I need in my life. I'm not that good with words, so I prefer to put my words and things I want to say in my drawings. 
Your art mainly focuses on K-pop groups such as BTS and MONSTA X. What inspires you most about these K-pop groups?
In the beginning I listened a lot to BigBang and SHINee. Later there was BTS, MONSTA X and a lot of other groups. Listening to K-pop is like an escape for me. 
This can sound like a cliche, but I really mean it. We are always busy and we're living in a world where you feel rushed most of the time. Thanks to K-pop I can escape from this.
The same goes when I'm drawing. Combining these two gives me a feeling of complete freedom. I feel relaxed and for a moment away from this world.
View this post on Instagram
Do you have a story with one K-pop group that is strongly connected with one of your art pieces?
I started listening to K-pop around 2012. After a couple of years passed by, I drew my first K-pop fanart. 
It was in 2015—a pencil drawing of Suga from the 'Dope (쩔어)' era. A few months later, in 2016, I decided to make my Instagram account and posted that drawing. 
It was scary to post my drawings on a platform where everybody could see them, but it also gave me a huge boost when I noticed that my drawings were being appreciated.
I still can't believe that there are so many people that like my drawings, and I'm so grateful for all the support I get every time. It also gives me a huge drive to improve more.
What K-pop music video is most inspiring from your point of view as an artist?
That's a very difficult question to answer, but I'm also happy to see a question like this. Why? Because K-pop music videos are just on another level. They are always so creative.
The setting, decor, storytelling, fashion—they are always pushing the boundaries, going beyond stereotypes and putting new elements in their music videos. You're always surprised when watching a K-pop music video.
Every time there's a new comeback with a new music video, I'm immediately inspired. For example: Agust D - Daechwita.
Here I combined the duality that you could find in the MV in one drawing. 
That's why I find it very hard to choose one specific K-pop music video… Or let me say, almost impossible.
What advice can you give on how to find the inspiration for the art?
Through the years many things have inspired me like different artists or things I faced in my daily life. My advice: surround yourself with the things you love. Another thing that can give you a lot of inspiration is a very simple one. Just go outside, go for a walk and look around you. As an artist you sit a lot of the time behind your desk. But the outside world can be a great source of inspiration when you look at it in a different way. For example, in some cases I literally use nature elements in my drawings. I cut out my drawing and I use the sky, a landscape as the background. In this way 'the outside' and my drawing have a certain interaction and are connected with each other.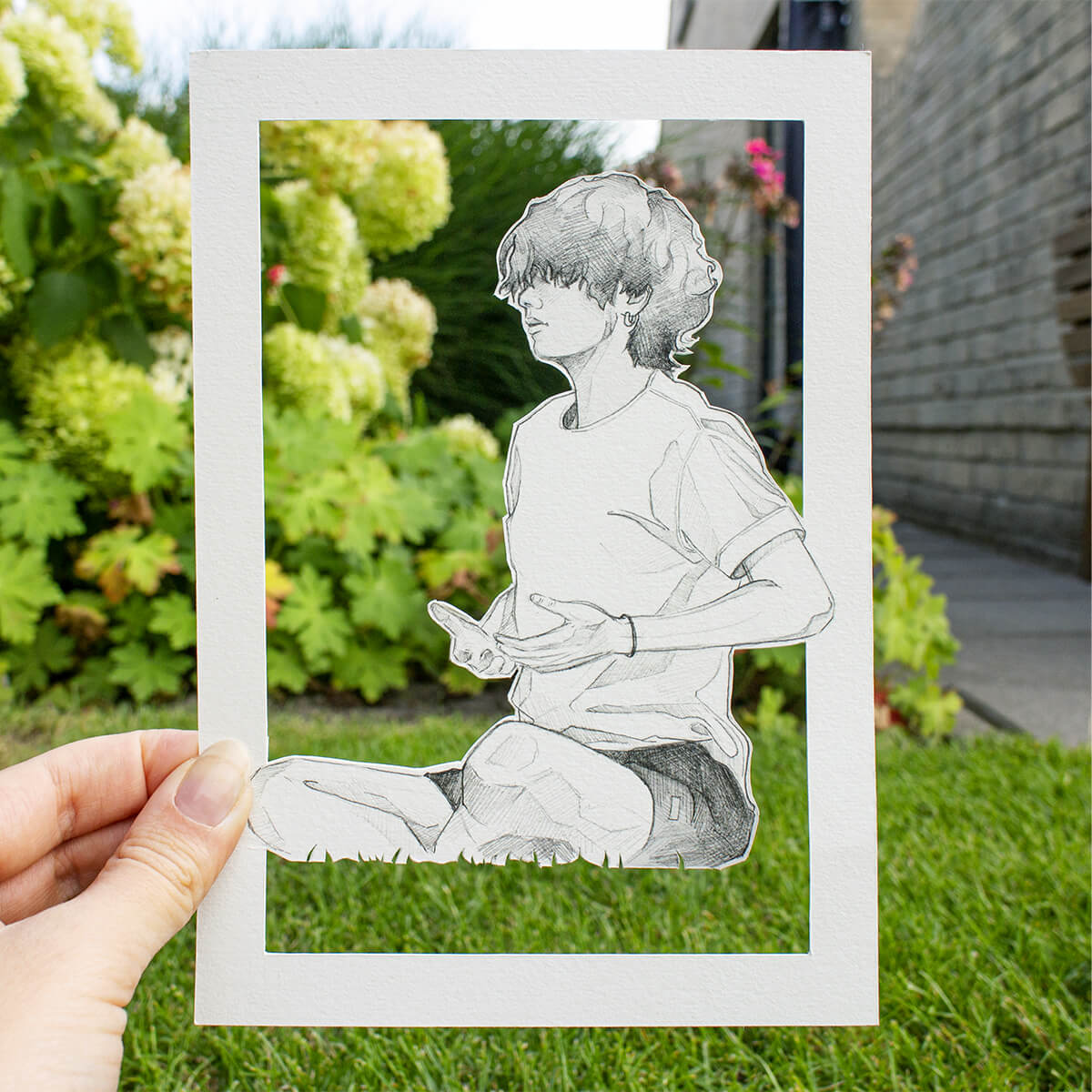 How did you find your personal style?
Finding a style is a little bit like a journey. You try different things and materials (in combination with your environment) and on the end of the road, you find your own style and the materials you are most comfortable with. It comes naturally. Don't feel too stressed when you can't feel your own personal style immediately. 
What is your favorite part of the drawing process?
My favorite part, at this moment, is shading. Giving my drawings volume. How I do this varies often. One time I just use a simple pencil, the other time I add more color and go for watercolors.
Tell us your favorite art technique from all of them!
In my opinion, you can find the most interesting art techniques when working with watercolors. You literally build up your work. It's a very delicate technique, but also one where you can put the most feelings into your drawing, in my opinion. Watercolor teaches you to have the right amount of patience. Taking your time in a world that's going faster than ever before. 
One tip I can give you—know when to stop building layers! This is a mistake I still make to this day. You are in the moment, everything is going well … but then it's going a little too well and you forgot that your drawing was already finished.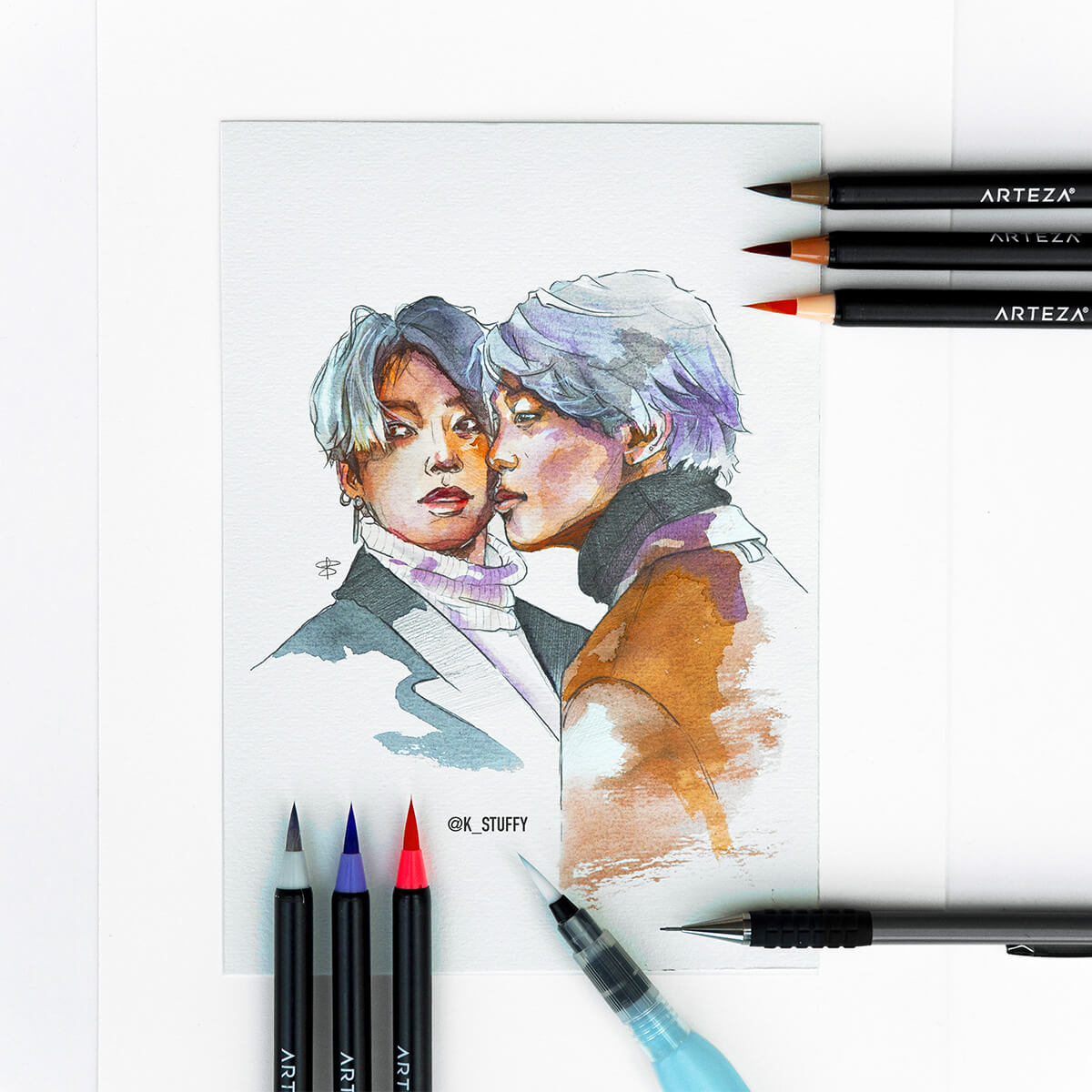 How often do you use Arteza?
Since I got the pencils from Arteza I have been using them in every drawing. I love the variety and the range from 6B to 4H. You get a perfect balance between hard and soft pencils. 
The paper and watercolors are on my desk on a very regular basis. I also really love the 'Real Brush Pens' because you can add a lot of detail in your painting with these pens. 
Favorite Arteza product and why?  
My favorite products are the pencils, for the reasons I mentioned before, and also the watercolor tubes. I never saw watercolors in a tube before, so I was very excited to try these. And I was pleasantly surprised. 
Not only can you blend your colors very easily, also the quality and pigment is amazing. My favorite one is the 'Neon Pink,' because it does not lie when it says 'neon.' I used this one in the 'Suga - Purple swan' & '7 Years with BTS' drawings.