Table of Contents:
Stay Home and Take a Virtual Tour
We're all stuck at home and travel plans to faraway places to see rare artifacts and art pieces have been canceled. It's disappointing, to say the least, but there is a way to still go to those places safely and in just a matter of minutes. With a mouse click, you can be in front of your most desired painting or wandering the hallways of the top art institutions. With the magic of technology, we now have the ability to travel anywhere with help from 360-degree and panoramic views and VR headgear to feel as though we have stepped over the threshold to the magical world of Van Gogh, Picasso, Monet, Titian, and Warhol.
So join us as we take you on an excursion across time and place to some of our favorite art museums.
Touring a Museum Virtually
We realize that this is not an entire list by far, so if we've left off one of your favorites, we apologize and would love for you to share yours in the comments section below so that everyone can visit.
Museum of Fine Arts, Boston
It doesn't get any more American than a visit to the site that helped launch the Revolution. Boston is also home to this sensational museum where you can wander the halls and encounter art that goes back to prehistoric times. Delve into works of art that cover oil, canvas, modern art, textiles, and fashion. You can literally spend the day here.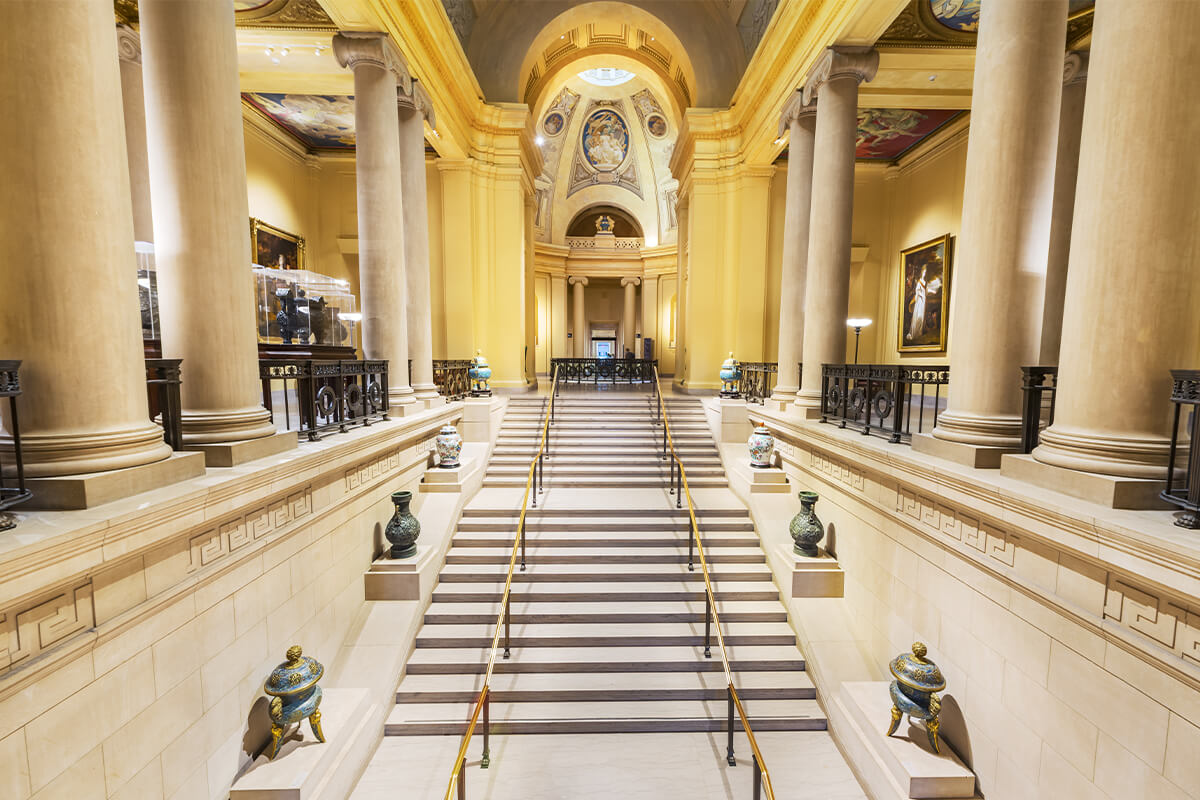 The London National Gallery, London
The center of England's art world is a must on your internet travels. No matter if you're there on a desktop, laptop, or phone, you'll have private access to more than 300 items and 18 galleries. You'll be able to get lost in this vast space as you immerse yourself in works by giants such as Titian and get up close to masterpieces of the Northern Italian, German, and Netherlands renaissance. Bonus: Take advantage of links with each painting to get more information than you ever bargained for. Visit now.
The Metropolitan Museum of Art, New York
Step into New York's iconic building that houses everything from paintings, to sculpture, to ancient artifacts, to photography, fashion, and more. The curators of The Met have gone to great lengths to make a virtual tour as inclusive as possible. They've cataloged the collection by artist, color, medium, historical events, and more. Plus, they enhance the overall experience with weekly highlights that you'll want to keep checking. Check it out.
The Louvre, Paris
Just the name conjures visions of bereted artists and crowds of onlookers vying for a spot in front of the Mona Lisa. You'll be at the front of the line in your virtual tour and can meander as long as you like as you take in the sights that include views of architecture and art that goes back to early Egyptian civilization. You'll even be able to visit its ancient moat. Start your trip.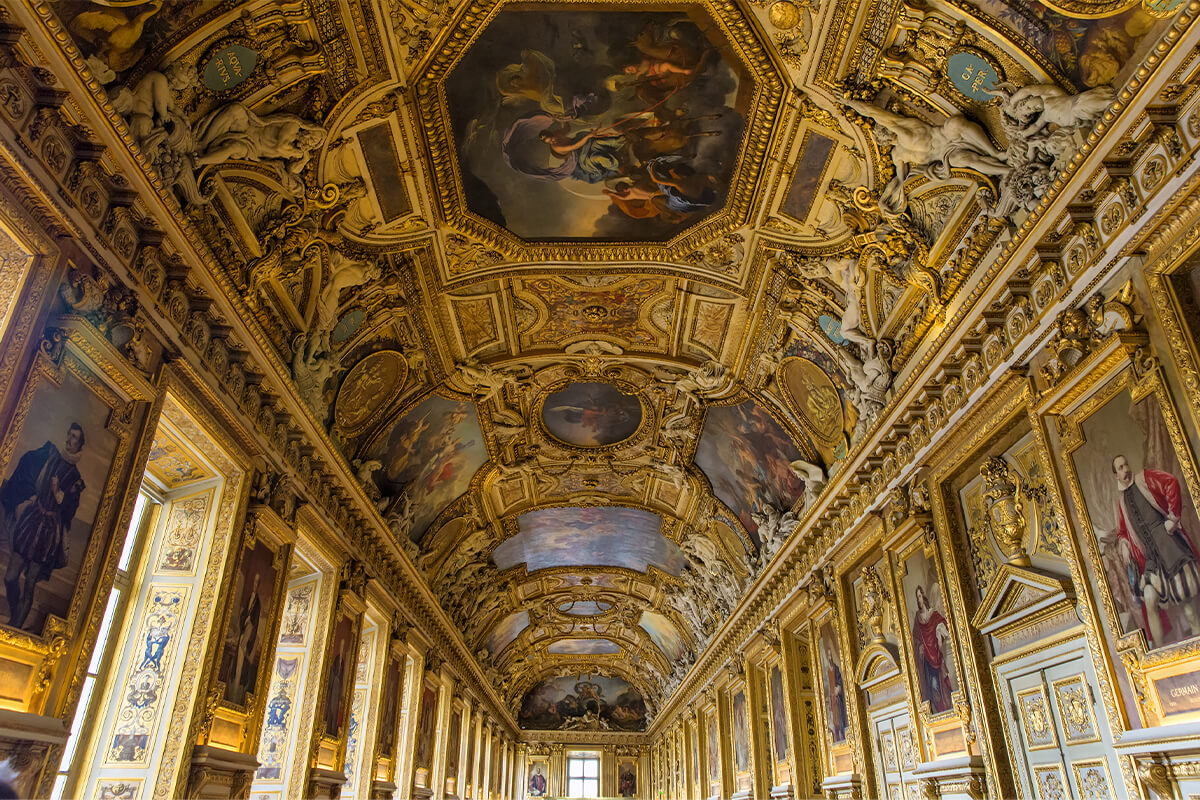 British Museum, London
Scroll through a celestial timeline with stops along the way to inspect art from Africa, the Americas, Asia, Europe, and Oceania. To help you navigate your adventure, read written descriptions and listen to your online tour guide who will help you learn as you go. Enjoy this fantastic experience by clicking this link.
The Vatican Museums, Vatican
Where else can you stay home and at the same time feel like you're inside the Sistine Chapel? This site virtually drops visitors inside some of the most revered galleries and rooms for a 360-degree view of Michelangelo's iconic chapel ceiling, Raphael's Rooms, the New Wing and more. Visit the museums.
Van Gogh Museum, Amsterdam
Stand in front of Van Gogh's greatest works in this virtual reality museum that encompasses four floors in the building. You won't find a larger collection of Van Gogh's art anywhere else and covers his work from post-impressionism, modern art, oil paint to neo-impressionism, and canvas. Take the tour.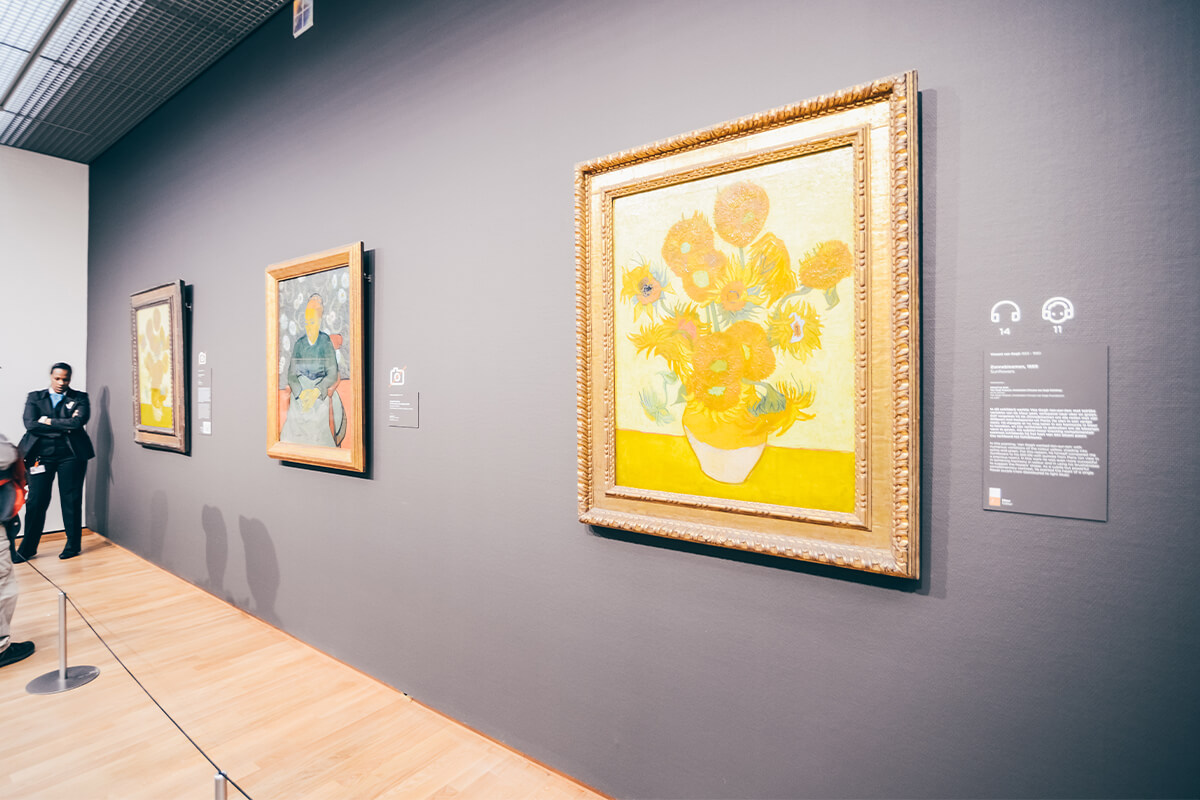 Uffizi Gallery, Florence
While strolling through this Italian institution of fine art you'll come across 156 works that cover the Renaissance, Federico Barocci, oil paint, Italian Renaissance, Baroque, and Italy. There are also four exhibitions you won't want to miss. Just click the link and you're there.
Rijksmuseum, Amsterdam
Enter the Dutch Golden Age with profound masterpieces like Vermeer's "Milkmaid" and Rembrandt's "Night Watch." You'll be able to enter eight museum views as well as scour 164,511 paintings by all the Dutch masters. Click this link to enter.
The Frick Collection, New York
Entering the collection is as easy as clicking on a room. Once inside, you're privy to Vermeer, Goya, Van Dyck, Titian, El Greco, and many other Western European artists. It's like a private showing. There are also 29 exceptional exhibits for you to enjoy. Open the door to The Frick.
The J. Paul Getty Museum, Los Angeles
Only in L.A. is a virtual tour of "Eat, Drink, and Be Merry" this popular. It takes a closer look at food in the Middle Ages and Renaissance. Explore the museum's corridors or visit individual acquisitions that include Renaissance, Felice Beato, early Netherlandish, the United States, and Northern Renaissance works. Look at it here.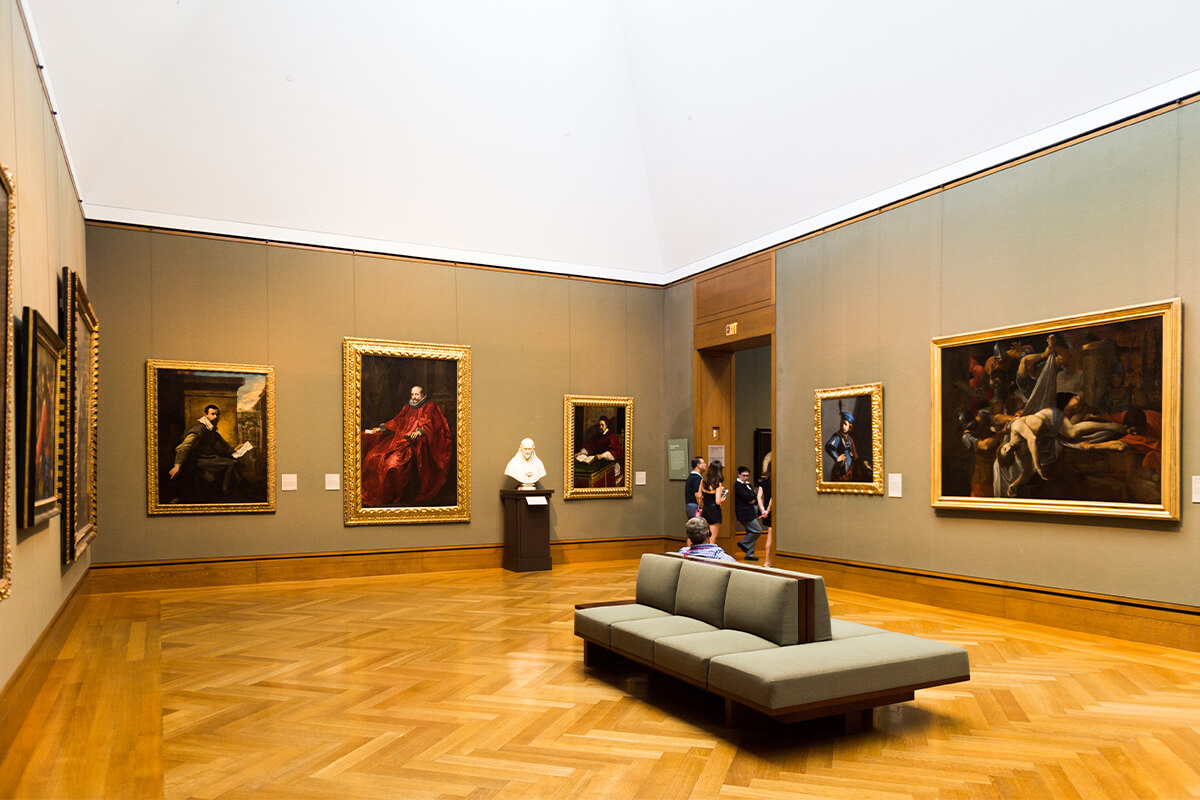 The Art Institute of Chicago, Chicago
This institute established the mid-west as a cultural hub in the U.S. and it now offers armchair visitors a view of 572 pieces, including those in oil paint, on canvas, about the U.S., Impressionism, and sculpture. Get up close and personal to paintings you may have only seen in books until now. Click here to visit.
Detroit Institute of Arts, Detroit
This museum has a diverse compilation of multicultural and multinational art dating back to prehistory through the 21st century. A fun place to go on the site now, entitled "Ordinary People by Extraordinary Artists," provides a variety of portraits and sketches by famous artists. There are also three exhibits focused on Frida Kahlo and Diego Rivera in Detroit. Check out 292 other items that span contemporary art, impressionism, realism, cubism, post-impressionism. Enter now.
Thyssen-Bornemisza Museum, Madrid
This establishment offers a large selection of videos on a wide range of art topics. Want to see the continent's celebrated artists, such as Salvador Dali? Try the free apps, video games, and VR tours, through your smartphone. Visit here.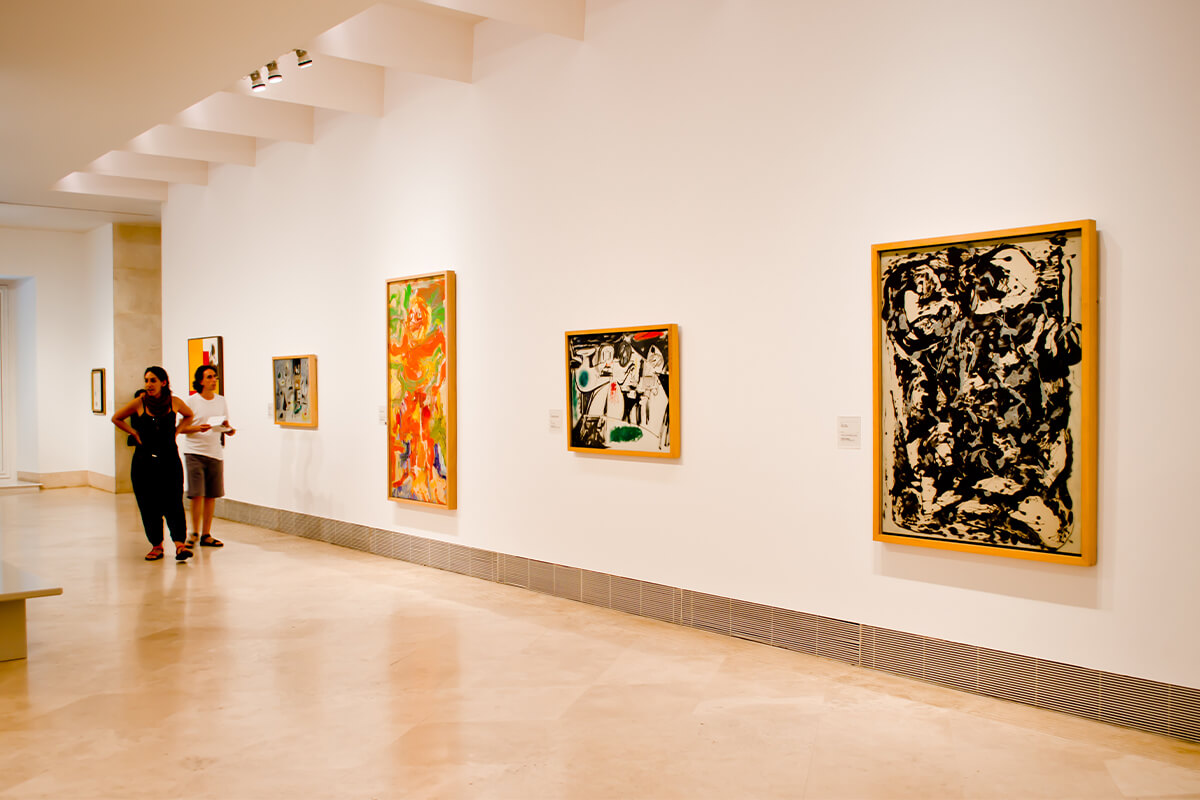 Street Art, Worldwide
Bansky made us all take a second look at graffiti and start treating it like the fine art that it is. But it took the Google Art Project to let us encounter street art and graffiti from every continent: There's even an online commentated walking tour with Google's Street View. Start the tour.
We all need to stay put for the time being, but that doesn't mean you should stop creating. Just the opposite! Besides visiting all these museum websites to get your creativity flowing, Arteza has tons of online articles and videos about artmaking with every medium imaginable — colored pencils, acrylic paint, oil paint, watercolors, brush pens, art markers, glitter, polymer clay, and more. There are also interviews with contemporary artists who tell their stories as well as offer tips to anyone interested in following their dream of becoming an artist. So stay home and stay safe and remember — there's never been a better time to concentrate on your art than right now!