On exhibition from February 12th to April 25th, "The Real Surreal 2.0" showcases some of the artist's rare modern print works, as well as Miami's first sculpture museum from the noted surrealist. Dalí's works will stand alongside The Confidante's rotating collection of custom-created pieces by local artists as part of their mission to support the surrounding community.
The latest iteration of "The Real Surreal" exhibit is curated and presented in partnership with acclaimed Miami-based art dealer Marcel Katz, who is the youngest Dalí Universe authorized dealer anywhere in the world. He is an art agent, dealer, and founder of Marcel Katz Art, an art gallery and dealership, among several other art-focused enterprises. With his keen eye, the hotel's natural glitz and glam, and Dalí's omnipotence, this promises to be an exhibition of a lifetime.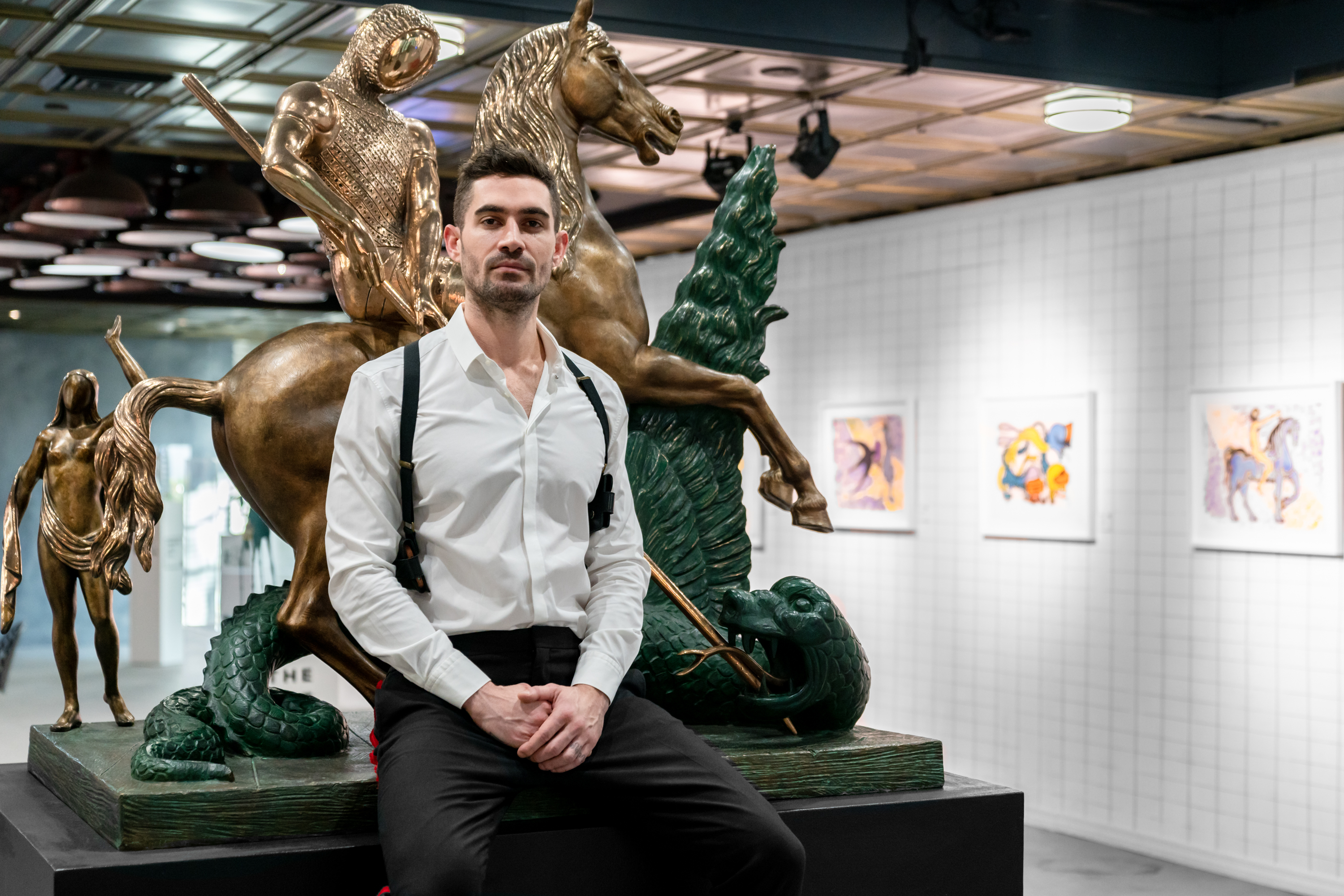 Marcel Katz, image credit The Confidante Miami Beach
"The Confidante Miami Beach opened its doors for the first time in 1940 as the first modern skyscraper of Miami Beach while Salvador Dalí was still alive," Katz explains regarding the choice of The Confidante as the home for "The Real Surreal 2.0". "It only made sense to pick that hotel as a location in Miami Beach to showcase the Salvador Dalí bronze sculpture exhibition for the first time." Sculptures include titles like Alice in Wonderland, Horse Saddled with Time, Unicorn, and Nobility of Time, among notable others.
Salvador Dalí was a Spanish surrealist renowned for his technical skill and the sometimes bizarre nature of the themes depicted in his work, whether he was going after religion, sexuality, science, or even his own relationships. He was an eccentric artist, his creativity often playing out in real life, but he leaves behind a legacy that has left an unmistakable influence on the art world at large.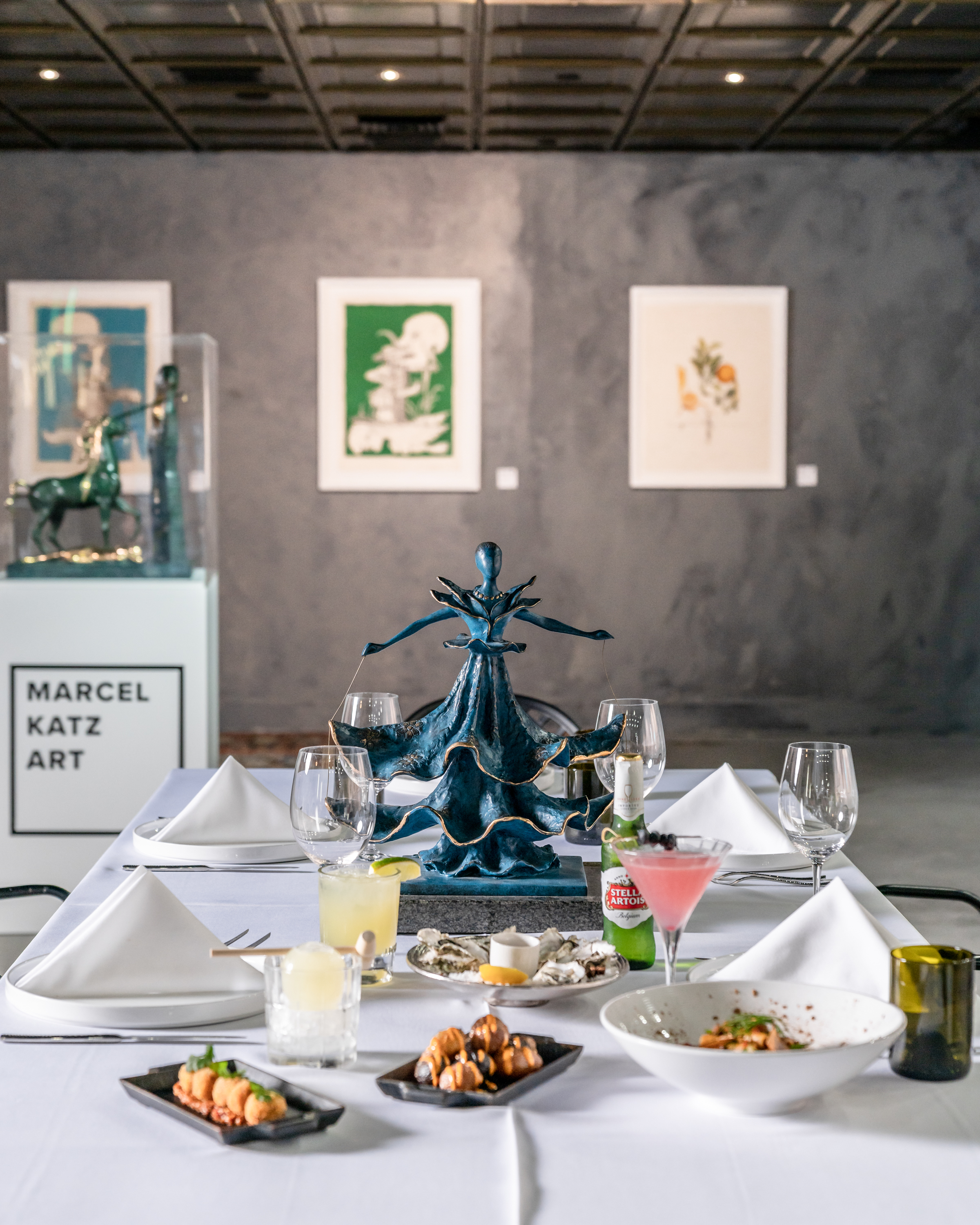 Image credit The Confidante Miami Beach
Visitors familiar with Dalí's print work will be delighted by experiencing his sculptural expressions. "To surprise our guests is to understand the duality between life, death, good and evil. Good conquers all," Katz says, explaining what visitors to the exhibit can experience. The sheer size of the "Saint George and the Dragon" sculpture (its sister piece residing in the Vatican's museum art collection) will surely elicit an unforgettable reaction. The works on display are also for sale, for those with discerning taste and the money to spend.
It isn't only visual senses that this exhibition stimulates. The Confidante will be serving up Dalí-inspired cocktails and bites in their new restaurant, Ambersweet, as well as in The Lounge and The Backyard. Signature cocktails include The Katz Mule, shaken with El Tequileno Tequila, pineapple and lime juice, and ginger beer, while the Da11í is crafted with E11EVEN Vodka, lime juice, simple syrup, fresh blueberries, and basil leaves. It even comes with a telltale mustache. The food menu takes a tasty, surreal approach with croquetas, tapioca chicharron chips, and oysters, among a full menu available after 6pm.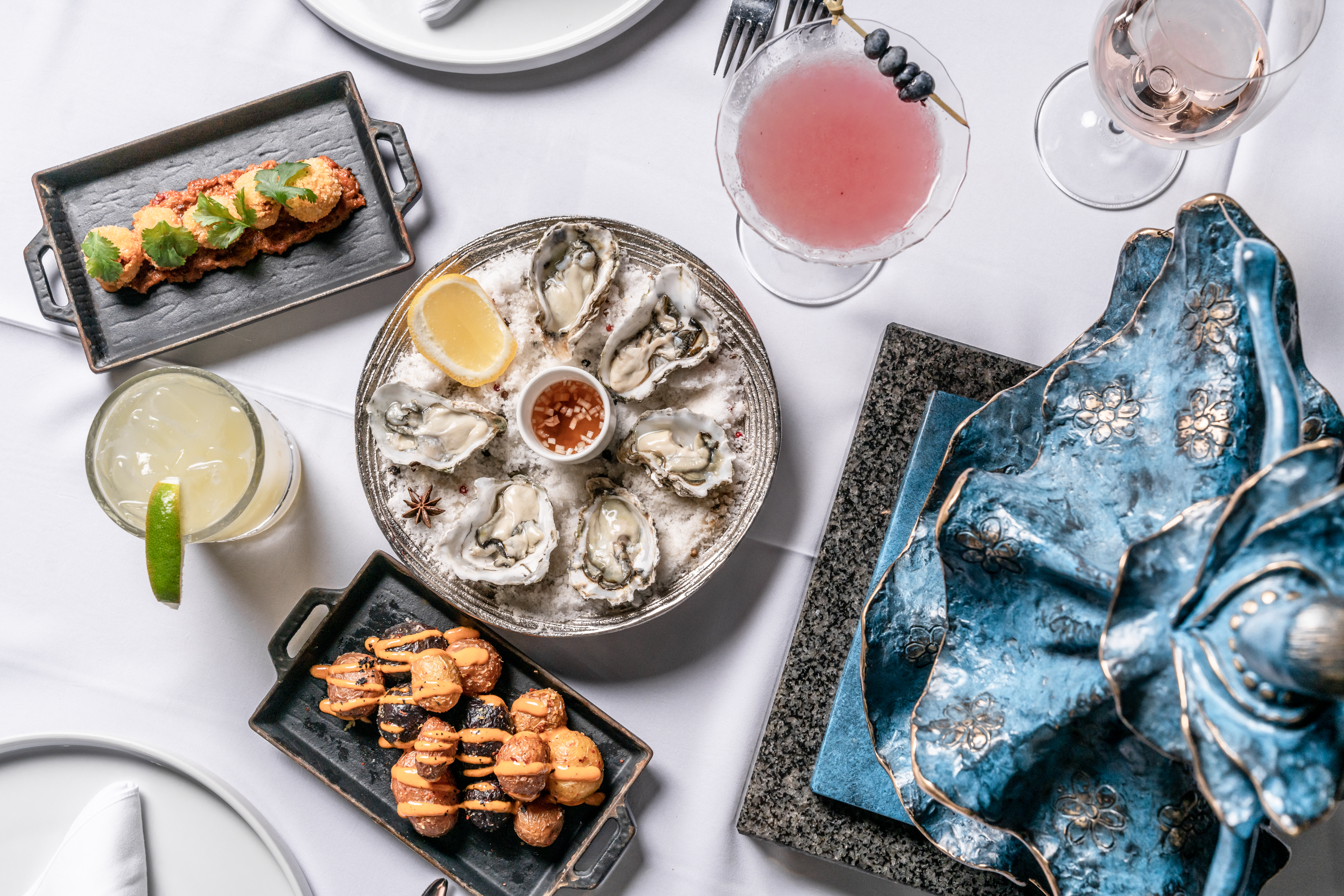 "Ambersweet menu", image credit The Confidante Miami Beach
A private, immersive dinner experience is also available for those who want to dine with Dalí. The 3-hour dinner is available Monday through Thursday, and features a decadent menu within the exhibit space so diners can enjoy the works of Dalí while enjoying their curated feast. The Dalí-inspired cocktails are part of the experience, of course.
One of Katz's main missions through The Art Plug, and this exhibit by extension, is to bring the world of art to the community. "It's imperative for students and at-risk youth to experience the exhibition because we are the living embodiment of surrealism," Katz says. "Surrealism as a definition is to release the creative potential of the unconscious mind. Anything is possible if you decide to believe in yourself." He believes it's essential for at-risk youth to be receiving this message right now.
"Miami unites as a representation of the world that is fruiting into existence through our willingness to envision a better future for all," he adds. By showcasing the result of collaboration and the courage to push forward into an unknown future, art has the power to make the world a better place. Private tours will be given during off hours to at-risk youth, teachers, and frontline workers so they can study and enjoy the pieces on display. Ticket pricing is also waived for students as well.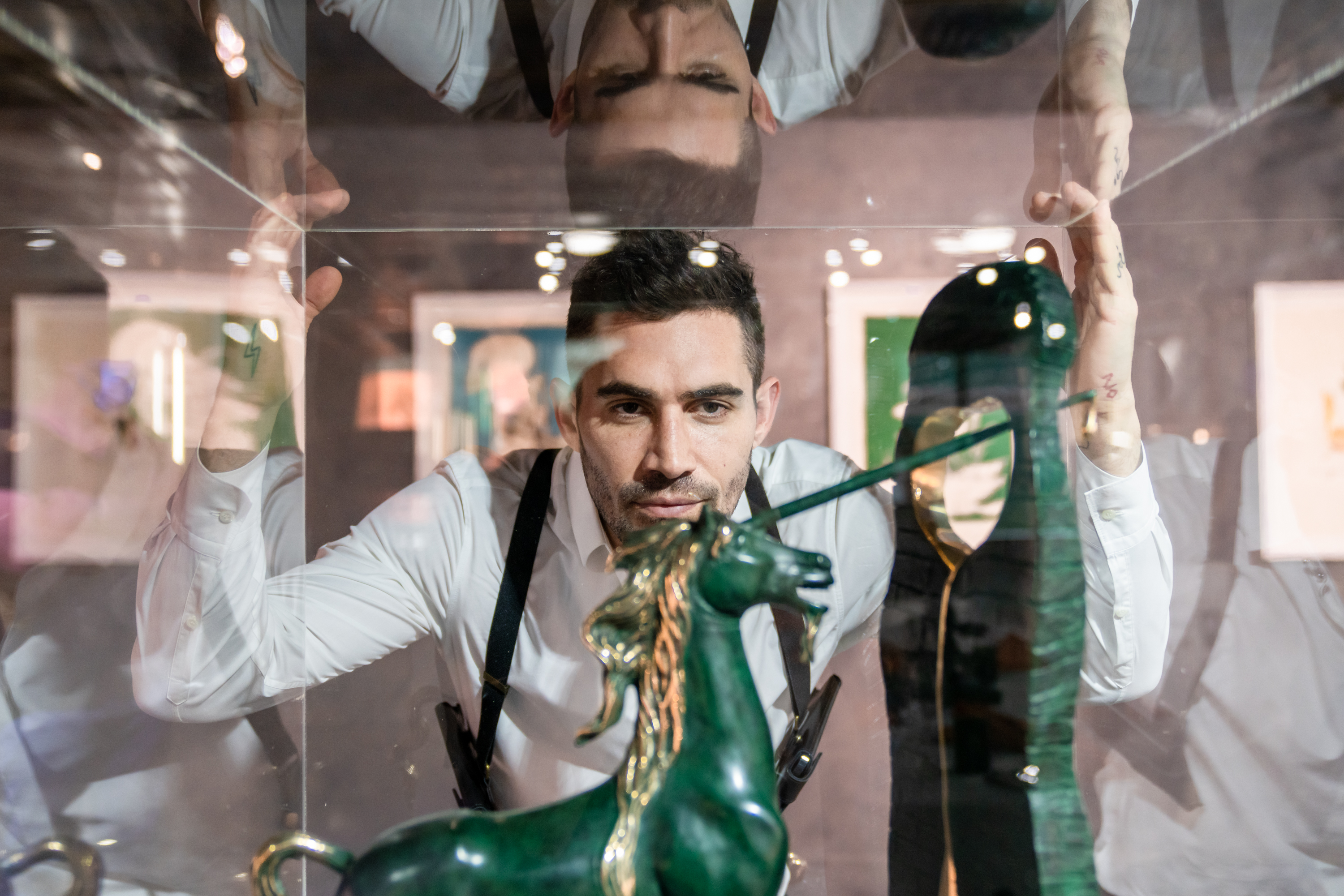 Marcel Katz, image credit The Confidante Miami Beach
And in an effort to ensure that access to art remains equitable, Katz has arranged for the exhibit to be visible online for a small fee. Access the digital rendition of this exhibition here.
As the world itself feels more and more surreal, there's never been a better time to dive headfirst into the mind of Salvador Dalí through his bronze and paper sculptures, and print work. "The Real Surreal 2.0" is an incredible collection of some of his best pieces in an environment that brings each to life in its own way, whether through the layout or the complement of a delicious signature cocktail.
Though much of Dalí's work might insist that time is meaningless, this exhibit won't last forever.