As the days get longer and the weather warms, it's the perfect time to throw open the windows and let the fresh air in. If you've been suffering the winter blahs, like so many of us, spring's the time to start fresh. There's a reason it's spring cleaning time! With the world outside renewing itself, it's time to take a look at those unorganized spots you've been meaning to do something about and give them a good transformation.
To help you do just that, we've got four brand new products that we guarantee will give you instant order in your home, office, or studio. No more time spent ruffling through the clutter to find your office or art supplies. Now you'll be able to spend your time being productive and doing the things you really love.
Out with the Old, In with the New
You've probably heard it before, but the best way to start getting organized is to throw away or donate all the items that aren't serving you anymore. Think of it as a way to make room for the organizational tools that will give you more freedom and more time. Take it one item at a time and ask yourself, "Do I really need this?" "Is this helping me do my job/art easier or better? If the answer is no, get rid of it.
Separate by Category
Now that you've cleared out all the unnecessary items, it's time to take stock of what you have and separate them into categories. For example, put all your writing or drawing tools together, such as pens, pencils, markers, erasers, etc. A good way to do this is to think of it as "like with like" and soon your things will naturally be categorized by similarity or use. By doing this you'll never have to scramble for specific items, but will have them in one place and all together.
Containerize
Now that you have everything in neat piles, it's time to put them in containers that will keep them together and at your fingertips whenever you're ready to use them. This is where Arteza comes in. Our business is to make it easier for you to have all the supplies you need to get your work done or create your best art. That means, in addition to quality art products, such as paint, pencils, and canvases, we also provide you with caddies, cabinets, baskets and organizers so that you can get on with the business of making art.
Just in time for spring cleaning, these are our newest products to get you instantly organized:
Arteza Portable Storage Caddies
These durable, stackable storage caddies are ready to handle organizing and storing any kinds of art and craft supplies as well as other home and office items. You get a pack of two organizers, one gray, one ivory, in a streamlined design. Each organizer has three small and two large compartments. The larger compartments have an easy-to-remove divider to make room for bigger items. They both come with protective foam stickers for applying to the bottoms to protect surfaces.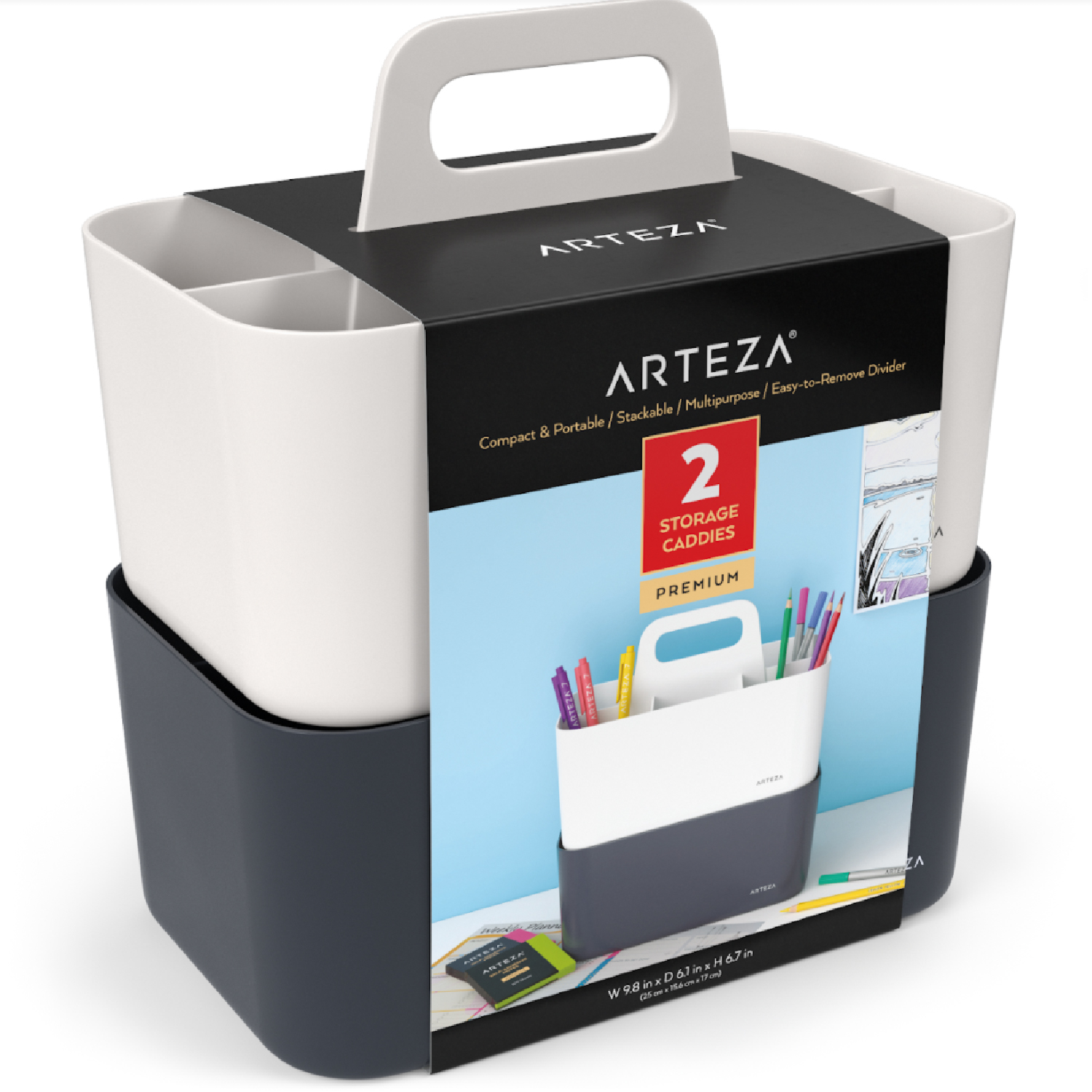 When space on your craft table or desktop is limited, this tray holder offers a handy way to clear the clutter. It combines a flat tray with a cup-shaped holder along with a convenient slot to hold your phone. It's a great place to keep small items at hand, such as pencils, pens, tape, jewelry ear buds or even your morning coffee!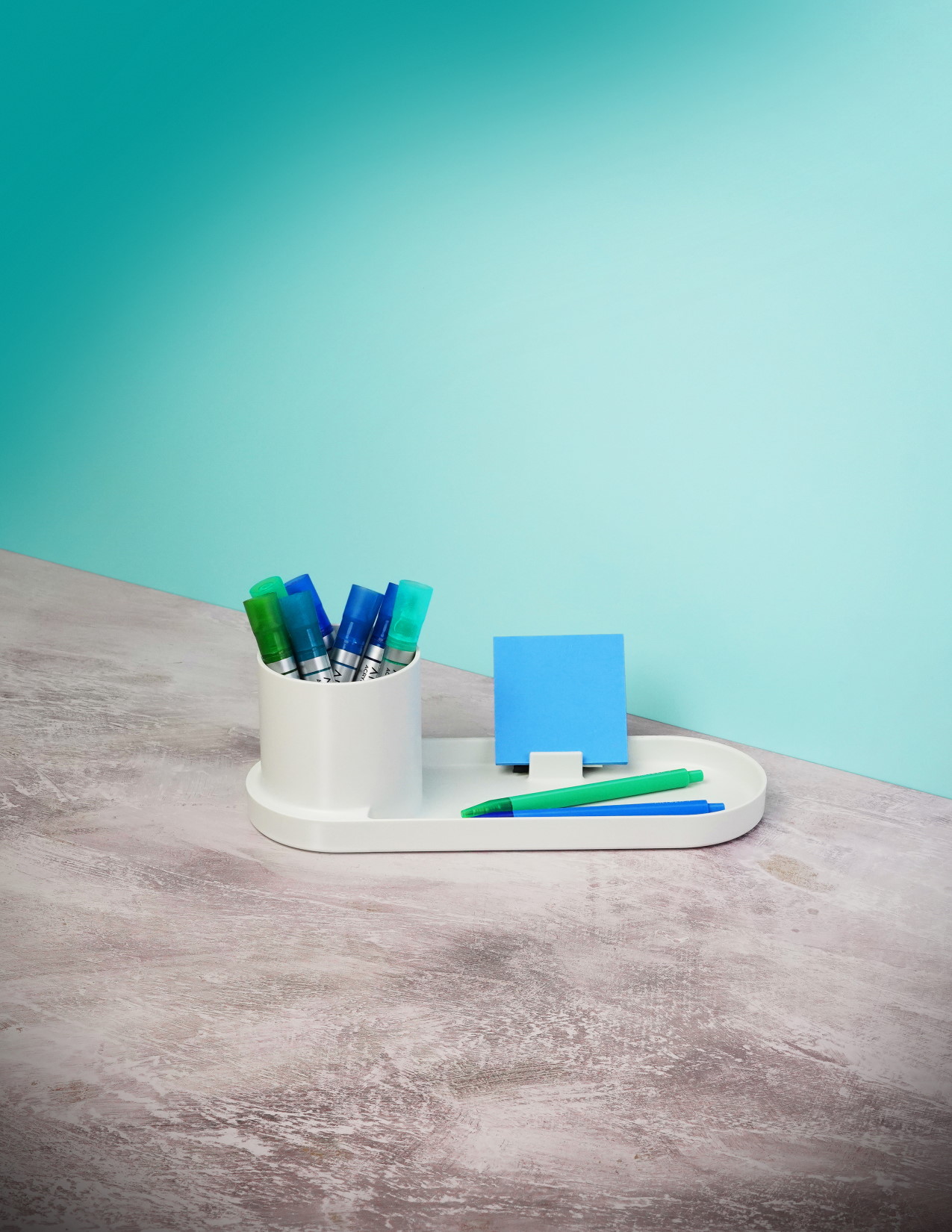 These are the workhorses of the office, studio or garage. Made of extremely durable plastic they can hold small tools, bottles, and supplies with ease. You get two baskets in a pack and each one features three sections (two small  and one large) and a wood handle. They come in gray and ivory and can be stored alone or stacked.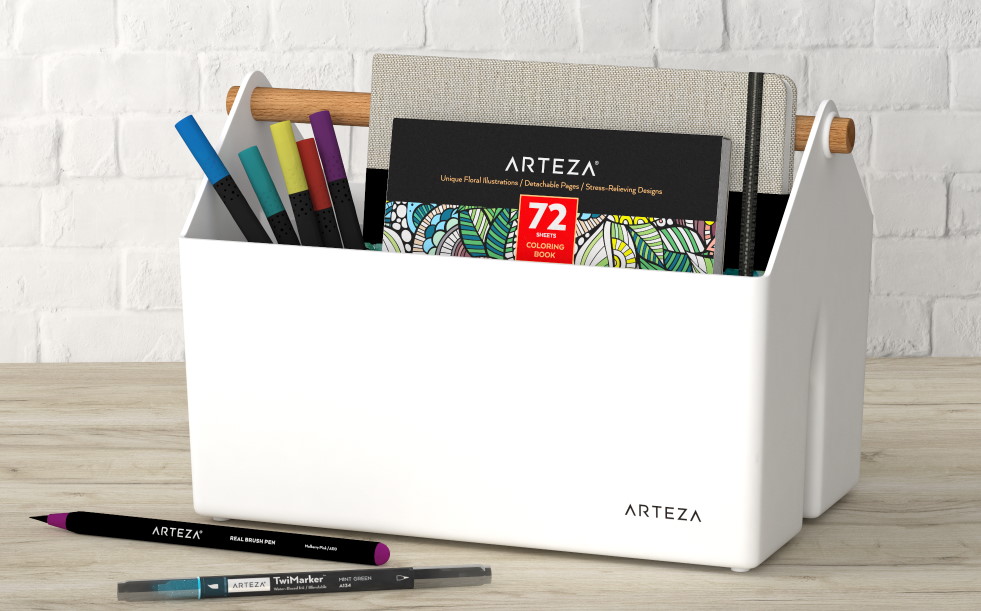 Arteza 16-Drawer Storage Cabinet 
When you need a place to sort and store small items, such as screws, nails, buttons, jewelry findings, cosmetics, snacks, etc., this is the cabinet to choose. A multipurpose storage box, it has 16 clear and semi-clear drawers with 16 separators to customize the size of each drawer. You'll know instantly where everything is by taking advantage of the labeling slot on the front of every drawer. As your collections grow, add more storage by simply stacking additional cabinets on top. Also comes as a 9-drawer cabinet.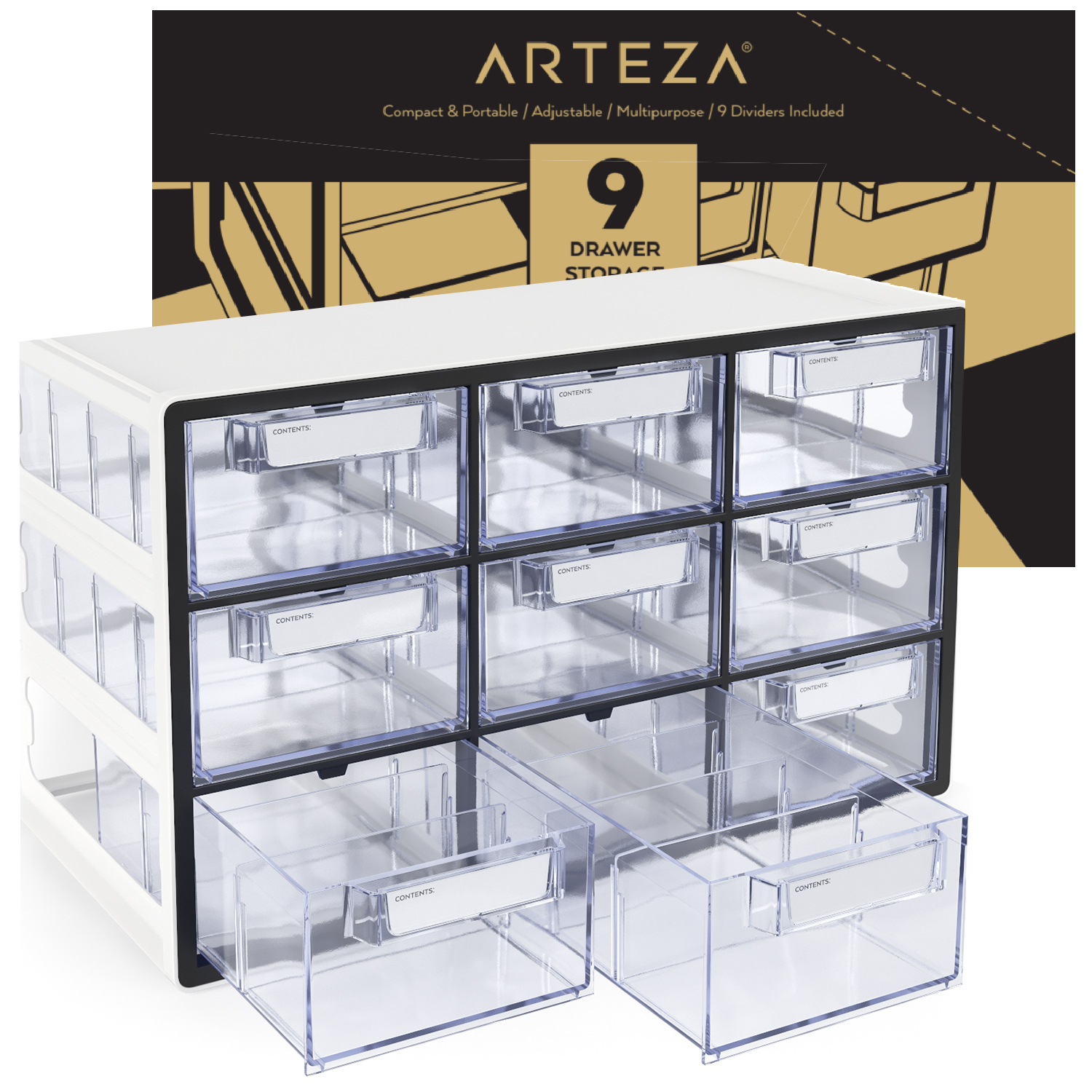 Spring is in the air and it's time to get organized. With these products, it's quick and easy to get a handle on the clutter and create a clean and efficient space. We'd love to hear how your organizing efforts are going, so please let us know in the comments section below.