It's no wonder that when acrylic paints were developed, artists of every genre jumped on the bandwagon and have been using them ever since. Because of their flexible nature, acrylic paints are especially favored by student painters, hobbyists, and those participating in arts and crafts. 

What Is Acrylic Paint?

All paint is composed of some sort of pigment, a binder, a liquid, and additives. Pigments are particulates of natural or chemical substances that are insoluble and which have been finely ground to make them easy to mix with the other ingredients. Natural substances found in plants and minerals are the most common organic materials used for pigments. The compounds in leaves, flowers, and berries are used to make many colors of acrylic paint. There are also minerals, such as iron oxide and semi-precious stones, such as lapis lazuli, that have been used for centuries to mix vibrant blues, reds, browns, black and other hues. Chemical compounds are also used to give the paint its color. Some of these include titanium, chromium, and barium. To hold the pigments together, a binding element is used. In the case of acrylics it is a synthetic polymer and water making it a water based paint. This is unlike oil paint, where the binder is typically linseed oil.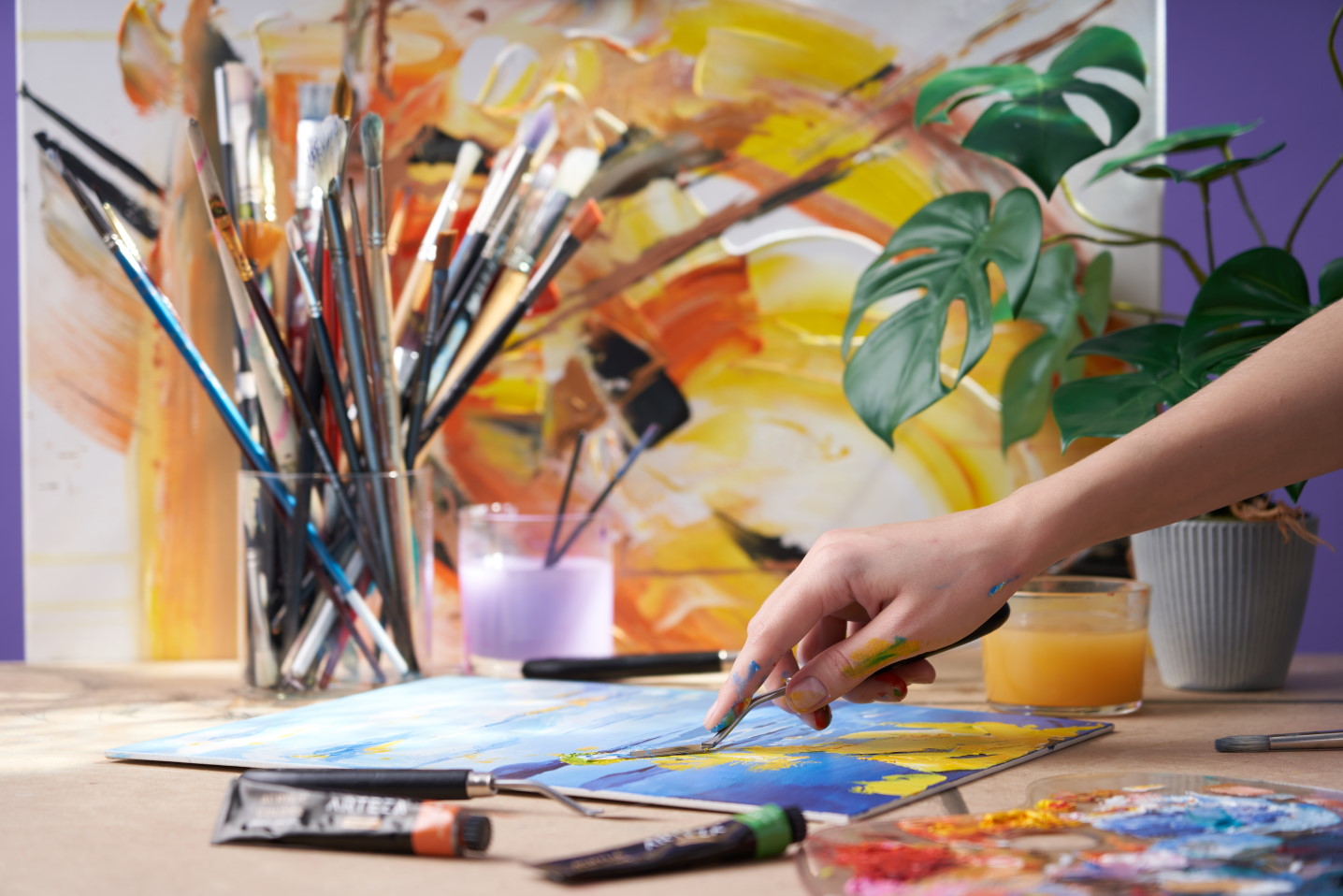 Acrylic paints were shunned by the purist painters but this all changed in the 60s as modern artists such as Andy Warhol, David Hockney, and Roy Lichtenstein embraced the medium to create paintings full of brilliant colors and crisp lines. Soon, more and more artists of all genres began trying acrylics and its popularity grew. Today, it is used by millions of fine artists, hobbyists, and crafters the world over.   

Acrylic Paint Varieties

Acrylic paint comes in many varieties. Depending on the outcome an artist wants, they can choose from heavy body acrylic paint to more fluid acrylic paint. Let's look at some examples: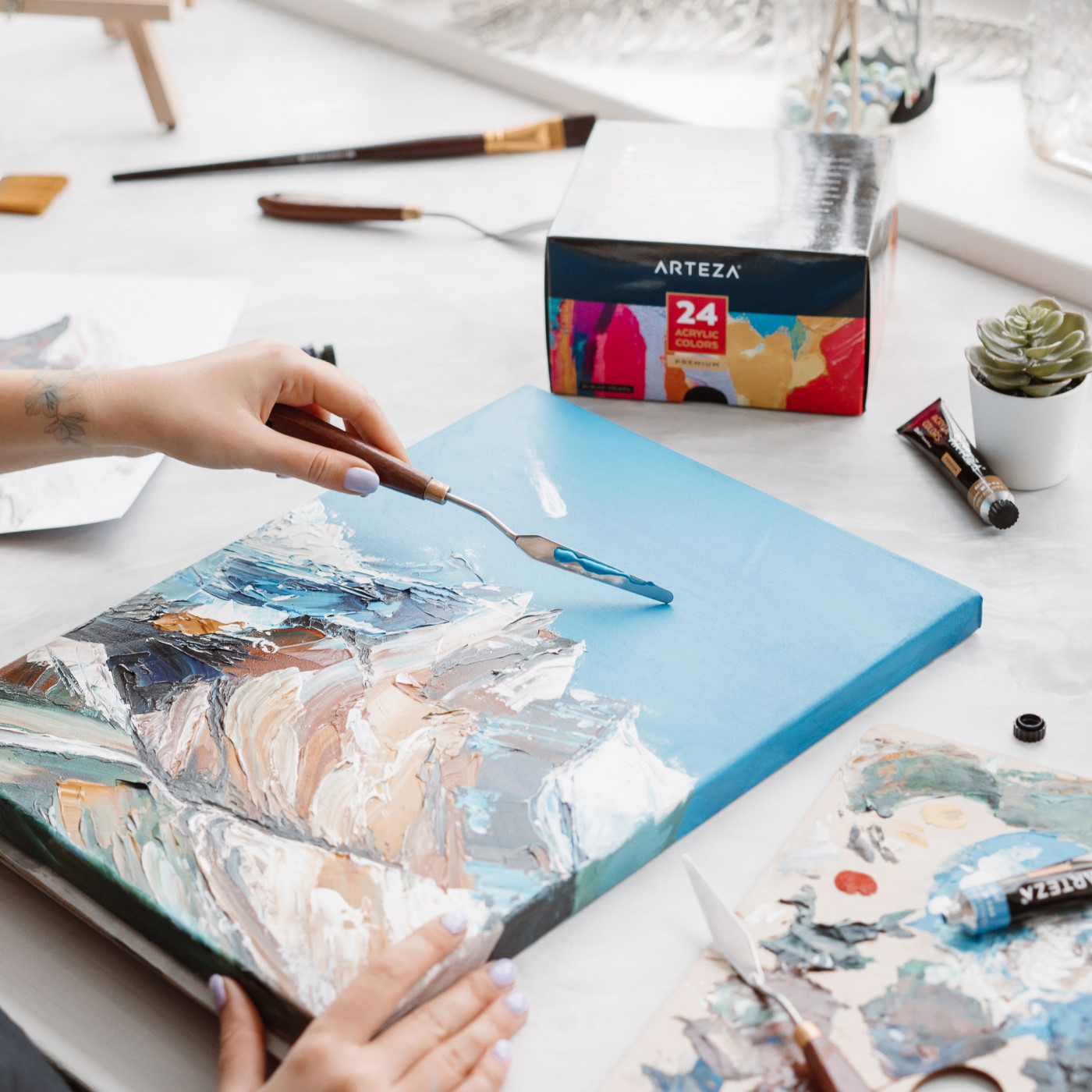 Acrylic vs. Oil Paint
There are many things to consider when choosing to paint with acrylics or oils. Many artists have a preference they stick with, while others will bounce from one to the other. It's best to give both media a try, before choosing one over the other. 

The most common reason people choose acrylic paint over oils is its fast drying time. Acrylics can dry in minutes, while oil paint takes weeks to cure until it is considered completely dry. Another reason acrylics are so popular is the ease of thinning and cleaning with water. Noxious solvents are needed to do the same with oils and it's important to paint with them in a well-ventilated area and to wear gloves to protect the skin. Oils also need these solvents plus additional oil to get many of the effects artists desire, which means there are more supplies to transport if an artist wants to paint away from the studio. 

Unlike oils that can be reactivated during their drying time or reactivated with turpentine once dry, acrylics dry to a hard, plastic-like surface. This makes them incapable of reactivation, which may cause problems for the painter who wishes to change the work. However, once acrylic paint dries it has a very high lightfastness and will maintain its original vibrancy for years to come. Oil paint has a low light fastness and will fade over time. Applying varnish over the finished oil painting can reduce the rate of fading.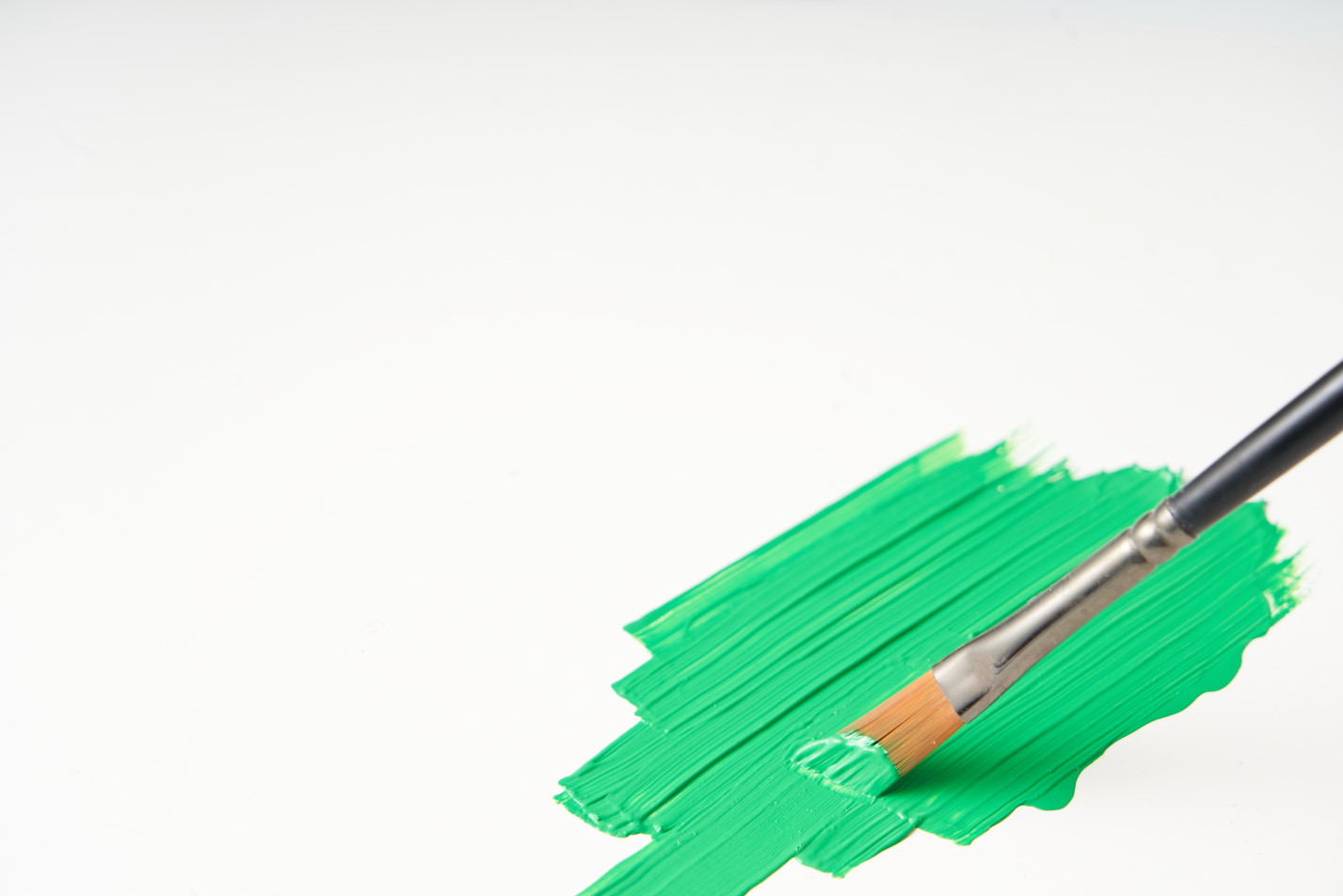 Acrylic Painting Techniques
Acrylics lend themselves to many painting techniques. Their versatility extends from traditional oil painting methods to watercolor approaches. Here are some explanations of common executions of acrylic paint.

Dry Brush Painting: This method involves using a dry brush loaded with paint and applying it to a dry surface. This can add a textural quality to the painting as not all the paint will stick to the surface, but only the paint on the bristles that come into direct contact. 

Wash Painting Technique: When you cover an area with a thin application of paint, it is called adding a "wash." This can be done on a wet or dry surface and as the first layer of the painting or over an existing layer. 

Stippling: This technique is achieved by dipping the brush in paint and adding it to the surface in a soft tapping motion. The subsequent dots and dashes created can add interest and highlights to the work. 

Palette Knife: Instead of a paintbrush, the palette knife is used to put the paint on the canvas. Think of it as buttering a slice of bread. Dip the end of the knife into the paint and scoop up a little. Then smear it on the canvas. Move the paint around using the flat side of the knife or its edge. It can be applied in thin, smooth strokes or with large dollops of paint to create an impasto effect. 

Underpainting: This involves painting the entire surface and letting it dry. Then the actual subject of the painting is done on top of that layer. Using an underpainting is especially good for beginners who might have a fear of facing a blank or white canvas. Some painters allow portions of their underpainting to show to add energy to their work.  

Glazing Painting Technique: Glazing is a way to add depth to your colors. To achieve this technique, use very thin layers of the same or a different color over an existing color. Let the paint dry between each coat. If the paint is thin enough (i.e., the consistency of watercolor paint) each subsequent layer will show through a little. 

Layering Painting Technique: Anytime you put one color over another you are creating layers. These can be added as thin or thick overlays. 

Suggested Products:
Are you ready to create some art? Interested in seeing even more Arteza products? Shop set below for your next creation.