The Top 10 Must-Have Watercolor Painting Supplies
Table of Contents:
Introduction
Every artist knows that having quality supplies is a crucial part of the creative process. Many watercolor painting techniques can be made much easier when you have the right supplies. Arteza has a wide range of premium supplies made for artists of all levels and watercolor tools that will allow you to create in a variety of styles. From paper with a variety of absorbent textures to sets of watercolor paints packed with pigment, you're sure to find the perfect tool to help you with your next painting. Take a peek at the top 10 watercolor supplies every artist needs in their collection.
The Top Watercolor Painting Supplies for Artists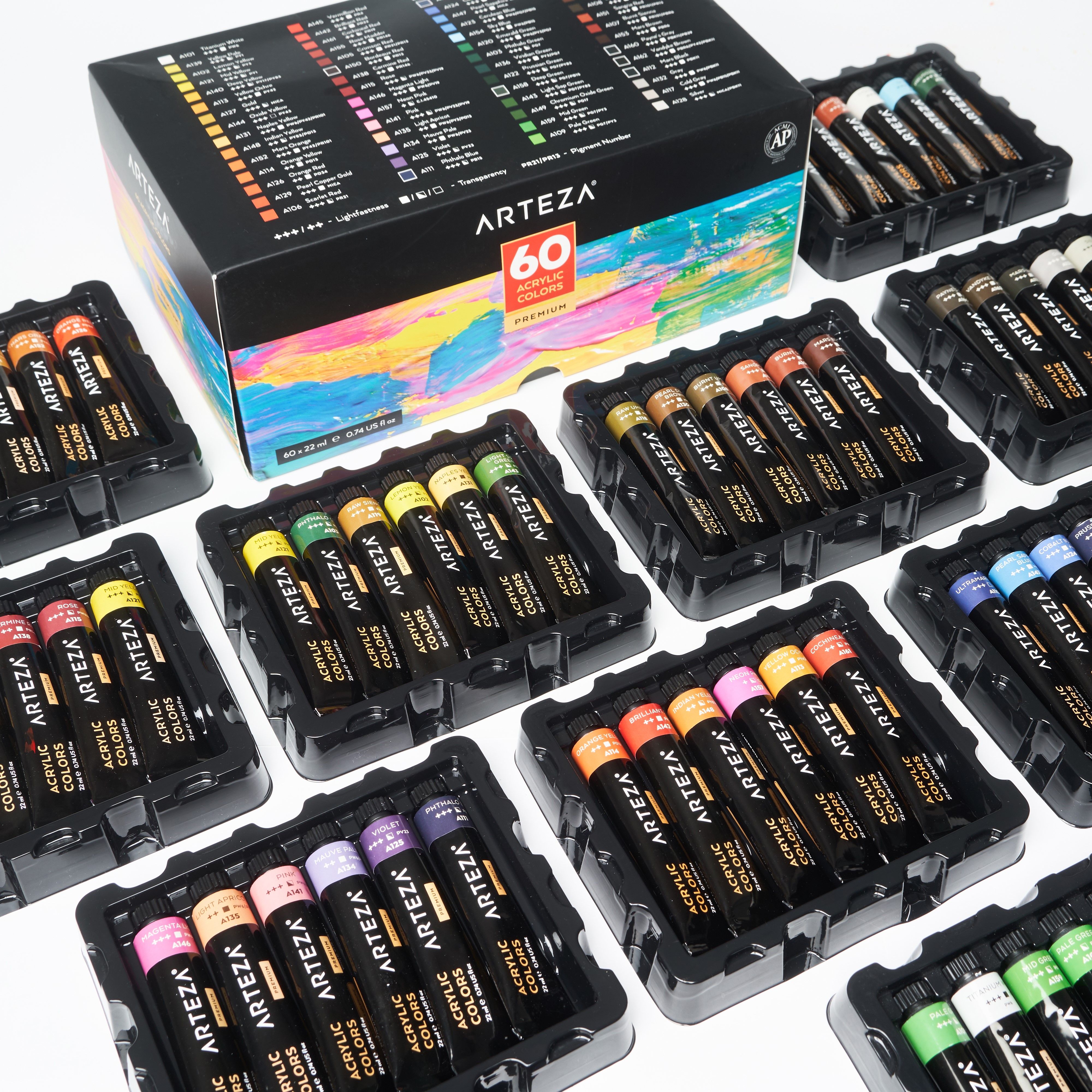 1. Watercolor Premium Artist Paint, 12ml Tubes - Set of 60
Get ready for any creation you can imagine with a huge set of 60 watercolor paints. You'll get a wide variety of shades that includes both primary and secondary colors. These beautiful paints can be easily diluted and dry quickly so you can get back to layering your colors in almost no time.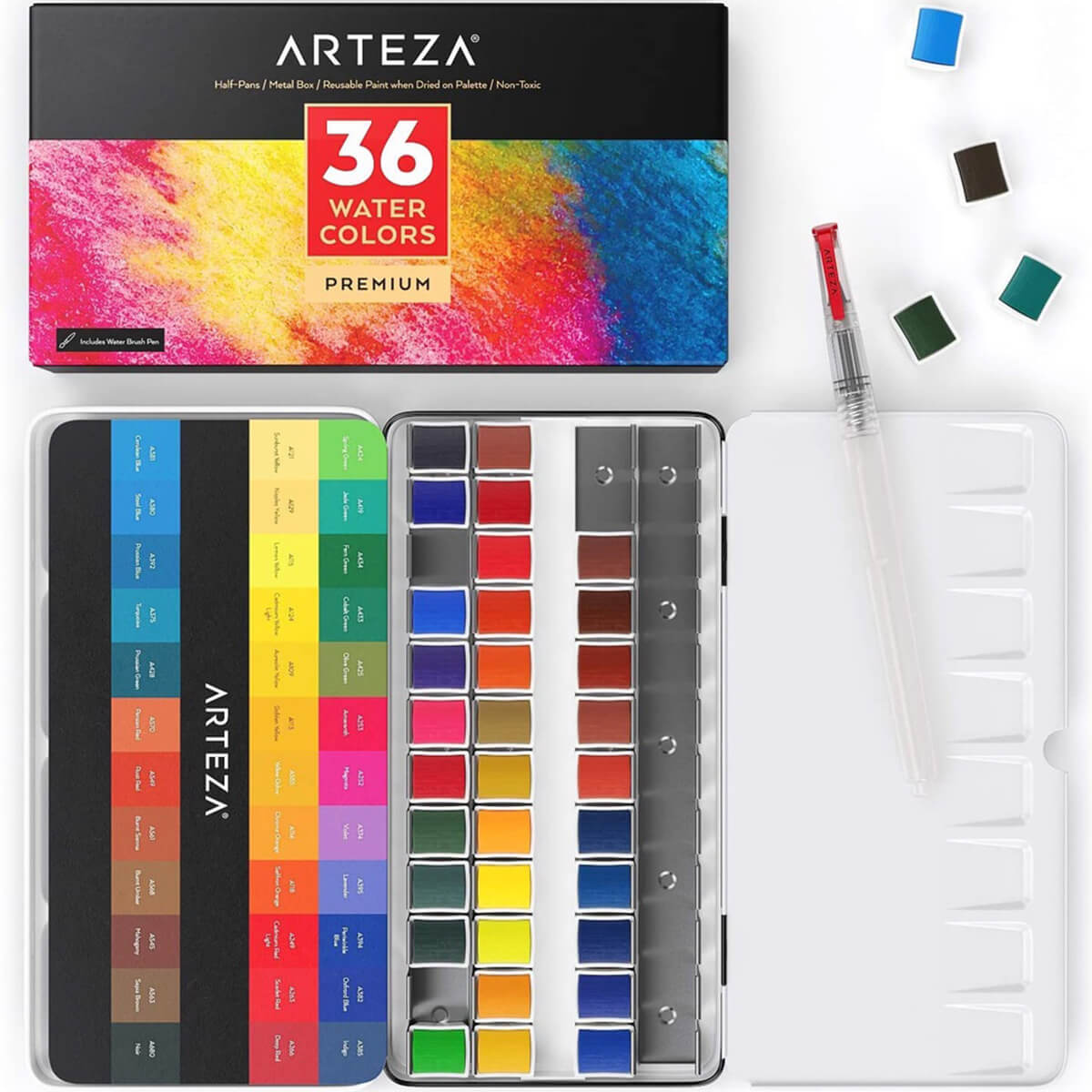 2. Watercolor Premium Artist Paint, Half Pans - Set of 36
These little pans pack a colorful punch when you apply them to your paper. They're a great option for traveling because they're compact and require virtually no clean-up. All you need is a little water to activate the paints and you can use the lid as a palette for mixing.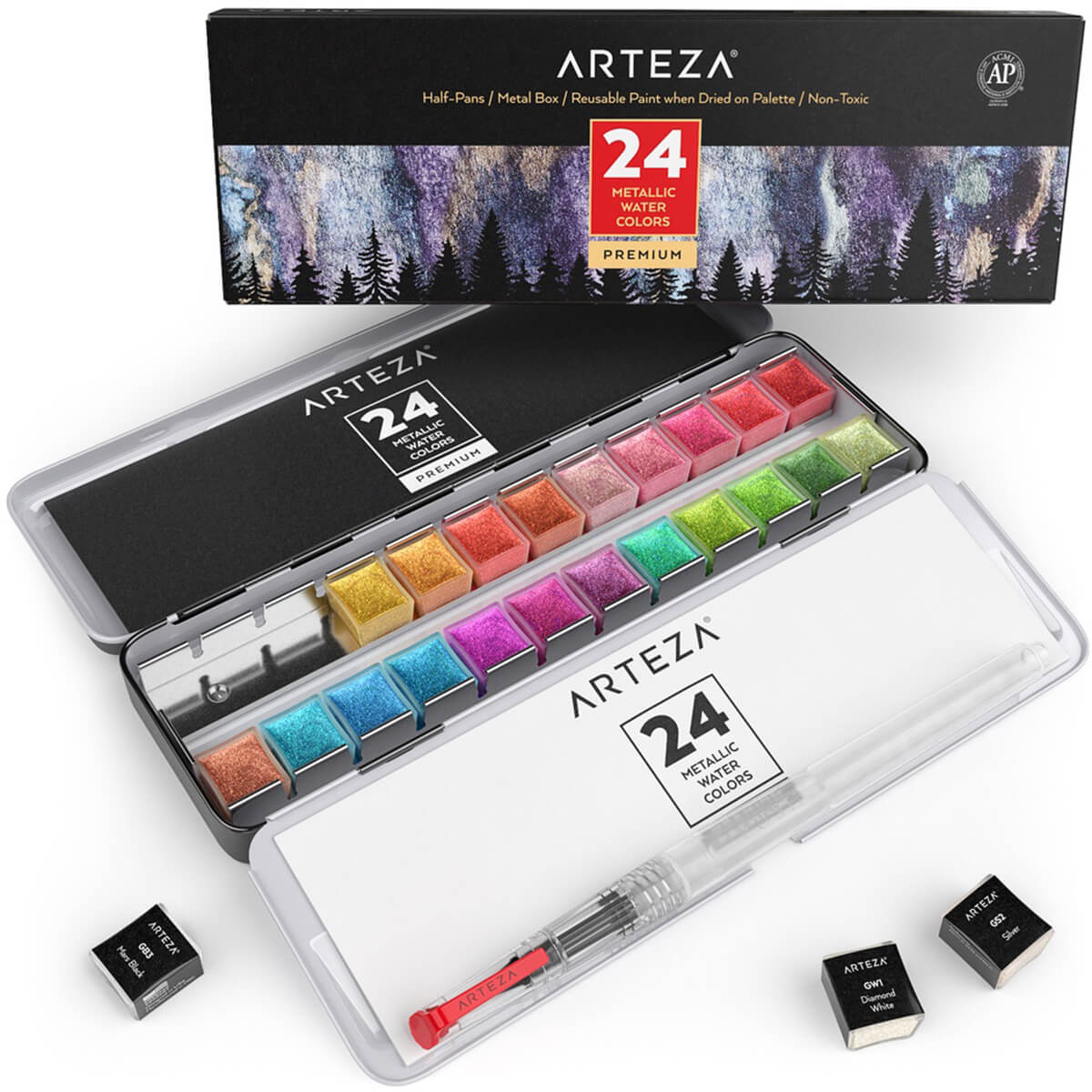 3. Metallic Watercolor Premium Artist Paint, Half Pans - Set of 24
If you're looking to add a special touch to your painting, then metallic watercolors are perfect for you. You can even mix and match the pans in the tin to create a custom palette of your favorite tones. With every brushstroke, you'll be able to add a shimmering highlight or accent to your artwork.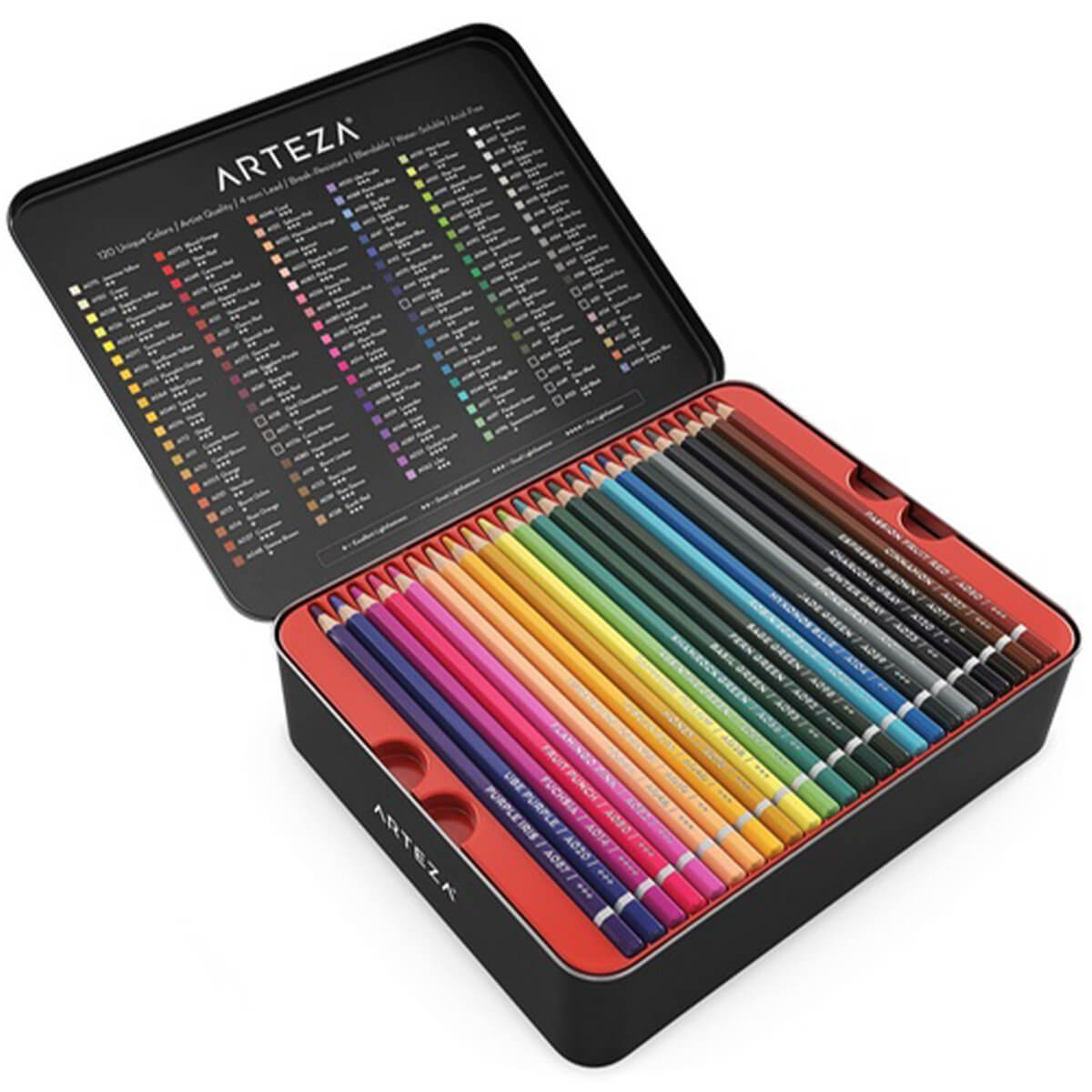 4. Professional Watercolor Pencils - Set of 120
Artists who aren't completely comfortable with watercolor painting just yet will love these multi-tasking pencils. You simply draw or color where you like then apply water to transform your pencil lines into washes of watercolor. There are so many cool techniques you can try with these watercolor pencils, and they're super helpful for adding details.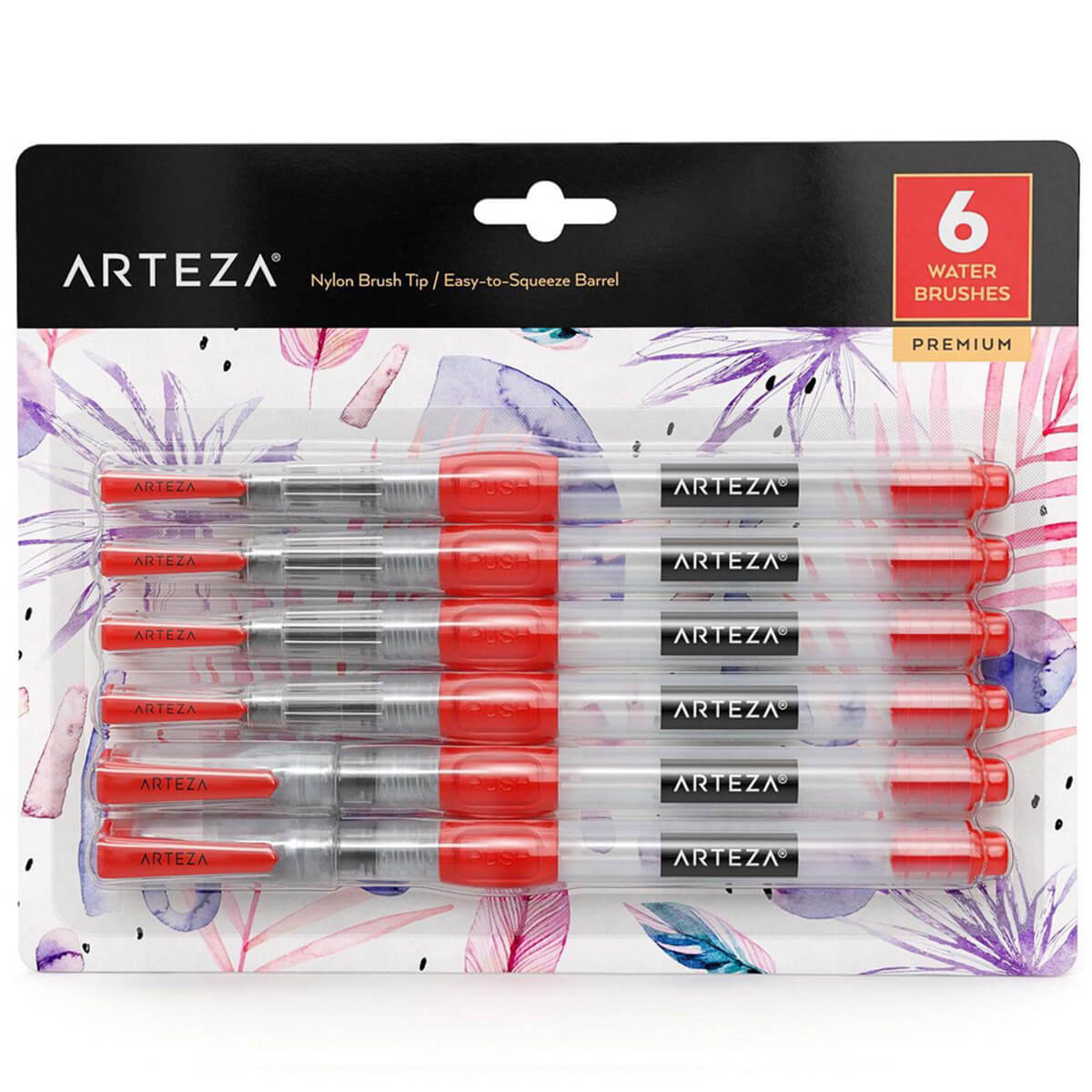 5. Water Brush Pens - Set of 6
Whenever you're unable to keep a water cup nearby, you'll want to bring along this convenient water brush pen set. You'll get a variety of nibs to choose from and each barrel holds a decent amount of water. Simply squeeze the button on the barrel to dampen your bristles and keep painting.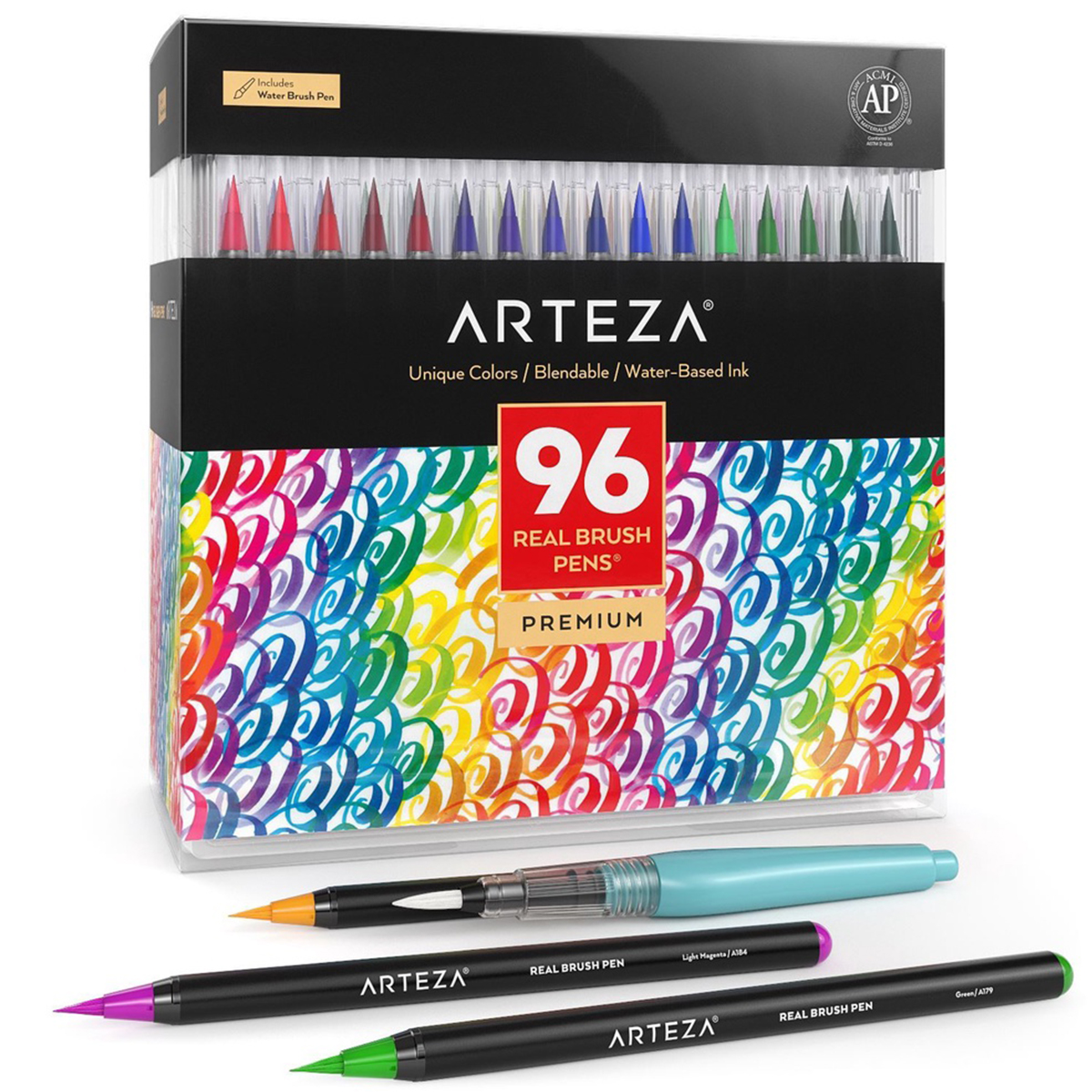 6. Real Brush Pens - Set of 96
Sometimes you're in the mood to paint but don't want to get out the whole setup. That's where Real Brush Pens come in! These pens have special nylon brush nibs that allow you to draw as if you were painting. You can also add water to your drawing to create beautiful watercolor effects.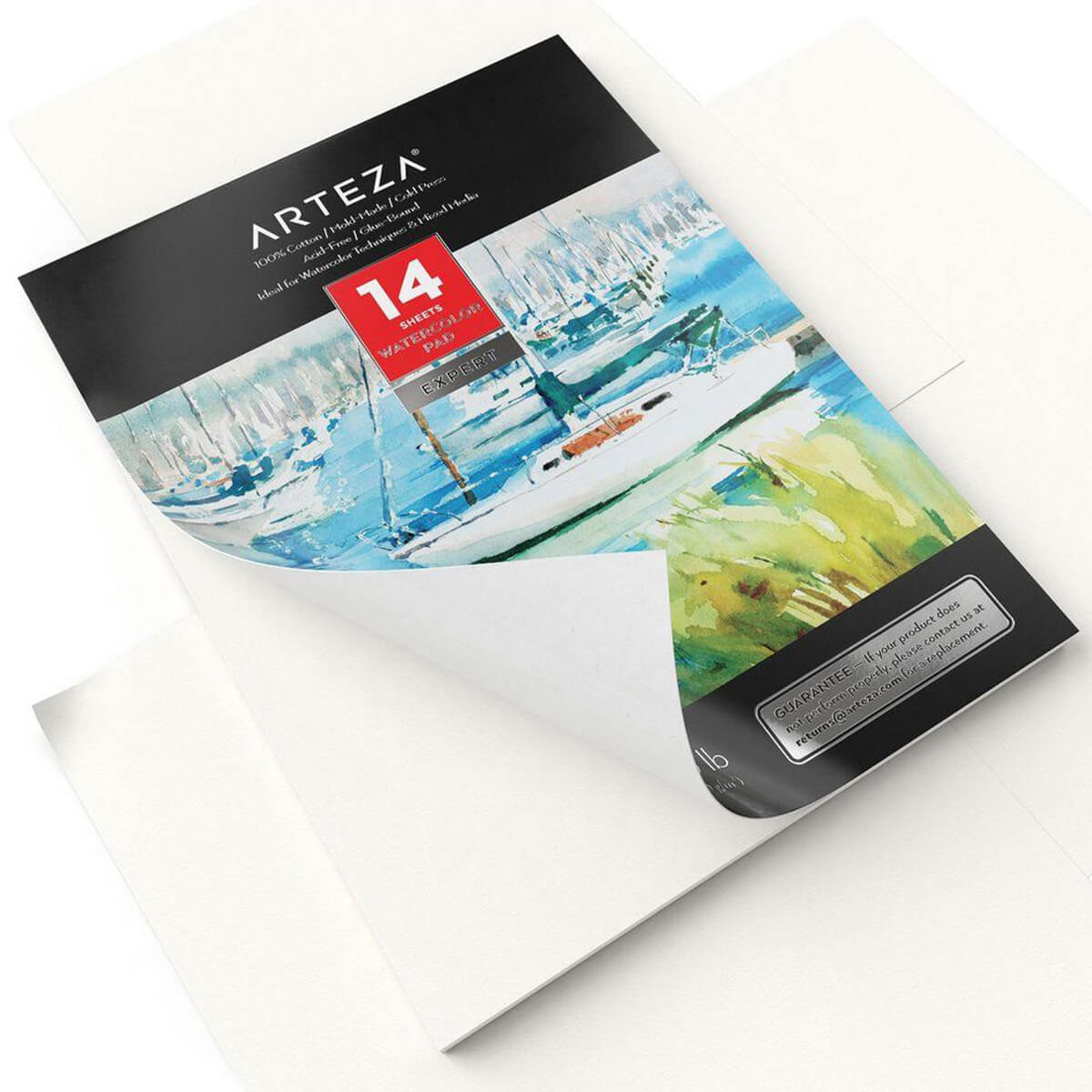 7. Expert Watercolor Pad, 100% Cotton, 9" x 12", 14 Sheets
Getting the right paper for your painting is super important for watercolor paintings. Our 100% cotton watercolor pads are perfect because each sheet is absorbent, thick, and has a slight texture that will help hold your paints onto the paper. The pad is also glue-bound so you can create directly onto the pad or tear out sheets as you go.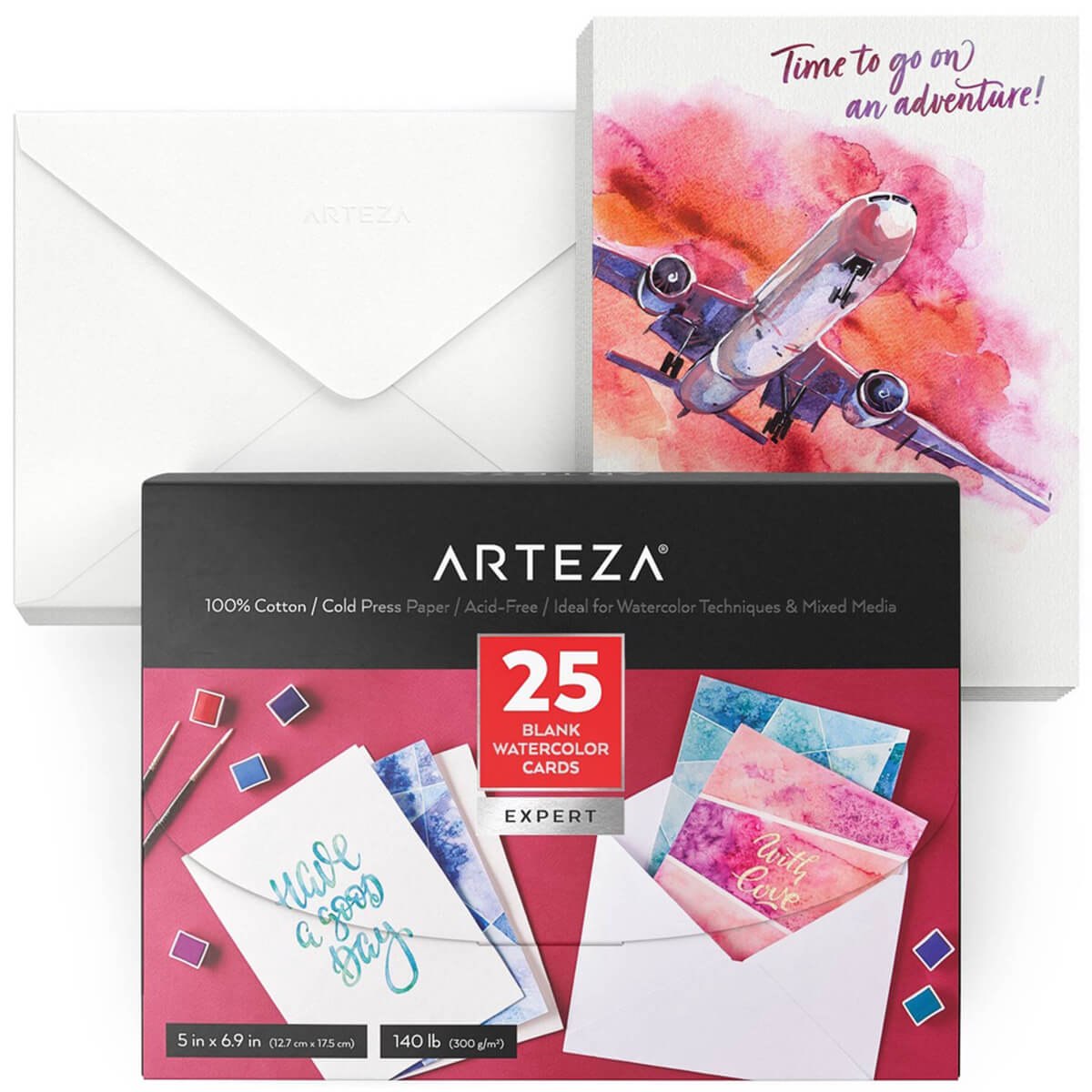 8. Watercolor Cards & Envelopes, 100% Cotton, 5" x 6.875" - Set of 25
No need to figure out the proper dimensions for a postcard to send to your loved ones. These watercolor cards are made from quality 100% cotton paper and come with a pre-printed address field and box for a stamp. This is a great way to send a personalized note to someone you care about.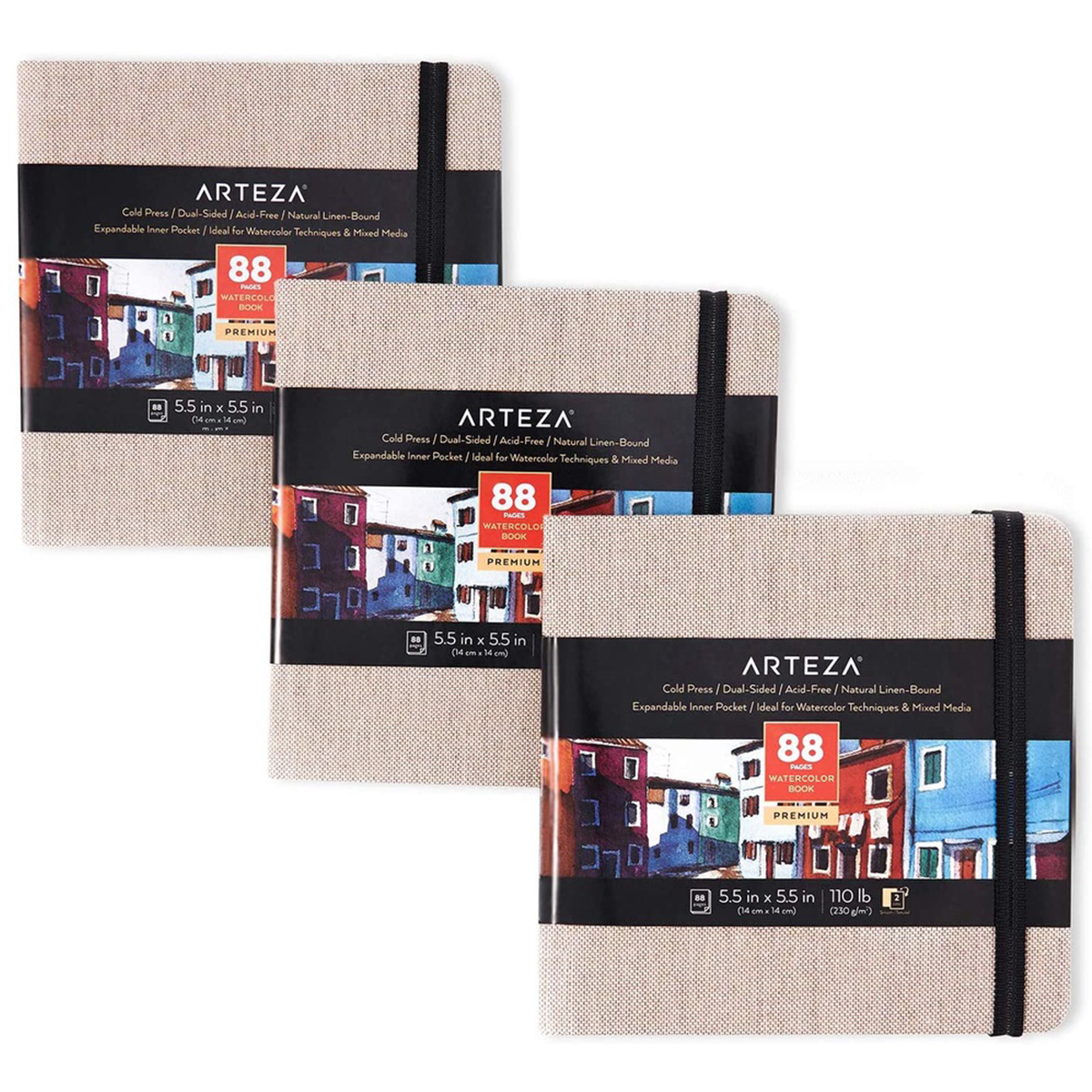 9. Watercolor Book, Beige Hardcover, 5.5" x 5.5", 88 Pages - Pack of 3
Keep all of your brilliant ideas in one place with this 3-pack of watercolor books. Each book is durably bound and protected by a hardcover so you can be sure that your artwork will stay safe. The small size is also great because they'll easily fit into your bag or purse while you travel.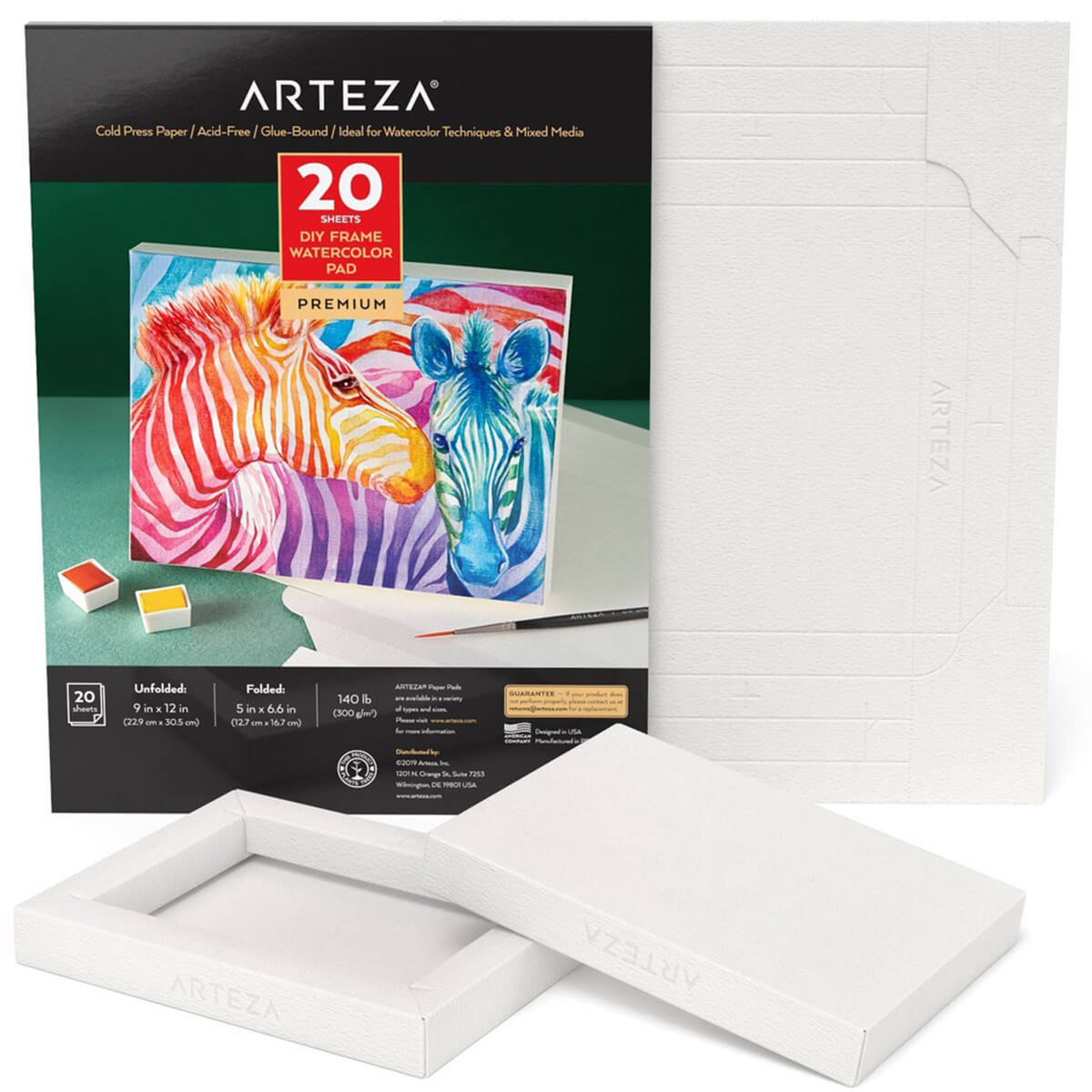 10. DIY Frame, Watercolor Pad, 9" x 12" - 20 Sheets
Once you're finished painting on these sheets, all you need to do is fold it up, and then it's ready to be displayed! These DIY frames are made from absorbent paper that's perfect for watercolors. Follow the perforated tabs and folding guidelines to turn your flat sheet into a little paper canvas for display.
Conclusion
Many artists can't get enough of Arteza's quality supplies. All of our supplies are designed and created specifically for artists so that you'll get the best every time. We want you to be able to focus on your creations, and we'll provide quality tools. Grab some of the watercolor supplies from this list and get ready for your next phenomenal painting.
Want More Content Like This?
Subscribe & have it sent right to your inbox.