Table of Contents:
Are You Using the Right Sketchbook?
Your sketchbook is your private haven where you are free to experiment, to examine your thoughts and emotions, and to try new media. It is an important tool for capturing spur-of-the-moment ideas and preserving significant moments in time, as well as flushing out concepts for larger works.

Your sketchbook should enhance your creative process, not hinder it in any way. Although sketchbooks are a matter of personal preference, it is important to keep in mind the kind of media you use when choosing one. Since there are so many choices in the market today, we've created this article to answer some of your frequently asked questions to help you choose the one that's best for you. 
Sketchbook FAQs 
Here are some of the most frequently asked questions we get about sketchbooks:
1. What Is a Sketchbook and Why Should I Use One?
A sketchbook is a very important tool used by artists, illustrators, designers, and architects to record their ideas or what they see in the form of quick sketches, doodles, diagrams, painted images, mixed media pieces, and completed drawings and paintings. Since you never know when inspiration will strike, many professional artists carry their sketchbook with them everywhere they go as well as keep others for use in their studio.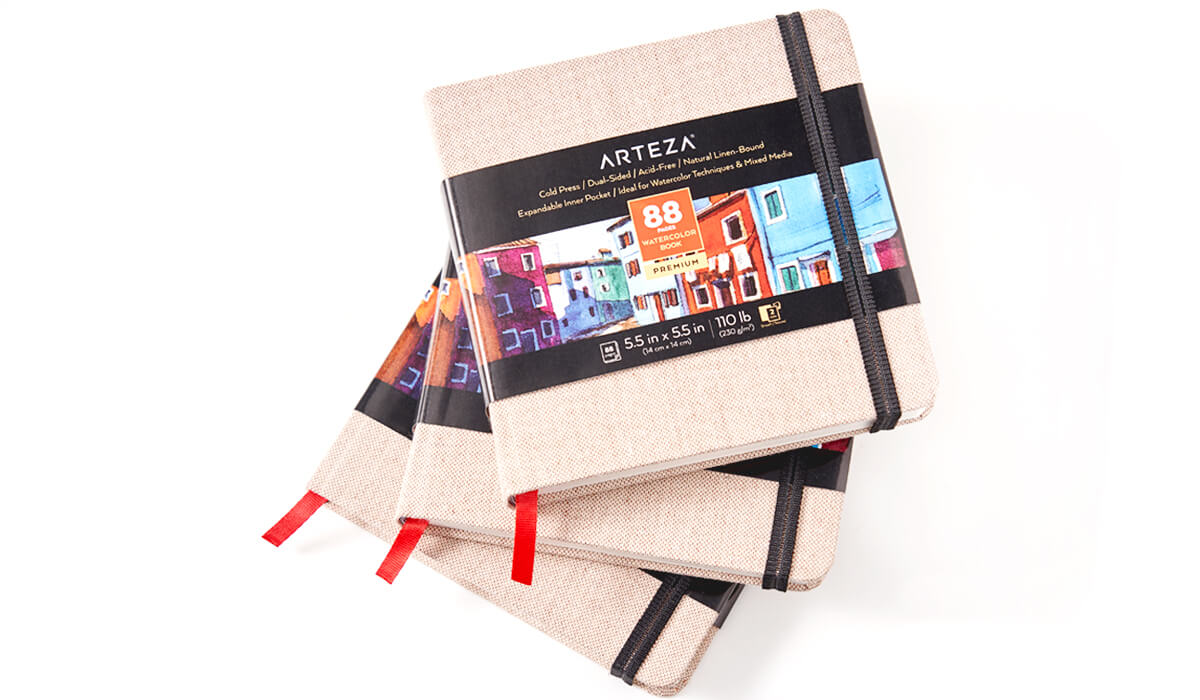 Good reasons to use a sketchbook include: 


To improve your drawing through a daily sketching practice
To try new mediums
To brainstorm and jot down ideas
To capture several views of a subject
To store your ideas in one place
To make a record of an event or special moment in time
To try new art styles
To take notes
2. What Is the Best Size Sketchbook?
The size of your sketchbook depends on how and where you will use it. Sketchbooks range in size from minis, the size of an index card, to large poster-sized ones. If your work is typically very small, or you plan on carrying the book in your purse or book bag for urban or outdoor sketching, you'll probably want to get a smaller one. For those who prefer more space to spread out their drawings or make multiple drawings on a page, a medium to large one will work. Often artists who attend life-drawing or other art classes prefer to use the largest drawing pads they can find, since these classes usually also use easels and these pads fit well on those.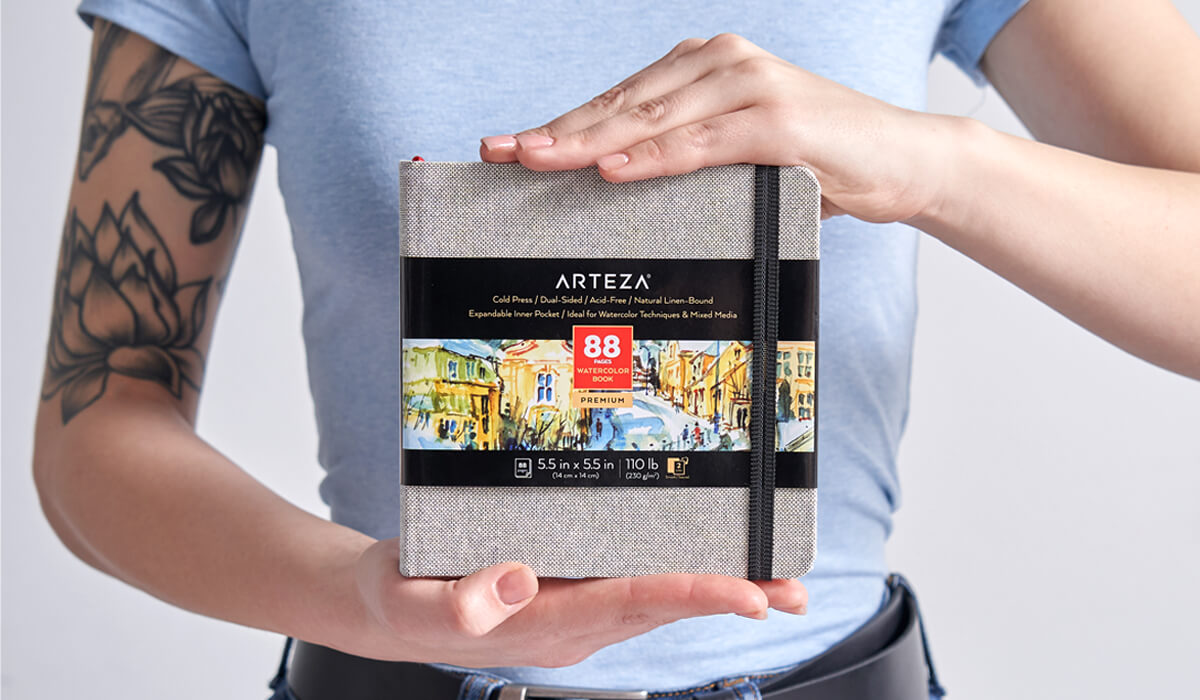 The orientation of a sketchbook is also something to consider. Sketchbooks come in rectangular (horizontal and vertical) and square shapes. A landscape artist might prefer sketchbooks that have a horizontal orientation, while portrait artists would rather have on that is vertical. 
3. Why Is the Binding Important?
The binding of the sketchbook is how it holds all its pages together. Sketchbooks can be bound with a spiral wire (spiral bound) or sewn and glued together (hardbound). Both binding types have distinct advantages. 

Spiral-bound sketchbooks can have the wire binding on the left side or at the top. They are popular because they allow the artist to flip open the sketchbook and have a nice, flat surface to work on. For left-handed sketchers, having the binding at the top lets them have more freedom of movement without a binding getting in the way. 
Hard-bound sketchbooks have the advantage of looking and feeling like a book. They are long-lasting and easy to store. The pages are very secure and because of their durability, they can withstand the wear and tear of traveling. Many hardbound sketchbooks include additional elements such as a ribbon bookmark to help you easily find your place, an elastic strap to keep the book closed when not in use and an expandable pocket for holding ephemera, business cards, notes or other things that are useful to artmaking. 
Both spiral- and hard-bound books come with your choice of a soft or hardcover. Covers come in all sorts of colors and patterns so you can match your sketchbook with your style.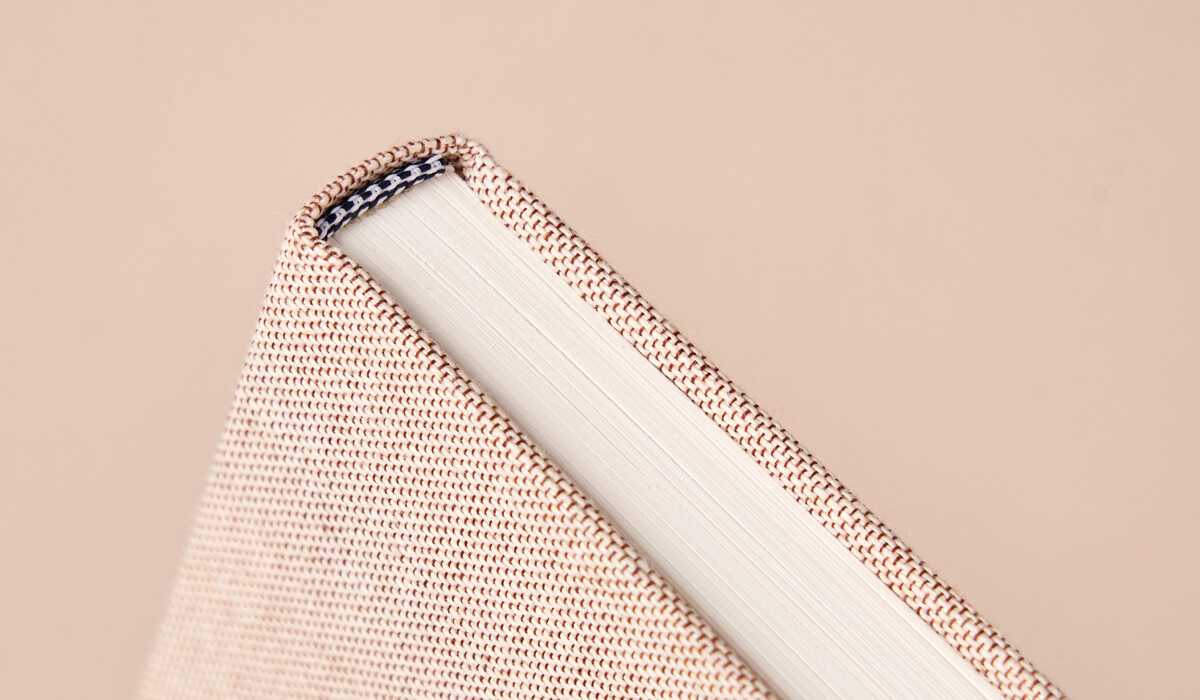 4. Why Is the Paper's Weight Important?
The paper in your sketchbook is directly affected by the kind of medium you use. If you use primarily pencils, pens, or markers for sketching, you want your pages to enhance your drawings. This means having paper that doesn't allow your marks to show or bleed through to the next page. For those who work in watery mediums, such as watercolors or watercolor pencils, having pages that don't buckle or warp when they get wet is extremely important. The best way to match your medium with your sketchbook is to rely on the paper's weight that appears on the book's label. 

Here are some examples of paper weights and the appropriate medium to use with them:
68lb/100gsm - drawing pencils, fineliners, crayon, pastels, colored pencils, charcoal, gel pens
81lb/120gsm - graphite pencils, colored pencils, charcoal, oil pastels, gel pens, ink, chalk
90lb/150gsm - graphite pencils, colored pencils, charcoal, oil pastels, gel pens, ink, chalk, brush pens, markers, watercolor paints
110lb/180gsm - dry media (drawing pencils, pastels, colored pencils, charcoal, gel pens, and fineliners), mixed media, water media (watercolor paint, watercolor pencils)
118lb/175gsm - dry media (graphite pencils, colored pencils, art markers) mixed media, water media (watercolor pencils, watercolor paints, brush pens)
5. What Does Acid-Free Mean?
The acid in paper causes it to disintegrate over time.  By using paper that is acid-free, you can be assured that your work won't fade or yellow over the years, but stay as vibrant as when you created it. If your sketchbook paper is acid-free, you'll be able to look back on sketches you made years ago and still see them the same way as the day you drew them.
6. Should I Use a Sketchbook with Toned Paper?
Today, you can find sketchbooks made of paper that is a color other than white. Typically, "toned" sketchbooks come in gray, brown and black. These books have become very popular lately for the unique look they give to your drawings, as well as the ability to play with the values (the lightness or darkness) of a subject. Using a toned sketchbook is a personal choice and one we encourage you to try!
Prepare the canvas by positioning it vertically and spraying a small amount of water onto the surface. Using a clean, dry cloth, wipe off the excess water. A wet surface will allow you to more easily spread the paint and increase your working time. 

7. How Do I Start Using a Sketchbook? 
It's fun and easy to start using a sketchbook! Here are a few tips on getting started:
Purchase more than one. You are more likely to get into a habit of using a sketchbook if you have one handy. That means having one in your purse or backpack, in your car, in your studio, or wherever you most frequent.  At Arteza, we sell most of our sketchbooks in sets of two, three, or more for this reason. You'll be surprised that once you start using a sketchbook regularly, you'll go through them really fast, so buying in bulk is a great economical option, too! 
Make a sketching date. Before it becomes second nature to have your sketchbook with you all the time, reserve a day and time on your calendar for sketching. Place an alert on your phone or computer's calendar so you don't forget. When the day arrives, grab your book and your favorite medium, then start drawing. You can do this at your desk, a coffee shop or a park bench. The important thing is to keep this date with yourself and your sketchbook. 
Put together a sketching kit. This is as simple as using a grocery bag with your sketchbook, pencils, pens, erasers, etc. The beauty of having a kit is that you can grab it and go and not lose valuable time searching for your supplies. After you're finished drawing, put everything back in the bag and place it next to the front door, inside your car, or wherever you're sure to see it for next time. 
Don't start with a blank page. It's easy to get intimidated when facing a stark white page. If you're nervous about what to draw, a good warm-up in a new sketchbook is to use the first page as an informational page. Lots of artists use this page to put their name, address, and phone number or email in case they lose the book. Anyone finding the book would know exactly whose it is, and hopefully, return it. Now your book isn't empty and will feel more inviting.
Draw the first thing you see. If you're still a little nervous about what to draw, just start sketching the first thing you see. It might be a blade of grass or a tree, it might be a building or your shoe. Getting started can be the hardest part, so once you start moving your pencil or pen on the page, you'll find that the momentum will continue and you'll think of more and more things to draw.
Don't be afraid to experiment. Your sketchbook can be as private as you like. If you have no intention of showing it to anyone, you're free to try whatever you want. Play with new art supplies or use unexpected items to make marks with, such as sticks, dirt or leaves. Draw with your non-dominant hand or try blind contour drawing, where you draw without looking at your page. This is your safe place, without any judgment, where you can escape into your drawing!
Invite other sketchers to join you. There's nothing more motivational than drawing with friends. Pick a time and a place and have other artists meet you there. You can sketch the same thing, or separate and sketch different things. When everyone's done, come back together, lay out your sketchbooks, and enjoy everyone's work!
Recommendation
We recommend checking out all the how-to articles and videos on the Arteza website. You'll find lots of easy-to-follow drawing tutorials that are perfect for doing in your sketchbook. 
Before you get too attached to one kind of sketchbook, we suggest you try as many different ones as you can. Until you've actually used one, you won't know all the advantages it offers.
Don't give up. You may not be able to sketch every day, but by making it a point to draw as often as you can, you gain confidence as your skills get stronger. 
We hope we've answered your questions about sketchbooks. No matter what size, shape, binding, or paper you decide to go with, we want to encourage you to keep trying and most of all, have fun!

Let us known which sketchbook your prefer more in the comments below.