Table of Contents:
Your Go-To Guide on Arteza Real Brush Pens
If you've wanted to try the Arteza Real Brush Pens (RBPs) but were unsure about how to use them and what you can expect, then this article is for you. Here we answer the most frequently asked questions, plus give you links to blogs and videos on brush pen techniques, subjects to draw and more! Once you've read this, we know you're not going to wait any longer to give them a try!
The Facts About Brush Pens
What Are Brush Pens?
Arteza Real Brush Pens are like a paintbrush and pen all in one! They have a flexible brush tip that makes strokes similar to a brush. The rigid barrel is full of water-based ink and is easy to hold and control like a pen. You can use this valuable tool to draw, paint and apply many different watercolor techniques to create stunning artwork.
How Do You Use Brush Pens? 
Watercolor brush pens are a very versatile art supply. They can be used alone or you can mix their ink with water for more translucence. When used without water, you can get fine lines for details, dry brush effects and the ability to blend colors together. By placing the ink on a palette and then adding a bit of water, you can loosen the pigment and brush it on your surface for layering, glazing and creating soft edges.  
We've created an essential tutorial on how to use RBPs that will fully explain the best ways to apply them.
Are Real Brush Pens Refillable?
They are not refillable. However, if you need one specific color, you can purchase it on our website. 
What Is the Best Paper to Use?
It's really important to use high-quality watercolor paper. Thin sketch paper will absorb the ink too much, making it impossible to blend your colors. Regular printer paper is not strong enough and will warp and buckle once you've applied the ink. 
We recommend using our Premium Watercolor Pad, 9" x 12", 32 Sheets. This heavy-weight paper maintains its shape even when wet. It's also acid-free which means your art will last over time without fading or yellowing. 
How Should You Store Them?
We recommend storing the RBPs vertically with the tips facing down to ensure the tip is always full of ink and ready to use. To keep the color vibrant, it's best to store them away from direct sunlight.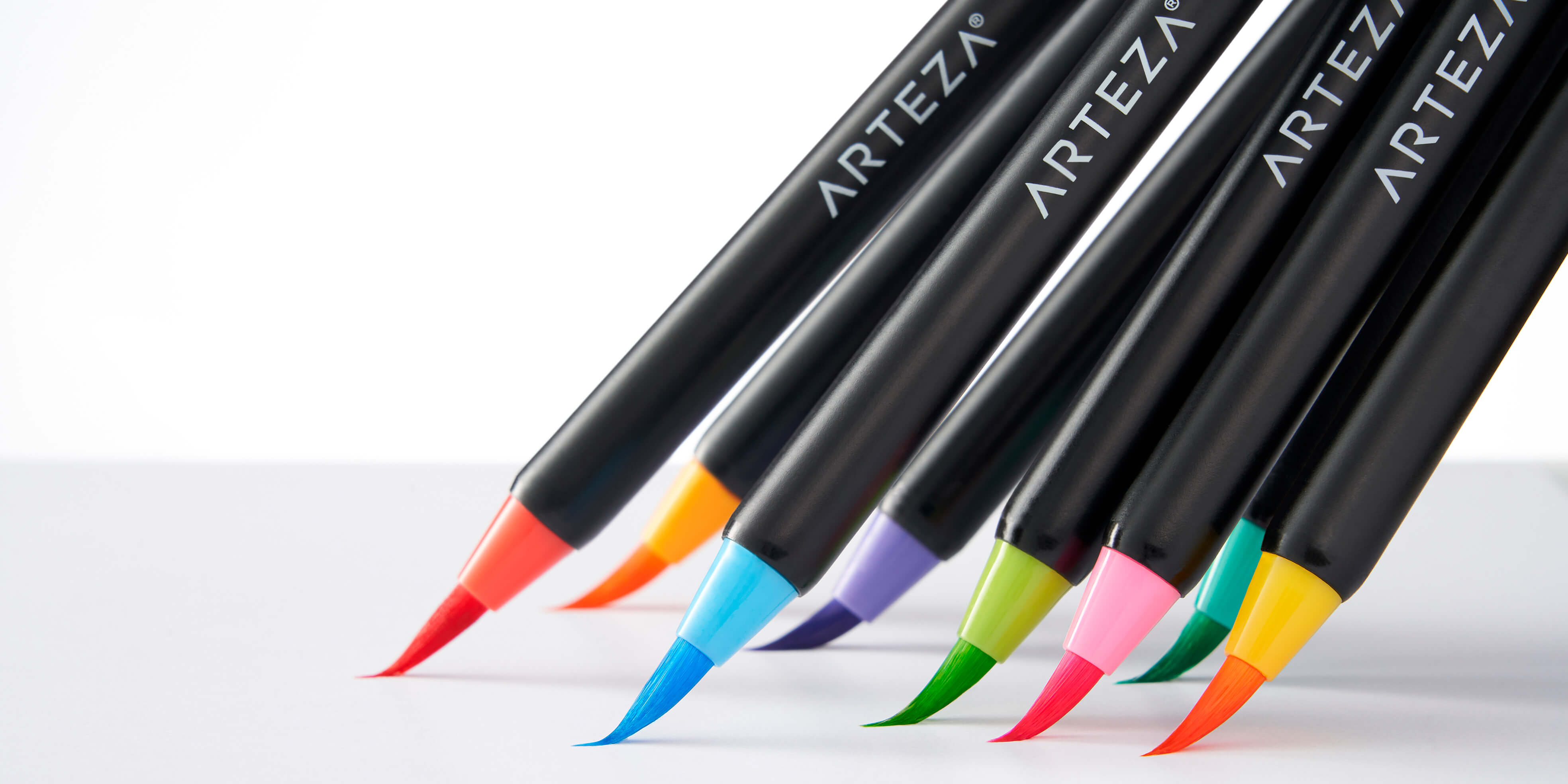 Do They Work on Fabric?
We don't recommend using them on fabric or cloth materials because their water-based ink can easily be reactivated when wet. For instance, if you used them to decorate a quilt and then put the quilt in the washer, your design would wash out. Instead, we recommend trying our 3D Fabric Paints or our Fabric Markers which are designed to withstand washing cycles.
Can They Be Used on Ceramics?
Unfortunately, we have not yet tested the RBPs on ceramics. Because of the slick surface of most ceramics, they may not adhere. They are designed to be used on high-quality watercolor paper.
Do They Work on Wood?
If you use them directly on wood, such as our wood slices, the colors will be less vibrant but will have a more natural look. To help them appear brighter, you can prime the wood first with an absorbent primer. When using on wood like this, be sure to spray a protective topcoat over the piece when you're done, so the ink doesn't stain or smear.
Keep in mind that the ink from the pens will quickly absorb into the wood, causing more ink to be used. You may run out of ink before your project is complete, so we suggest using our acrylic paint or watercolor pencils instead. 
Do They Work on Glass?
Since they are water-based, RBPs do not work on glass. They will only sit on the top of the glass and wipe off easily. 
Can You Use Them in Coloring Books?
Yes, you can use these in coloring books; however, we recommend using books that have pages 140lb or heavier, as the ink may bleed through the pages.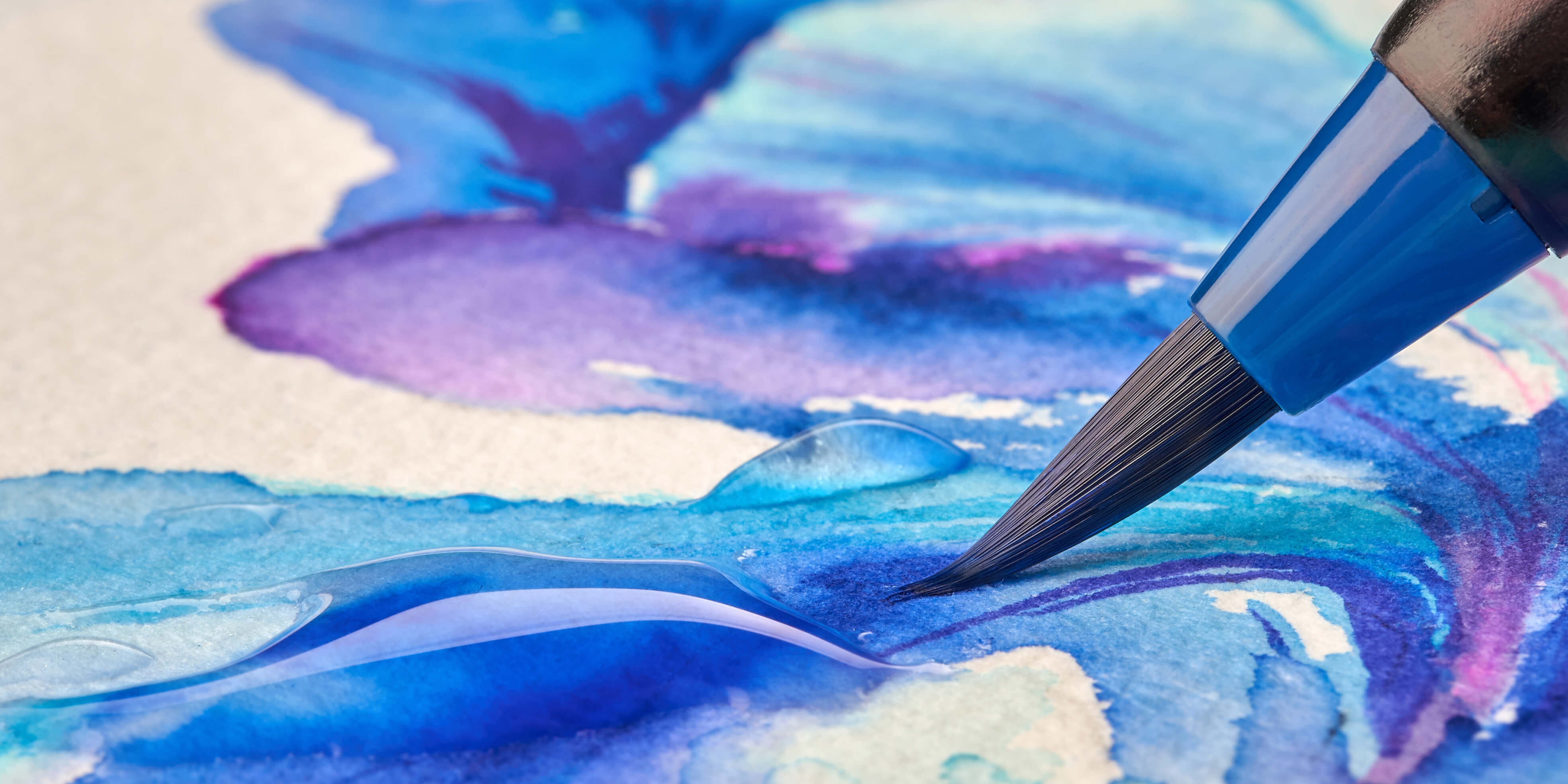 Can You Use Them on Top of Acrylic Paintings?
We don't recommend using them on your acrylic paintings, as they will not show up very well. 
How Long Do They Last?
The ink volume of each pen is 1.7g. With minimal use, they could last for up to two years. 
How Lightfast Are Arteza Real Brush Pens?
Since they are water-based, they are not considered very lightfast unless you use them for projects where the end result will not be in direct light, such as in printmaking or works that will remain in your watercolor pad.
Do You Offer Tutorials on Using Real Brush Pens?
Yes! We have lots of fun draw-alongs, guides and inspirational blogs. Click on the links below for these: 
Learn to Paint Flowers with Real Brush Pens
This blog shows you the techniques for drawing and painting a variety of different flowers for a beautiful bouquet. 
Learn the meaning behind the mandala and how to draw your own.
Alyssa from @Lyssas_Letters shows you how RBP help you create stunning lettering in this her holiday-inspired blog.
16 RBP Techniques You Should Know
Find out all the things RBPs can do to help you take your art to the next level!
Create fun and functional bullet journal spreads using Real Brush Pens! 
Our Best RBP Videos
Watch and learn with these easy-to-follow videos on using RBPs.
We hope we've answered all your questions and you feel more confident about using these highly versatile art tools! If we've missed anything, feel free to ask us in the comments section below. 
Subscribe to our newsletter to find out about upcoming tutorials, videos, new products, special discounts, and more!