If you've ever looked at a drawing and been awestruck because you thought it was a photograph, you're going to love the art of 17-year-old illustrator, Carolina Piñera. This teenage art sensation has been stunning the world with her hyperrealistic colored pencil drawings on Instagram , with 23.5k followers. Here she explains how she overcame extreme shyness and ridicule of her art to become the incredible artist she is today.
- Hi, Carolina. Tell our readers about yourself.
My name is Carolina, I am 17 years old and I live in Madrid, Spain. I am a self-taught artist with a restless mind, constantly looking for creating and giving shape to that which has no form yet.
- How did you start painting? Do you have a story behind it?
I started painting when I was 12 years old. I used to be a very shy person, so I didn't have many friends. I would spend the days on my own reading, thinking, writing, practicing photography, until I discovered drawing. Then my days became about colors, inspiration, sudden ideas in the middle of math exams. I was busier memorizing all the different drawing techniques, the divergent measurements of the surfaces, the mediums, and even all the names of the colored pencils in my first 48-piece set than paying attention to math.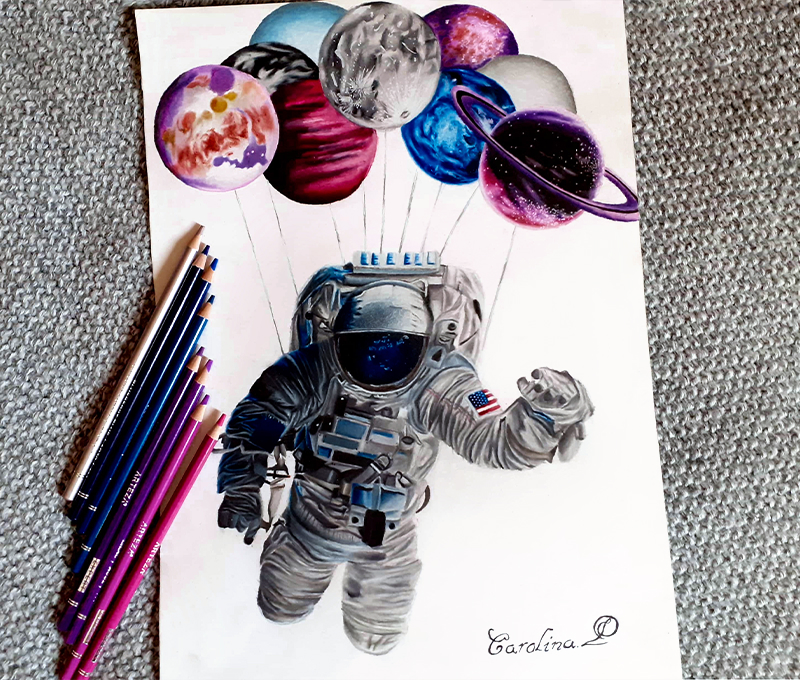 - How would you describe your style? Are there any interesting facts about your art?
I've always tried my best to have the most photorealistic and hyperrealistic style as possible. My main objective is to confuse people into wondering if my drawing is a photo or not. Trying to achieve this style has gotten me stumped for several days on the same part of a drawing since I couldn't reach the point where I was happy with the result.
- What do you think is essential to remember while creating a portrait? What do you find the most challenging?
When creating a portrait it is very important to keep in mind the sizes, the width, and the length of the different elements of the face, such as the area between the eyes and the eyebrows and the shape of the nose and the lips. Also, the relation between all those elements or the spaces in between them is important. It is critical not to draw single elements — the forehead, eyes, eyebrows, cheeks, nose, lips, chin, ears — but draw them as part of a whole. You can't draw the right eye then work on the mouth and after that the forehead. You should work on the right eye and what there is above (eyebrow), down (eye bag, cheek), right (hair, ear) and left (part of the nose) at the same time, as a whole, without making any differences because everything is important. That is the most challenging, to keep the relation between the elements and create the portrait as an entire piece.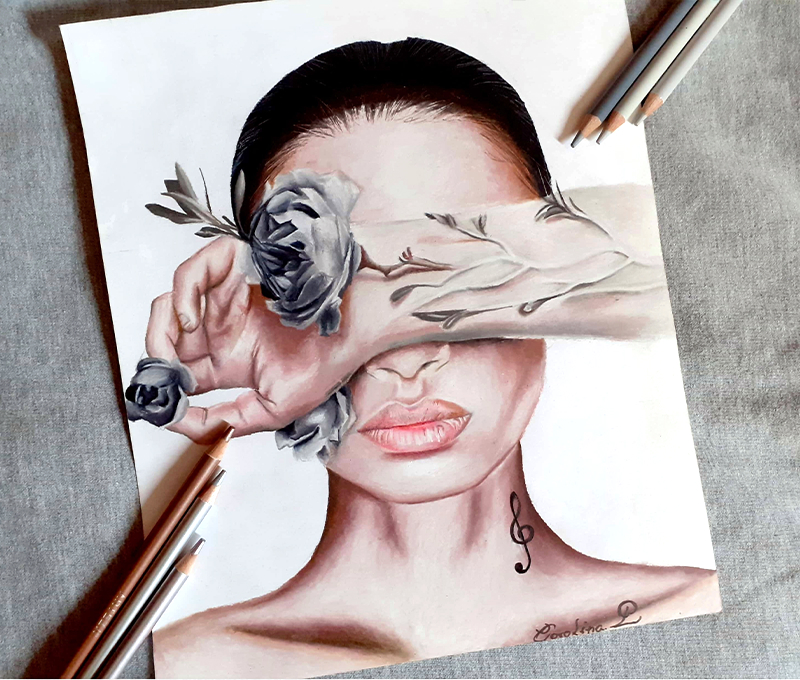 - What techniques do you use to make your paintings so realistic?
My favorite technique is and always will be blending. It consists of gently intermingling and mixing two or more colors to create a gradual transition. It could be described as the art of mixing two colors together to produce a third or the transition from shadow to light.
- What inspires you and how do you overcome creative stagnation?
A poet once said, "I understood that what I needed to write the most beautiful lines of this century was to experience everything, it was no longer for me to be one person, I decided to be everyone." Art is extremely related to feelings. The situations that I experience or those I see people around me experiencing give me unlimited inspiration.
Stagnation in art is overcome through new emotions that will bring you the ideas, the creativity, and the ability to give shape to those feelings.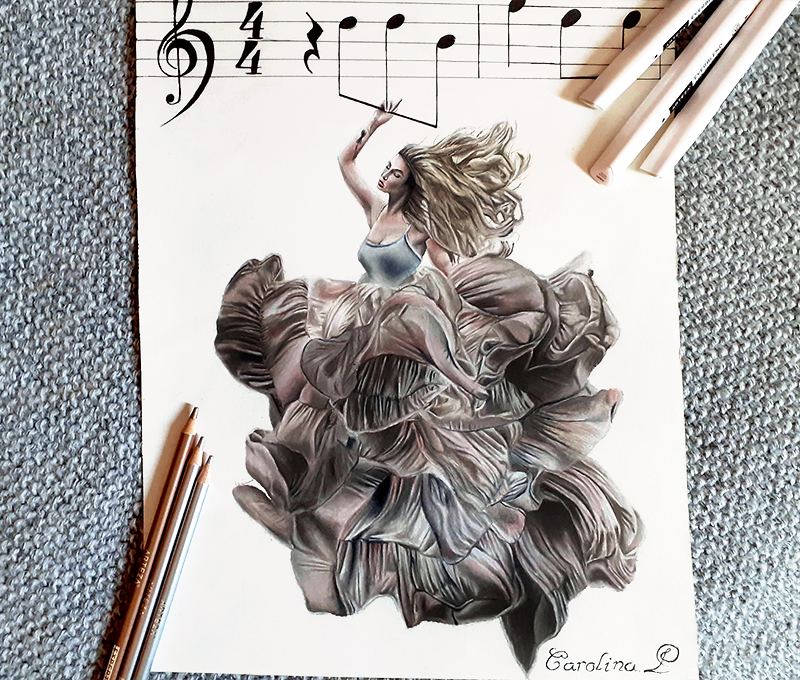 - What advice can you give to beginner artists?
The difference between talent and skill is one of the greatest misunderstood concepts for people who are trying to excel in a certain area. Talent you have naturally, skill is only developed by hours and hours and hours of working in your area. Practice is the key to success — the more you practice the better you will become.
I never drew well. I was the target of bad jokes and laughing at my horrible artworks. But, where I did excel was having such a strong, even ridiculous and probably sickening, work ethic. That's how I ended up drawing this way. There's no easy way around or shortcuts. You have to put in countless hours.
- What is your main media and why?
My main media are color pencils. I find blending with them relatively easy and amusing. And, they give me such a wide variety of colors.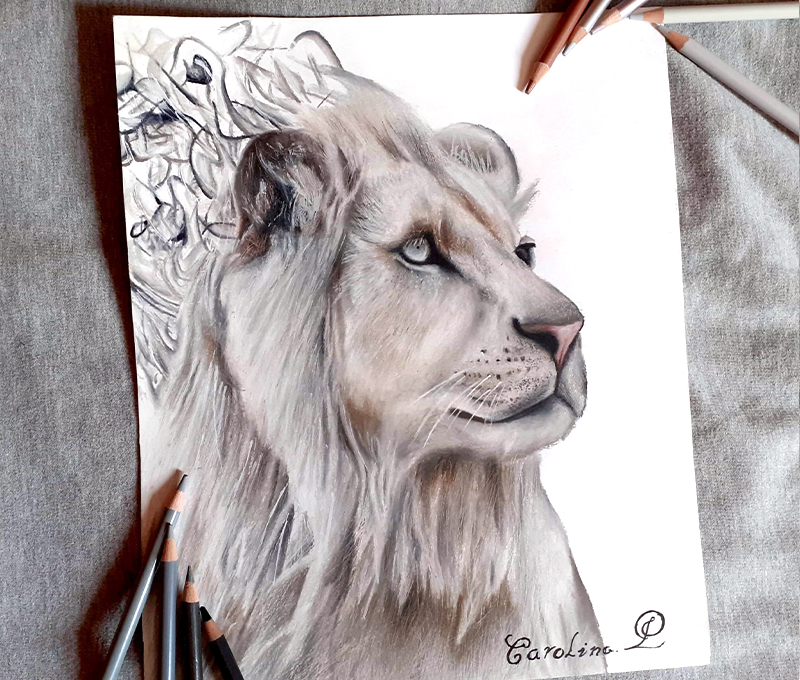 - How often do you use Arteza products?
I use Arteza in almost every single piece I create, be it the surface or the tools for coloring.
- What's your favorite Arteza product and why?
My favorite product is definitely the colored pencils. They are extremely blendable and easy to use, with a wide range of vibrant colors. In addition, the quality of the artwork, once it is done, is gorgeous. But, that being said, I would add that Arteza Everblend markers are probably the best ones I've ever tried. They are also blendable and the quality of the ink is amazing.